Catch with all the latest Deciem news right here. Nicola Kilner CEO of Deciem has been very busy in Australia talking to some of the top people in the beauty world.
You can find all the links to the podcasts with Glossy, Beauty IQ Uncensored and Glow Journal below. You will need a few hours to listen to them all, but it´s well worth it, for all the latest Deciem news and to hear Nicola Kilner talk about Deciem, her life before Deciem and her relationship with Brandon Truaxe. She really is a remarkable woman.
Deciem Chat Room gets a mention
Nicola Kilner gave the group a fantastic mention in the podcast with Gemma Watts, Glow Journal. I couldn´t be prouder and can´t think of another brand I would rather support. I´ve loved Deciem from the first moment I heard about them and the way Nicola Kilner talks about Brandon Truaxe is exactly how he made me feel. Sadly, I never got the chance to meet him, but I did receive some messages from him when he did the amazing live Q&As in the Facebook Group. His words were truly beautiful and so proud to have had the opportunity of his presence in the group
Deciem & The Group
Nicola says that they (Deciem) monitor the Facebook Group a lot and Nicola is personally in the group herself. She's amazed at the community and loves seeing all the questions, help and support by all the members. She continues to say that it´s a brand´s dream to have a community like this and grateful that it exists. The conversations do spark ideas for new products, improvements and also makes them look at some of the negative issues.
Whats new at Deciem?
Firstly, they have over 300 new products up their sleeve! Here´s just a few that we will be seeing very soon.
The Ordinary Concealers
Concealers will be coming by the end of the year. They will be highly pigmented, available in 21 shades and they will cost under 10$ AUD. Read more about The Ordinary Concealers here.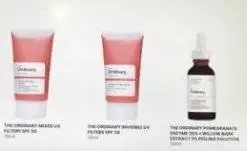 The Ordinary Pomegranate & Willow Bark Masque
This product has been created to give the Australian & Canadian Deciem Addicts a masque similar to the AHA 30% which is not available for sale in these countries due to restrictions. The masque will be released early 2020. Read more about The Ordinary Pomegranate Masque here.
Abnomaly
Currently, this brand has the lip products but Nicola Kilner says that this brand is going to be for the "misfits". The store fragrance will be available next year and that will be called "Shop". They´re also playing with the idea of a hyaluronic mouth wash. Nicola says that having a space for the lab technicians to play around with keeps them busy and innovative and stops them from getting bored.
Fountain
The brand Fountain which was beautiful bottles of liquid supplements has been put to bed for the time being.
Loopha
Next year we will see Loopha which will be fragrance, bath and body. Nicola Kilner says that Brandon Truaxe (founder of Deciem) hand picked the fragrances so this is very special indeed.
Hippooh
Hippooh is the baby brand that will be coming in January. Nicola Kilner has a baby herself so who better to test all these products.
Sun Creams
Suncreams SPF 30 & 50 will be available in April 2020.
Interviews with Nicola Kilner
I absolutely love podcasts and listen to them whilst working all day long. Nicola Kilner recently spoke to Gemma Watts at Glow Journal, The Glossy and Beauty IQ Uncensored.