If you are a true #deciemaddict, then you are probably searching around the internet to find out what the new The Ordinary product is going to be.
The New The Ordinary Product
One of our very own #deciemaddicts in the Facebook Group spotted this photo on the Deciem VP´s Instagram Story. A photo of a sample product with the wording "this will break the internet".
If you zoom right in, you will see the first letter is ´S´, then towards the end is an E and maybe an R. Could it be a salicylic acid powder?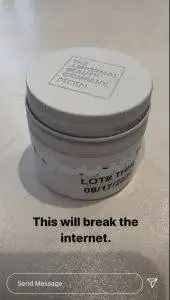 So what could the new The Ordinary product be?
These are quite a few The Ordinary products that are in the pipeline. Some already feature on The Ordinary website and others have been mentioned by Nicola Kilner, CEO of Deciem herself on podcasts.
If you´re a newbie to Deciem there are a couple of things you should know. 1. They love to tease us. 2. Their timings aren´t great. We waited months, maybe even years for the first Sun Creams to come out and then they arrived after the summer. The watercolors have been listed on the website for years now and the concealers and the pomegranate masque were mentioned in podcasts a few months ago.
The Ordinary Watercolours
Mixed UV Filters SPF 50
Invisible UV Filters SPF 35 with Antioxidants
These are The Ordinary products that are being reformulated.
Will it be any of the above or do you think something else is on its way?
The Ordinary Niacinamide Powder
Just a couple of weeks ago, The Ordinary released their brand new product, The Ordinary Niacinamide Powder. Read all about it here.