23% off discount off NIOD CAIL has now expired
Here´s the latest October Deciem news. More news coming as it arrives
The Ordinary Bright Set
NIOD CAIL1% is coming back (23% off has now expired)
The Bright Set by The Ordinary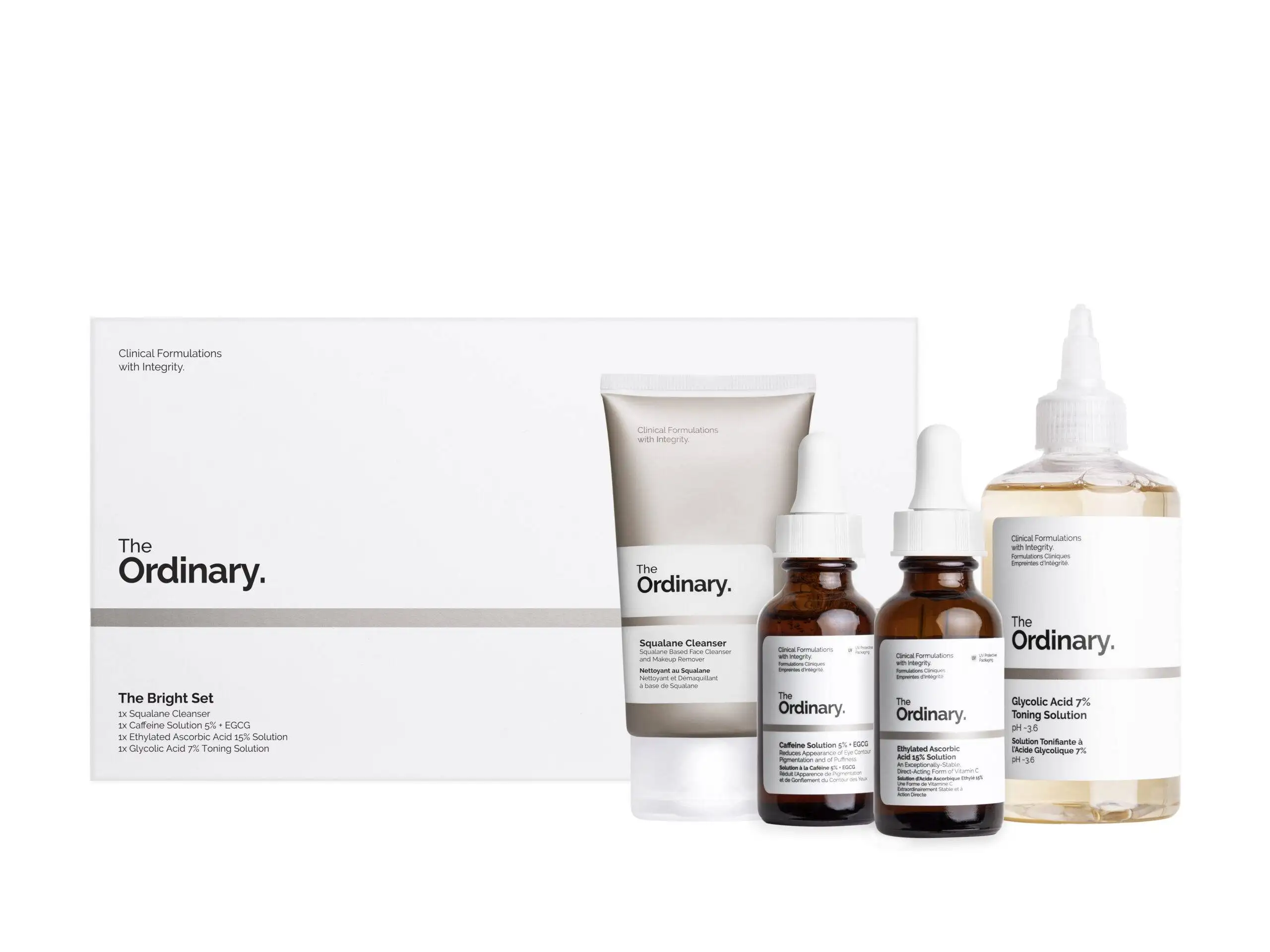 Today The Bright Set was launched. This set is a little different from the other sets as this is more about the individual products to brighten rather than a complete skincare routine.
The box consists of;
The Ordinary Squalane Cleanser
Caffeine Solution
Ethylated Ascorbic Acid
Glycolic Acid
The cleanser and the caffeine solution can be used with all products whilst Ethylated Ascorbic Acid and Glycolic Acid should be used on alternate evenings. These 2 products have a lot of conflicts, so before adding them to your routine, make sure you check The Ordinary conflicts chart.
These box sets will save you a small amount of money and they are great as gift sets.
---
October 4th – NIOD CAIL Back in stock with a 23% discount whilst stock lasts
As promised, NIOD CAIL 1% Copper Amino Isolate Lipid 1% came back in stock with a 23% discount.

NIOD CAIL1% became available on the website and everyone went crazy as this has been out of stock for months, but there was no automatic discount or code to apply. My inbox was full of lots of very upset people (with good reason) and lots of comments in the Facebook Group. From experience, I knew this was a "Deciem" glitch and was just going to take a bit of time.
Deciem sends email saying CAIL is back but no mention of a discount!
At 15:23 Deciem sent out an email announcing CAIL1% is back but there was NO mention of a discount. Finally, at 15:53 there was another email confirming the discount and code – CAIL23 to apply at checkout.
Why Deciem discounted NIOD CAIL
Deciem says – We kept our promise. Last year, NIOD Copper Amino Isolate Lipid 1% was out of stock during our KNOWvember promotion, and we know (no pun intended) that many of you wanted to try CAIL 1%, and were disappointed. We said that when CAIL 1% was back in stock, we would share it with you, and offer a 23% savings so you could all try this very special formula that is so close to our hearts.
Today is the day. Copper Amino Isolate Lipid 1% rejoins our NIOD family ‑ with a 23% saving to mirror our KNOWvember 2020 promotion, while supplies last.
NIOD CAIL
For lots more information about NIOD CAIL, how to use, conflicts, reviews and FAQs, click here.
More Deciem News coming soon!