The Ordinary Daily Set is here and includes everything you need for a basic skincare regimen; a cleanser, serum and moisturiser. The Daily Set will also make a great gift as it´s perfect for most skin types. Check out more Deciem Gift Sets here.
Price of The Daily Set £15/ €18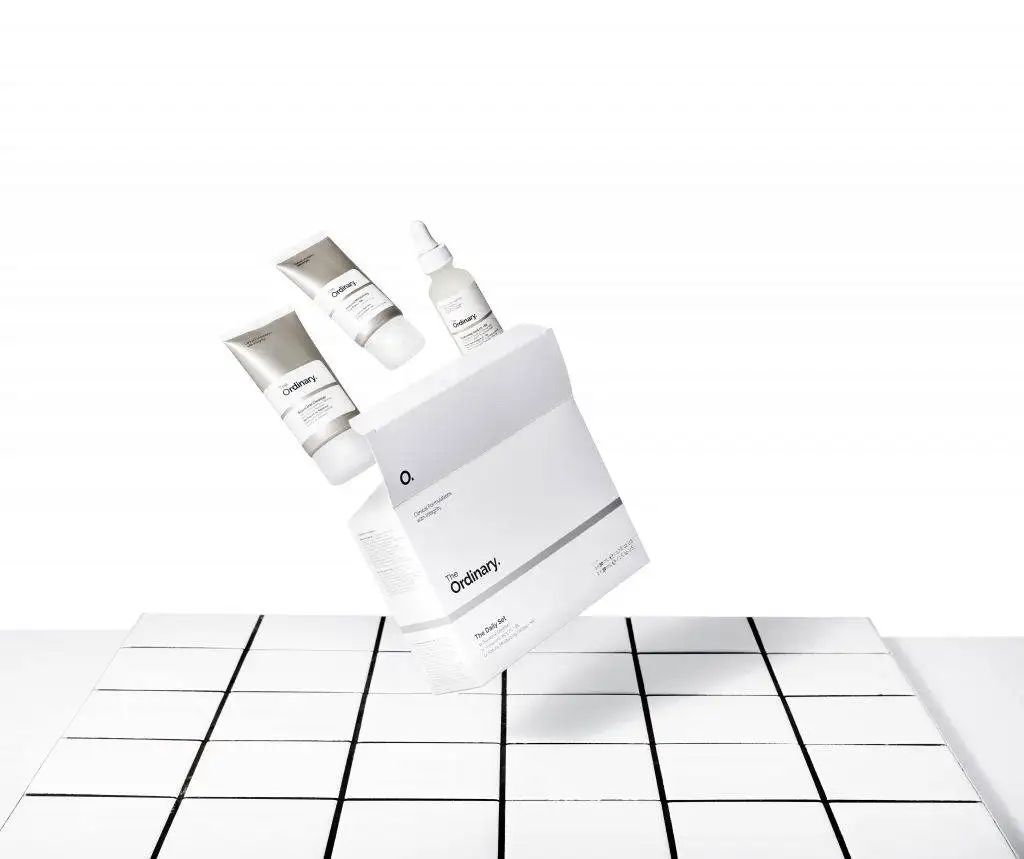 The Daily Set offers three great products suitable for everyday use. Together, they provide a range of benefits to support skin health, including gentle cleansing of the skin, make-up removal and multi-depth hydration.
The Ordinary Squalane Cleanser 50ml
This is a really lovely cleanser that leaves your skin feeling clean, smooth and hydrated. Rub a small amount between your palms for approximately 10-30 seconds and the product will undergo an important textural change from a balm-like consistency to a clear oil-like consistency. If your hands are already quite warm, you may not need to rub the product as much. Read all about the Deciem Cleansers here.
The Ordinary Squalane Cleanser Price 5.50 GBP | 7.90US$ | 7.90CAD$ | 13.90 AUD$ | 7.20€. Available in 30ml and also 150ml.
The Ordinary Hyaluronic Acid 30ml
A Hydration Support Formula with Ultra-Pure, Vegan Hyaluronic Acid. Hyaluronic Acid (HA) can attract up to 1,000 times its weight in water. This formula uses three forms of HA. They vary in molecular weights, as well as an HA cross polymer, to offer multi-depth hydration and visible plumping without drawing water out of the skin solely to improve temporary surface hydration.
Natural Moisturising Factors 30ml
My favourite moisturiser of all time, The Ordinary Natural Moisturising Factors (NMF). This formula offers non-greasy hydration that acts as a direct topical supplement of impaired NMF components. It contains 11 amino acids, phospholipids, alpha/beta/gamma fatty acids, triglycerides, sterols and sterol esters, glycerin, ceramide precursors, urea, saccharides, sodium PCA and hyaluronic acid.
Natural Moisturising Factors Prices: 4.90GBP | 5.80US$ | 5.80CAD$ | 9.80AUD$ | 5.80€. Available in 30ml and also 100ml tube.
How Much Is The Ordinary Daily Set?
The Daily Set costs £15/ €18. There is a small saving buying the complete set.
Are There Any Other The Ordinary Gift Sets & Deciem Gift Sets?
The Ordinary No Brainer Set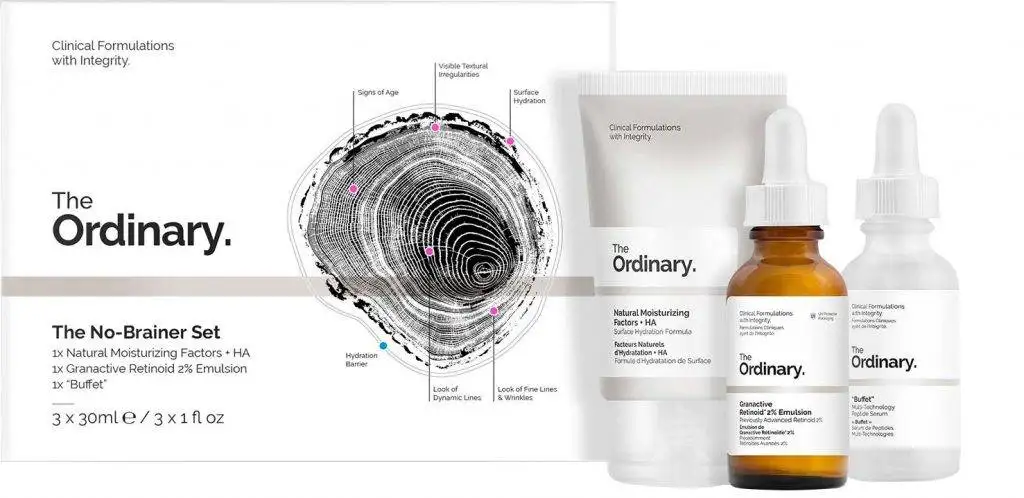 Another set Deciem have available, is the No-Brainer Set. This includes:
Granactive Retinoid 2%
Natural Moisturising Factors.
NIOD Gift Sets
NIOD also has a gift set availble. The NIOD Set No. 1 includes;
LVCE Low Viscosity Cleaning Ester (cleanser)
FECC Fractionated Eye Contour Concentrate (eye serum)
MMHC2 Multi-Molecular Hyaluronic Acid
NIOD PF12% Photography Fluid 12% for £50.
Hylamide Gift Sets
The Core Series is another great set by Hylamide which includes;
High Efficiency Face Cleaner
Sub Q Skin (a face serum similar to Buffet)
Hylamide Sub Q Eyes
Sub Q Mist Hydrating Mist
Buying the set will save you 20% on buying the products individually.
Read all about the Deciem Gift Sets here.