What should I buy from NIOD
What products should I buy from NIOD? It´s hard to tell you which products you should buy because we all have different skin types and concerns. It also depends on what sort of routine you want. Do you want a quick, simple routine or do you like to use numerous products? It also depends on your budget. I can only give you my own personal experience and tips when buying NIOD.
If you have no major skin concerns and want a very simple NIOD routine I would buy the following;
LVCE (Cleanser)
CAIS3 (Copper Peptide)
SDSM2 (Hydrating Mist/Antioxidant)
MMHC2 (Hyaluronic)
FM (Flavanone Mud Mask)
PF8% (tinted photography foundation)
Some tips:
Don´t buy too many products.
Always check conflicts.
The period after opening is 6 months.
Buy smaller sizes if using for the first time.
You can always find NIOD discounts at other stockists.
Use the information in the Facebook Group, on Instagram and the reviews on the Deciem website so you are aware of why people like a product and what they dislike about it. The worst thing is buying something based on just one person´s amazing review.
Copper Peptides
If you´ve never tried Copper Peptides before, I would say start with The Ordinary Buffet + Copper. If you wish to try something from NIOD, try the new CAIS 3. CAIL is very expensive, but try this if you want an all-in-one product for a really simple routine. It is meant to be used alone so you don´t need to use any other products.
MMHC2 The Hyaluronic
If you have only tried The Ordinary Hyaluronic Acid, I would suggest giving this a try. It´s a very different texture to The Ordinary HA, a bit like cotton and silk. The Ordinary HA is amazing value, about 10 times cheaper than NIOD, but unless you try another HA, you won´t see how different they can be. For me, MMHC2 glides on beautifully and plumps immediately, but some people dislike the smell.
NIOD Masks
When it comes to the masks, just buy one to start, and I would suggest buying the smaller sizes where possible. I personally love FM, but it´s not for everyone. It can sting a little to start, but I love that feeling, and afterwards, my skin feels like it´s had a deep clean. NIOD SS is a cleanser, and it can also be used as a mask once a week.
What should I buy from NIOD
Photography Fluid 8%
I personally prefer this over the 12% because it is tinted. Let´s put it one way. Since I´ve been using this, I can´t stand the feeling of foundation. PF8% just feels like skincare with a glow. See PF8% on the Deciem Chat Room Instagram Grid or here.
RP: If you´re thinking about buying this for Melasma, I would advise you to go and see a dermatologist (if possible) and ask for a prescription. Many people have seen improvements with this, but you need to use it consistently and will need a couple of bottles.
NIOD LVCE. I love LVCE, but once again, not everyone likes this. It removes make-up in a flash and leaves skin feeling really hydrated. LVCE does leave a film on the skin. It can be used with water or on a cotton pad, and whilst it is expensive, it will last a long time. Read more.
NIOD LBLC
If you have extremely dry lips, constantly trying to hydrate them, and tried many different products, then I highly recommend giving this a go. My lips were so incredibly dry, they felt they would split and bleed every morning when waking up. I´ve been using this for nearly a month now and the difference in how they look and feel is amazing and I no longer have to use balms during the day. Just this morning and evening. The overall colour has improved too. You must only use this on your lips and not on your skin, or it will go red. If you are very sensitive, please make sure you do a patch test. Read more.
NIOD FECC
I love the feeling of this around the eyes. I can´t really see a difference, but I can feel a huge difference, and when I use corrector or concealer, it lays so much better on my skin. Read more.
NIOD S30
This is the only one I have used so far from the Survival Range, and I love it. I have olive skin, and this feels and looks great on my skin, with no white cast. S0 & S30 are the most loved out of the range.
NIOD SDSM
I really love this product and have used it so much in the summer months throughout the day. It´s excellent for quick hydration and freshening up. You can also use this on your body. It´s 240ml and will last you ages. Well worth trying. Read more.
I´m currently trying out NIOD NAAP, HV and VM, and I´m still making my mind up about these.
The NIOD Products
NIOD GUIDE
There are 24 products in the NIOD range, and there is also a gift set that comprises of; 
50ml Low Viscosity Cleaning Ester
3ml Fractionated Eye Contour Concentrate
15ml Multi Molecular Hyaluronic Complex
15ml Photography Fluid 12%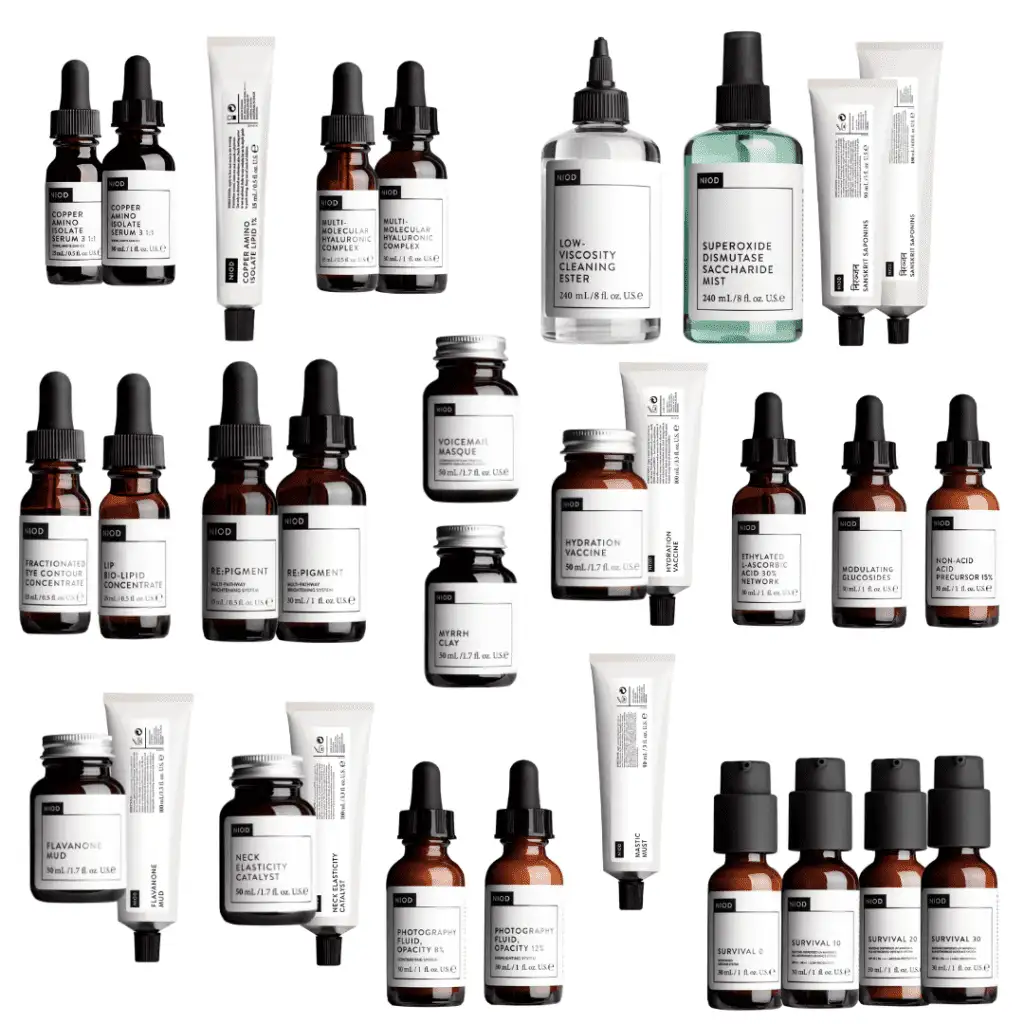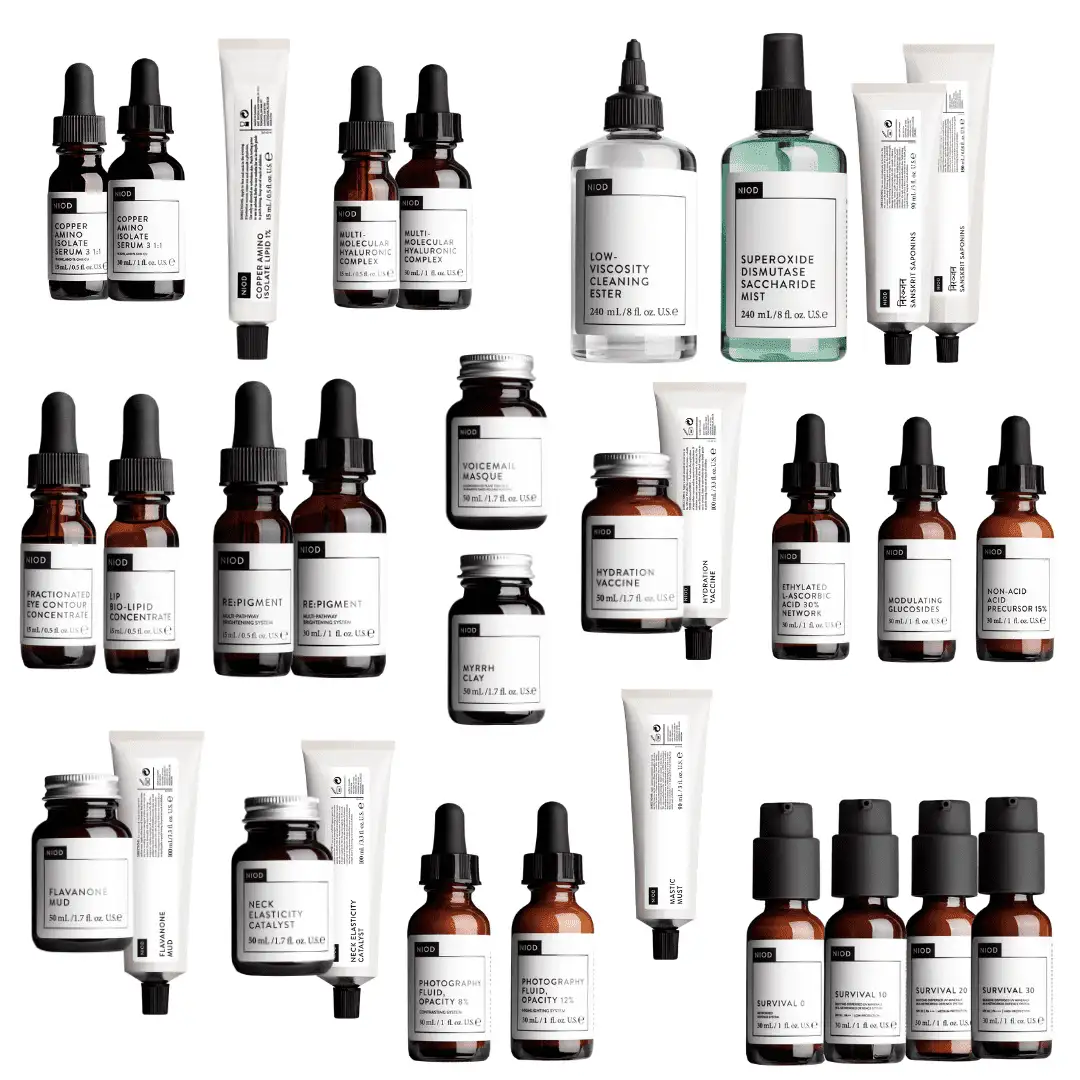 NIOD Hyaluronics & Copper Peptides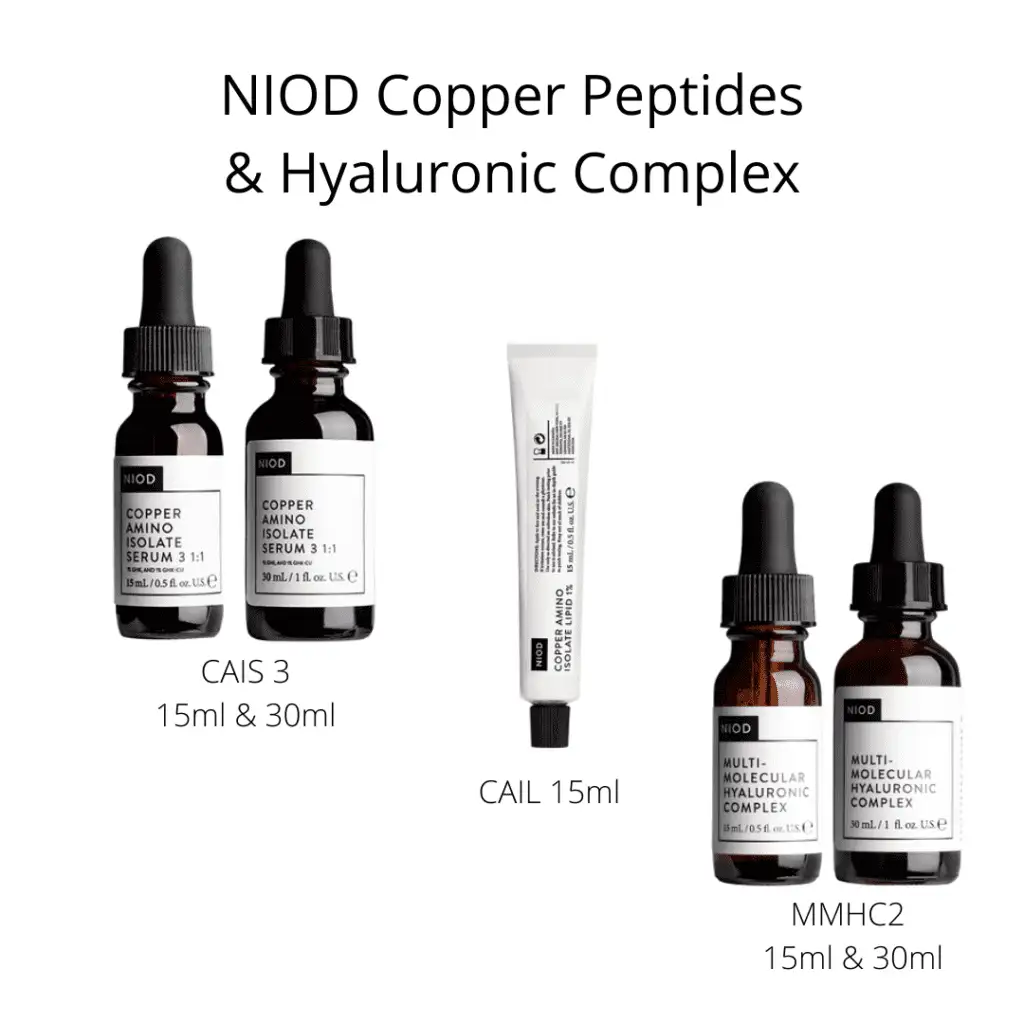 NIOD Hyaluronic
NIOD MMCHC2
Multi Molecular Hyaluronic Complex
Available in 2 sizes 15ml & 30ml
NIOD Copper Peptides
NIOD CAIS3
CAIS 3 Copper Amino Isolate Serum
2 Sizes 15ml & 30ml
NIOD CAIL
CAIL Copper Amino Isolate Lipid
1 size 15ml
NIOD Cleansers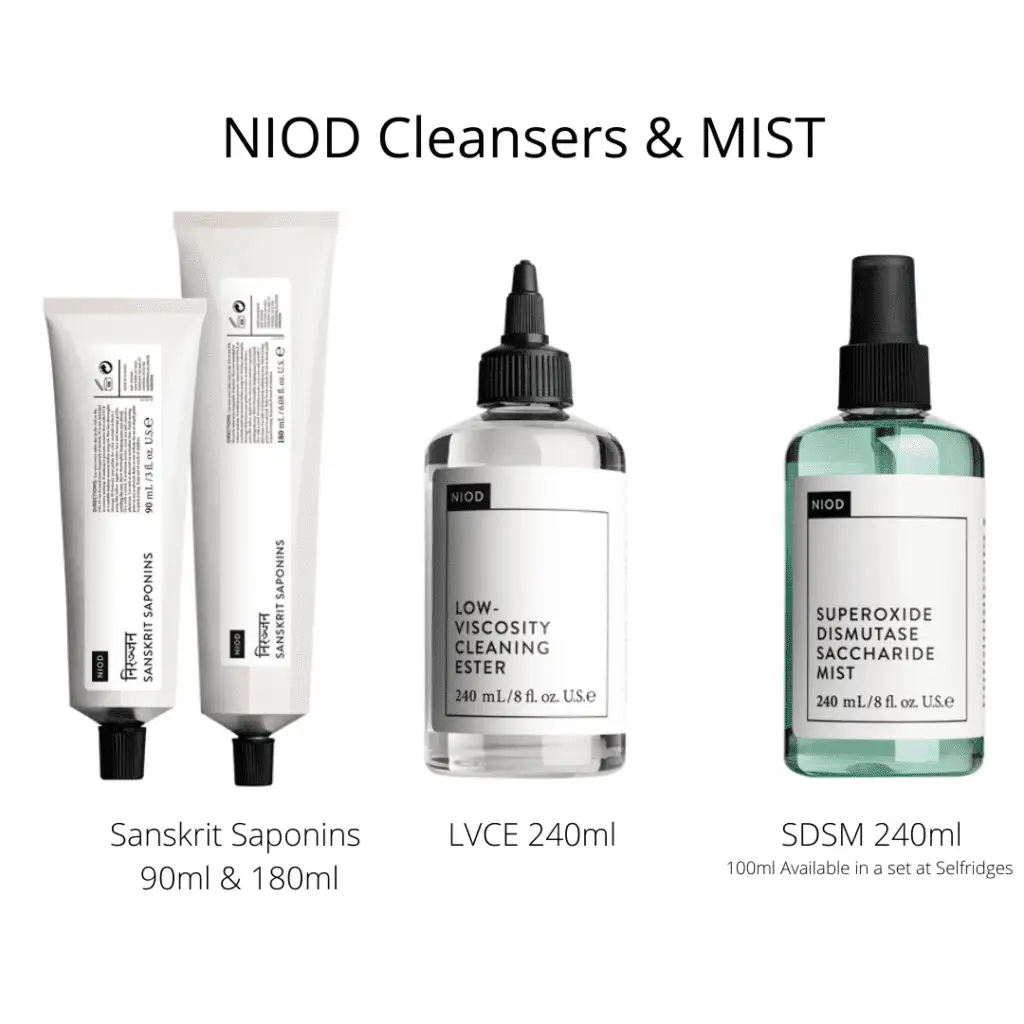 NIOD LVLC Low Viscosity Cleanser Ester
Size 240ml.
NIOD SS
Sanskrit Saponins (also a masque)
2 sizes 90ml & 180ml
NIOD Mist
NIOD SDSM2
Superoxide Disgustasse Saccharide Mist
Size 240ml.
NIOD Masks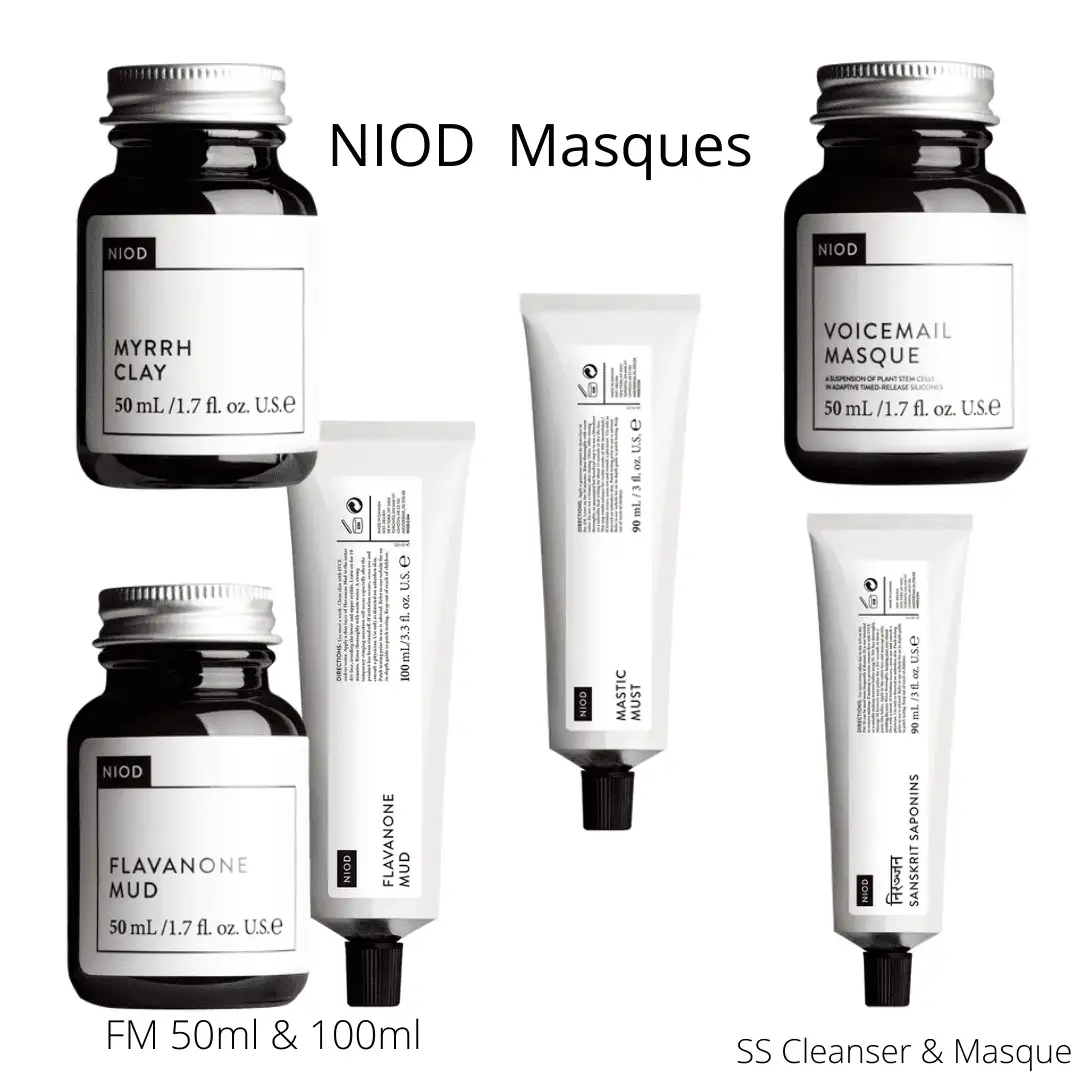 NIOD SS
Sanskrit Saponins (also a cleanser)
2 sizes 90ml & 180ml
NIOD FM
Flavanone Mud
2 sizes 50ml & 100ml
NIOD MM
Mastic Must
A mask to use before make-up, great for special occasions
1 size 90ml
NIOD MC
Myrrh Clay
1 size 50ml
NIOD VM
Voicemail Masque
1 size 50ml
Target Products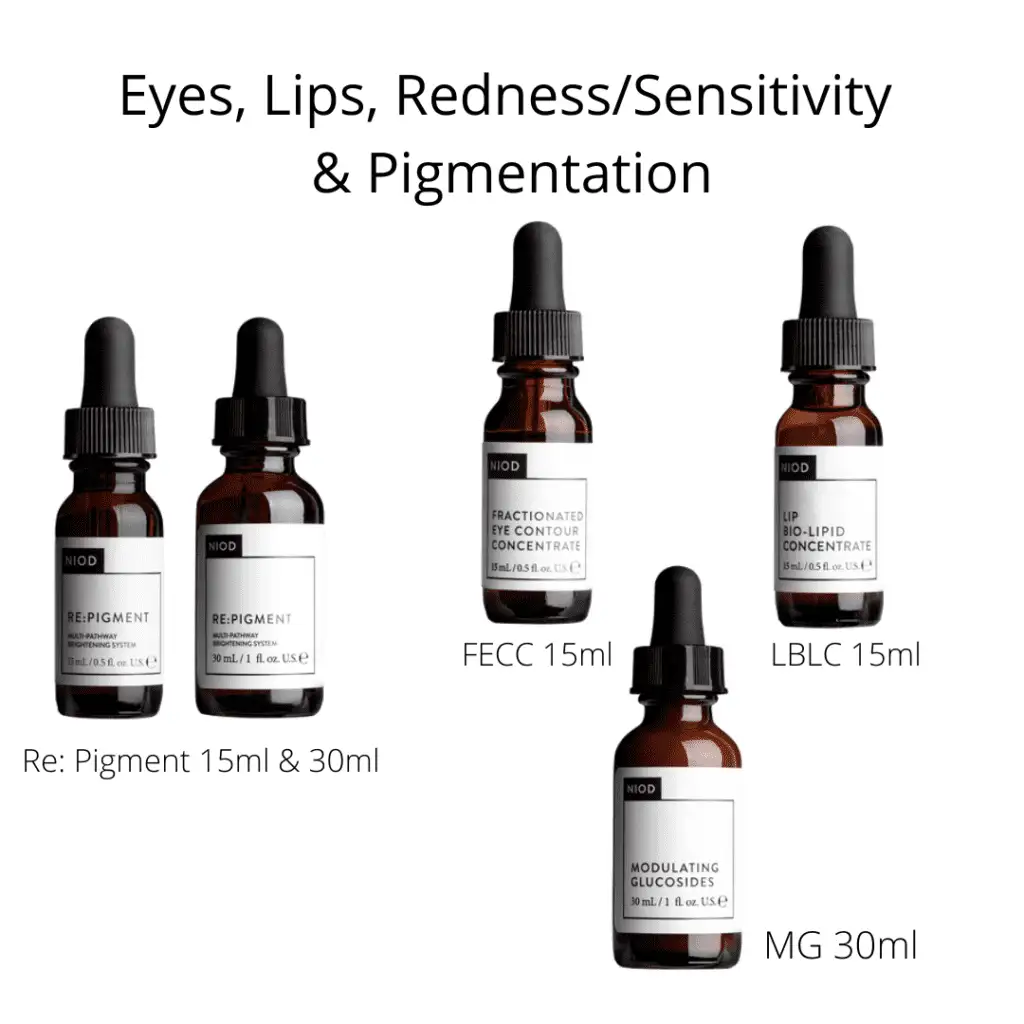 NIOD Product For Eyes
NIOD FECC
Fractionated Eye Contour Concentrate
1 size 15ml
NIOD product for lips
NIOD LBLC
Lip Bio Lipid Concentrate
1 size 15ml
NIOD product for pigmentation
NIOD RP
Re: Pigment
2 sizes 15ml & 30ml
NIOD Products for calming, redness & irritation
NIOD MG
Modulating Glucosides
1 size 30ml
NIOD product for your neck & Hydration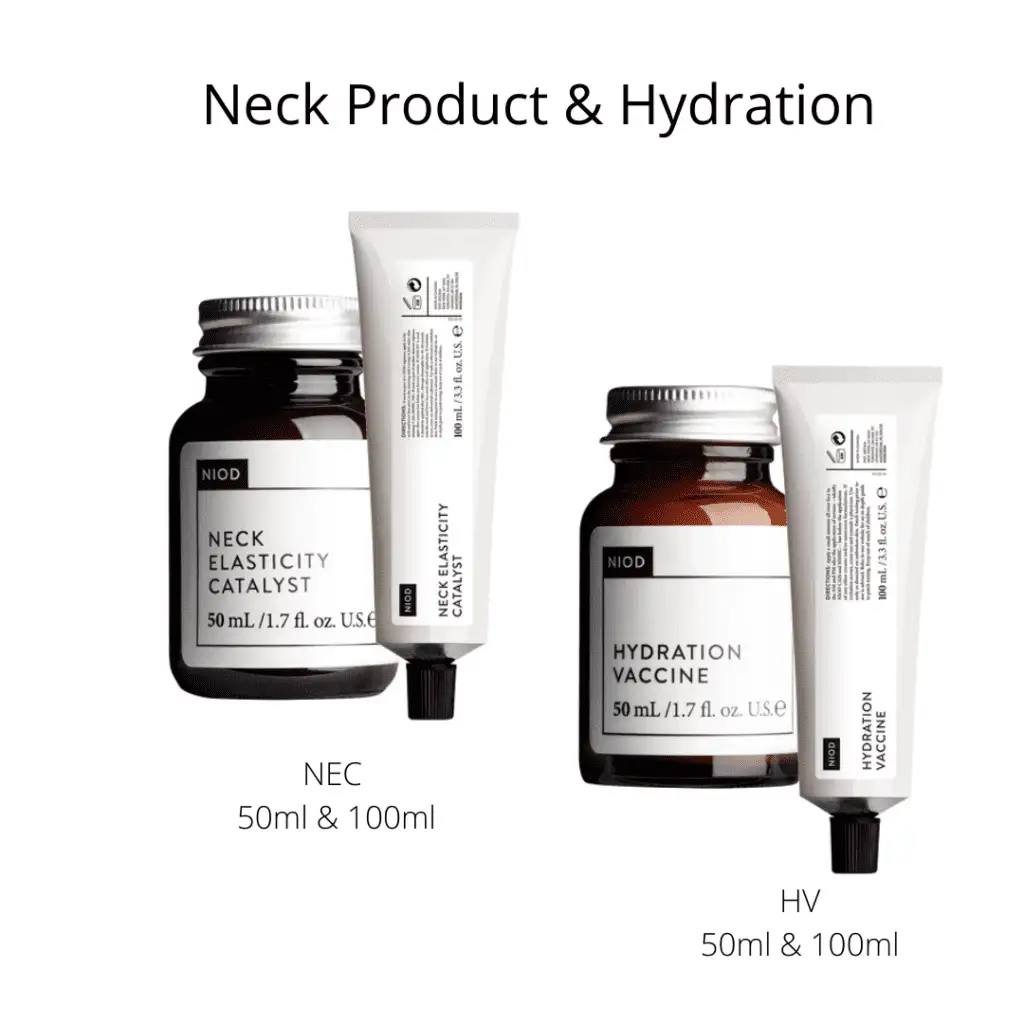 NIOD NEC
Neck Elasticity Catalyst
2 sizes 50ml & 100ml
NIOD HV
Hydration Vaccine
2 sizes 50ml & 100ml
NIOD Vitamin C
NIOD ELAN
Ethylated Ascorbic Acid Network
1 size 30ml
NIOD NON-ACID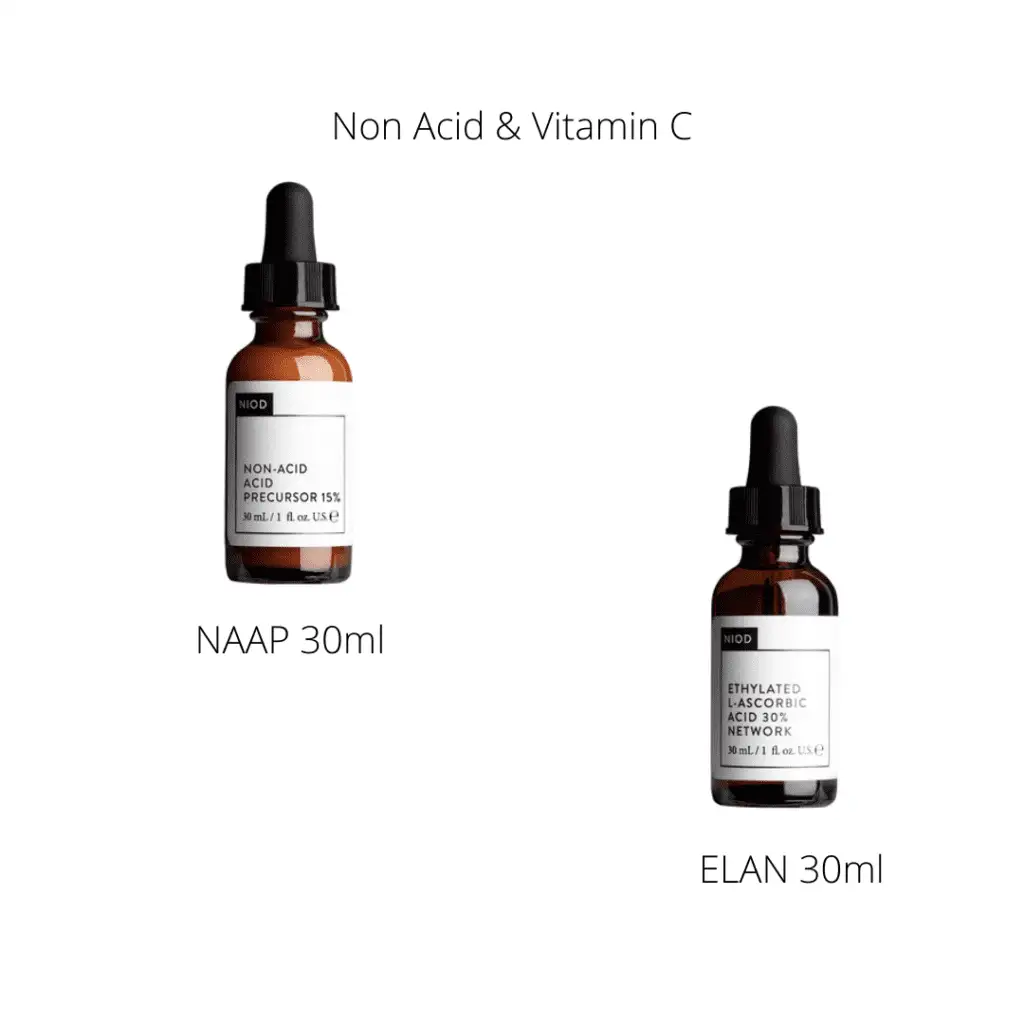 NIOD NAAP
Non Acid Acid Precursor
1 size 30ml
Antioxidant & Suncream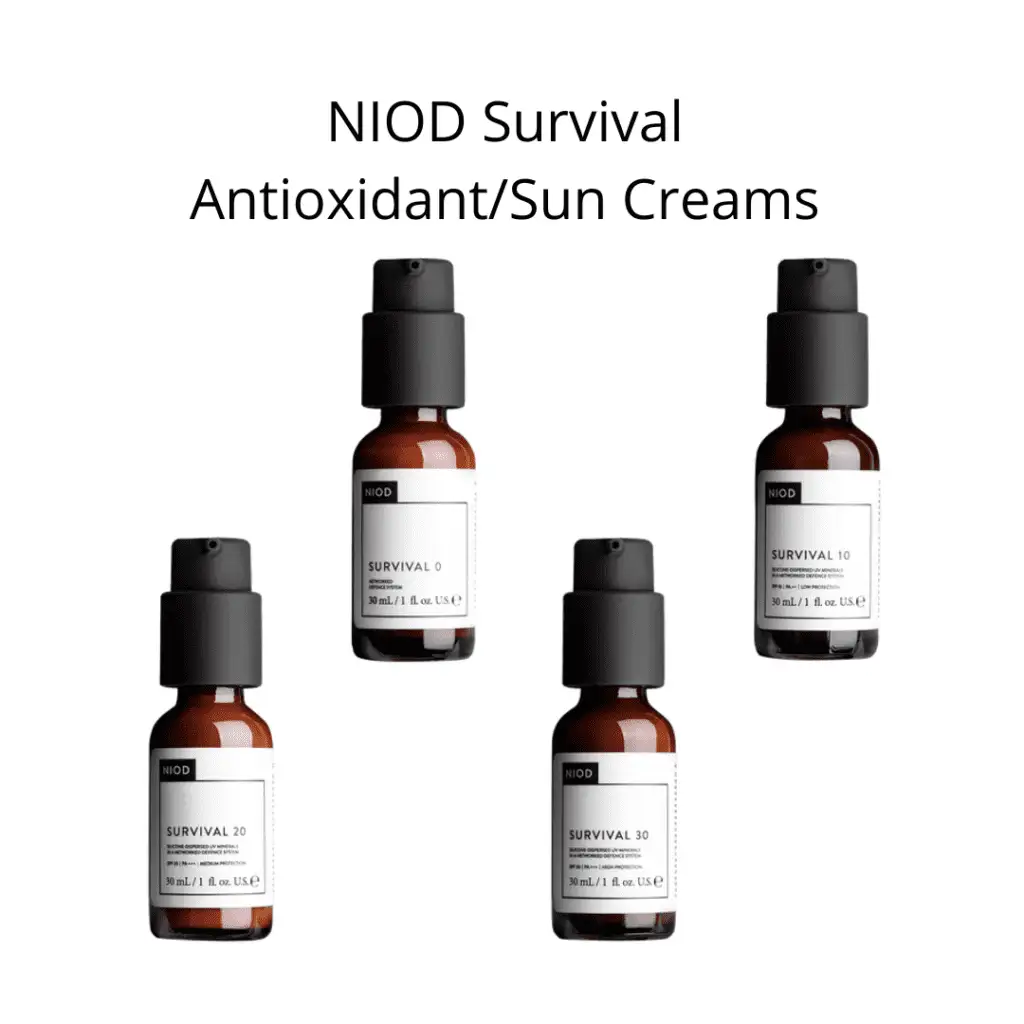 S0 Survival 0
S10 Survival 10
S20 Survival 20
S30 Survival 30
1 size 30ml
NIOD Photography Fluids/Foundation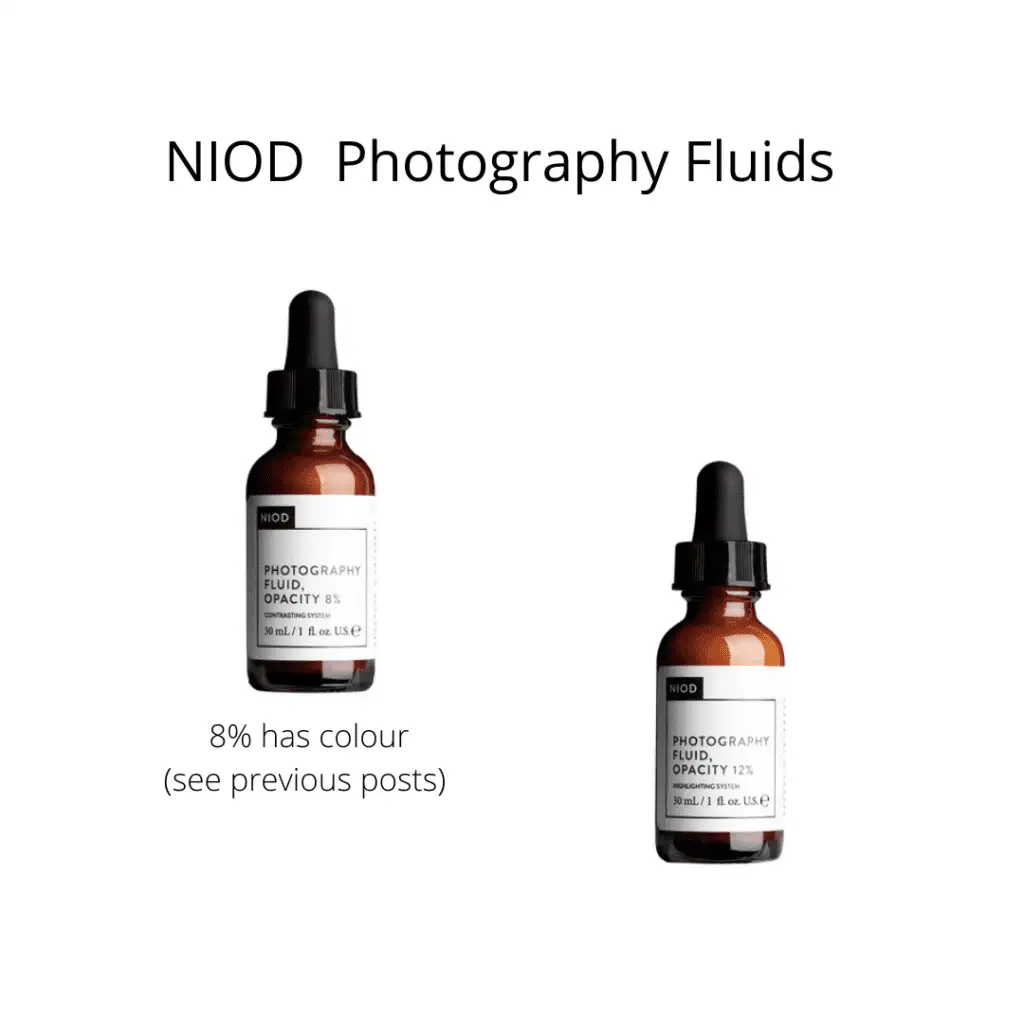 PF8%
Photography Fluid 8% (a tinted version of PF12%)
1 size 30ml
PF12%
Photography Fluid 12%
1 size 30ml
What should I buy from NIOD
To help you decide what products you should buy from NIOD, you can find NIOD reviews and polls by the Deciem Addicts here.
NIOD Best Sellers
Before buying, see what the best selling NIOD products are, read NIOD reviews in the Facebook Group, chat with others on Instagram, and you can also find reviews on the Deciem website.
NIOD Discounts
You can nearly always find NIOD discounts at some of the authorised Deciem stockists.