You can still buy it, but it means buying a couple of other fabulous products too!
If you are desperately searching for The Ordinary Granactive Retinoid 2%, you are not alone. It ´s quite possibly been one of the most common questions in the Deciem Chat Room over the last few months.
The Ordinary Granactive Retinoid 1% has been sold out for a long time and we do not know when it is coming back in stock so it´s best that you sign up for notifications.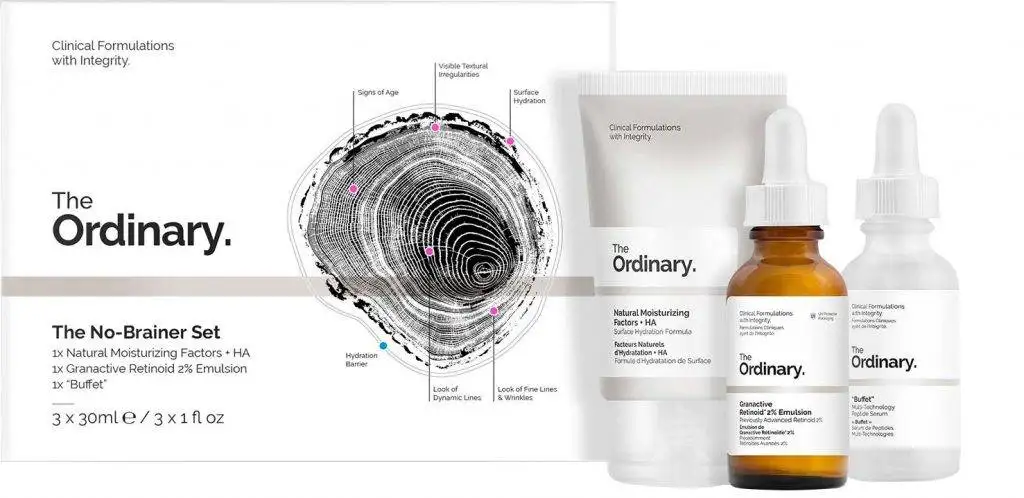 The No-Brainer Set is currently available in most countries – except those where Retinoid is not sold. The price of the box is 29€, 29$ 24GBP.
I have seen some people searching for The Ordinary Granactive Retinoid on Ebay and Amazon. Please be careful buying from these sites. Quite often the price is ridiculously high and then people worry about its authenticity.
The Ordinary Buffet is a brilliant multi-peptide you can use in the same routine as the Granactive Retinoid twice a day and Natural Moisturising Factors is a fabulous moisturiser. You can read The Ordinary reviews here.
Do I have to refrigerate Granactive Retinoid?
Yes! The Ordinary Retinol & Retinoid products are the only ones which Deciem say should be refrigerated.
But I don´t like Buffet or Natural Moisturising Factors.
Save them and wrap them up as a gift for someone!