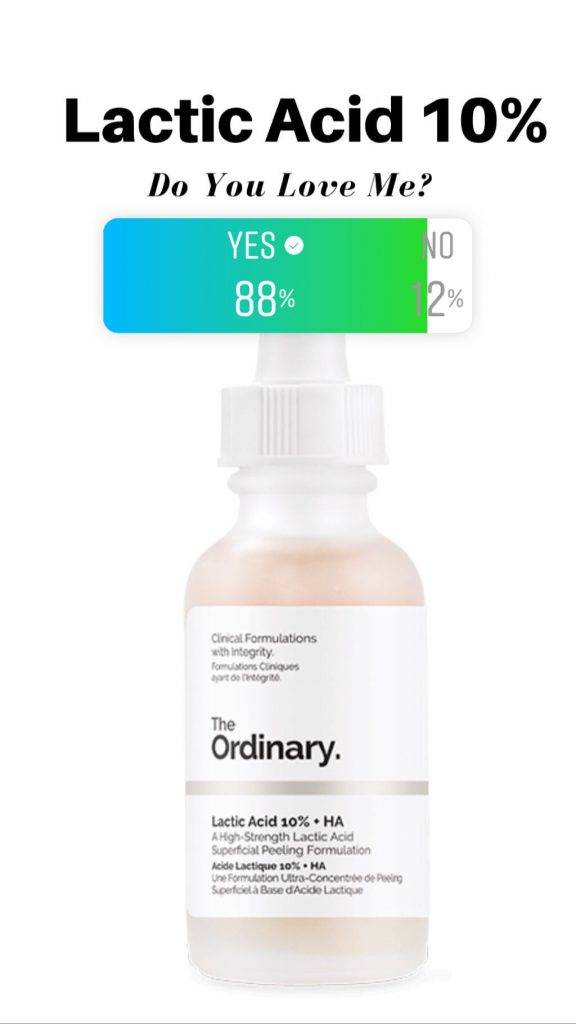 A quick look at The Ordinary Lactic Acid 10%
88% of the Deciem Addicts love it
85% say it has improved their skin
83% will repurchase it
Currently scores 4.6/5 on the Deciem website
Targets
Uneven tone
Textural Irregularities
Fine Lines
The Ordinary Lactic Acid 10% – Everything you need to know
What is The Ordinary Lactic Acid 10%?
What does Lactic Acid 10% do?
Lactic Acid 10% conflicts
How and when do I use Lactic Acid 10%?
Reviews of The Ordinary Lactic Acid 10%
Video unboxing The Ordinary Lactic Acid 10%
Photos of The Ordinary Lactic Acid 10% authentic product.
Similar products to Lactic Acid 10%
Price of Lactic Acid 10% 6.70$US/CA |6.80€ | £5.80 | 12.70$AUD
What Is The Ordinary Lactic Acid 10% & What Does It Do?
This 10% Lactic Acid is a mild superficial peeling formulation. Lactic Acid is an AHA (Alpha Hydroxy Acid) which exfoliates the top surface of the skin. Like the red peel, the AHA 30% + BHA 2% and Glycolic Acid also have the Tasmanian pepper-berry, which is known to reduce inflammation and sensitivity, which can occur with exfoliation/use of acids.
Lactic Acid 10% is great for even tone, textural irregularities and fine lines. I personally love these Lactic Acids as they leave your skin feeling so smooth and soft.
The Ordinary Lactic Acid Targets
Uneven tone
Textural Irregularities
Fine Lines
How & When Do I Use The Ordinary Lactic Acid 10%?
Lactic Acid is a water-based product, so if you have looked at the how-to layer. On The Ordinary page, you will know that water-based products are applied first, and acids should be applied to cleansed, dry skin.
Add a couple of drops into the palm of your hands and apply to your face avoiding the eye area. Acids should really only be used in the evening because AHAs can make your skin sensitive to the sun. For more information about Lactic Acid, including ingredients and precautions, please see The Ordinary website.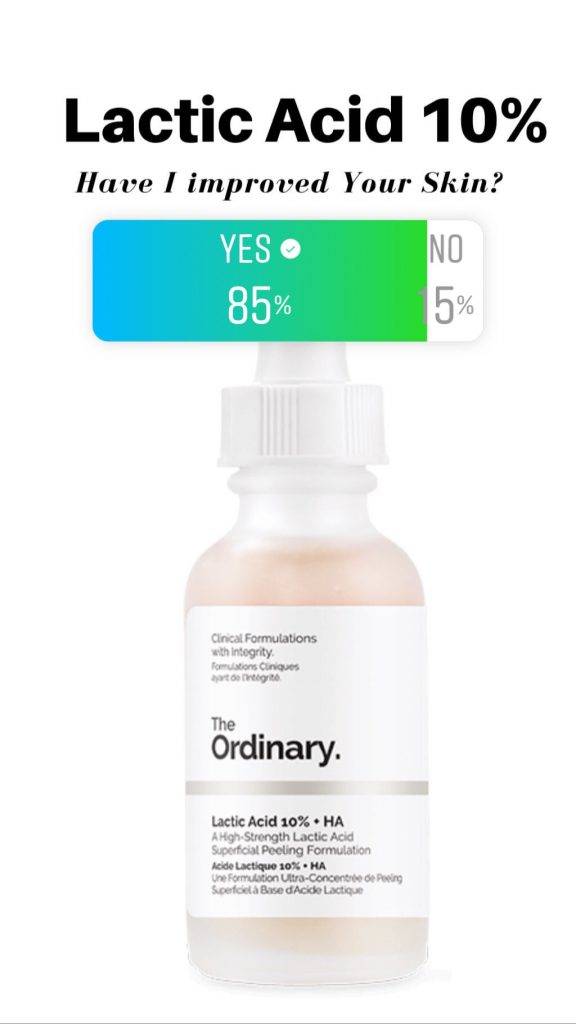 Which Products Conflict With Lactic Acid 10%?
Avoid using Lactic Acid in the same regimen as;
Other Acids
Peptides
EUK 134
Copper Peptides
Deciem also advise avoiding using retinol and pure vitamin (see below)
Our rule against combining strong antioxidants only applies to our products containing copper peptides. We would not recommend combining direct acids with peptides due to the susceptibility of peptides to hydrolysis (which breaks the bonds between peptides, reducing their efficacy and making them into individual amino acids). At low pH, the peptides undergo processes such as deamidation (the removal of an amide group) and oxidation, which compromise the activity of the peptides.
Having said that, if you have previously combined peptides with acids and have not experienced any negative side effects or discolouration, you may continue to combine the two products as so as the combination does not pose any potential harm. Our recommendations are meant to serve as a preventative measure to avoid any incompatibility between those combinations and also because skin tolerance is subjective.
The Ordinary Lactic Acid 10% Reviews
I encourage you to read the reviews below and talk directly with the members of The Ordinary & NIOD Chat Room and the followers on Instagram.
Tracy @my.face.space moderator of the Facebook Group, says: Lactic Acid 10% was the first Deciem product I ever purchased. The difference it made to my skin was immediately noticeable. Left my skin feeling smooth and refreshed. An excellent gentle chemical exfoliator that will always be in my arsenal
Reviews by The Deciem Addicts
CJ says:  Love it! I´ve only been using it for a few weeks, but the morning after my skin is so smooth x
KY says:  Love it! It is definitely one of my go-to products and smooths out my skin so well.
MT says:  my skin is smooth and shining like silk after using this every 2/3 evenings.
JMS says:  Immediately broke my skin out and caused irritation. It's not for my skin, but I'd love to hear some recommendations for a different exfoliant that might work better.
JH says: I absolutely love this! I don't know how people can get irritation with this. I have rosacea and had no bad reaction at all.
MR says: 1000% love it and I think it has made the biggest difference on my skin.
KT says:  I am on my second bottle and will continue to repurchase! After trying Sunday Riley good genes I figured out that my skin loves lactic acid. But I don't love that price tag. The Ordinary Lactic Acid 10% is priced perfectly and does exactly what I need it to do I get a nice glow and my skin feels great.
MMC says:  This is one of my must-have Ordinary products, and I always keep a new bottle stocked so I don't run out. I alternate this every other night with a retinoid. It removes any flaking/peeling skin from the retinoid beautifully and leaves my skin smooth and glowing.
GB says: Made me red and irritated with big red spots after using it
Photos of Lactic Acid 10% from Deciem
Always buy products from Deciem or one of the many authorised stockists.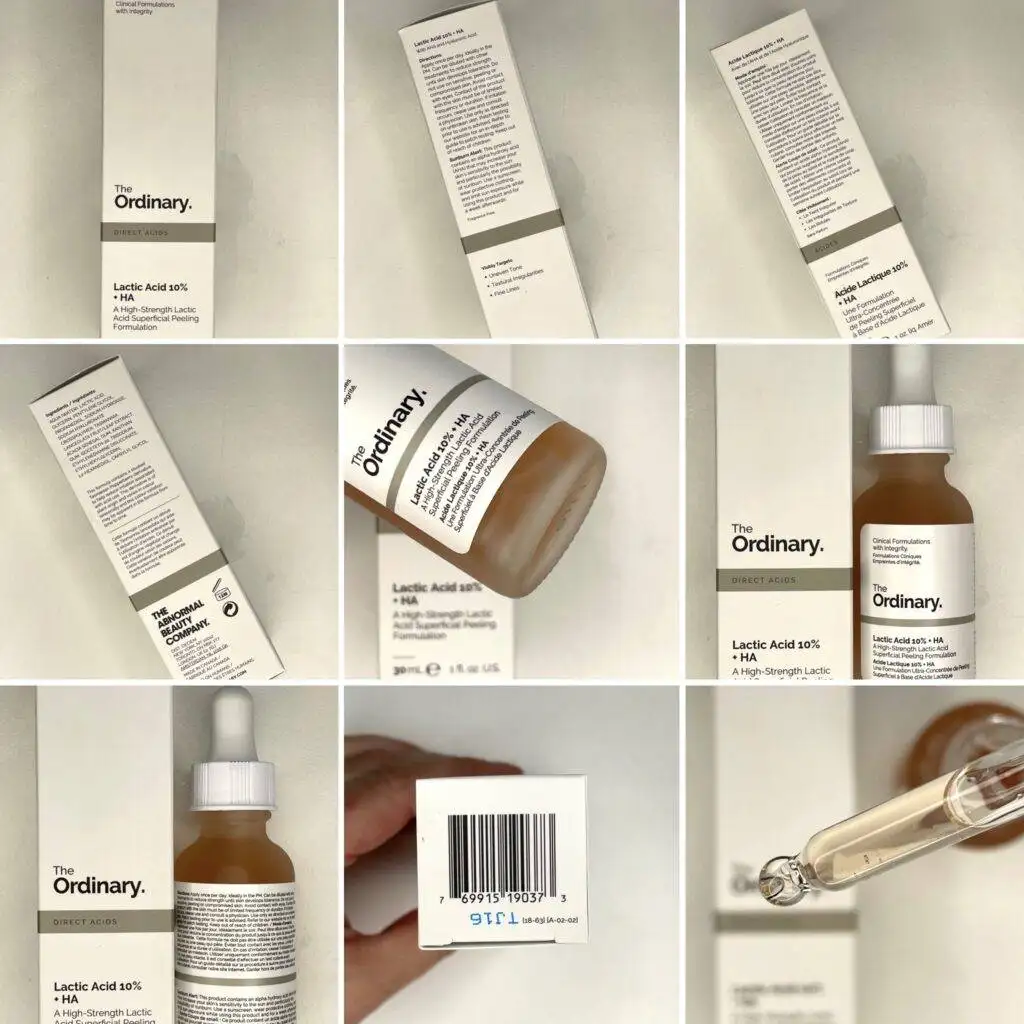 FAQS
Can I use Lactic Acid 10% if I'm pregnant or breastfeeding? Lactic Acid 5% is an AHA, Alpha Hydroxy Acid, which is ok to use whilst pregnant or breastfeeding. As many countries vary, it is important to talk with your doctor and check the ingredients thoroughly.
Can I use Lactic Acid with Salicylic Acid? Deciem says it´s best to use on alternate nights. You shouldn't use Lactic Acid with any of the conflict products listed above.
Do I wash Lactic Acid off? No, you apply to dry skin directly after cleansing and follow with your other products; no need to rinse off.
Should I try Lactic Acid 5% before 10%? It´s recommended to start with 5% and build up to 10%. From personal experience, 10% can sting a little.
Can the Lactic Acid be used in the same routine as Buffet, Niacinamide, and MAP? Deciem says it is best to not use Peptides ("Buffet") in the same routine as the following products: Direct acids and LAA (L-Ascorbic Acid) and ELAA (Ethylated Ascorbic Acid). It can, however, be used with Niacinamide and MAP.
Final Thoughts On The Ordinary Lactic Acid 10%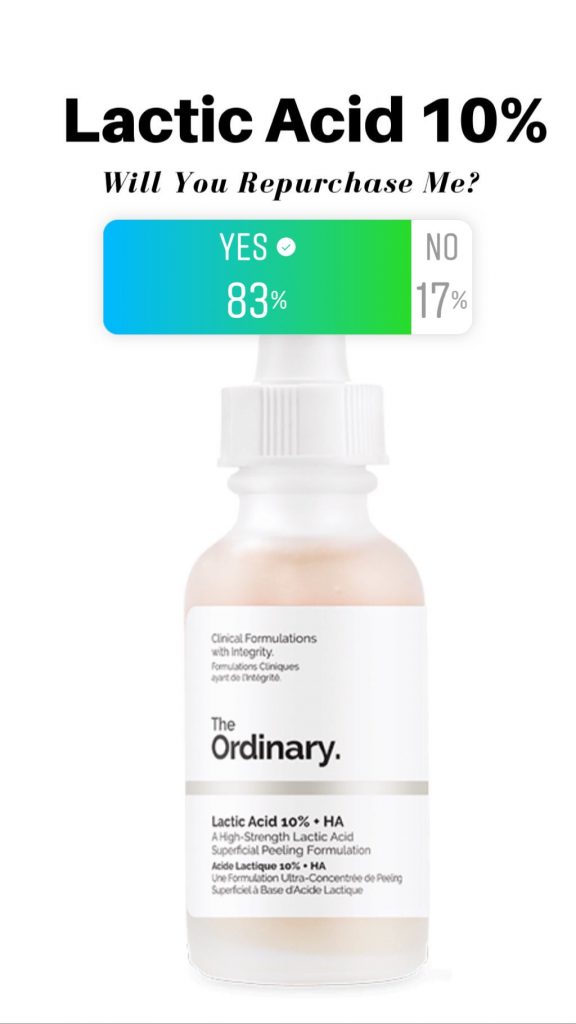 The Ordinary Lactic Acid 10% is a well-loved product. 88% of the Deciem Addicts love it whilst 85% say they have seen an improvement in their skin, and 83% of the Deciem Addicts will be repurchasing it. This is a great product, but I highly recommend starting with 5% first and then purchasing the 10%.
Which Products Are Similar To The Ordinary Lactic Acid 10%
You could look at The Ordinary Lactic Acid 5% and also NIOD NAAP. Read about all The Ordinary Acids here.