This product is not yet available – it was mentioned by the CEO of Deciem Nicola Kilner on a podcast.
Nicola Kilner has been travelling around and talking on numerous podcasts including Beauty IQ Uncensored and Glossy & Glow Journal. Listening to these podcasts is a great way of getting to know about new products in the pipeline.
One of those products in the pipeline is The Ordinary Pomegranate Enzyme 30% + Willow Bark Extract 3% Peeling Solution. It will have a similar effect as The Ordinary AHA 30% which isn´t available in Australia or Canada, hence the reason for this new product.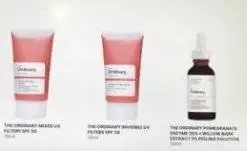 Willow bark and pomegranate enzyme are great ingredients when it comes to skincare, so together, this product should be amazing.
What does Pomegranate Enzyme do for the skin?
Pomegranate for the skin is not only a fabulous antioxidant, but it also helps brightens the skin. It will be suitable for most skin types as not only does it soothe and hydrates but it is also an anti-inflammatory and has antibacterial properties. This makes it ideal for sensitive, dry, and acne-prone skin.
Willow Bark for the skin
Willow Bark Extract has anti-inflammatory properties and contains salicylic acid which is a BHA (Beta Hydroxy Acid).
Other Deciem Masques
When will The Ordinary Pomegranate Peeling Solution be available?
There have been no further mentions of this product.
How much is The Ordinary Pomegranate Peeling Solution?
Prices have not yet been confirmed. Hopefully will be around the 10€$ mark.
What other products are The Ordinary bringing out?
They have just brought out The Daily Set which contains the Squalane Cleanser, Hyaluronic Acid, and Natural Moisturising Factors. Nicola Kilner says this is a brilliant set for anyone. 2 more sun creams are coming out. The Ordinary Concealers, Hippooh the new baby brand by Deciem, and Loopha the body brand.
We have just seen the launch of NIOD CAIL which looks and sounds amazing.