The Ordinary Sun Creams Reviews – Read reviews and see the video before you buy.
Unboxing The Ordinary Sun Cream UV Filters SPF 30
SPF 30 currently Scores 3.4/5 on the Deciem website.
SPF 15 currently scores 3.6/5 on the Deciem website
Mineral UV Filters SPF 30 with Antioxidants – Broad Spectrum SPF 30 UVA/UVB Protection
What is The Ordinary Mineral UV Filters SPF 30 with Antioxidants?
When and how do I use The Ordinary Sun Cream?
Reviews of The Ordinary SPF
Unboxing The Ordinary SPF
Conflicts
PAO (period after opening)
Photos of authentic products
Price: 8.90GBP | 10.60$CAD | 9.70$US | 10.10€ |
Other Sun Cream products by Deciem
How to use The Ordinary Sun Creams
Shake the tube well before using it.
Use a good amount, normally 3 finger lengths.
Apply to the face 15 to 20 minutes before UV exposure.
Reapply sun cream every 2 hours to maintain protection.
Deciem says this is suitable for all skin tones, but please see the reviews as this does leave some people with a white/purple cast).
What is the PAO of The Ordinary sun creams? The sun creams have an expiry date on them rather than PAO. Check the box and top of the tube.
Are there any conflicts? No conflicts. Always patch test.
What is the pH? 7.00-8.50
Is this cruelty-free? Yes.
Reviews
Read more reviews here, and feel free to leave your own.
I dislike the lilac cast. The smell. The way it feels heavy and greasy on the skin. The way it pills up.
Dreadful, impossible to use it, I become a spectre
My favourite sunscreen. It´s so gentle and protects me from harmful rays. I wear it every day!
I find it way too sticky and uncomfortable on my skin, a bit like honey, but that just me.
Photos of The Ordinary Sun Creams SPF 30 Authentic
Always purchase The Ordinary from Deciem or at one of the many authorised stockists around the world.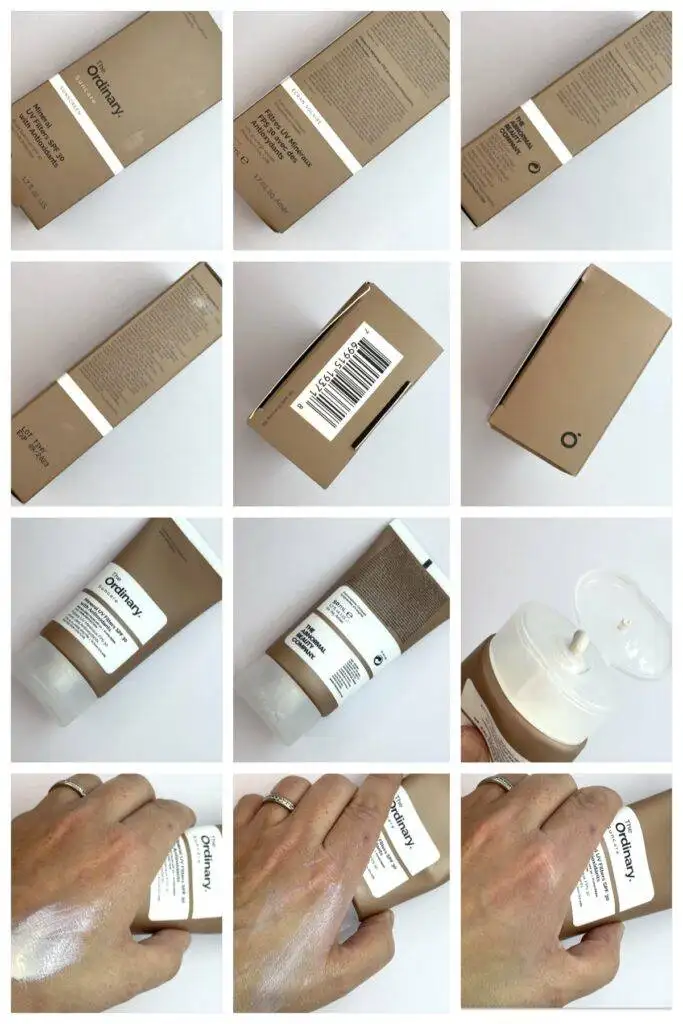 The Ordinary SPF 30 Ingredients
Ingredients
Aqua (Water), Cyclopentasiloxane, Zinc Oxide, Titanium Dioxide, PEG-10 Dimethicone, Glycerin, Helianthus Annuus Seed Oil, PEG-9 Polydimethylsiloxyethyl Dimethicone, Hexyl Laurate, Polyglyceryl-4 Isostearate, Caprylic/Capric Triglyceride, Dimethicone/PEG-10/15 Crosspolymer, Astaxanthin, Disodium Uridine Phosphate, Ethyl Ferulate, Rosmarinus Officinalis Leaf Extract, Tasmannia Lanceolata Fruit/Leaf Extract, Haematococcus Pluvialis Extract, Picea Mariana Bark Extract, Arginine, Aspartic Acid, Glycine, Alanine, Serine, Valine, Isoleucine, Proline, Threonine, Histidine, Phenylalanine, Sodium PCA, PCA, Sodium Lactate, Glucose, Maltose, Fructose, Trehalose, Urea, Allantoin, Sodium Hyaluronate, Linoleic Acid, Oleic Acid, Phytosteryl Canola Glycerides, Palmitic Acid, Stearic Acid, Isochrysis Galbana Extract, Lysolecithin, Lecithin, Triolein, Pentylene Glycol, Dipropylene Glycol, Polyglyceryl-10 Oleate, Polyglyceryl-5 Trioleate, Polyglyceryl-10 Stearate, Tocopherol, Alumina, Citric Acid, Trisodium Ethylenediamine Disuccinate, Sodium Chloride, Sodium Hydroxide, Phenoxyethanol, Chlorphenesin.
Other Deciem Sun Creams / SPF
The Ordinary UV Filters 15 & 30
Find lots more suggestions of SPF in the Facebook Group