A quick look at The Ordinary Ascorbyl Glucoside Solution 12%
59% of the Deciem Addicts love it
61% say it has improved their skin
54% will repurchase it
Currently scores 4.2/5 on the Deciem website
Uneven skin tone
Dullness
Signs of ageing
Skin brightening benefits
The Ordinary Ascorbyl Glucoside Reviews
On this page, you will find The Ordinary Ascorbyl Glucoside reviews and everything else you need to know about Ascorbyl Glucoside, including FAQS answered by Deciem.
What is The Ordinary Ascorbyl Glucoside, and what does it do?
How do I use Ascorbyl Glucoside?
Which products can and cannot be used with Ascorbyl Glucoside?
What is the PAO of Ascorbyl Glucoside?
Reviews of Ascorbyl Glucoside & Unboxing
FAQs about Ascorbyl Glucoside
More Vitamin C products by Deciem
Prices: 8.90GBP | 12.90$CAD | 12.90$US | 21.90$AUD | 12.90€
What is Ascorbyl Glucoside & what does it do?
Deciem´s simple explanation: Ascorbyl Glucoside Solution 12% is a brightening, water-based serum format of the Vitamin C derivative Ascorbyl Glucoside to help visibly target uneven skin tone, dullness, and signs of ageing. Ascorbyl Glucoside has been shown to offer specific skin brightening benefits. It has no conflicts and plays nicely with other products.
Ascorbyl Glucoside Targets
Uneven skin tone
Dullness
Signs of ageing
Skin brightening benefits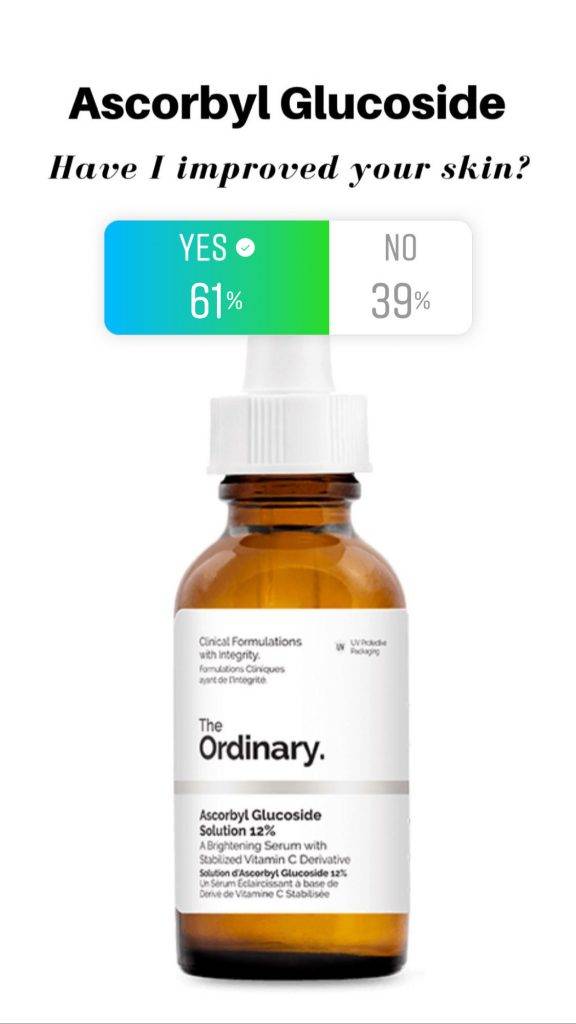 How do I use Ascorbyl Glucoside?
Ascorbyl Glucoside is a water-based product.
Use in the morning and evening
Apply directly after cleansing.
Put a couple of drops in the palm of your hand and massage or pat the product into your skin. Be sure it´s fully absorbed before applying the next product.
If you are using other water-based solutions, you may apply this first or second. It depends on the skin concern you are targeting. (see faqs below).
The Ordinary Ascorbyl Glucoside Conflicts
This one keeps changing!
Niacinamide Powder (currently says on the website)
This product had no conflicts at all until November 2020.
In November 2020, Deciem said not to use any of the Vitamin C derivatives with Niacinamide serum or powder.
2021 Deciem said if you have no irritation, you can use Niacinamide serum and Ascorbyl Glucoside together (not powder).
What is the colour, texture and smell of Ascorbyl Glucoside?
It is water-based and a very nice consistency. Not too thick or too watery. Absorbs really well. The product is very slightly cloudy and there is a slight smell but nothing too strong.
What is the PAO of Ascorbyl Glucoside?
This should be used within 6 months of opening.
Reviews by the Deciem Addicts & Unboxing Ascorbyl Glucoside
See the product before buying it and join the #deciemaddicts on Instagram to see what they have to say about The Ordinary Ascorbyl Glucoside 12%.
I'm using Ascorbyl Glucoside and loving it!
I've been using The Ordinary Ascorbyl Glucoside for about 4-6 weeks so far. Although I haven't been using it for long enough to see a difference in my skin, I am really enjoying it.
Love it! I picked it because it has no conflicts, and I´m noticing brighter skin.
I didn't see any difference in my face!
Photos of Ascorbyl Glucoside
These are photos of The Ordinary Ascorbyl Glucoside which was purchased direct from Deciem.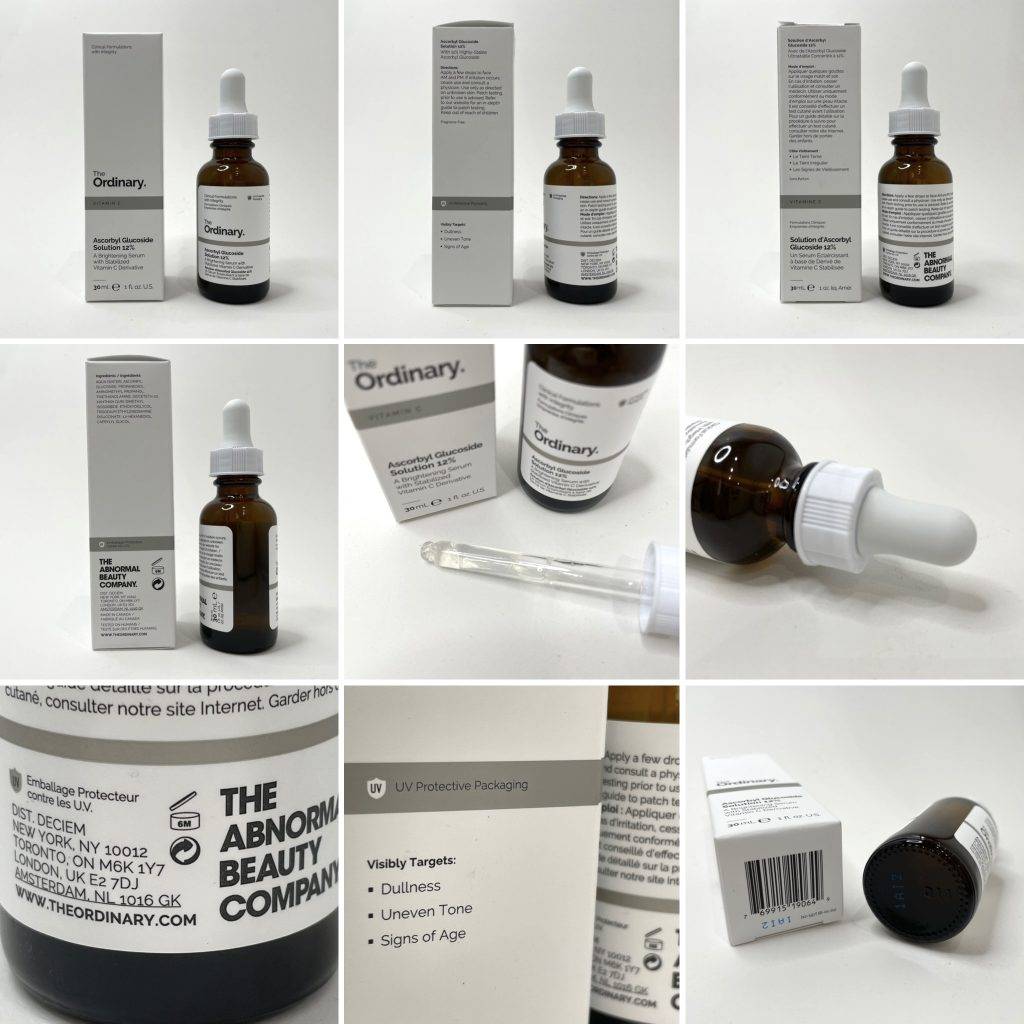 FAQS about The Ordinary Ascorbyl Glucoside
These questions have been answered by Deciem on Social Media.
Should Ascorbyl Glucoside be applied before or after Hyaluronic Acid? We suggest using Ascorbyl Glucoside Solution after Hyaluronic Acid.
Can I apply The Ordinary Ascorbyl Glucoside Solution 12% after microneedling? The products have not been tested for use alongside micro-needling; therefore, we are unfortunately unable to offer advice.
Can you use The Ordinary Buffet and Ascorbyl Glucoside solution 12% together? If so, which one would go first? Yes, you can use both together, and you would apply Buffet before Ascorbyl Glucoside.
Right now, I'm using a vitamin C 21%. Can I switch over to The Ordinary Ascorbyl Glucoside Solution? Will Ascorbyl Glucoside make a difference on my skin as I'm used to the high potency of vitamin c? Which vitamin c would you recommend? As you are an experienced Vitamin C user, you may prefer to explore The Ordinary Vitamin C Suspension 30% in Silicone.
I have been using Mandelic Acid and Niacinamide. I would like to concentrate on my complexion. Would it be good to add The Ordinary Ascorbyl Glucoside Solution 12? My skin is oily and sensitive. Sounds great! We'd recommend incorporating a Vitamin C, and The Ordinary Ascorbyl Glucoside Solution 12% is an excellent choice.
Is it ok to use vitamin c in the day in the summertime? There are contradictory opinions about this; some say that it protects from the sun (free radicals), and others say it shouldn't be used in the sun. All of the Vitamin C products can be used during the day. You should avoid unprotected solar exposure.
Which is better? Ethylated Ascorbic Acid 15% or Ascorbyl Glucoside 12%? If you are a new Pure Vitamin C user, we would suggest starting with AGS 12%.
Can I use Ascorbyl Glucoside 12% with Niacinamide? You can use AGS 12% with Niacinamide.
Can the Ascorbic Acid & Alpha Arbutin be used with Ascorbyl Glucoside Solution 12%? You may wish to only choose one to apply per regimen to avoid irritation to the skin!
Final Thoughts on Ascorbyl Glucoside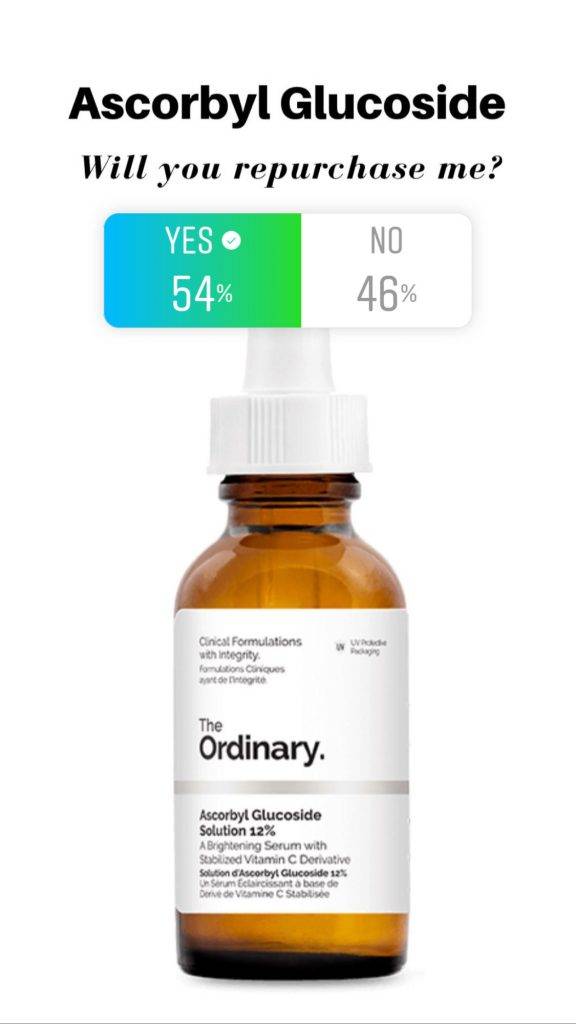 59% of the Deciem Addicts love The Ordinary Ascorbyl Glucoside.
61% of the Deciem Addicts say they have seen an improvement in their skin
54% say they will repurchase this product.
Currently scores 4.2/5 on the Deciem website.
I love this product. Feels great on the skin, easy to use, and my skin definitely looks brighter.
The Ordinary & Deciem Vitamin Cs
There are many different vitamin c products to choose from. The Ordinary, Hylamide and NIOD all have at least one vitamin c product to choose from. Read all about the Vitamin Cs here.