Unboxing The Ordinary Vitamin C 23%
See the product before you buy it.
64% of the Deciem Addicts love it
59% say it has improved their skin
62% say it has not caused any issues
43% will repurchase
Targets
Antioxidant support
Uneven Skin Tone
Signs of Ageing
Dullness
Everything you need to know about The Ordinary Vitamin C 23%.
What is The Ordinary Vitamin C 23%?
What does Vitamin C 23% do?
Which products does this product conflict with Vitamin c 23%?
How and when do I use Vitamin C Suspension 23%?
Unboxing The Ordinary Vitamin C 23%
Reviews of The Ordinary Vitamin C 23%
Similar products to this product
Available in 30ml tube. Check the price in your currency here.
What Is The Ordinary Vitamin C 23% & What Does It Do?
The Ordinary say: Vitamin C Suspension 23% in HA Spheres uses direct vitamin C and hyaluronic acid to help visibly reduce signs of ageing by brightening and balancing uneven skin tone. This water-free formula provides 23% pure L-Ascorbic Acid which remains completely stable due to the absence of water. What's more, this water-free formula is supported with spheres of hyaluronic acid for added hydration.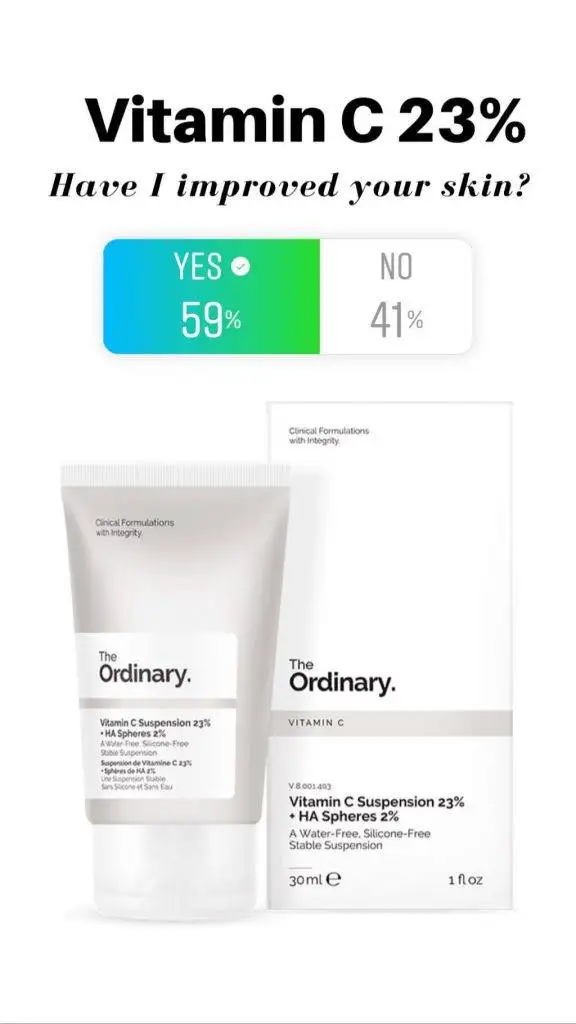 How & When Do I Use The Ordinary Vitamin C 23%
Use PM.
Apply a small amount all over your face avoiding your eyes.
This product is a suspension and there´s a bit of confusion as to where this is applied in your routine. Sometimes The Ordinary say to apply as your last step, so after moisturiser and sometimes they say before. See which way works for you.
Which Products Does Vitamin C 23% Conflict With?
Vitamin C 23% should not be used in the same routine as the following products;
EUK 134 (Antioxidant)
Niacinamide Serum & Powder
Peptides including Copper Peptides
Direct Acids
Direct Vitamin C
Retinol
There´s a lot of conflicting information when it comes to Vitamin C, Peptides and Acids.
The Ordinary say: We would not recommend combining direct acids or Vitamin C with peptides because (at a low pH) the peptides undergo processes such as deamination and oxidation, which compromise the activity of the peptides. Our recommendations are meant to serve as a preventative measure to avoid any incompatibility between those combinations (due to various concentrations and formats offered within our range) and also because of skin tolerance is subjective. If you have been combining them and this has been working for you, you may continue to do so as the combination will not harm the skin.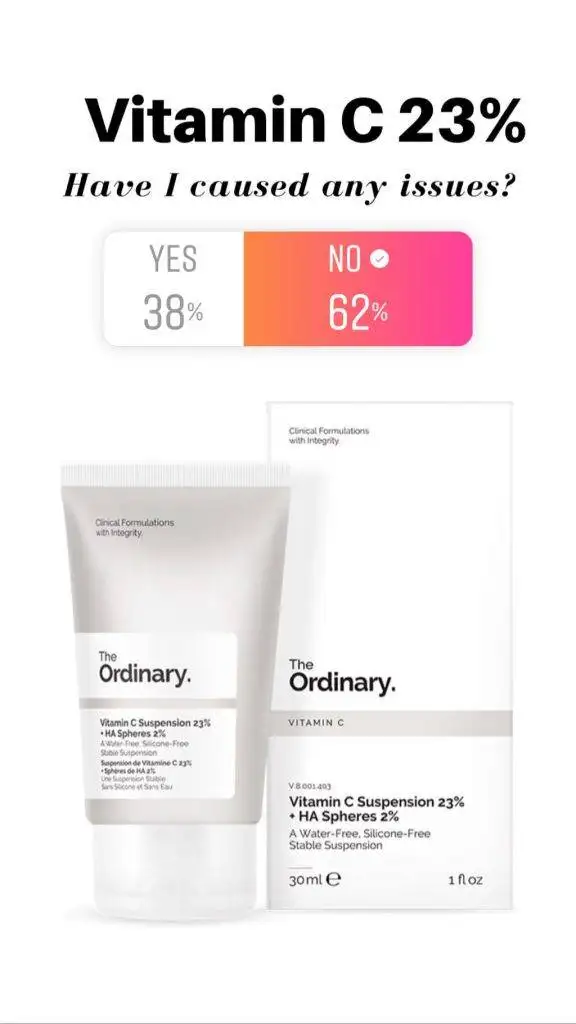 The Ordinary Vitamin C 23% Reviews
Nia Patten Vitamin C 23% has a sticky, grainy texture and is best used with something hydrating. I found it too strong for my skin and caused irritation.
Me: I haven´t used this for ages, but when I did, I loved it. It did sting a bit, but after a while, it was fine. Definitely made my skin lighter and brighter where I had some new dark spots.

RHS says I don't like the oily feel.
CR says Love this! The sun damage on my face has improved massively since using it. For the first 2 months, I used a pea size amount every pm but it's just twice a week now because it conflicts with other products I've added.
Em says I like it very much, especially mixed with resveratrol & ferulic acid. Although, I would have loved one a little less powerful (but not a dérative) that I can use more easily.
NH says I have it. But I can't use it more than once a week. Breaks me out if I use it more than that. But I must say, it makes my skin glow. Love the effect.
TD says Hated it. Either it pilled or I had to use such a tiny amount that it had close to no effect other than feeling like a scrub. Too grainy. Used the rest up mixed with my hand cream to lighten up some scars (kitten scratches) and saw no difference. I switched to the powder and I'm never going back.
Photos of The Ordinary Vitamin C 23% purchased from The Ordinary.
Always purchase The Ordinary from Deciem or one of their many authorised stockists around the world.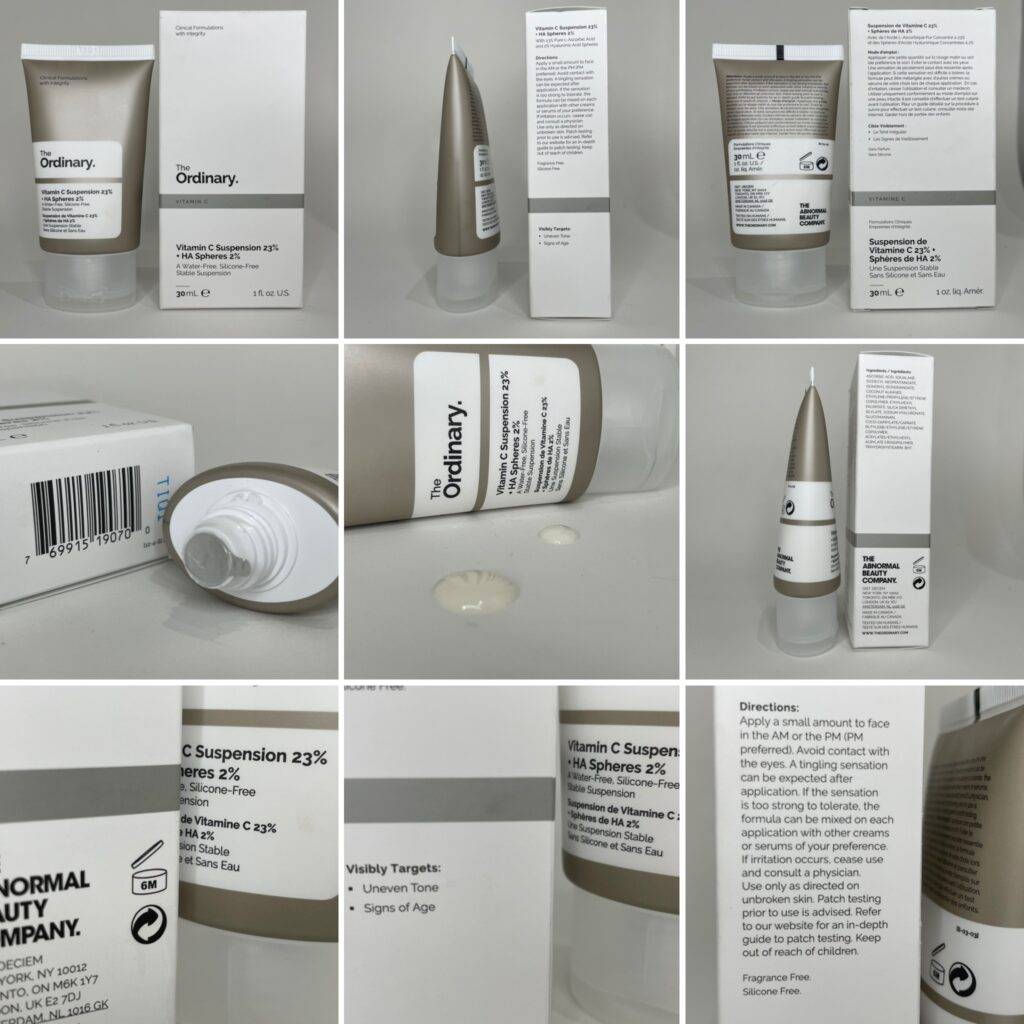 These questions have been found on Deciem´s official Instagram & Facebook page and answered by Deciem themselves.
Can I use Vitamin C 23% with Buffet + Copper? We would recommend using them in different routines.
Why should I use this product in the evening? Wouldn´t it be better in the daytime if there's a lot of UV? Due to the texture of the product, we recommend use in the PM.
Why can't your Niacinamide be used with your vitamin c's when other brands can? Our contraindication is specific to our products and their concentrations. If you've used them together in the past and the combination has worked for you without any issues, you may continue to do so.
If using the suspension in PM, can I use peptides in the AM? Yes, you're welcome to use it in the PM and any Peptide products in the AM.
Should the Vitamin C suspension 22% + HA be used after Hylamide SubQ serum or does it contain peptides? We'd recommend using them in separate routines, ideally. If you've been using them together without issue, there's no harm in such use.
Is it ok to use the vitamin c suspension after retinoid? We suggest using them on alternate evenings and waiting until your skin has adjusted to one before introducing another.
So, if I'm using Vit C 23% suspension, should it go on last, after moisturizing? As you prefer.
By saying apply vitamin C suspension as the final step, do you mean after oil/moisturizer? That's correct (but absolutely as you prefer)
Why can´t I mix Niacinamide with pure vitamin c? Our contraindication for mixing The Ordinary's Niacinamide 10% + Zinc 1% with 100% Pure L-Ascorbic Acid (LAA) powder is based on dated and current research. When Niacinamide is mixed with LAA, it causes a chemical discolouration of the product and may cause facial flushing. Although some people have mixed the two products together and have not experienced such effects, that may not be the case for others. Hence, we continue to advise not mixing the two products.
Final Thoughts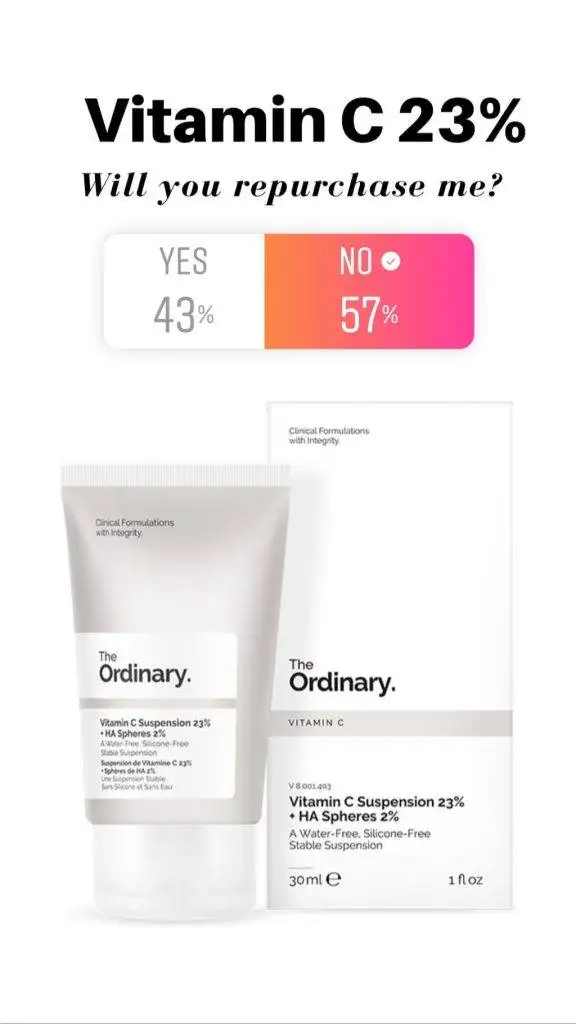 Final thoughts
64% of the Deciem Addicts love this product
59% say they have seen an improvement
62% had no issues using this
43% say they will repurchase
Negatives: Some people do not like the texture of this. It does seem to vary and can sometimes be more gritty than other times.
The Ordinary Vitamin C Guide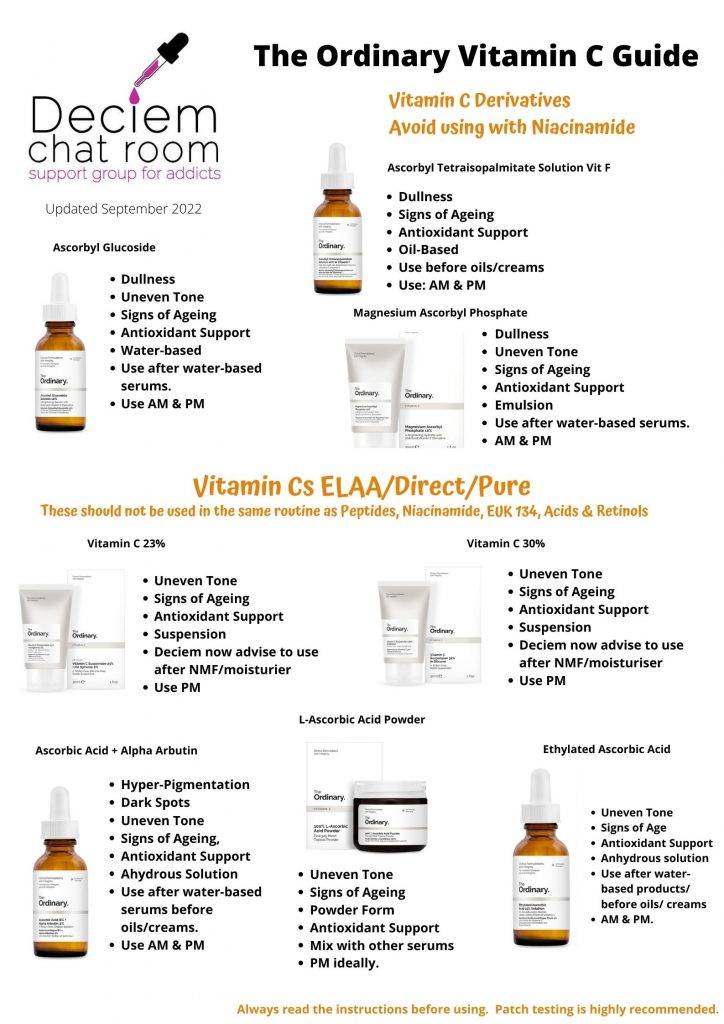 There are 8 Vitamin C products under The Ordinary brand. Direct vitamin c products have more conflicts than derivatives. If you´re new to skincare, one of the derivatives would be a good option for you.
Other The Ordinary Vitamin C
Other Deciem Vitamin C Products