Deciem has some fabulous gift sets that will make great presents for anyone who is already into skincare or for someone just starting out.
There are currently 6 sets by Deciem with products from The Ordinary and NIOD. The latest sets are the Bright Set and the Future Set. The Future Set is the first set that incorporates both The Ordinary & NIOD.
If you´re buying for someone who has just started to take an interest in skincare, The Ordinary Daily Set, Balance Set or the No-Brainer sets are great choices. For someone a bit more experienced, there is The Bright Set, The Future Set, and the NIOD set.
Deciem Gift Cards
If you want to introduce someone to Deciem but are unsure of their skin type, why not buy them a Deciem Gift Card?
The Deciem Sets
The Future Set by Deciem includes;
The Ordinary Squalane Cleanser | 50ml
NIOD Multi-Molecular Hyaluronic Complex | 30ml
NIOD Fractionated Eye Contour Concentrate | 15ml
The Ordinary EUK 134 0.1% | 30ml
NIOD Hydration Vaccine | 50ml
NIOD Stainless Steel Spoon
The Ordinary Daily Set
The Daily Set is a fantastic choice for someone new to skincare. The set is excellent for all skin types and includes 3 of the most popular The Ordinary products.
Squalane cleanser
Hyaluronic Acid
Natural Moisturising Factors
The Ordinary No Brainer Set
The No-Brainer Set is great for most skin types and ages and includes;
The Ordinary Balance Set
The Ordinary Balance Set includes;
The Ordinary Squalane Cleanser 50ml
Salicylic Acid Masque 50ml
Niacinamide 30ml
Natural Moisturising Factors 30ml
The Balance Set aims to balance the look of visible shine, reduce textural irregularities, reduce the look of enlarged pores, and enhance skin radiance.
The Ordinary Bright Set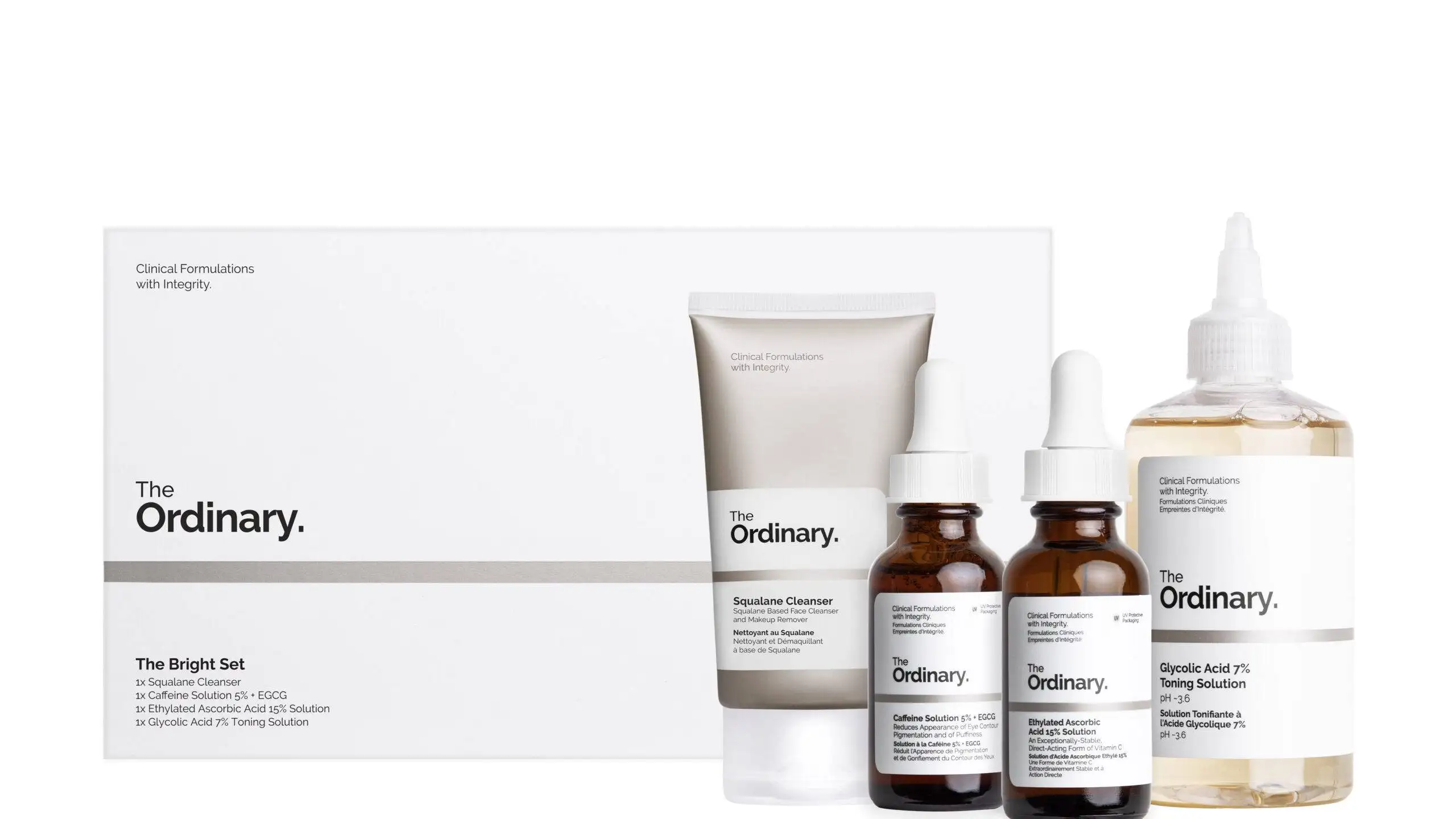 The Ordinary Bright Set includes;
The Bright Set is slightly different from the other box sets. The products in the other box sets can all be used together to make a complete routine. This is more about the individual products for brightening. The Ethylated Ascorbic Acid and Glycolic should not be used in the same routine, plus these products have quite a lot of other conflicts.
NIOD Gift Set
The NIOD Gift Set includes;
NIOD LVCE 50ml – oil cleanser
Photography Fluid 12% 15ml
These products are smaller versions
Anyone who already loves skincare would absolutely love to receive this NIOD gift set. It´s beautifully packaged and has some of the best products from NIOD.
Deciem Gift Cards
You can now purchase Deciem Gift Cards. Before buying, read the terms and conditions. If you are purchasing for someone else in another country, you must buy the gift card in their currency.