Deciem has some wonderful sets that will make great presents for anyone who´s already into skincare or for someone who is just starting out on their skincare journey.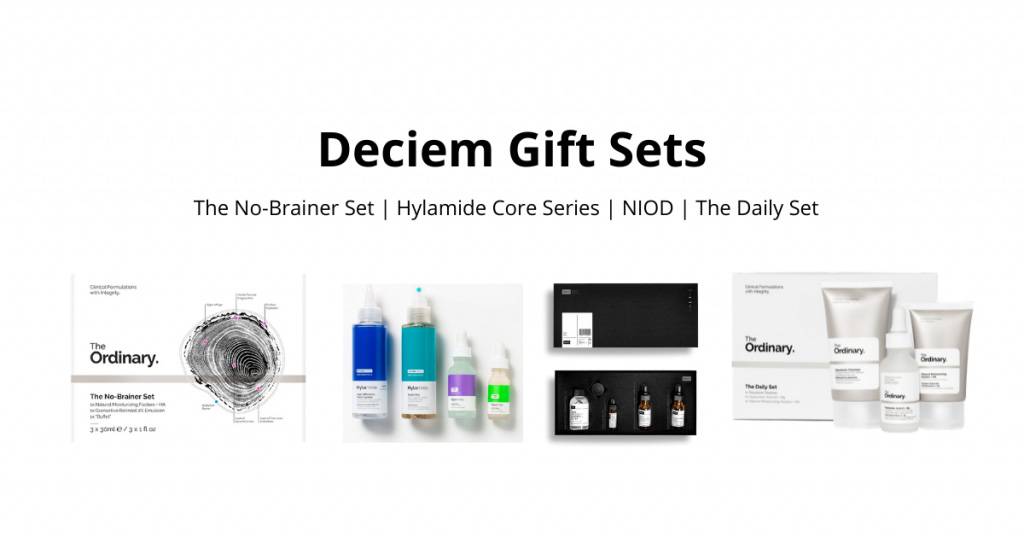 The Deciem Gift Sets
If you´re buying for someone who is just starting to get into skincare, The Ordinary Daily Set, Balance or the No-Brainer sets are great choices. There is now also The Bright Set but this isn´t a complete routine like the other box sets. It´s more about products for brightening.
For someone who wants a quick all-in-one routine one of these box sets would be ideal. For someone who is already using The Ordinary, loves skincare, science, and technology, then I´m sure they would love the NIOD set.
The Deciem Sets
The Ordinary Daily Set
The Daily Set is a fantastic choice for someone new to skincare. The set is great for all skin types and includes 3 of the most popular The Ordinary products.
Squalane cleanser
Hyaluronic Acid
Natural Moisturising Factors
Prices £15 | 18€ | 33$AUD | 19$ US | 19$ CAD
The Ordinary No Brainer Set
The No-Brainer set is great for most skin types and ages and includes;
The Ordinary Balance Set
The latest set by The Ordinary is the Balance set aims to balance the look of visible shine, reduce the look of textural irregularities, reduces the look of enlarged pores, and enhances skin radiance.
The Ordinary Squalane Cleanser 50ml
Salicylic Acid Masque 50ml
Niacinamide 30ml
Natural Moisturising Factors 30ml
Prices: 29$US | 29$CAD | 28€ |23GBP | 50$AUD
The Bright Set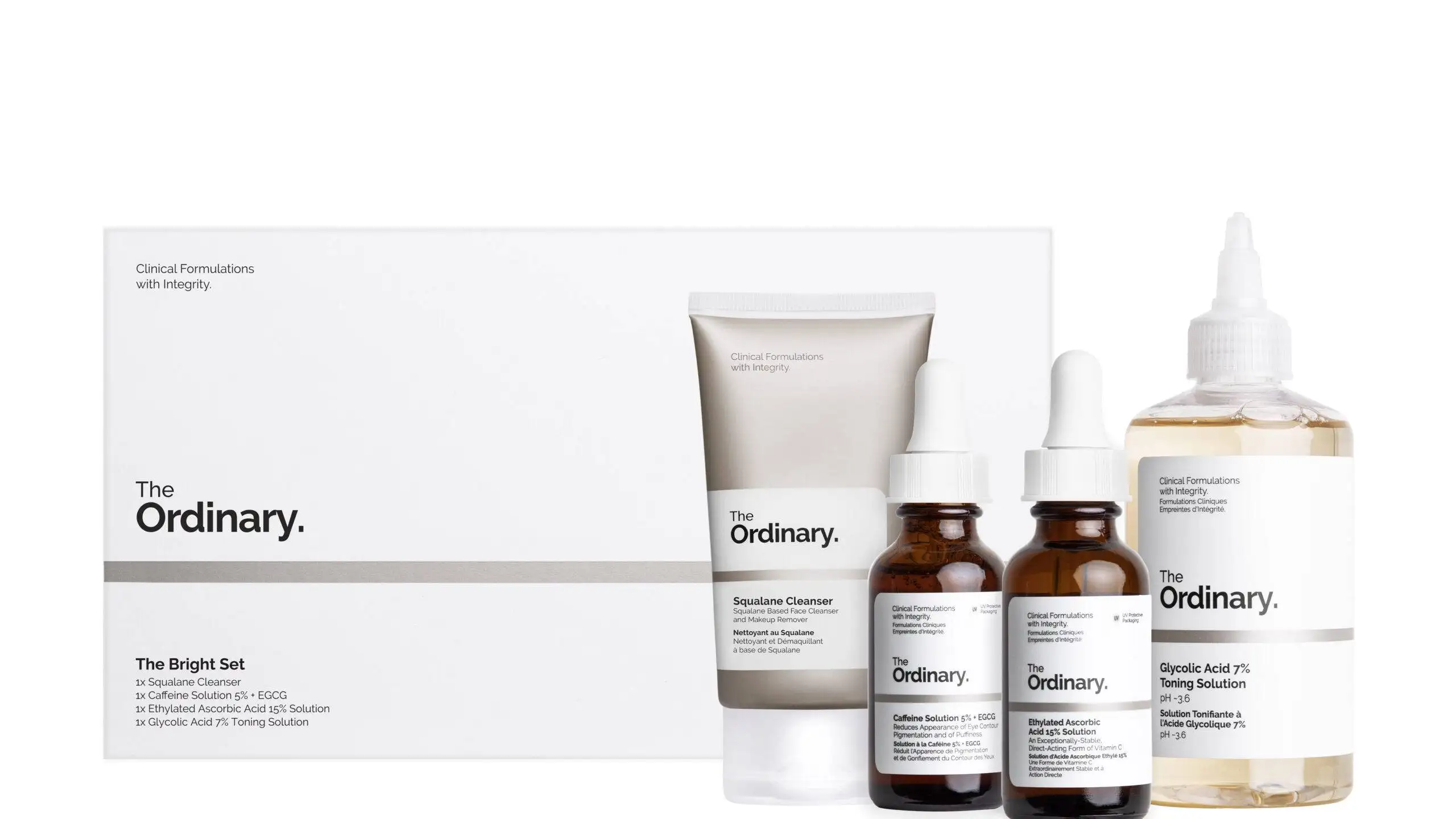 The Bright Set is slightly different from the other box sets. The products in the other box sets can all be used together to make a complete routine. This is more about the individual products for brightening. The Ethylated Ascorbic Acid and Glycolic should not be used in the same routine plus these products have quite a lot of other conflicts.
Prices: $38 CAD | $38 USD | £33.00 | €37 | $64 AUD
Hylamide Core Series Gift Set
The Hylamide set is fantastic for beginners or anyone who wants to keep their skincare to a minimum. Anyone already using The Ordinary I´m sure would love to try Hylamide. This set includes;
High-Efficiency Face Cleaner – Cleanser
Sub Q Mist – Hydrating Mist
Hylamide Sub Q Skin – A wonderful serum similar to Buffet
Sub Q Eyes – Just for eyes
Prices: £51.20 | 58.40€ | 88$AUD | 61.60$ CAD | 52.80$ US
NIOD Gift Set
Anyone already into skincare, especially someone who already loves The Ordinary would absolutely love to receive this NIOD gift set. It´s beautifully packaged and has some of the best products from NIOD.
NIOD LVCE – a fabulous oil cleanser
FECC Fractionated Eye Contour Concentrate was voted the most popular NIOD product by the Deciem Addicts.
NIOD MMHC2 – is one of the best Hyaluronic Acids around and the
Photography Fluid 12%, which makes your skin look fabulous in photos.
Please note that some of these products are smaller versions.
Prices: £50 | 70$ CAD | 70$ US | 105$ AUD | 60€
Deciem Gift Cards
Unfortunately, at the moment, Deciem does not sell gift cards. I have asked Deciem about this many times, and they say it´s something that they will hopefully have in the future. If you prefer to buy a gift card for someone, you can check one of the other online stockists like Beauty Bay, Cult Beauty, or one of the many mentioned here.
Buying online at Deciem
If you are sending products to someone else, you may have problems paying with a credit card. The card must be registered to the address you are sending to; therefore, I suggest you pay with Pay Pal, which is the easiest way to pay.