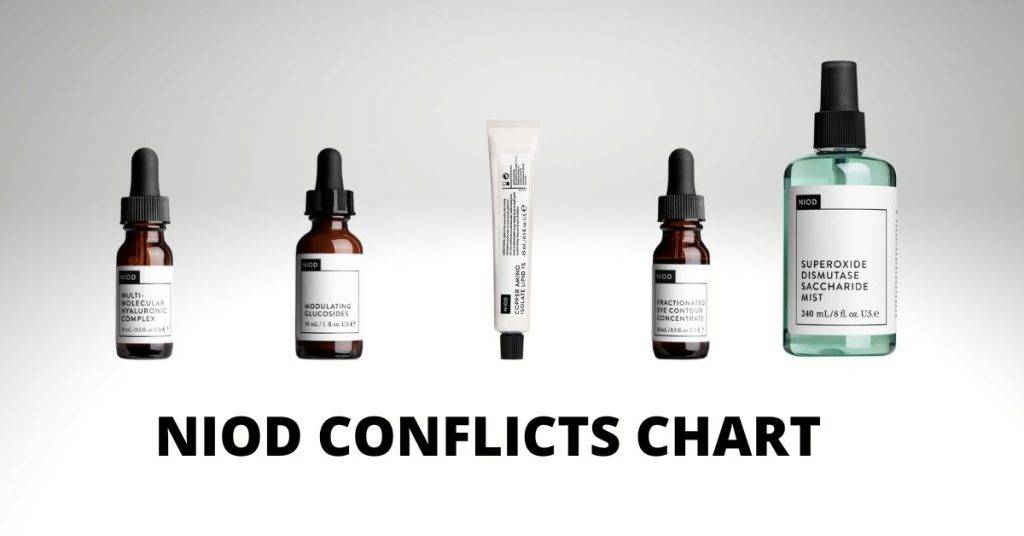 NIOD Conflicts
Finally, NIOD has updated its website and has listed the NIOD conflicts, the products you can and cannot mix. NIOD was always so confusing but now it all a bit clearer.
NIOD Conflicts Chart
These are the latest NIOD conflicts. The products listed below are best avoided in the same routine. They may be used in separate routines AM & PM or on different days.
Whilst some say "no conflicts", always patch-test products first. Personally, whilst Flavanone Mud doesn´t have any conflicts, I find it quite strong, so only use gentle, hydrating products after using it.
This chart is correct at the time of publishing. NIOD may update conflicts so always double-check at the NIOD website.
The NIOD Conflicts Chart
In this chart, I have included the NIOD product, targets, conflicts and the sizes the product comes in.
How To Layer NIOD
At the moment (September 2022), it is best to follow the instructions on the NIOD product/box as this clearly tells you where to place it in your skincare routine. You can also check the product solutions mentioned and use How To Layer The Ordinary Chart.
NIOD Beginners Guide
You can find a quick guide to NIOD here with all the products, how to use and reviews.
NIOD Best Sellers
You can find the Top 10 best sellers by NIOD here.
NIOD Reviews
You can find NIOD reviews here with polls by the #deciemaddicts. I also recommend joining The Ordinary & NIOD Chat Room Facebook Group to find more independent reviews.
NIOD PAO (Period After Opening)
Most of the NIOD products should be used within 6 months of opening. You can find The Ordinary & NIOD PAOs here.
The Ordinary Products You Can & Cannot Mix
You may find this page with all The Ordinary products you can and cannot mix helpful too.