58% of the #deciemaddicts love it
64% say it has improved their skin
57% say they will repurchase it
Mandelic Acid Targets
Dullness
Uneven Tone
Textural irregularities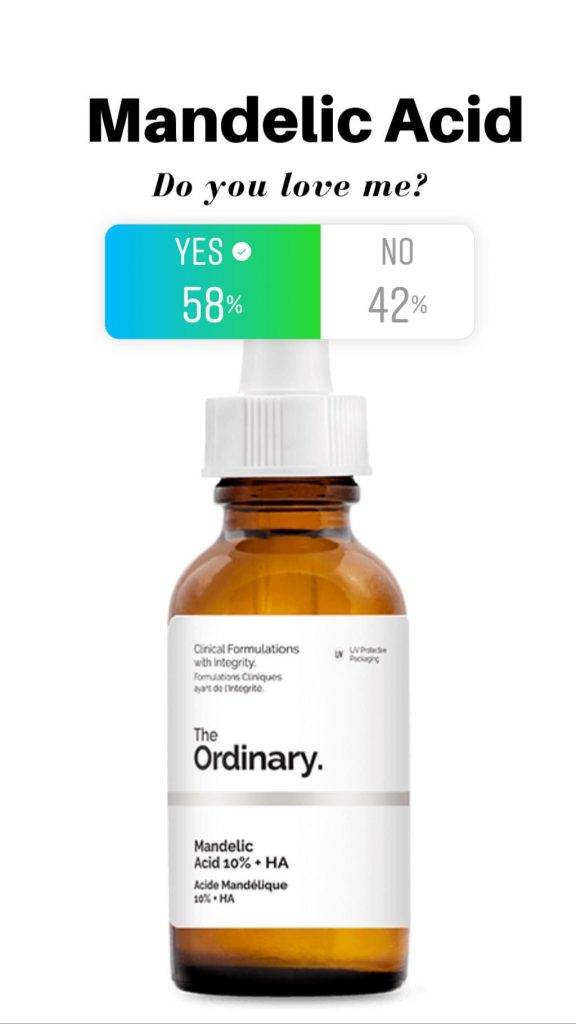 The Ordinary Mandelic Acid reviews by the moderators of the Facebook Group and the Deciem Addicts. Reviews by you, the people who have bought, tried and tested.
What is Mandelic Acid, and what does it do?
Mandelic Acid 10% + HA offers superficial dermal peeling that is gentler than other alpha hydroxy acids. The molecular weight of mandelic Acid is 152.1 daltons, which is larger than other alpha hydroxy acids (glycolic Acid is 76.0 daltons, for example). This larger size allows mandelic Acid to penetrate the skin more slowly, which in turn makes it very gentle and suitable for all skin types. You don't need a concentration of more than 10%, because then you would simply be achieving an indirect peeling strength that is more easily offered through lower percentages of glycolic Acid.
This formulation offers superficial dermal peeling to target uneven tone, textural irregularities, and fine lines. Due to its large molecular weight, Mandelic Acid is suitable for all skin types (including those that are sensitive).
How & When Do I use Mandelic Acid
Mandelic Acid is a water-based product and should be used as one of the first layers in your routine, followed by your oils or creams. Mandelic Acid can be applied once per day, ideally in the PM. It can be diluted with other treatments (check conflicts) to reduce the strength until the skin develops tolerance.
Sunburn Alert: This product contains an alpha hydroxy acid (AHA) that may increase your skin's sensitivity to the sun and, particularly, the possibility of sunburn. Use sunscreen, wear protective clothing, and limit sun exposure while using this product and for a week afterwards.
Always read the official page on the Deciem website before using it.
Which products conflict with Mandelic Acid?
You can find a chart listing all The Ordinary products you can and cannot mix here. Mandelic Acid shouldn´t be used in the same regimens as;
Direct Acids
Direct Vitamin C
Peptides
EUK 134 (Antioxidant)
Whilst not listed as a conflict, Deciem recommends avoiding the use of Pure Vitamin C and Retinols.
Which products can I use with Mandelic Acid?
This is the response from Deciem about Acids & Peptides.
Our rule against combining strong antioxidants only applies to our products containing copper peptides. We would not recommend combining direct acids with peptides due to the susceptibility of peptides to hydrolysis (which breaks the bonds between peptides, reducing their efficacy, and making them into individual amino acids). At low pH, the peptides undergo processes such as deamidation (the removal of an amide group) and oxidation, which compromise the activity of the peptides.
Having said that, if you have previously combined peptides with acids and have not experienced any negative side effects or discolouration, you may continue to combine the two products so that the combination does not pose any potential harm. Our recommendations are meant to serve as a preventative measure to avoid incompatibility between those combinations and because skin tolerance is subjective.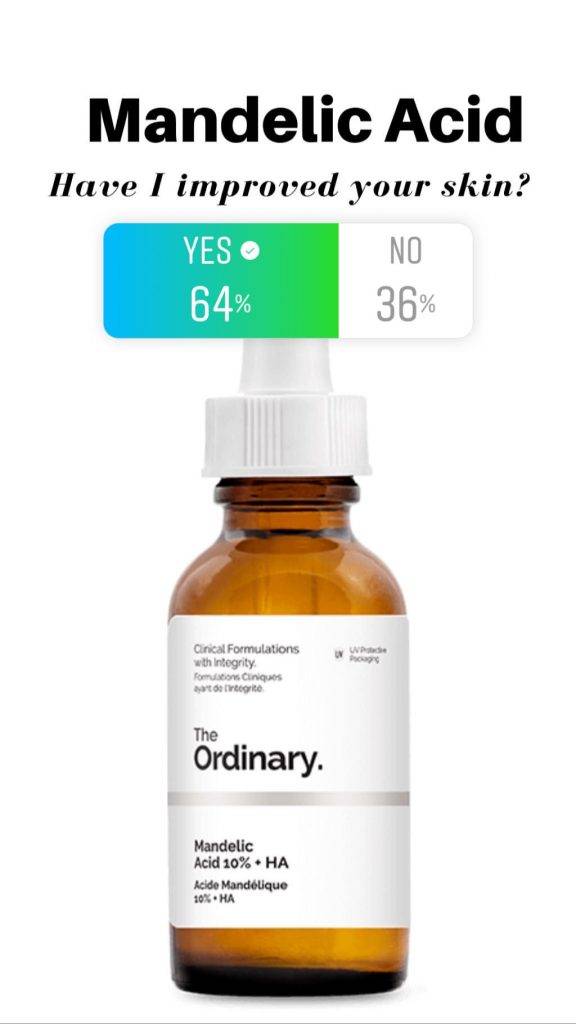 Mandelic Acid Reviews
You can read more reviews or share your thoughts in the Facebook Group.
TTH says: I'm currently using Mandelic Acid, and I´m fairly new to chemical exfoliation. I have dry-combination skin, rather sensitive and acne-prone. Can I use The Ordinary Mandelic Acid every evening after cleansing and apply it as I would a serum. I really like it and have seen some improvement in my skin.
MVL says:  I used The Ordinary Mandelic Acid several times and always felt that my skin was softer the other day. I am not using it now whilst I allow my skin to get used to tretinoin.
See these reviews and more by the Deciem Addicts in the Facebook Group or on Instagram.
Mandelic Acid FAQS
These Q&As have been answered by Deciem on social media.
Can Mandelic Acid be used with The Ordinary 134? It should not be used with EUK 134 0.1%.
Can Mandelic Acid be used with Niacinamide? Yes, it can.
What would you not recommend using with Mandelic Acid?   It should not be used with other direct acids, direct forms of vitamin C, retinoids or peptides! 
Exfoliating acids need to be used before or after the buffet serum? We don't suggest using Direct Acids & Peptides within the same regimen. You may wish to use Multi-Peptide + HA Serum in the AM & Direct Acids in the PM.
Would Mandelic Acid work for targeting age spots on the face and neck? The Ordinary Mandelic Acid 10% + HA is a superficial alpha hydroxy acid (AHA) peeling formulation that targets uneven tone, textural irregularities, and fine lines. Its larger molecular weight allows mandelic acid to penetrate the skin slower and is suitable for all skin types.
I have dry skin and have recently beeAcidaling with some texture and a couple breakouts. Would the Mandelic Acid be good for me, and which other products would you recommend? Deciem says: Mandelic Acid would be a great place to start. We would also suggest trying The Ordinary Niacinamide 10% + Zinc 1%. This is a high-strength vitamin and mineral formula that visibly targets the look of blemishes and signs of congestion. We recommend avoiding unprotected solar exposure, gradually incorporating one new product into your regimen at a time, and applying test patches first to see what works best for your skin. We hope this helps!
Can Mandelic Acid and Niacinamide be used together in the same routine? In what order should they be applied? The Ordinary Mandelic Acid 10% + HA may be applied before Niacinamide 10% + Zinc 1%.
Hi! Can I use the Glycolic acid toner in the same routine as Mandelic acid? Deciem says: We suggest using them on alternate evenings and waiting until your skin has adjusted to one before introducing another. 
More FAQS
Which of your products is good for blackheads? Deciem says: We suggest exploring The Ordinary Niacinamide 10% + Zinc 1% and The Ordinary Mandelic Acid 10% + HA. 
When you use this in the PM, should you use it alone or add hyaluronic on top of it? Also, can I put moisturizer on after applying it in PM or is it best not to? You may use it alone or pair it with a hydrator.
Do you recommend using Mandelic and Lactic Acid together in a night regimen? We suggest using them on alternate evenings to avoid any irritation.
Would I be able to use the Salicylic Acid 2% Mask while using the Mandelic Acid? We suggest alternating between them to avoid irritation.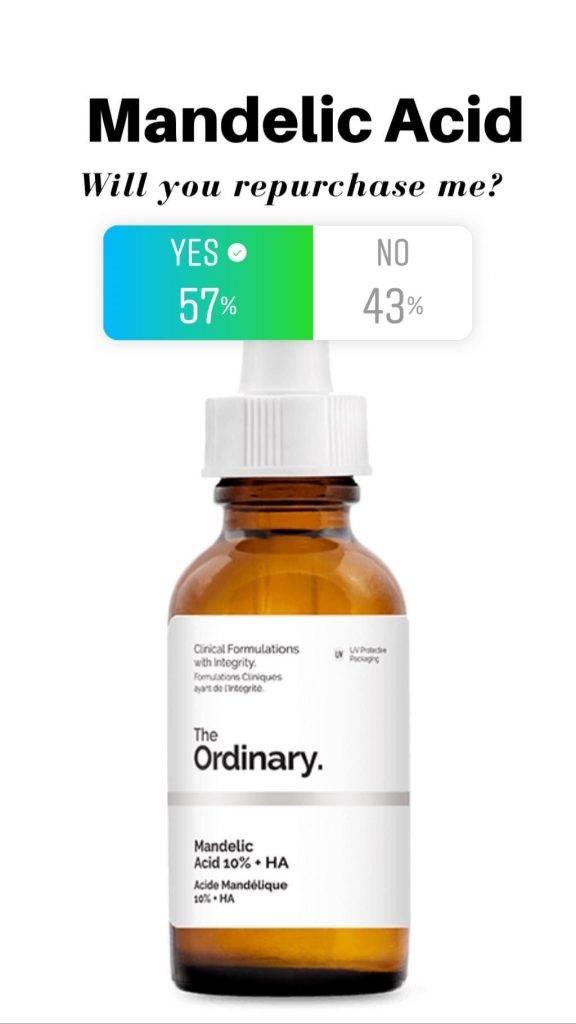 Final Thoughts on The Ordinary Mandelic Acid
As you can see, 58% of the Deciem Addicts love it, 64% say it has improved their skin, and 57% will be repurchasing it. Mandelic Acid is the perfect place to start if you're new to acids.
Similar Products to Mandelic Acid
You can find all The Ordinary Acids here, and you should also take a look at NIOD NAAP Non-Acid Acid Precursor 15%