The Ordinary Regimens
If you're new to The Ordinary, looking through The Ordinary regimens will give you a good idea of the type of products you should be looking for.
If you´re new to skincare, buying a complete regimen will save you a lot of time, money and stress.  However, if you feel these regimens do not suit your skincare needs, you can ask Deciem for a personalised regimen.
There´s a huge post in the Facebook Group where the Deciem Addicts have added their own personalised regimens from Deciem.
Browsing through all these routines will give you a good idea as to how many products to use, which ones to use together and for what type of skin concern.
You can find a list of all The Ordinary products, targets and conflicts here.
| | |
| --- | --- |
| Morning | Cleanse | Buffet | Hyaluronic Acid | SPF |
| Evening | Cleanse | Buffet | Retinoid | Rose Hip Seed Oil |
| | |
| --- | --- |
| Morning | Cleanse | Alpha Arbutin | Niacinamide | MAP | SPF |
| Evening | Cleanse | Alpha Arbutin | Azelaic Acid |
| | |
| --- | --- |
| Morning | Cleanse | Hyaluronic Acid | Natural Moisturising Factors | SPF |
| Evening | Cleanse | Hyaluronic Acid | Squalane |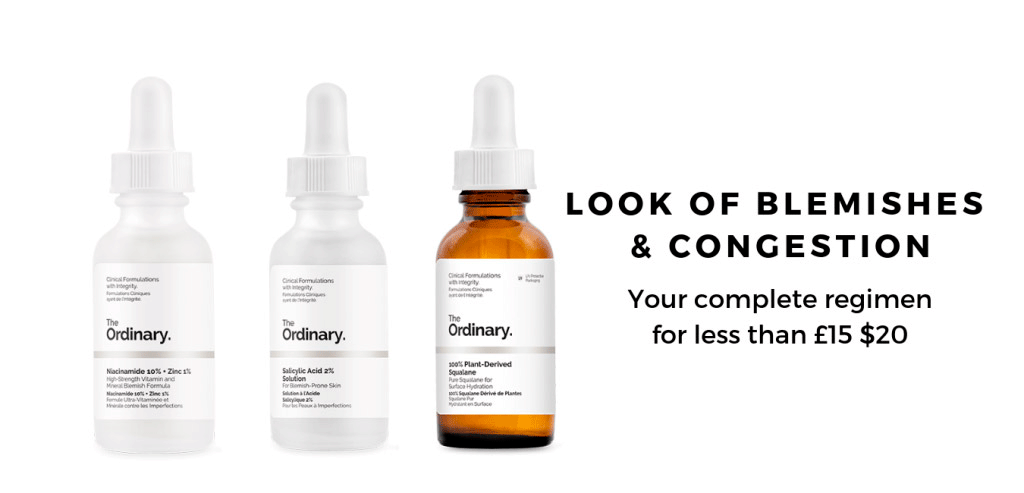 | | |
| --- | --- |
| Morning | Cleanse | Niacinamide | SPF |
| Evening | Cleanse | Salicylic Acid | Niacinamide |
| | |
| --- | --- |
| Morning | Cleanse | Azelaic Acid | SPF |
| Evening | Cleanse | Gycolic Acid | Retinoid 2% or 5% in Squalane |
| | AHA 30% solution is a treatment. Use no more than twice a week for 10 minutes |
| | |
| --- | --- |
| Morning | Cleanse | Hyaluronic Acid | NMF | SPF |
| Evening | Cleanse | Azelaic Acid |
| | |
| --- | --- |
| Morning | Niacin amide | Natural Moisturising Factors | Silicone Primer (optional | SPF |
| Evening | Salicylic Acid | Niacinamide |
The Ordinary Routine For Sensitive Skin
| | |
| --- | --- |
| Morning | Hyaluronic Acid | Natural Moisturising Factors | SPF |
| Evening | Squalane | Natural Moisturising Factors |
More Skincare Regimens
The Ordinary Routine for Ageing & Wrinkles
| | |
| --- | --- |
| Morning | Buffet | Natural Moisturising Factors |
| Evening | Glycolic Acid | Buffet | Retinoid 2% | Rose Hip Seed Oil / Squalane | AHA 30% Peeling once a week |
The Ordinary Routine For Blemishes & Congestion
| | |
| --- | --- |
| Morning | Salicylic Acid | Niacinamide |
| Evening | Salicylic Acid | Azelaic Acid | AHA 30% Peeling (once a week) |
The Ordinary Beginner Ageing Routine
| | |
| --- | --- |
| Morning | Hyaluronic Acid | EUK 134 | Natural Moisturising Factors |
| Evening | Hyaluronic Acid | Granactive Retinoid 2% | Natural Moisturising Factors |
The Ordinary Intermediate Ageing Routine
| | |
| --- | --- |
| Morning | Buffet | Hyaluronic Acid | EUK | NMF |
| Evening | Buffet | Hyaluronic Acid | Granactive Retinoid 2% | NMF |
The Ordinary Advanced Ageing Routine
| | |
| --- | --- |
| Morning | Buffet + Copper Peptides | Hyaluronic Acid | EUK 134 | NMF |
| Evening | Buffet + Copper Peptides | Hyaluronic Acid | Granactive Retinoid 5% in Squalane |