The Ordinary Rosacea Regimen – The Best The Ordinary Products For Rosacea & Redness
Please remember, this is just a guide. If you have rosacea, you should consult with a professional. These are just some of the best products to help with redness and calming the skin.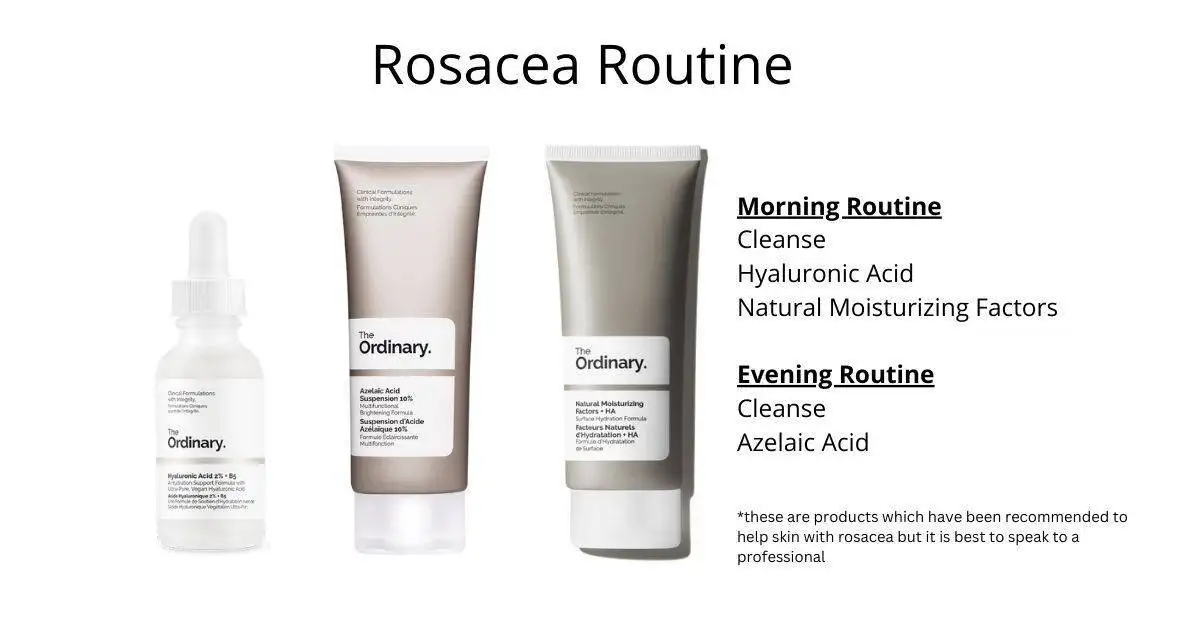 You can click each product and add them to your basket
Rosacea Regimen – The Ordinary products that may help
It is important to remember that Rosacea is a medical issue. Therefore, it is best to talk to a professional. Further down this page, you will find more information about Rosacea and its causes.
Apart from the products mentioned below, Deciem also suggests NIOD Superoxide Dismutase Saccharide Mist (SDSM2) and NIOD Modulating Glucosides. These can help with inflammation and redness. You can find more product recommendations below.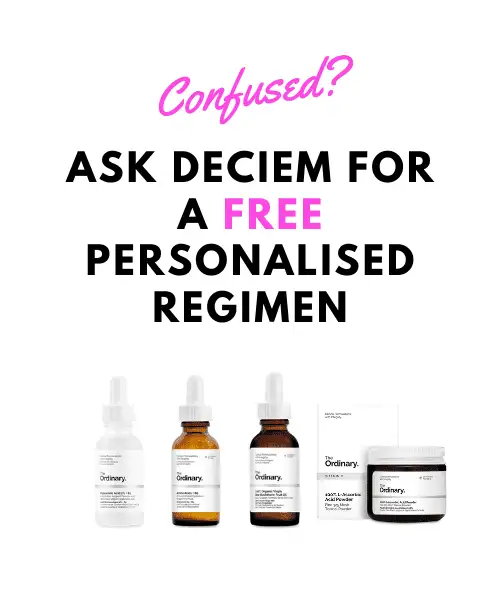 The Ordinary, Deciem & Rosacea
Come and chat with the Deciem Addicts in the Facebook Group. Many of them have Rosacea and have really got it under control with the right products. Use the search box and type rosacea for all the latest posts.
Hyaluronic Acid – Rosacea Regimen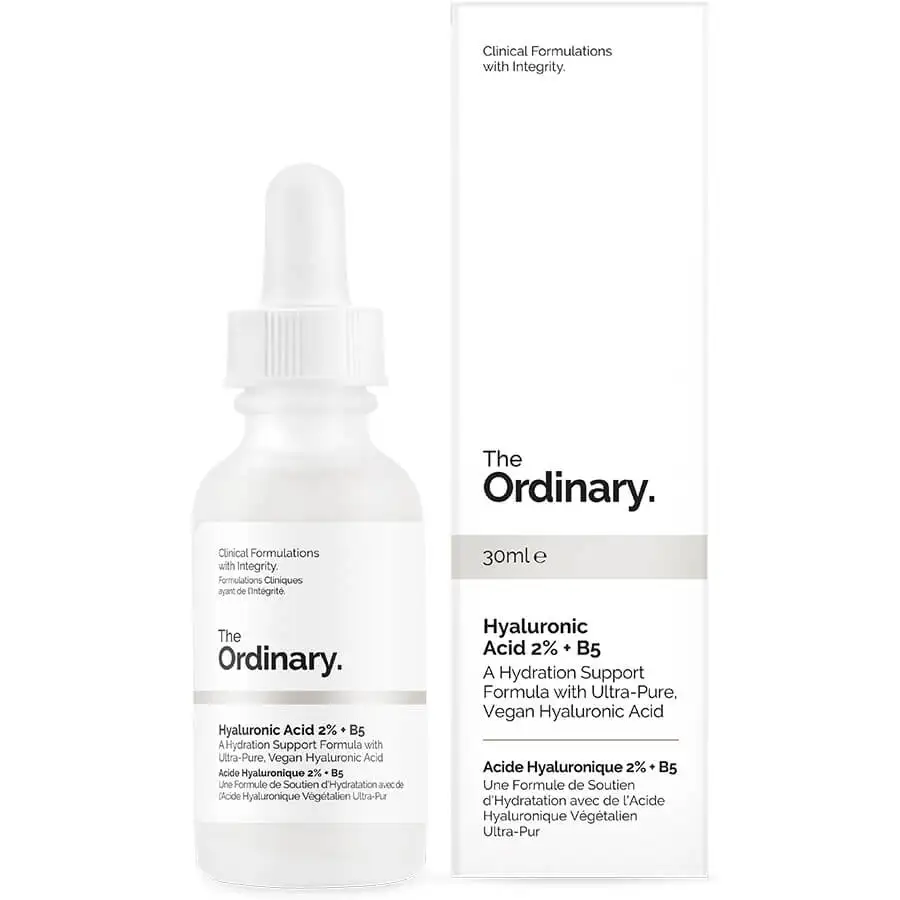 Available in 2 sizes. 30ml & 60ml.
Hydrates, plumps the skin, and general skin repair.
Can use this morning and evening
Apply a few drops to your face straight after cleansing.
Some say to apply to dry skin; some prefer to damp skin. The Ordinary says whichever you prefer.
Natural Moisturising Factors – Rosacea Regimen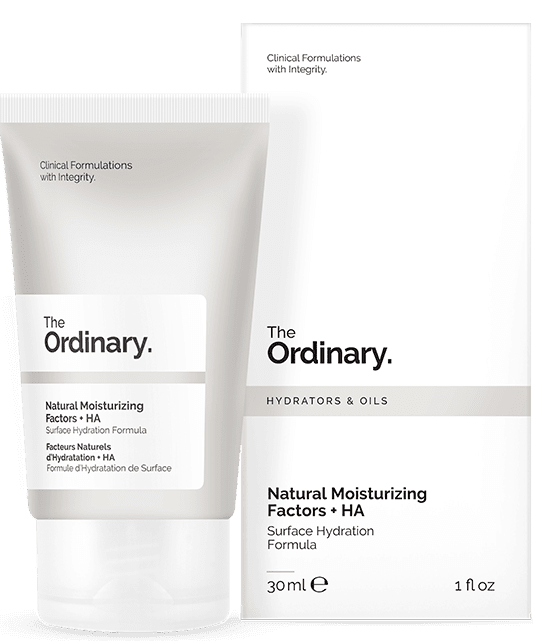 Available in 2 sizes. 30ml & 100ml.
Use it in the morning and evening.
A pea-sized amount is all you need. It´s best to apply a very small amount at a time.
Azelaic Acid – Rosacea Regimen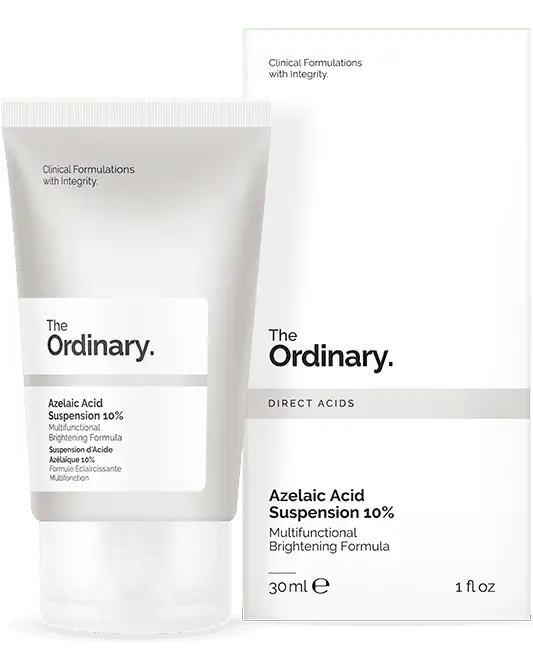 Available in 2 sizes. 30ml & 100ml.
Targets: Dullness, uneven tone, textural irregularities.
This is best used in the evening.
Always patch-test products before using, especially if you have sensitive skin.
The Ordinary & Deciem Products for Rosacea
A beginner's guide to The Ordinary skincare for rosacea-prone skin- which products to avoid and which can help soothe redness.
What is Rosacea?
Rosacea is a medical condition that can affect facial skin. Its exact cause is unknown, but it's probably genetic. Skin mites and bacteria might also be a trigger. Rosacea tends to be more common in women over 30 and those with a fair complexion, although anyone can have rosacea.
What causes Rosacea?
Whilst rosacea is thought to be hereditary, it can also be triggered by stress, hot and cold temperatures, food and drinks including alcohol, caffeine, spicy foods, sugar, dairy and many more factors. This is why it´s best to talk to a doctor. It could be just one thing that you´re eating or drinking that´s setting off your redness. It´s worth keeping a food and drink diary to see if you spot any patterns, also noting stress levels.
How do I know if I have rosacea?
If you think you might have rosacea, it's best to see a doctor for diagnosis and treatment. There is no specific test for rosacea, but a doctor will eliminate other causes to come to a diagnosis.
How does rosacea look and feel?
There are a few different signs which could mean you have rosacea;
The most common symptoms are redness and thickening of the skin
You could also have visible blood vessels, acne-like spots or bumps
Flushing (redness of the cheeks) with certain triggers like heat, alcohol and exercise
Sensations of itchiness, burning and stinging
Dryness of the skin
Also, bumpiness of the nose and dry eyes could be signs of rosacea
The symptoms vary from person to person, so it is best to see a medical professional for confirmation.
Which products/ingredients should I avoid with rosacea?
Try and avoid anything that might trigger inflammation. Here are the main skincare don'ts for rosacea sufferers
Avoid overzealous cleansing- scrubs and foaming cleansers that make skin feel tight.
Hot water when washing the face is definitely a no-no
Skincare that contains alcohol and/or fragrance and dry and irritates the skin.
Strong acids can irritate; best to avoid glycolic acid
Sun protection is essential. It´s best to stick to mineral/physical protection; chemical sunscreens can be irritating.
Which The Ordinary products should I use for rosacea?
If you suffer from rosacea, the skincare focus should reduce redness, calm inflammation, and build the moisture barrier. Here are the ideal The Ordinary products for rosacea-prone skin.
The Best The Ordinary Products For Redness / Rosacea
The Ordinary Mineral UV Filters SPF 30. Sun protection is very important, particularly in the case of rosacea. This is because UV is a trigger. Mineral sunscreen is less irritating than chemical SPF.
Squalane Cleanser. This is a really bland non-irritating cleanser, perfect for rosacea skin.
Hyaluronic Acid 2% + B5– Hydration is important for healthy skin, and the added vitamin B5 (panthenol) is soothing and nourishing.
Mandelic Acid 10%. Strong acids, like The Ordinary Glycolic Toner and the red AHA peel, should be avoided. Mandelic Acid is gentler; therefore, it is a good option for sensitive rosacea-prone skin.
While you can't cure rosacea with any product you can buy, you can definitely help the situation by giving your skin what it needs – soothing and nourishing ingredients. If you suspect that you have rosacea, your best option is to see a doctor for a diagnosis and prescription medication like antibiotics.
The Ordinary skincare range is an excellent choice if you have rosacea – it's fragrance and alcohol-free with plenty of simple skin-supportive products.
What other The Ordinary or NIOD products would be good for rosacea?
In our live Q&A in the Facebook Group, this is what Deciem had to say about rosacea.
As none of our products can be considered medical treatments for rosacea, you may wish to discuss suitable treatments for persistent signs of rosacea with your physician or dermatologist. However, you may wish to explore one of the following products to target signs of inflammation: Hylamide Sensitive Fix Booster, NIOD Superoxide Dismutase Saccharide Mist (SDSM2) or NIOD Modulating Glucosides.
The Ordinary Regimens & Guides
Rosacea Q&A
Debbie Thomas from D.Thomas Clinic London, held a Q&A in the chat room all about rosacea. You can read all the questions and answers here.