50% OFF NIOD CAIL – ENDS NOVEMBER 30th
NIOD CAIL 1% is the MOST EXPENSIVE product from NIOD and is NIOD´s very FIRST PATENTED Formula. It´s meant to be an all-in-one product and targets a multitude of skin concerns, including; dryness, uneven skin tone, signs of ageing and textural irregularities. It´s just 15ml but you only need a tiny amount so it should last a good few months. It is currently 50% off in the SLOWVEMBER SALE which ends 30th Novmeber 2023.
NIOD CAIL 1%  – Copper Amino Isolate Lipid 1% – NIOD´s First Patented Formula
See NIOD CAIL before you buy it. The colour, texture, consistency.
A quick look at NIOD CAIL
Textural Irregularities
Signs of Ageing
Antioxidant Support
Dryness
Uneven Skin Tone
65% of the Deciem Addicts love it
59% of the Deciem Addicts have seen an improvement
53% of the Deciem Addicts will repurchase it
CAIL currently scores 4.1/5 on the Deciem website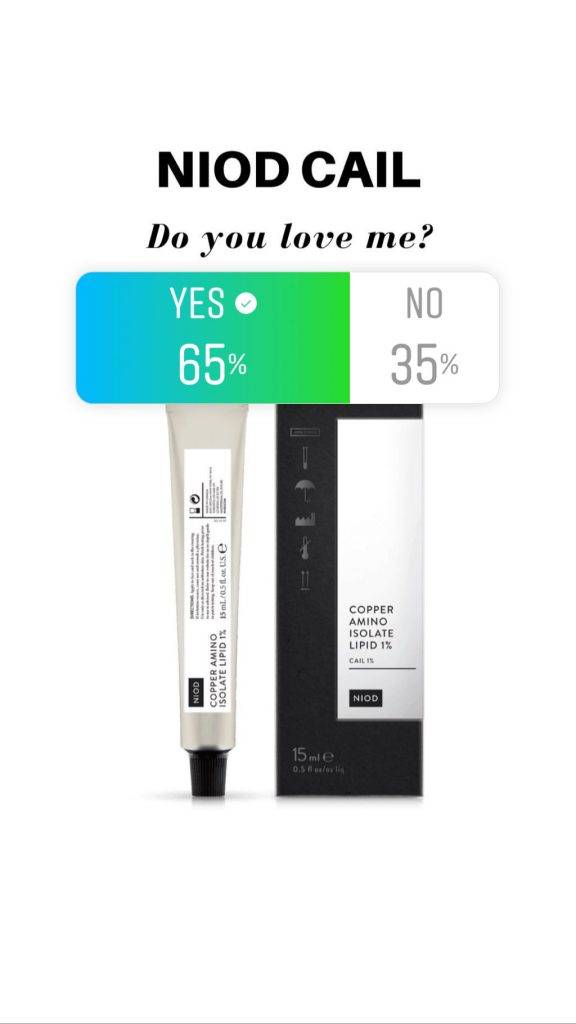 Everything you need to know about NIOD CAIL
NIOD CAIL Patented Formula
Other Deciem products with copper.
NIOD CAIL
NIOD CAIL, Copper Amino Isolate Lipid, is quite possibly one of the most talked-about Deciem products for a long time. Why? Because this is the most expensive Deciem product yet. 90$ for 15ml.
Don´t rush off just yet. It´s worth a read! This product sounds amazing, and it´s the first product all the moderators of the Facebook Group absolutely love. Read all about NIOD CAIL Copper Amino Isolate Lipid 1% and reviews below.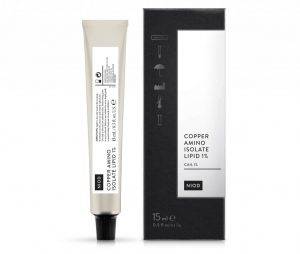 What is NIOD CAIL?
Deciem says: Copper Amino Isolate Lipid (CAIL) 1% is the latest addition to NIOD's core regimen collection. The formula is designed for PM use. The formula has a blue gel-like texture that melts into a comfortable oil-like feel upon application.
An enhanced approach to targeting overall healthy-looking skin. This pro-collagen, pro-lipid, pro-fat formula branches from the concept of NIOD's multi-award-winning Copper Amino Isolate Serum, with the additional benefits of building and enhancing skin barrier function and elasticity and integrity via lipophilic pathways.
Healthy-looking skin generally maintains a careful balance of glycosaminoglycans (GAGs), extracellular proteins such as collagen and elastin, epidermal surface lipids, corneocytes, adipocytes, and sebocytes. CAIL 1% is designed with a highly focused effort to target all of the aforementioned skin components, improving volume and resilience by elevating the skin to optimal conditions.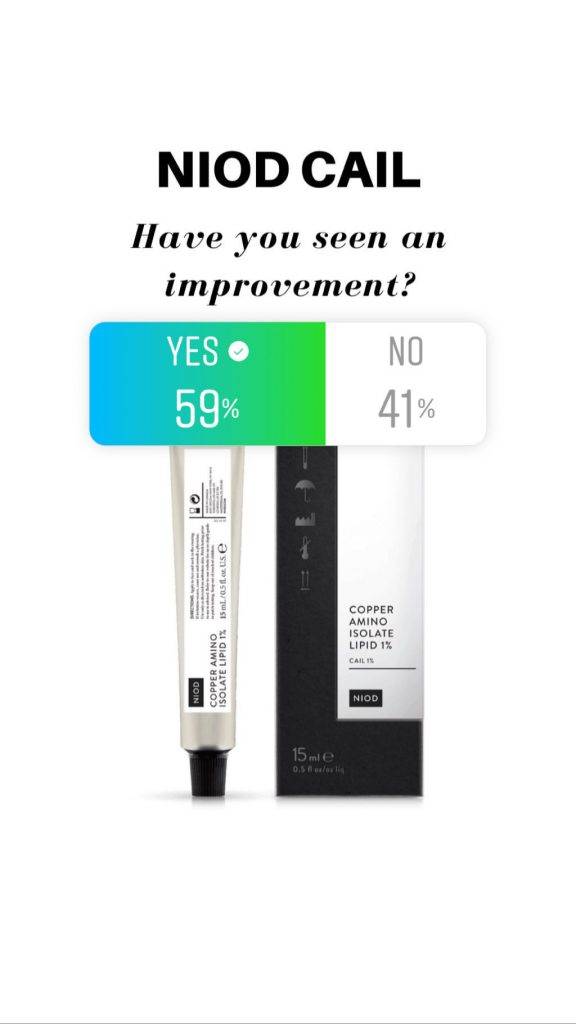 What does NIOD CAIL do?
NIOD CAIL Copper Amino Isolate Lipid targets;
Textural Irregularities
Signs of Ageing
Antioxidant Support
Dryness
Uneven Skin Tone
Looking at this list, it´s probably easier to say what it doesn't do. It sounds absolutely amazing.
Targets overall healthy-looking skin & enhances skin barrier function & elasticity.
Palmitoyl-GHK-Cu This peptide works synergistically to restore and maintain a youthful appearance of the skin.
GHK-Cu has a wide range of skin health functions, including healing, immune function, collagen synthesis, fibroblast production and anti-inflammatory responses.
Zizanoic Vetiver has properties to support skin tonicity, volume and firmness. Promotes the improved appearance of skin volume, redefinition and firmness while promoting an overall plumping effect
Aphanizomenon Aquaflo A newly-discovered blue-green algae that is rich in vitamins, amino acids, and minerals to promote the replenishment of the superficial protective barrier of the stratum corneum.
Smoothens the skin surface for a younger appearance by facilitating the skin's natural moisturizing factors.
Plant-derived Squalane maintain skin's moisture barrier, squalane is an excellent hydrator that can replenish hydration, imparting suppleness and flexibility to the skin.
When Do I Use NIOD CAIL?
NIOD CAIL Copper Amino Isolate Serum is listed as part of the Core Regimen. It should be applied to the face or face and neck in the evenings. Patch testing is advised and please always read the official Deciem page before use.
What products conflict with NIOD CAIL?
NIOD has mentioned on Instagram that you should avoid using the following products in the same routine as NIOD CAIL. You can alternate your products morning/evening or night. Always check NIOD conflicts on the official NIOD page or here.
Retinol/Retinoids
Direct Acids
Direct Vitamin C
Strong Antioxidants
How long will a tube of CAIL last?
Deciem says that you could get up to 139 applications if you use your face alone. This seems like quite a lot of applications for 15ml, but it´s made me wonder if we´ve all been slapping way more of The Ordinary on that is actually necessary. Deciem has designed this product to be used alone, straight after cleansing. Many people layer lots of products, but how easy would it be to just cleanse, apply CAIL, and let it get to work on your skin?
So, before thinking, wow, that´s expensive, break it down. Even if you managed to get 100 applications, that´s 70p an application which does still sound like a lot, but it´s just one product in the evening, cutting out all the other products and time, and if it truly works, then I´m all in for a more straightforward regimen.
NIOD CAIL Storing Tips
A few followers asked what they could do to stop NIOD CAIL from seeping out of the tube when they unscrewed the product. So here are a couple of tips…
When you open this product, you will see there is a foil cover when you unscrew the lid. If you can, keep this on and pierce it with the back of the lid. I found the foil wouldn´t stay on, so this didn´t work for me.
I would also recommend storing this upright (lid at the top).
NIOD CAIL Reviews
Deciem kindly sent NIOD CAIL to all the moderators and me to try. As always, I´ve asked them to be as honest as possible with their reviews. This product is expensive, and it is very different when you haven´t had to spend your own hard-earned cash.
If you´ve seen other review pages on this website, you´ll see that we don´t always like all the products. In fact, this product is probably the first product we have all loved, which really is amazing as we all have different skin types and concerns and vary in age by around 20 years.
I have used this a few times now, and I´m loving the simplicity of just cleansing and CAIL in the evenings. I found dotting teeny weeny amounts all over my face and then massaging it in helps keep the amount of product used to a minimum. It spreads incredibly well, and you really only need a thin layer. It does feel and look a bit oily, but that sinks in, leaving my skin feeling and looking great. I´m not sure it will make the 139 applications as Deciem suggested, but let´s see. I´m trying to keep a note of every application, so I´ll let you know.
Reviews by The Mods
Rachael: Skin Type: Normal to Dry | Skin Concerns Dehydration
NIOD CAIL is NIOD's long-awaited copper gel product. It's a one-and-done product. Cleanse and CAIL (plus SPF if your AM routine). It includes collagen, elastin, lipids, amino acids, squalane, and of course, copper peptides. All the ingredients needed to keep your skin hydrated, youthful, firm and moisturized.

I've been experimenting with this product for a few months and have learned a few things. I'm prone to dehydration. After a couple of weeks of one and done actually leaves my skin very thirsty, so I apply it over NIOD MMHC for added hydration. It's now coming into winter where I live, and there is snow on the nearby mountains, and my skin has begun to dry out. CAIL doesn't provide quite enough moisture for me this time of year.

It is perfect for AM skincare as you can layer makeup on top seamlessly and then, if you're like me and your skin needs a little bit more hydration and moisture, just use it in conjunction with a more in-depth PM routine. My skin does glow while using CAIL, and I enjoy having a simplified routine with such great ingredients.
Reviews by Anna
Anna Skin Type: Sensitive, Combination Skin Concerns Redness
I like it! Feels like a light gel that absorbs very easily. It´s strange, after all the layering, to suddenly use a one-and-done product, but it's great for those nights you're feeling lazy and don't want to do the full routine.

I can't say I've noticed a major difference in my skin, but that may be because I've been using Buffet + Copper every night for a while now. I'd have to say, I probably won't spring for this because of the high cost and will just stick with Buffet + Copper.
Review by Nia
Nia Skin Type: Oil Acne-Prone | Skin Concerns Pigmentation
I think my skin loves it. It is perfectly moisturizing. Also reduced redness I think.
Review by Jess
Jess Skin Type: Oily, Combination with Dehydration
I really like it. It's such an easy step, and I wake up with good-looking skin. If I was to add up what I could put on my face at night instead of this, it might also add up to £70, but the tube is so small and seems to empty so quick.

I am not sure if I will buy it again, but this is only due to the price. But who knows, if I stop using it and really notice a difference, I might change my mind.
More NIOD CAIL Reviews
Helen
I have not used it often enough to note if it is making a difference but I do love the one step. My skin routine has been brutal of late. Need to be consistent for a while and see. A little does go a long way in application.
Tracy Skin Type: Dry, Dehydrated Skin Concerns: Ageing
Tracy @my.face.space. Gotta say… LOVE the stuff. The feeling is almost identical to the Voicemail masque both upon application and the condition of my skin this morning. Very enjoyable overall. 8/10 losing points only because of the price
Rachel: Skin Type: Combination, Oily
I'm really enjoying using CAIL. I think this has a LOT to do with the fact that I cleanse, apply this, and I´m done! On lazy nights it's so good to use one product! I don't mind the oiliness of it and find it sinks in nicely eventually. So many oils really don't sink in at all, so I can handle the texture of this.
NIOD CAIL FAQS
Why is NIOD CAIL so expensive? Deciem says that Copper Peptides are very expensive. Therefore, it´s reflected in the price. Deciem normally releases new products and later on, you will find them at other stockists, where you can often find NIOD discounts.
How long will the tube last? There are approximately 139 applications if applied to face only. Should last 56 applications if applied nightly to the face as well as the neck, although a few people who have tried this think this is quite a lot to expect from the tube.
What skin type is NIOD CAIL suitable for? Deciem say CAIL 1% is suitable for all skin types
Would this be used instead of CAIS? Deciem suggests applying CAIS in the AM and CAIL 1% in the PM, ideally.
What is the difference between CAIL and CAIS? CAIL1% encompasses all the benefits of CAIS 2:1 with the additional benefits of building and enhancing skin barrier function, elasticity, and integrity via lipophilic pathways.
How often would you recommend using it? We recommend applying nightly to the face and neck.
Can CAIL be used instead of Buffet with Copper Peptides? Can it be combined with Retinol? Deciem suggests applying Buffet + Copper in the AM and CAIL in the PM. Avoid Retinoids when using CAIL.
Is this product gentle enough to be applied under the eyes? Yes
Can I apply this in the morning as I have tretinoin in the evening? Yes you may.
More FAQS about CAIL
Does CAIL work well with acids? CAIL 1% should not be used within the same routine as products containing strong antioxidants, direct acids, or pure vitamin c.
Can NIOD CAIL be used on top of serums, or is it best used alone? It can be used alone or with other serums.
Would NIOD CAIL go first in the regimen, followed by other products? Yes
Can I use CAIS with CAIL? It is not necessary to use both within the same routine.
Is CAIL advisable for Oily / Acne-prone skin? Deciem says it´s suitable for all skin types.
Is CAIL Vegan friendly? Yes
Is CAIL good for someone who has acne problems? This formula is oil-free and suitable for all skin types. It does not directly target signs of congestion.
Can CAIL be used with NIOD RP, ELAN or NAAP? CAIL should not be used with Direct acids, antioxidants, pure vitamin C, retinoids, retinals or NAAP.
More Faqs
I´m currently using the NIOD Core Regimen. what would the order be? NIOD FECC followed by CAIL, MMHC2, HV, and NEC as part of the evening routine
What constitutes a direct acid? Can CAIL or CAIS be used with Resveratrol / Ferulic Acid or Alpa Lipoic Acid? CAIL should not be used with Alpha Lipoic or Resveratrol
How can a pea-size of NIOD CAIL cover the whole face? CAIL 1% has great spreadability, and only a small pea-size amount is necessary for the application to the full face.
Can I use NIOD CAIL after micro-needling? Our products have not been tested for use with micro-needling treatments. They strongly advise patch testing.
What age groups would you say NIOD CAIL is most beneficial for? Would you recommend it to someone in their mid-20s? CAIL 1% can be used by anyone who is looking to target various signs of ageing.
Can NIOD CAIL be used with NIOD RP Re Pigment? Yes, it can be used with NIOD RE.
Latest News From NIOD – NIOD CAIL is their first Patented Formula
Our scientific curiosity has led us to something really special (and very blue), and after years of waiting patiently, we are happy to share that NIOD's Copper Amino Isolate Lipid (CAIL) is our first-ever patented formula.
To secure a patent, a product must achieve something non-obvious. We have loved Copper Peptides for a long time, and wanted to create a novel, re-engineered format that could further enhance ingredient performance. CAIL brings a highly concentrated GHK-Cu, with a Palmitoyl group attached to its structure for improved lipophilic behaviour, resulting in enhanced skin affinity and improved delivery into the stratum corneum. Designed for PM use, the patented formula improves the appearance of skin tone, uniformity, bounce, radiance and elasticity.
Thank you to our creative in-house formulators for the imagination you bring to NIOD. This patent is a marker of your commitment to optimising skin health.
Other Deciem Copper Products
If you´re looking for more affordable Deciem products containing copper, have a look at The Ordinary Buffet + Copper Peptides and the new NIOD CAIS 3 1:1 Copper Amino Isolate Serum. Both products receive amazing reviews.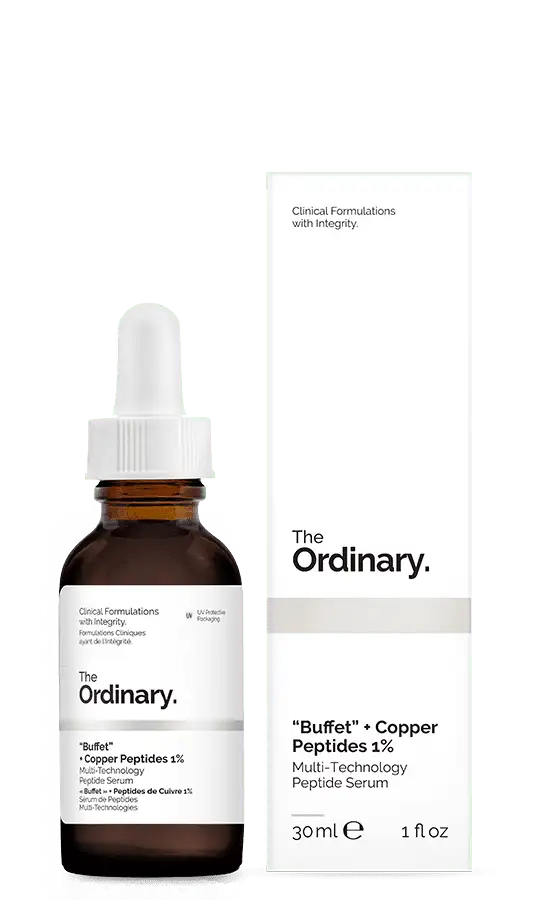 Make sure you are part of the Facebook Group The Ordinary & Deciem Chat Room, for all the latest news and reviews by the Deciem Addicts. If you´re not on Facebook, don´t worry, you can join in on the conversation about NIOD CAIL on Instagram.
Where to buy NIOD CAIL
The best place to purchase NIOD CAIL is through Deciem, with free delivery on orders over 25€$. It doesn't seem that other stockists have received NIOD CAIL yet, so Deciem is the only place to buy it, although it has been out of stock for quite a while. You can always find NIOD discounts here.
Final thoughts on NIOD CAIL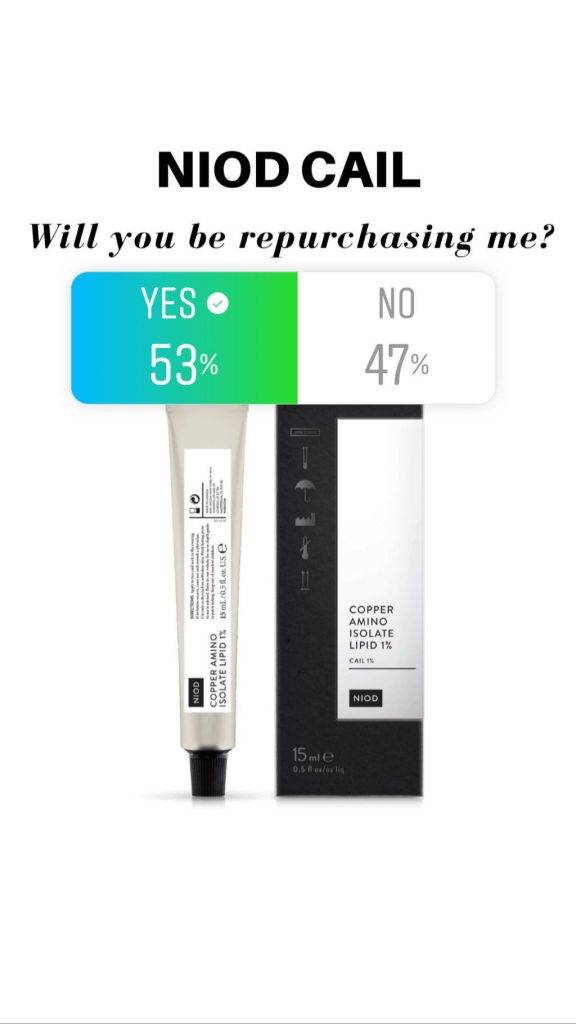 Polls for NIOD CAIL
The polls featured on Instagram stories for 24 hours, 65% of the Deciem Addicts love it, 59% say they have seen an improvement, and 53% will be repurchasing. This product is expensive due to the ingredients, but there are a few things to remember;
This product is designed to be used alone straight after cleansing.
You only need a tiny amount, as it´s incredibly spreadable.
You will save time on your skincare routine and money on all the other products you usually use in the evenings. Please do share your thoughts with us in the Facebook Group.