A quick look at The Ordinary Salicylic Acid Masque
72% of the Deciem Addicts love it
67% say it has improved their skin
66% will repurchase it
Currently scores 4.6/5 on the Deciem website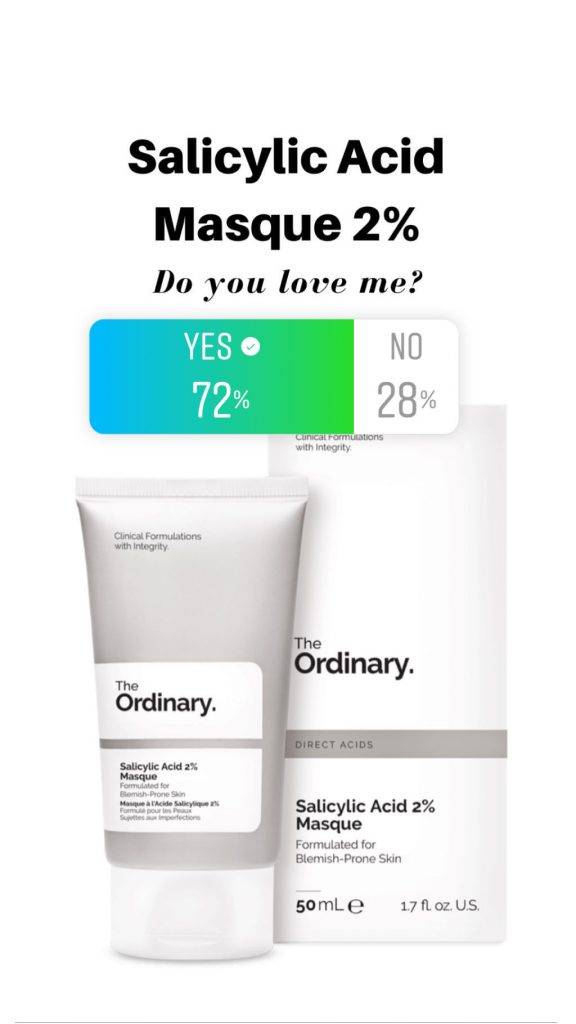 The Ordinary Salicylic Acid Masque Reviews
Everything you need to know about The Ordinary Salicylic Acid Masque including reviews, when & how to use, conflicts and videos.
Available in 2 sizes 50ml & 100ml. Check the prices in your currency here.
What is The Salicylic Acid Masque & What Does it Do?
Salicylic Acid, 2% Masque, is formulated to target lacklustre tone and textural irregularities. The formula, infused with charcoal and clays, aims to enhance the appearance of smoothness and clarity, leaving the skin feeling refreshed.
Lacklustre tone
Textural irregularities
Enhances the appearance of smoothness
Leaves skin refreshed
Removes dead skin cells on the surface of oily and blemish-prone skin
Leaves skin more radiant
Deep cleanses
The structure of salicylic acid facilitates its lipophilicity and miscibility with the lipids located on the surface of the skin. It is a suitable ingredient for targeting the removal of dead skin cells on the surface of oily and blemish-prone skin, with the purpose of revealing more radiant skin beneath.
Charcoal and clays are ingredients renowned for their deep cleansing abilities due to their porosity and large surface area available for adsorption.
They aid the removal of facial impurities that would otherwise remain on the skin surface and clog pores. In comparison to Salicylic Acid 2% Solution, Salicylic Acid 2% Masque is a rinse-off formula. Leave on for no longer than 10 minutes to maximize the exfoliating benefits.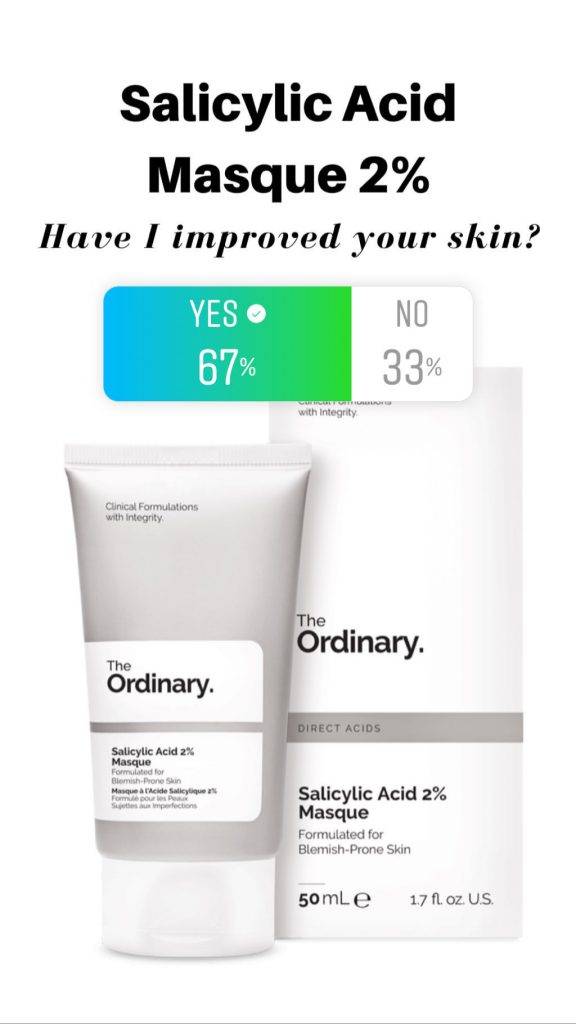 How & When Do I Use The Ordinary Masque?
You can use the Salicylic Acid Masque once or twice a week along with your other regimens. Before using, make sure your skin is really well cleansed and dry before applying. It´s essential not to apply this to damp skin. Apply using your fingertips, making sure you have an even coverage and avoid your eyes.
The masque can be left on for up to 10 minutes (like the AHA 30%), but no more. When rinsing this off, use lukewarm water and take really good care around your eye area. Patch tests are recommended. Please refer to Deciem´s official page for more information about this product and any skin irritations that may occur.
How to patch test The Ordinary Salicylic Acid Masque
Apply the product as directed to a small area once a day for three days to test if you are sensitive to this product.
If you develop severe irritation, hives, swelling of eyes and mouth, blistering, or difficulty breathing, rinse off, cease use and consult a physician right away.
Photos of Authentic Salicylic Acid Masque
To avoid the risk of counterfeit products, always purchase from Deciem or one of their many authorised stockists.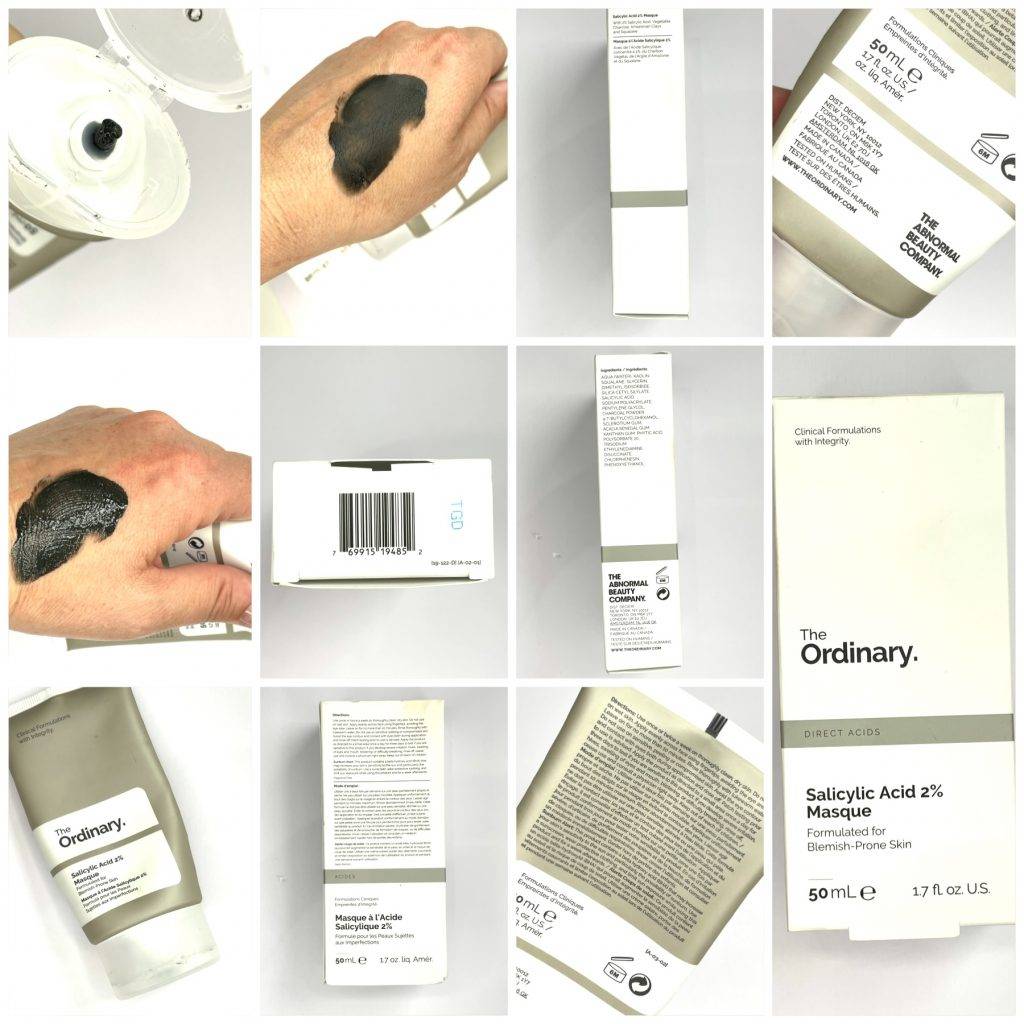 Which products conflict with the Salicylic Acid Masque?
Please always read the instructions before use. The masque shouldn't be used in the same regimen as;
Other strong acids
EUK 134 0.1% (antioxidants)
Peptides
Buffet
Buffet + Copper
Matrixyl
Argireline
This is Deciem´s response about Acids & Peptides.
Our rule against combining strong antioxidants only applies to our products containing copper peptides. We would not recommend combining direct acids with peptides due to the susceptibility of peptides to hydrolysis (which breaks the bonds between peptides, reducing their efficacy and making them into individual amino acids). At low pH, the peptides undergo processes such as deamidation (the removal of an amide group) and oxidation, which compromise the activity of the peptides.
Having said that, if you have previously combined peptides with acids and have not experienced any negative side effects or discoloration, you may continue to combine the two products as so as the combination does not pose any potential harm. Our recommendations are meant to serve as a preventative measure to avoid any incompatibility between those combinations and also because skin tolerance is subjective.
The Ordinary Salicylic Acid PAO
Once you have opened your product, it should be used within 6 months. Always bear the PAO (period after opening) in mind when buying products.
The Salicylic Acid Masque Reviews
See the product before you buy and chat directly with the Deciem Addicts on Instagram.
By Nia Patten I am super lucky to get a chance to try Deciem's new Salicylic Acid 2% Masque. It's £9.90 for 50mls, is vegan, cruelty-free, alcohol, oil, nut, and gluten-free. But it does contain fragrance, which may be an issue if you have sensitive skin. For reference, my skin type is oily and acne-prone.
Salicylic acid is just the thing if you have congested skin or blackheads, and the clay and charcoal in the mask work to suck out any hardened sebum from your pores (this is the theory anyway!). The mask has a perfect pH for exfoliating- 3.5-4.5, clay usually has a high pH, so Deciem has formulated the mask perfectly to allow the salicylic acid to work effectively.
The mask is super black in colour and has a jelly texture with a very fine grittiness to it. There is a very subtle fragrance in it. It's in no way overpowering. The mask dries down but never turns chalky. I can't stand chalky clay masks that suck any trace of moisture, The Ordinary Salicylic Acid 2% Masque isn't like that. It contains squalane and humectant gels which prevent it from being drying.
After rinsing off, my skin feels really lovely and smooth, perfectly prepped for makeup. An extra massage while rinsing it off gives a bonus physical exfoliation, that my skin sometimes needs. All in all, I recommend The Ordinary Salicylic Acid 2% Masque for anyone with oily or clogged skin looking for a skin-clearing mask. 
More Reviews of Salicylic Acid Masque
Rachel Maslin from Beauty & The Ballroom I love the salicylic acid masque … it goes on easily and more importantly removes easily without any pulling at the skin! It leaves my skin feeling so clean and soft without feeling like it's been stripped dry. I have combination skin but like to use it as a 'maintenance mask' every so often.
Nia Patten @ Nia Patten Looks The 2% Salicylic Acid masque is a gentler way to incorporate the acid into your regimen. It's a gritty jelly-like texture and has a super black colour, thanks to the charcoal. I found it totally nonirritating and left my skin very smooth and clear. It's a really nice product for congested skin and for prepping oily skin for makeup. The only problem is that it leaves a bit of a mess in the sink
NS says I have tried this, and I love it. I feel fresh after I use it, and I find it helps with clearing up my skin and a bit of scarring etc. my skin is dry but with minor acne.
MM says I just started using this and I love it so far! Usually at least twice a month I get a huge pimple somewhere on my chin. Since I started using this I either don't get that pimple at all, or it's noticeably smaller and goes away so much faster!! Love how smooth it makes my skin feel.
Final Thoughts on The Ordinary Salicylic Acid Masque
As you can see, 72% of the Deciem Addicts love this masque, 67% say they have seen an improvement and 66% will be repurchasing. This currently scores 4.6/5 on the Deciem website.
Some of the negative comments refer to the product's size and the amount you need to use. I´ve personally used this about 12 times and still feels like I have a few applications left. Sometimes I apply to the whole face and sometimes just to specific areas.
Video about The Ordinary Salicylic Acid Masque & How To Patch Test
Before using any products, it is highly recommended to do a patch test.