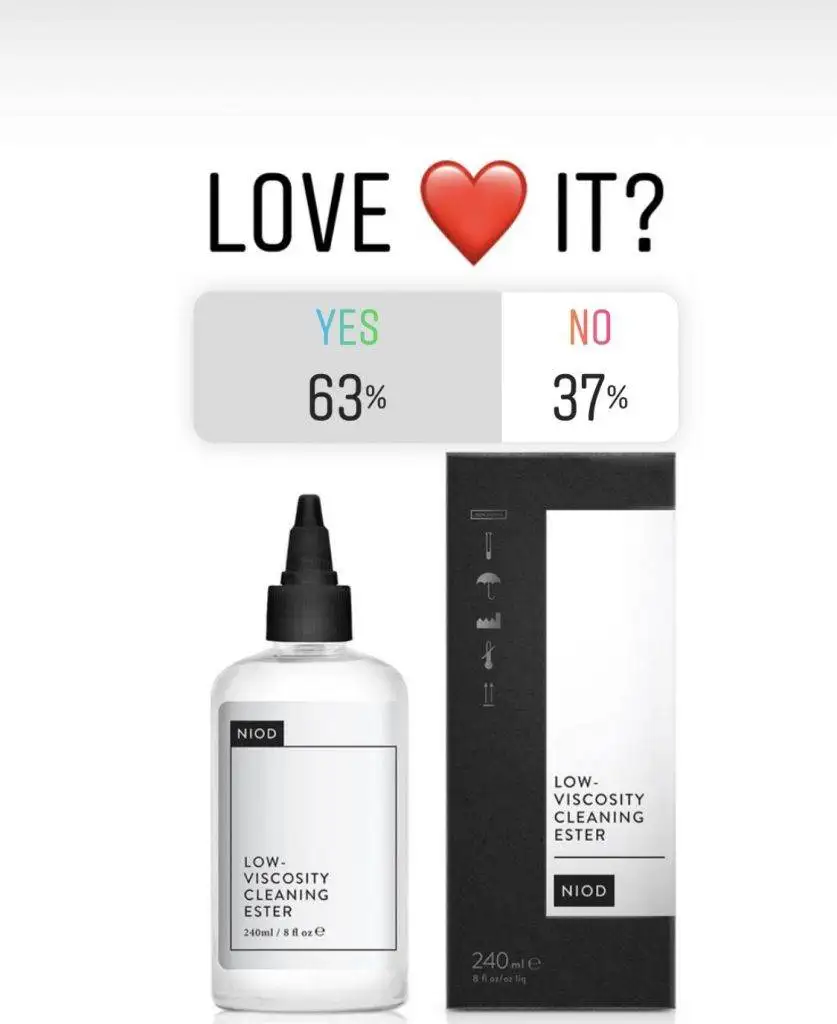 What is NIOD LVCE and what does it do?
When and how should I use NIOD LVCE?
Does NIOD LVCE have any conflicts?
What is the PAO of NIOD LVCE?
NIOD LVCE Reviews by the Deciem Addicts
FAQS about NIOD LVCE
Other NIOD & The Ordinary Cleansers
What is NIOD LVCE?
Deciem says: LVCE is a skin cleaning system that respects dermal barriers while regulating visible sebum production, cleaning the skin thoroughly, and removing all traces of makeup in a single step. LVCE contains no cleansing plant oils, no detergents, and no water but instead uses isolated sugar and avocado esters to remove every trace of dirt and makeup with or without water. While the skin feels comfortably hydrated after each use, the technologies in LVCE will actually further act as delivery boosters for topical treatments applied after cleaning. 
When and how do I use NIOD LVCE?
You can use NIOD Low Viscosity Cleaning Ester in the morning and in the evening.
Apply directly to a cotton pad and then rinse or apply to dry skin, massage, and rinse.
Always patch test. For a full list of ingredients, please check the Deciem website.
NIOD LVCE Conflicts
NIOD LVCE doesn't have any conflicts. You can use it before all your products. Always patch test products.
What is the PAO of NIOD LVCE
My current Low Viscosity Cleaning Ester says 24M, although a previous one I used said 6 months. This cleanser is 240ml, and if you use it every day, I would say it would last 6 months, maybe more.
NIOD LVCE Reviews
NIOD LVCE currently scores 4.6/5 on the Deciem website. You can find lots more reviews on Instagram and in the Facebook Group.
Jen: Skin Type Normal – Oily. Concerns Pigmentation, Ageing Congestion.
NIOD LVCE has fast become my go-to holy grail cleanser. It melts through makeup and SPF magically. It may appear to be pricier than other cleansers with almost everyday use. This lasts me just shy of 6 months, so it is amazing value. I'm on my 4th bottle.

One of the most important things I look for in a cleanser (besides great cleansing) is that it does not irritate my eyes like so many cleansers do! Well, LVCE doesn't and gets a permanent spot in my routine.

Word of warning if you have never used this before. It doesn't feel like a typical oil cleanser. In fact, when you wash it from your face, it feels like a film remains. This actually acts as a delivery booster for other serums you apply once finished cleansing. It's a beautiful product.

I really love this, and it has become essential. I buy it when there are discounts on NIOD, and it lasts forever. People get put off by the residue left after rinsing, but I gather that is supposed to happen and helps the next layers become absorbed.
I love this product. It easily removes all waterproof and long-wear makeup and sunscreen. It's the best.
This is an all-time fav of mine, but I totally agree about how large the bottle is. I've had mine for well over six months, and I'm not even halfway through it. A little goes a long way!

Love this stuff

I love it!! The perfect first step for double cleansing.
FAQS about NIOD Low Viscosity Cleaning Ester
Does NIOD LVCE go before or after NIOD SS? It would be LVCE + SS.
Can NIOD LVCE be combined with a face wash to remove makeup? You certainly can if you wish.
Does NIOD LVCE work in a similar way to Squalane Cleanser? Both are wonderful cleansers that help remove traces of dirt and makeup while leaving the skin comfortable, smooth, and moisturized. The consistencies and ingredients of the products differ.
Could I apply NIOD LVCE with a cotton pad in the morning without a water rinse? You can if you wish, but we normally do recommend rinsing off with water. 
NIOC LVCE contains linalool which is a horrible allergen. It is an allergen but not an irritant. If you are not allergic to linalool, it is not an irritant. It is used in extremely small amounts. The natural esters used in LVCE have very strong odours that linalool balances out. If you are not allergic to linalool, the % we use in such products is extremely small to cause any form of irritation whatsoever. ❤ Hope this helps!
Is the packaging for NIOD LVCE glass or plastic? Plastic is recyclable.
Final Thoughts
63%of the Deciem Addicts love it.
The price does seem expensive for a cleanser but please always take into account the size. This is 240ml, and it lasts ages.
You can always find discounts on NIOD with the Deciem Chat Room discount codes.
Other Deciem Cleansers