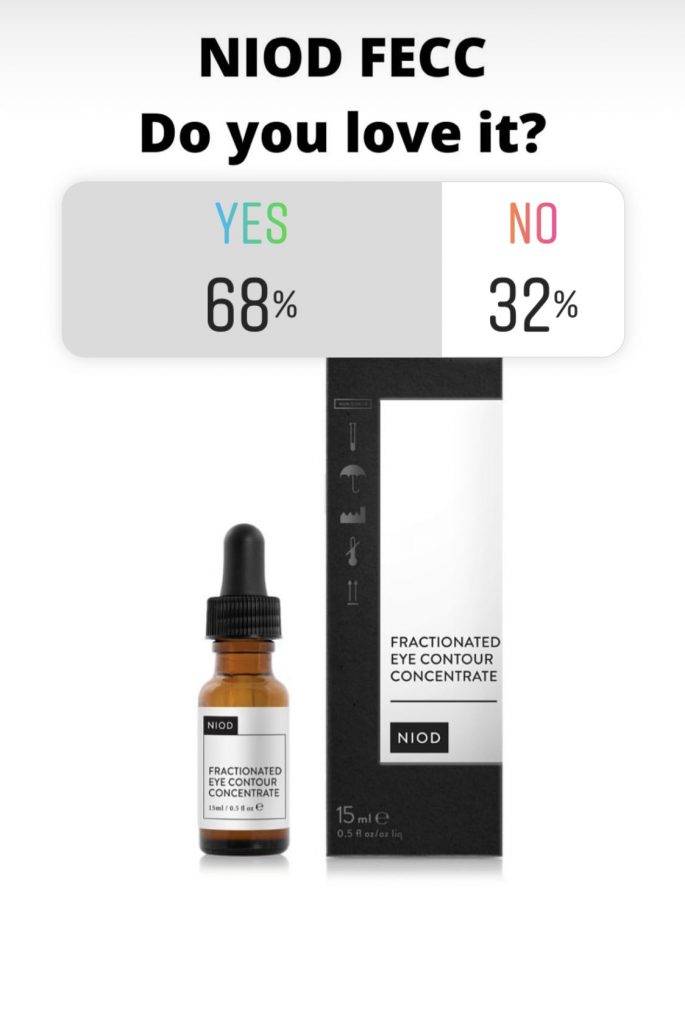 A quick look at NIOD FECC
NIOD FECC reviews and everything else you need to know before buying.
68% of the Deciem Addicts love it
51% say they have seen an improvement
56% of the Deciem Addicts will repurchase it
Currently scores 4.4/5 on the Deciem Website
Targets
Dark Circles
Puffiness
Textural Unevenness
PAO 6M
No conflicts
NIOD FECC Fractionated Eye Contour Concentrate
FAQs about NIOD FECC
Where to buy NIOD FECC save up to 22% with Deciem Chat Room Discount Codes
15ml Prices: 68$CAD | 68$US | 43GBP | 51€ | 100$AUD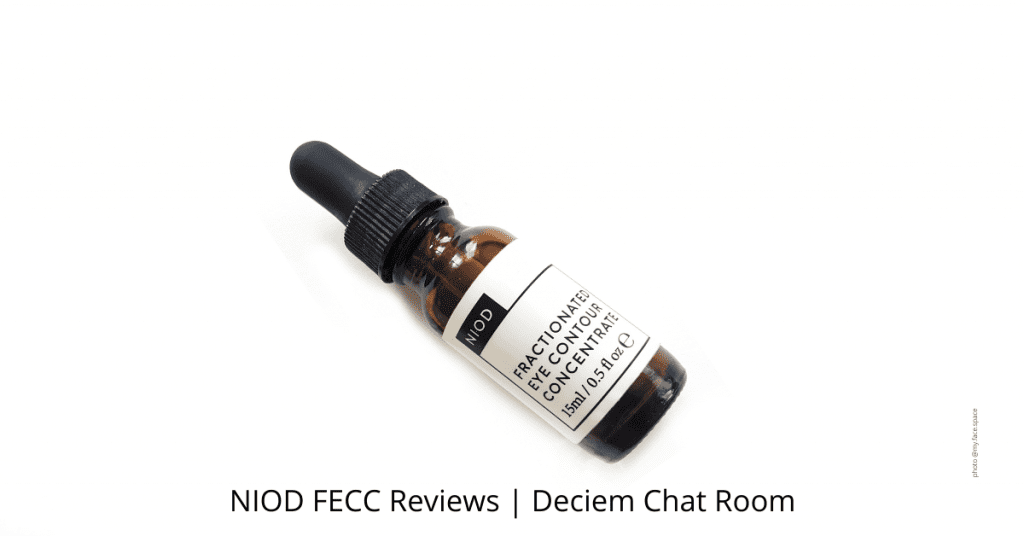 What is NIOD FECC and what does it do?
Deciem says that this is a hyper-concentrated bio-serum for the eye contour. NIOD FECC Fractionated Eye Contour Concentrate combines 28 clinical technologies to target many signs of under-eye and above-eye ageing in one treatment—borrowing from advanced biotechnology, polyphenol technology, next-generation cyclic peptide technologies, marine science, and modern drone delivery mechanics.
This single treatment can target visible ageing (both upper eyelids and lower eyelids), including the looks of dynamic lines, static lines, fine superficial under-eye lines (those not targeted by SNARE-target injections), loss of elasticity (especially upper-eyelids), dark circles, puffiness and textural unevenness with positive visible results starting within 3 days and improving into 8 weeks with continued use.
NIOD FECC Targets
Dark circles
Puffiness
Textural unevenness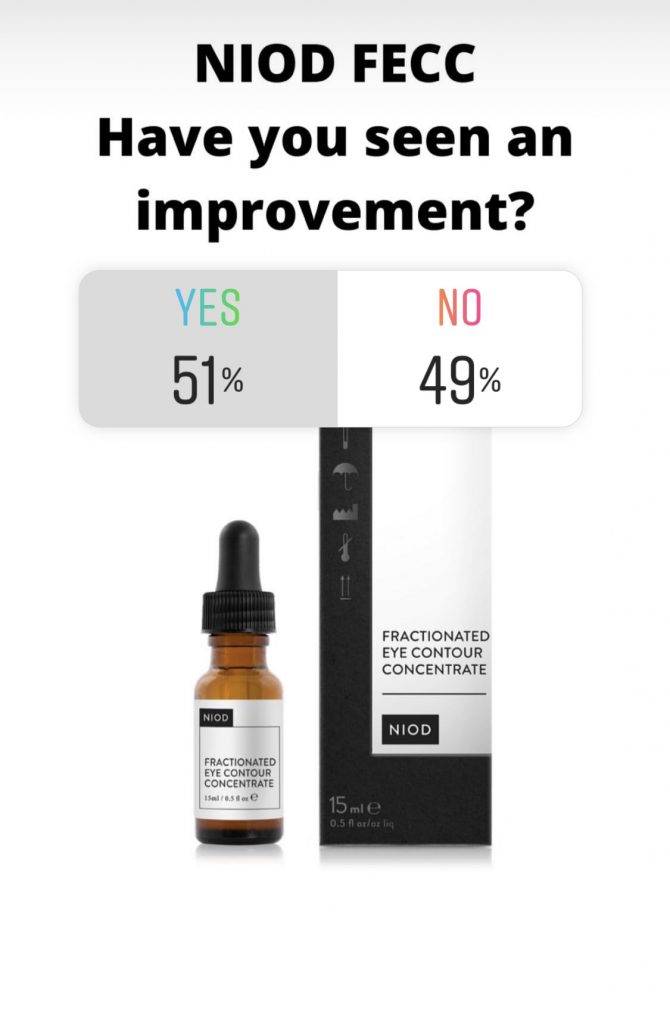 When and how do I use NIOD FECC?
You can use NIOD FECC in the morning and in the evening
Apply a small amount in the eye area including the upper eyelids. I apply one drop to my fingertip then touch it with my other fingertip and gently massage both undereyes then repeat for the upper eyelids. You only need a drop.
Always patch test before using any product and introduce other products slowly.
If irritation occurs, cease use and consult a physician. Use only as directed on unbroken skin.
Are there any products that conflict with Fractionated Eye Contour Concentrate?
There are no conflicts with NIOD FECC. It is always best to patch test first and when introducing other products, do it slowly in case of any reactions.
What´s the period after opening?
Once opened, this should be used within 6 months.
Video of NIOD FECC
See the product before you buy.
NIOD Fractionated Eye Contour Concentrate Reviews
NIOD FECC currently scores 4.4/5 on the Deciem website. Find more reviews on Instagram and search FECC in the Deciem Facebook Group. What works for one person may not work for another so it´s important to read reviews by many people with all different skin types and concerns.
My personal review of FECC
I´ve just started to use this so it´s impossible for me to comment anything other than how it feels. I put just 1 drop on my finger tip then touch it with my other fingertip and massage under both eyes and then repeat on the upper eyelids.
It feels lovely on and leaves skin around the eyes feeling really hydrated throughout the day. I´m using this everyday twice a day. It is expensive as it is only 15ml too, but you really do only need 2 drops each time so it will last.
Love this stuff

The BEST eye serum or cream ever. I will never change from FFECC!
I love FECC! And tell everyone about it. I see a difference when I don't use it. A drop for each eye lasts forever.
I'm almost 55 and used this…..had it as a special deal with two other products so it´s a very good price. I do not puffy eyes or bags, but some wrinkles and one eye is more heavy-lidded than the other. I did not see any difference to my wrinkles or heavy lid when using this product. Will not purchase again.
This is THE best Deciem product hands down 

I love this. It definitely made fine lines around my eyes a lot less noticeable. I ordered another bottle. It lasts forever. ❤️
Tried it and it making my dark corners even darker so I stopped using it and tried again with the same result. I did not see any improvements. I love NIOD and Deciem products and using several on regular basis. But not this one.
Final Thoughts on NIOD Fractionated Eye Contour Concentrate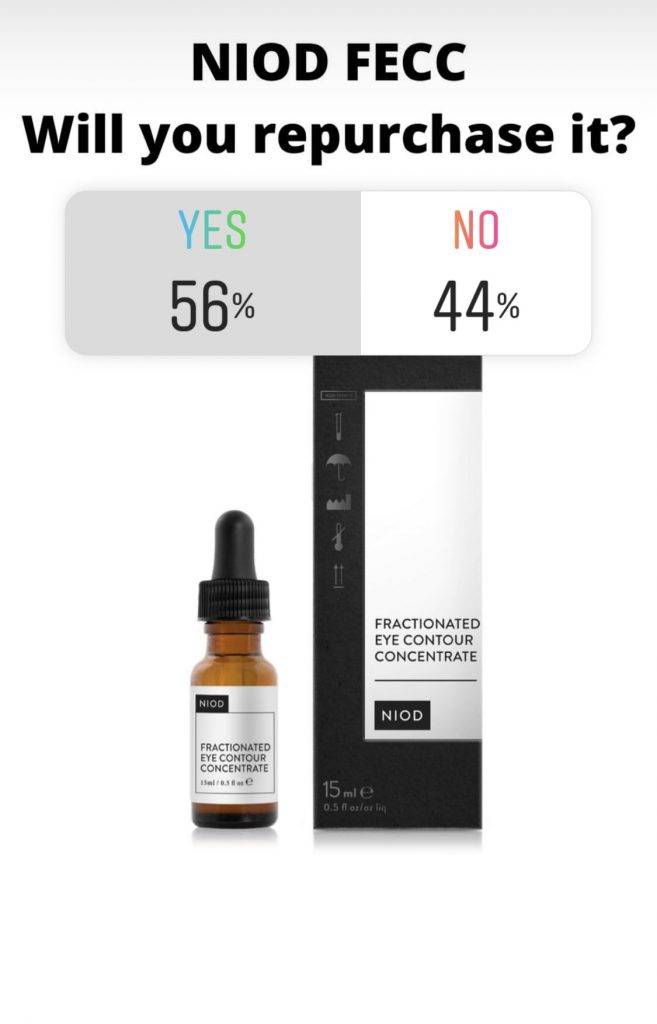 68% of the Deciem Addict love NIOD FECC
51% say they have seen an improvement
56% will repurchase it
Currently scores 4.6/5 on the Deciem website
NIOD FECC was voted the most popular NIOD product in the Facebook Group. It is pricey at 68$ for just 15ml, although you really do only need a tiny drop per eye. You can always find NIOD discounts here.
Other Deciem Eye Creams & Serums
Where can I buy NIOD FECC
You can buy NIOD FECC directly from Deciem (when it´s stock). They offer free delivery on orders over 25€$. Before buying NIOD through Deciem, check the Deciem Discount Codes to normally find a saving of up to 22%. Some online stockists ship worldwide.
Complete Guide To NIOD FECC
Here's the complete guide to NIOD FECC. It's very wordy! All can be found on the NIOD website. Come and chat with the #deciemaddicts in the Facebook Group and on Instagram.