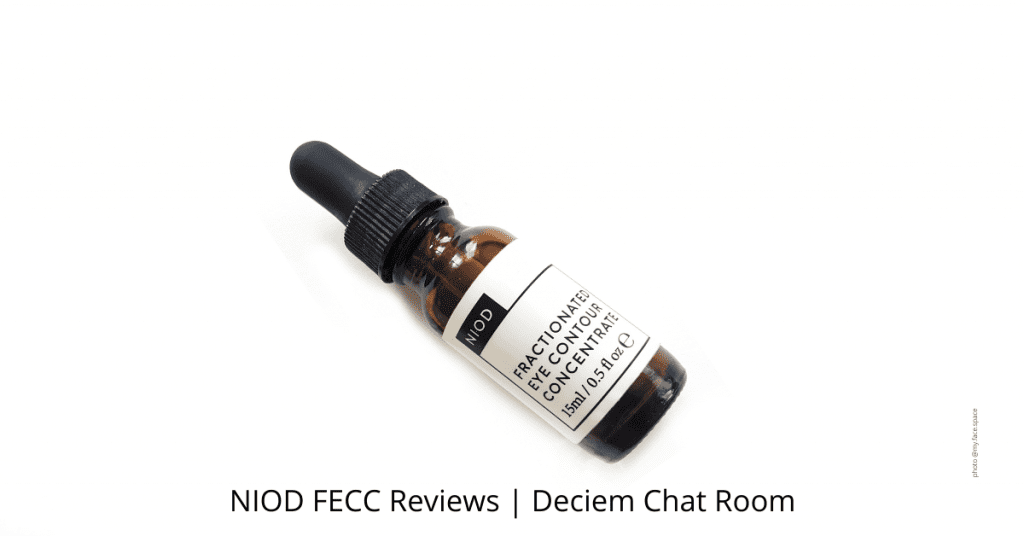 NIOD FECC Fractionated Eye Contour Concentrate Reviews by the Deciem Addicts.
68% of the Deciem Addicts love it
51% say they have seen an improvement
56% of the Deciem Addicts will repurchase it
Targets
Dark Circles
Puffiness
Textural Unevenness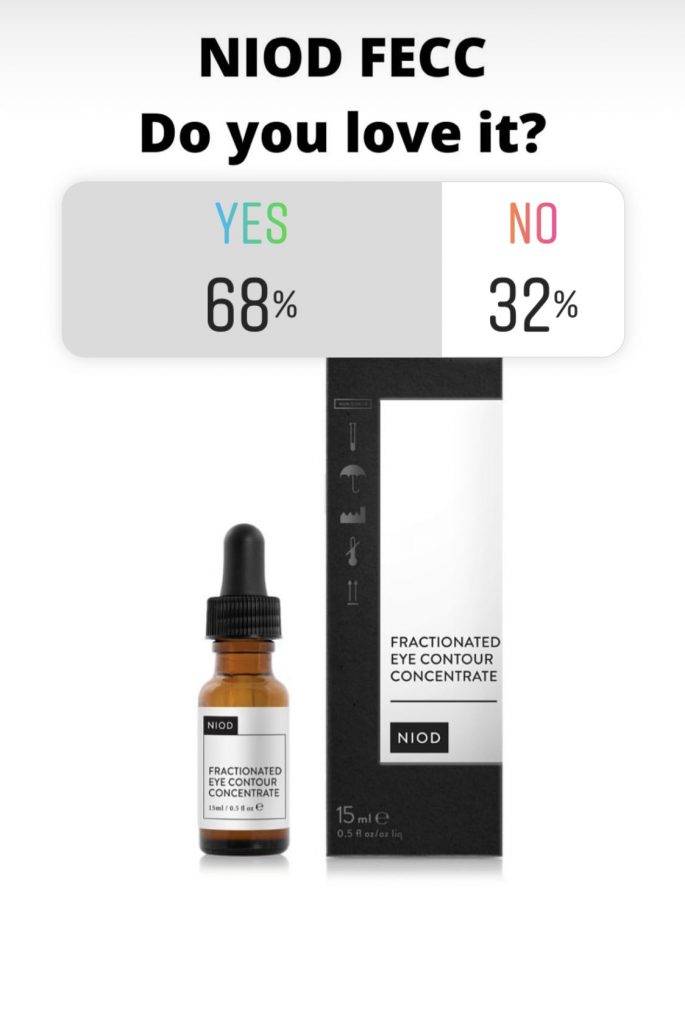 FAQs
15ml Prices: 68$CAD | 68$US | 43GBP | 51€ | 100$AUD
Find up to 22% off with our Deciem Discount codes.
What is NIOD FECC and what does it do?
Deciem says that this is a hyper-concentrated bio-serum for the eye contour. NIOD FECC Fractionated Eye Contour Concentrate combines 28 clinical technologies to target many signs of under-eye and above-eye ageing in one treatment—borrowing from advanced biotechnology, polyphenol technology, next-generation cyclic peptide technologies, marine science and modern drone delivery mechanics.
This single treatment is able to target visible ageing (both upper eyelids and lower eyelids) including the looks of dynamic lines, static lines, fine superficial under-eye lines (those not targeted by SNARE-target injections), loss of elasticity (especially upper-eyelids), dark circles, puffiness and textural unevenness with positive visible results starting within 3 days and improving into 8 weeks with continued use.
NIOD FECC Targets
Dark circles
Puffiness
Textural unevenness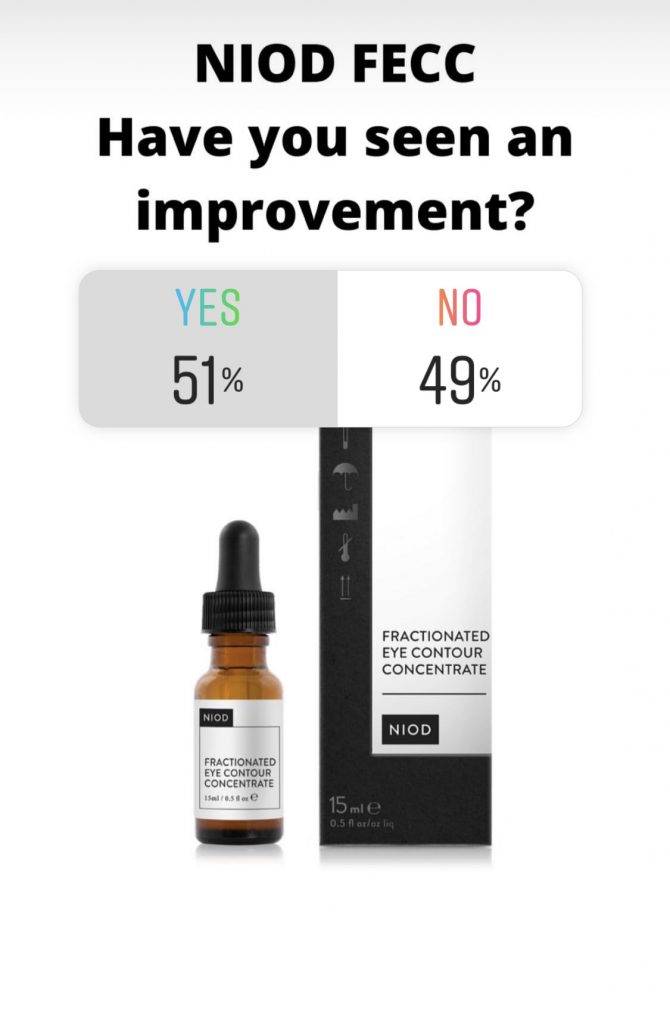 When and how do I use NIOD FECC?
You can use NIOD FECC in the morning and in the evening
Apply a small amount in the eye area, including upper eyelids.
Always patch test before using any product and introduce other products slowly.
If irritation occurs, cease use and consult a physician. Use only as directed on unbroken skin.
Are there any products that conflict with NIOD FECC?
There are no conflicts with NIOD FECC. It is always best to patch test first and when introducing other products, do this slowly in case of any reactions.
NIOD FECC Fractionated Eye Contour Concentrate Reviews
More NIOD FECC reviews coming soon but in the meantime check Instagram and search FECC in the Deciem Facebook Group.
Final Thoughts on NIOD FECC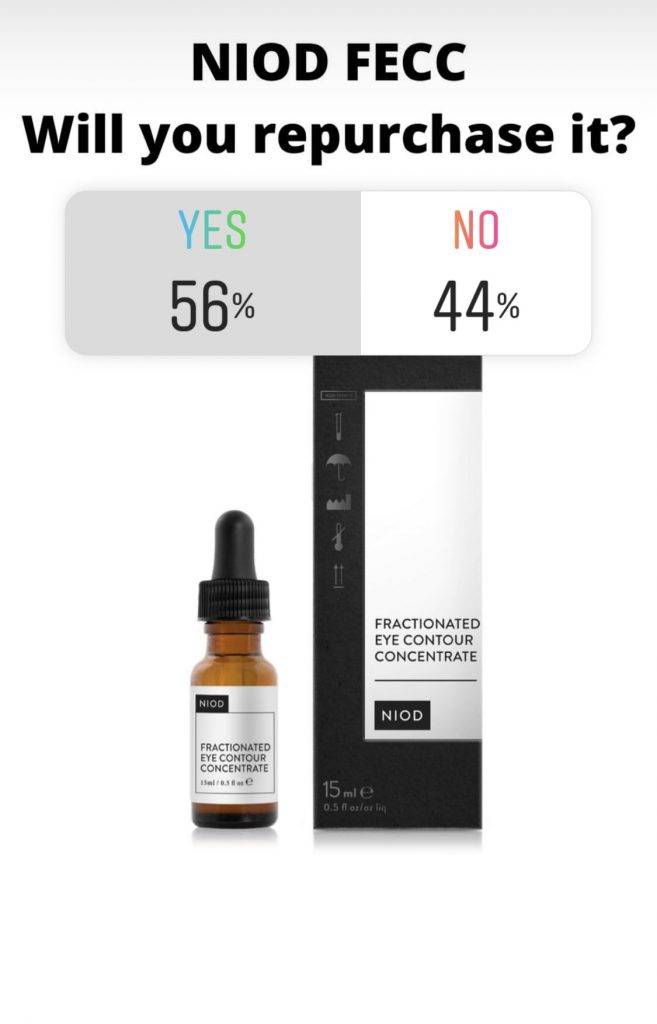 68% of the Deciem Addict love NIOD FECC. 51% say they have seen an improvement and 56% will repurchase it. NIOD FECC was voted the most popular NIOD product in the Facebook Group. It is pricey at 68$ for just 15ml although you really do only need a tiny drop per eye. You can always find Deciem discounts of up to 22% off.
Other Deciem Eye Products
The Ordinary Caffeine Solution
Hylamide Sub Q Eyes
NIOD REVIEWS
You can find more NIOD reviews here and don't forget to check Deciem Discount Codes where you can normally find a saving of up to 22%.
Complete Guide To NIOD FECC
Here's the complete guide to NIOD FECC. It's very wordy! All can be found on the NIOD website.