The idiot's guide to layering The Ordinary
You've just received all your products, you're super excited to start your new skincare routine but you have no idea how to layer The Ordinary.
Well, you're not alone, and I really hope this page makes it a little easier to understand.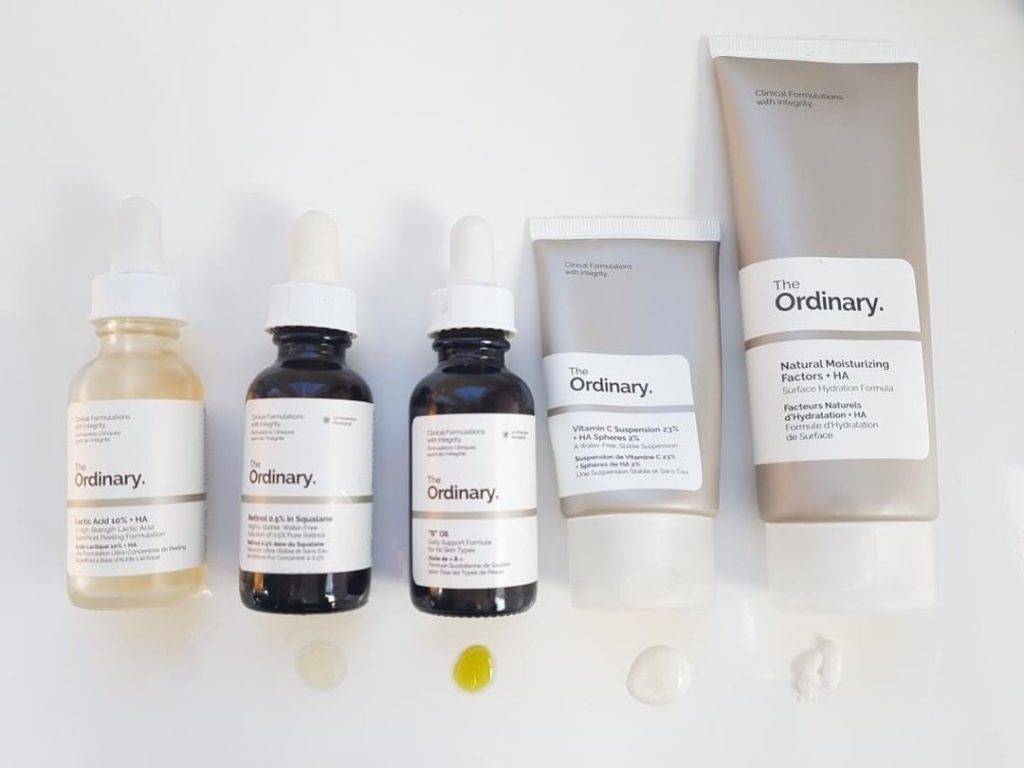 How To Layer The Ordinary
Layering skincare products should be applied from the thinnest / clearest to the heaviest / opaque. I suggest you mark your products 1, 2, 3, 4 when starting out. It´s all about layering the products so they are able to penetrate the skin.
The Ordinary Product Solutions
There are 5 different types of solutions (bases)
Water
Anhydrous
Suspension
Oil
Emulsion
Deciem Recommend Layering The Following Way
Water based solutions first
Anhydrous or oil formulations
Emulsion / cream
Suspensions, now this is the tricky one!  Some say suspension before emulsion / creams, some say after.  Deciem have mentioned that Vitamin C 23% should be applied after Natural Moisturising Factors but in some answers, they have said before. See what suits you and your skin.
The Ordinary Products By Solutions
How To Layer The Ordinary
Water = 1
Apply these to cleansed skin. If you use numerous water based products, Deciem recommend starting with the one which helps the skin condition you are trying to target the most.
Ascorbyl Glucoside Solution 12%
AHA 30% + BHA 2% Peeling Solution* (masque)
Glycolic Acid 7% Toning Solution
Lactic Acid 5% + HA
Lactic Acid 10% + HA
Mandelic Acid 10% + HA
Salicylic Acid 2% Solution
Hyaluronic Acid 2% + B5
Marine Hyaluronics
Alpha Arbutin 2% + HA
Argireline Solution 10%
"Buffet"
Buffet" + Copper Peptides 1%
Caffeine Solution 5% + EGCG
Matrixyl 10% + HA
Niacinamide 10% + Zinc 1%
Anhydrous Solutions = 2
Apply Anhydrous products after water solutions (if using) and before Oils / Creams.
Granactive Retinoid 2% in Squalane
Retinoid 5% in Squalane
Granactive Retinoid 2% Emulsion
Retinol 0.5% in Squalane
Retinol 1% in Squalane
Ascorbic Acid 8% + Alpha Arbutin 2%
Ethylated Ascorbic Acid 15% Solution
Alpha Lipoic Acid 5% * use alone
EUK 134 0.1%
Resveratrol 3% + Ferulic Acid 3%
*High-Spreadability Fluid Primer (last step before makeup)
Pycnogenol
OILS = 3
Oils should be applied after water solutions and before creams / emulsions. Some people leave this as their last step or you could lock it all in with a cream like Natural Moisturising Factors.
You can also use these alone!
Ascorbyl Tetraisopalmitate Solution 20% in Vitamin F
"B" Oil
Borage Seed Oil
Moroccan Argan Oil
Cold-Pressed Rose Hip Seed Oil
Organic Virgin Chia Seed Oil
Cold-Pressed Virgin Marula Oil
Organic Virgin Sea-Buckthorn Fruit Oil
100% Plant-Derived Squalane
100% Plant-Derived Hemi-Squalane
Emulsions = 4/5
Emulsions / Creams are supposed to be the last step but this doesn't really work except for the Natural Moisturising Factors and the Sun Creams.
*Granactive Retinoid 2% Emulsion (after water solution, before oil / creams)
*Magnesium Ascorbyl Phosphate 10% (after water solutions, before oils / creams)
*High-Adherence Silicone Primer (last step before makeup)
Natural Moisturizing Factors + HA
Mineral UV Filters SPF 15 with Antioxidants
Mineral UV Filters SPF 30 with Antioxidants
So as you can see, the rule 1,2,3, then 4 doesn't always work, so you need to do a bit of free thinking which is why it's really important you learn a little.  Remember, this is just the layering and doesn't include all the conflicting products.
Suspensions = 4/5
(Some say this is the last step and some say it's the penultimate step).
Suspensions cause quite a bit of confusion. Although on the regimen page it says apply after water based products, Deciem have mentioned to people, including myself, to use the Azelaic Acid before the Natural Moisturising Factors, and the Vitamin C after. But then in other comments, I've seen it mentioned the other way around. You can always check the Live Chat Deciem or post a question in Facebook Group.

Azelaic Acid Suspension 10%
Vitamin C Suspension 23% + HA Spheres 2%
Vitamin C Suspension 30% in Silicone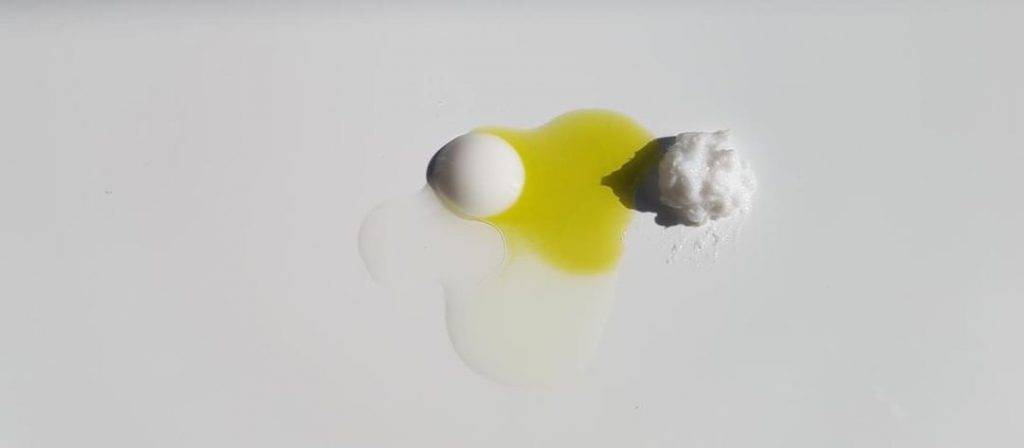 The Ordinary Regimen Examples
In bold you can see numbers, as per above, which hopefully will help you understand how to layer The Ordinary. Remember, from the thinnest / clearest to heaviest / opaque. This is the order but it doesn't mean you have to always use all 4 of them, 1+2+3+4. You might just do 2+3 or 1+3+4, 1+1 or 1+2.
Pigmentation Issues
Morning: Alpha Arbutin, Niacinamide & Magnesium Ascorbyl Phosphate (1 + 1 + 3)
Evening: Alpha Arbutin, Azelaic Acid (1 + 4)
Note: Ascorbyl Tetraisopalmitate Solution can be applied in the PM before Azelaic Acid Suspension 10% for added support.
Dehydration
Morning: Hyaluronic Acid & Natural Moisturizing Factors (1 + 4)
Evening: Hyaluronic Acid, Plant-Derived Squalane (1 + 3)
Note: Alternatively, Marula Oil or Moroccan Argan Oil can be used instead of Plant-Derived Squalane in the PM.
Ok, so hopefully you're a little clearer on how to layer The Ordinary and the different types of solutions you need to use. Now to the really confusing part! So apart from the confusing names and the layering, you also have to deal with the products that conflict, meaning they can't be used together!
It's really important that you regularly look at The Ordinary Regimen Guide on the official website because it's often updated with new conflicting products. I have created this page listing all The Ordinary Product Conflicts and a chart which I really hope will help.
Example: The Peptides (Buffet, Buffet + Copper Peptides, Argireline and Matrixyl) should not be used with Direct Acids, L´Ascorbic Acid or Ethylated Ascorbic Acid (Vit Cs). Niacinamide shouldn't be used with pure vitamin c. These are just a few of the conflicts. There are many more conflicts and it becomes even more confusing once you start adding more products.
So this is why I highly suggest buying a set regimen or asking Deciem for a regimen, especially if you are new to skincare.
I know from experience that when you first hear about The Ordinary you will fill your basket right up because the products look so cheap. But seriously, don't waste money buying lots of products which could end up conflicting. You only have 1 face and there's only 7 days in a week!
Keep The Ordinary Simple
If a product has too many conflicts, for example Buffet + Copper Peptides, then you can make life really difficult for yourself by trying to figure out a regimen on your own, especially if you have already bought lots of products. Ask Deciem for a regimen, so you can be sure the products can be used together. Don't buy too many products of the same solution or category and stick to the same routine for a good few weeks for the best results.
Why Start Slowly?
Imagine you use 3 products all at once for the first time and your skin has a reaction. How will you know which product caused it? That's why we recommend introducing one product at a time, although we know many Deciem Addicts don't stick to this.
Patch Testing
Deciem recommend patch testing in case of an allergic reaction. We have received a few posts in the Facebook Group from members who unfortunately have had reactions to some of the products, as you can with any brand. In reality, I know the majority of you will not bother patch testing, but you have been warned!