The Ordinary For Men – The Ordinary is an extraordinary brand because it appeals to absolutely everyone. An incredible brand created by a genius, the late Brandon Truaxe.
Men´s favourite The Ordinary Products
These are just some of the favourite The Ordinary products from some of our male followers on Instagram and in the Facebook Group.
The Ordinary For Men
Whether you're a newbie to skincare or just fancy a change, The Ordinary is a brilliant choice of skincare to play around with. If you're already quite familiar with skincare and want to step it up another level, then take a look at NIOD.
The Ordinary is for everyone. It's just a case of finding the right ones for you, particularly if you have facial hair. My husband prefers clear products rather than thick white moisturizers. Think about your skin type and skin concerns first. Are you looking for more hydration or to target some rough areas. Maybe you're looking for an oil for your beard, in which case there are many to choose from. Are fine lines and wrinkles starting to bother you? Whatever the skincare concern, there's a product to help target it.
The Best Ordinary Products To Use After Shaving
If you are looking for the best products to use after shaving, The Ordinary recently sent out a newsletter mentioning these 2 products. The Ordinary Aloe 2% + NAG and Natural Moisturizing Factors + Beta Glucan. Both products are wonderful to use and feel very soothing if you have any kind of irritation.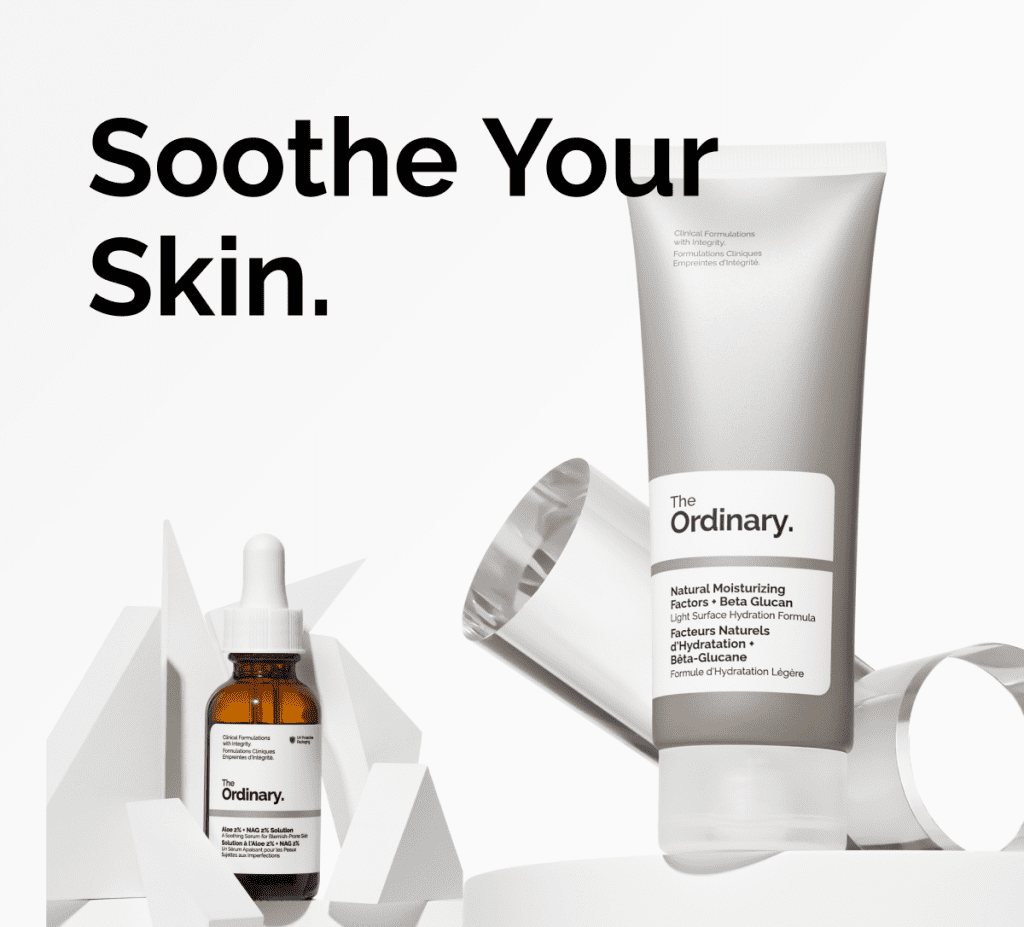 Which of The Ordinary products should I buy my husband/boyfriend?
We have lots of ladies in the group who would love to get their partners a little more into skincare, and they often wonder which of The Ordinary products they should buy them.
To help you decide which products to buy, I have asked the moderators of the Facebook Group and some of the fabulous guys that follow @deciemchatroom on Instagram to share their personal routines and regimens with you.
Some ideas
I converted my husband from his Kiehls moisturiser to The Ordinary Natural Moisturising Factors, a third of the price. He'll occasionally use one of my oils for his beard. He also quite likes to use a spritz of my NIOD SDSM. Since the launch of The Ordinary + Beta Glucan, he prefers this. He´s also using Natural Moisturizing Factors for the scalp which he likes.
Nia @niapattenlooks says: I managed to get my husband to use a hydrating mist which he still enjoys. He was using Granactive Retinoid for a while, and his skin became marvellously soft, but he doesn't use SPF every day, so that was that. You must protect yourself! (I'm like a broken record!)
Anna @ok.Ilovethis says: I got my boyfriend to use a gentle facial cleanser, hyaluronic acid, an exfoliating acid a couple times a week, and a moisturiser with SPF. Now it's become a part of his post-shower routine, and it's easy enough for him to do without me reminding him. His skin looks brighter and smoother, so I consider it a significant win.
The Ordinary Regimens by some of our male followers
Now over to some of the guys from Instagram who use and love Deciem products. I've added their Instagram accounts to chat with them directly if you want more information. Please mention that you saw them featured on Deciem Chat Room.
Skincarma says: Everyone, I believe, should have access to really good skincare that helps them achieve their healthiest skin — and The Ordinary makes that possible.
As a man, I'm most concerned with my skin texture. Rough skin texture causes so many problems for guys, including dryness, dullness, and maybe worst of all, problems shaving! So cleansing and exfoliation are really important to me. Every evening, I use the new Squalane Cleanser to wipe the slate clean and clear my skin of grime, and pollution, and my morning sunscreen.
Once a week, I mask with the Salicylic Acid 2% Masque, which is super messy and super effective at smoothing skin texture. Once or twice a month, I reach for the holy grail of power acid treatment, AHA 30% + BHA 2% Peeling Solution. That stuff sure packs a punch!
Connor @connor.moorhouse says: I love a variety of The Ordinary products. They are the main staple in my skincare routine, both AM and PM. Niacinamide is, without a doubt, my holy grail out of my Ordinary products. It has helped my oily skin massively, although it doesn't help my acne directly. By targeting my excess sebum and oil, it helps reduce future acne and spots.
Amino Acids is another one I've been using for quite a while. I just love how this feels and the hydration this provides my skin. It seems to give my skin a different look since I've started using it. I've recently added a new Antioxidant, EUK. I'm excited to see how this performs on my skin, considering I have patches of redness/inflammation, which it will hopefully work with.
B oil is my go-to oil. It's cheap and does the job you want. It helps with my overall skin complexion, and I also love to apply it to my beard. It leaves it feeling ridiculously soft, better than anything I used before.
Natural Moisturising Factors is my moisturiser at night. I wake up and find that any irritation I have is reduced most of the time and stopped being itchy. I find that this is a good 'thick' moisturiser that I know I can safely use over my acne-prone skin and will not trigger it. In fact, it even sometimes helps the redness of my acne.
The Ordinary & Deciem for Men
I hope this makes it easier to decide which products to buy. Before splashing out money on lots of products for your partner, it´s best you share some of the products you're using already. You can't force someone to change their ways overnight. You will only get annoyed when the lovely gift you bought for him stays in the box.
The Ordinary & NIOD Guides