The NIOD Best Sellers – Top 10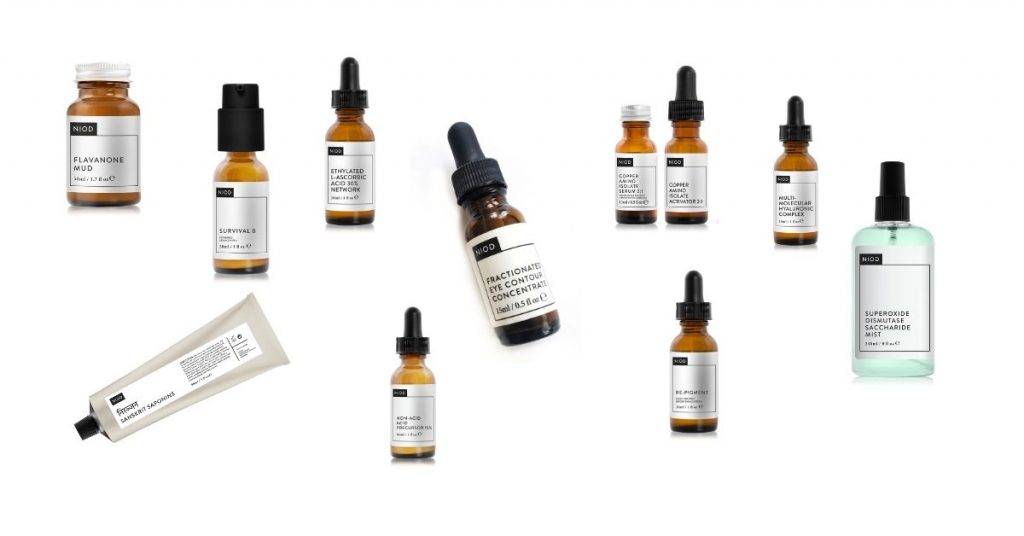 NIOD Best Sellers – Top 10 Best Selling NIOD Products
These are the top 10 best-selling NIOD products, according to Deciem. They may vary slightly from country to country.
USA Top 5 NIOD Bestsellers
Canada's Top 5 NIOD Bestsellers
1. NIOD FECC
2 NIOD CAIS
3. NIOD SDSM
4. NIOD MMHC2
5. NIOD NEC
Australia's Top 5 NIOD Bestsellers
Top 5 Best Sellers in the UK
1. NIOD FECC
2. NIOD CAIS
3. NIOD SDSM
4. NIOD MMHC2
5 NIOD S0
NIOD – What does it stand for?
NIOD stands for Non-Invasive Options in Dermal Science and uses leading-edge ingredients and ground-breaking technology. Compared to The Ordinary, it's expensive, but it's still pretty well priced compared to other similar brands at this level.
Before Buying NIOD
The Ordinary is a brand you can easily get addicted to and buy way more products than you really need. Some people don´t worry if a product works or not when it only costs 5$€. But NIOD is a lot more expensive, so I encourage you to take your time to read reviews by the Deciem Addicts before buying. Make sure you speak to people with all different types of skin and skin conditions. I would also recommend purchasing the smaller sizes, where products come in 2 sizes except for NIOD MMHC2 and NIOD CAIS simply because these can be used every day whilst masques are used once or twice a week.
NIOD Top 10 Best Sellers – What are the best NIOD Products?
Some of my personal favourites from the NIOD 10 best-selling products are;
NIOD FM – Flavanone Mud is one of my favourite masks. It can sting, but wow, it leaves skin feeling so clean, fresh and glowing. There´s also the 5-day accelerator method – be sure to read up about this. This comes in 2 sizes. I recommend purchasing the smaller jar; otherwise, you may not use it within the PAO (period after opening).
NIOD MMHC2 is a beautiful Hyaluronic Complex. It is about 10 times as expensive as The Ordinary. Is it worth it? Some say it is, some say it isn´t. The Ordinary Hyaluronic Acid has 3 forms of HA, while NIOD MMHC2 has 15 forms of HA. The texture is very different. The Ordinary Hyaluronic Acid can be sticky, whilst you´ll find NIOD isn´t sticky at all. It´s a beautiful product that´s smooth, glides onto the skin, and absorbs really well. You can always find NIOD discounts here. This comes in 2 sizes, and I recommend purchasing the 30ml.
Sanskrit Saponins is a 2-in-1 product. It can be used as a cleanser and 5-minute mask. I would advise buying the smaller tube as you may not use it all within the PAO (period of opening).
NIOD Reviews
Find more reviews and polls by the Deciem Addicts for all the NIOD products here. If you're still confused about NIOD, here's an easy beginner's guide to NIOD. You can also join the Facebook Group, The Ordinary & NIOD Chat Room, and join @deciemchatroom on Instagram.
NIOD Conflicts
You can find the NIOD conflicts chart here. Make sure you know which NIOD products you can and cannot use together.
NIOD Prices
NIOD products start from 23€/25$ up to 80€/90$. You can always find NIOD discounts of sometimes up to 30% at some of the authorised Deciem stockists.
The Ordinary Best Sellers
Find the top-selling products by The Ordinary – Top 10 Best Selling The Ordinary Products.