A quick look at The Ordinary Multi-Peptide Hair Serum
53% love it
43% say they have seen an improvement
38% will repurchase it
Makes hair look thicker, denser, fuller & healthier
This product is 60ml
Price: 17.90€, 17.90$, 15.80GBP, 30$AUD
With The Ordinary Multi-Peptide Hair Serum, there's really only one question everyone wants answered. Does it work?
Some people (see reviews below) absolutely love and will say it works and others will say it did nothing. For those it did nothing for – were they consistent? Did they really use it as instructed and persevere with it? I could easily say it didn´t work, but the truth is I wasn´t consistent. I started using it but then a friend bought me the Olaplex System so I am currently using The Ordinary Multi-Peptide Serum on my eyebrows and will report back soon.
What is The Ordinary Multi-Peptide Hair Serum and what does it do?
The Multi-Peptide Serum for Hair Density – Deciem says this is a concentrated serum for hair that looks thicker, denser, fuller and healthier.
More details
This concentrated formula is designed to support hair health so that it looks thicker, denser, fuller and healthier. The technologies present in this formula include REDENSYL™ complex (with Larix Europaea Wood Extract and Camellia Sinensis Leaf Extract), Procapil™ peptide complex (with Biotinoyl Tripeptide-1), CAPIXYL™ peptide complex (with Acetyl Tetrapeptide-3 and Trifolium Pratense Flower Extract), BAICAPIL™ complex (with Scutellaria Baicalensis Root Extract, Triticum Vulgare Germ Extract and Glycine Soja Germ Extract), AnaGain™ (Pisum Sativum Extract) and High-Solubility Caffeine (1% net Caffeine by weight), in an ultra-lightweight, emollient base for efficient penetration. The total concentration of these technologies in the formula by weight is 21.15%.
(References are made to third-party trademarks in this description. REDENSYL™ is a trademark of Givaudan, Procapil™ is a trademark of Sederma Inc., CAPIXYL™ is a trademark of Lucas Meyer Cosmetics Canada Inc., BAICAPIL™ is a trademark of Provital, S.A., and AnaGain™ is a trademark of Mibelle Biochemistry. Neither DECIEM nor The Ordinary is affiliated with the trademark owners.)
When and how do I use The Ordinary hair serum?
Apply a few drops (2/3) once a day and ideally at bedtime
It should be applied to a clean, dry scalp.
Massage the serum into the scalp thoroughly.
Do not rinse out.
Patch testing is always recommended.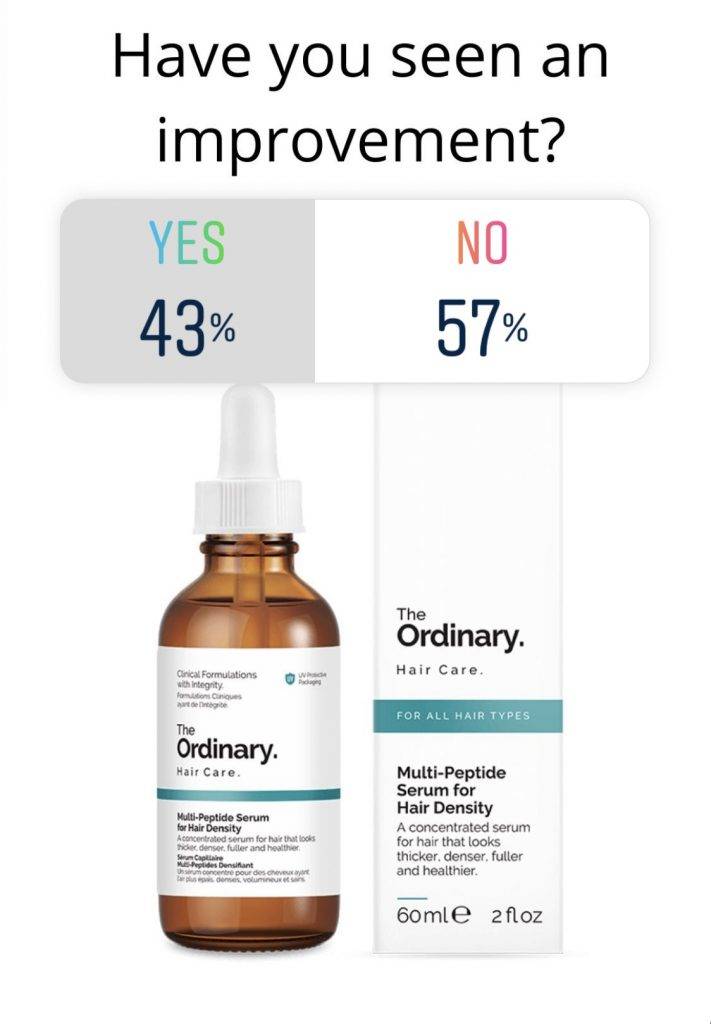 Reviews of The Ordinary Multi-Peptide Hair Serum
The Ordinary Hair Serum currently scores an 8.2 with over 250 reviews on the official Deciem website. Below are just some of the reviews from the Deciem Chat Room Instagram post. You can read more here and talk directly with the people leaving the reviews.
I don't have hair loss but my hair is very fine and I find that the multi-peptide serum it does give volume and makes hair look healthy.
I started using The Ordinary Multi-Peptide Hair Serum on my brows and bald patches started to show some new hair growth. My brows are looking so much fuller!
I liked this serum! It works amazing if you have an itchy or irritated scalp. It balances it out and gave me a few new baby hairs as well.
I wasn't consistent and it worked for me. Had I not taken before and after photos or I wouldn't have believed myself.
The Ordinary Multi-Peptide Hair Serum has totally worked for me. I run the tip down each side of my head and some at the crown and then brush with a massaging brush. I have noticeable hair growth.
The Ordinary Multi-Peptide Hair Serum FAQS
These questions have been answered by Deciem on social media
Is The Ordinary Hair Serum suitable for pregnancy/breastfeeding? We do not test our products on pregnant/nursing women. Hence, we cannot provide any confirmation on that aspect. It is best to consult your physician in advance before use just to be on the safe side.
Does the Multi-Peptide Hair Serum work on afro hair? Yes, it great for all hair types.
What is the pH level of this product? The Ordinary Multi-Peptide Serum for Hair Density has a pH of 4.75-5.75.
Will The Ordinary Hair Serum prevent hair fallout? Any hair condition would benefit from visible density improvements this product would offer. There are a number of studies discussing caffeine with respect to hair loss. While we don't position this product as a hair loss treatment, we encourage you to research the studies of the technologies used in this formula in this regard.
Would The Ordinary Multi-Peptide Hair Serum help with scalp psoriasis? None of our products can be considered medical treatments for psoriasis. You may wish to discuss suitable treatments for persistent signs of psoriasis with your physician or dermatologist. 
More Faqs
Is The Ordinary hair serum ok to use on bleached hair? Yes, this product improves the tensile strength of hair strands.

How many drops do you use of the hair serum? We generally recommend 2-3 drops
Does The Ordinary hair serum stimulate growth? The peptides in Multi-peptide Hair serum have been shown to visibly stimulate new hair growth and also visibly strengthen the existing hair.
How long does a bottle last? Depending on the frequency of use, a bottle may last 4-6 months or more.
Does it have any side effects? All DECIEM products undergo a thorough safety assessment before hitting the market. Each ingredient is reviewed against current scientific literature and strict global regulations to ensure they are safe and compliant for topical application
How many times in a week should I use the hair serum?  It may be used nightly!
Can The Ordinary Multi-Peptide Hair Serum be used alongside minoxidil? We have not tested The Ordinary Multi-Peptide Serum for Hair Density with other non-DECIEM hair growth products, we cannot provide any information with certainty in that regard.
Is this serum suitable for an oily scalp? Absolutely!
Is it safe for colour treated hair? Yes
Final Thoughts on The Ordinary Multi-Peptide Hair Serum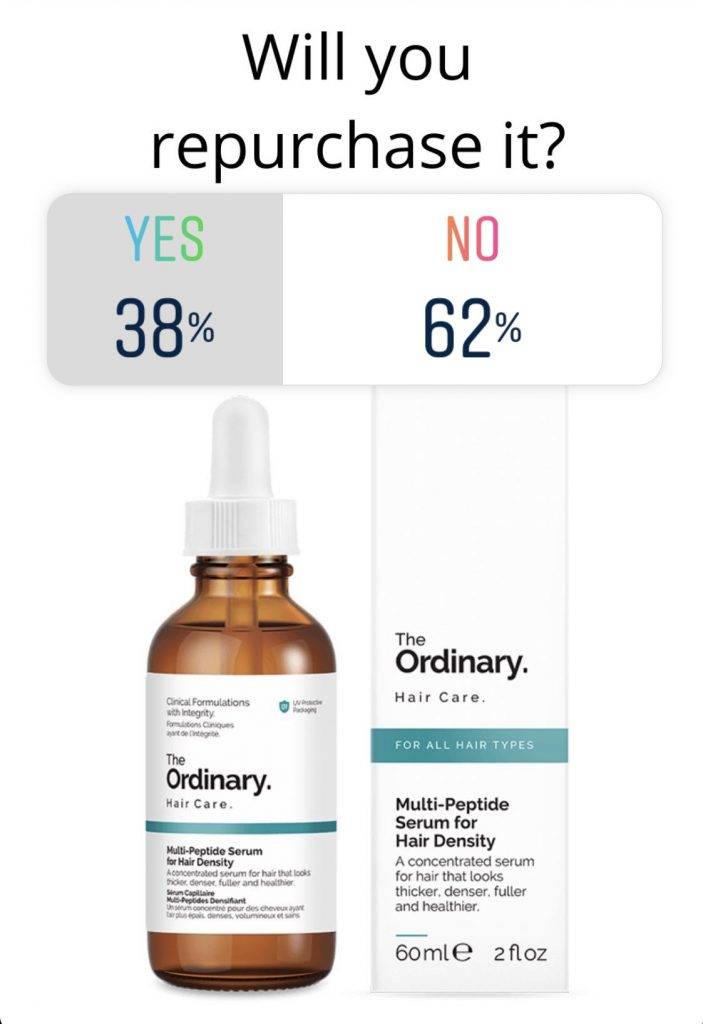 As you can see 53% of the Deciem Addicts love it, 43% have seen an improvement, 38% will repurchase it. Some of the reviews on this product are amazing so I am a little surprised with these result, but it´s what the Deciem Addicts voted.
The Ordinary Multi-Peptide Hair Serum Box, Bottle & Serum
For anyone worried if they have bought a counterfeit product, here are photos of The Ordinary Multi-Peptide box, bottle and serum. The serum is quite watery, it rubs into the skin on the back of my hand quite nicely. It absorbs very well and leaves it feeling smooth, not oily.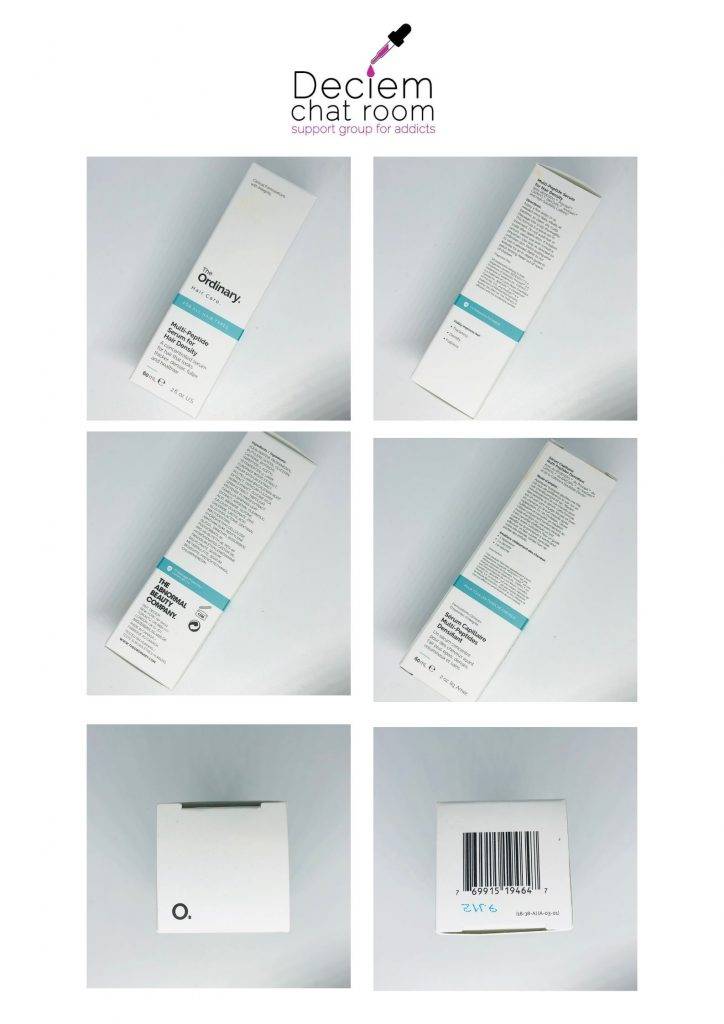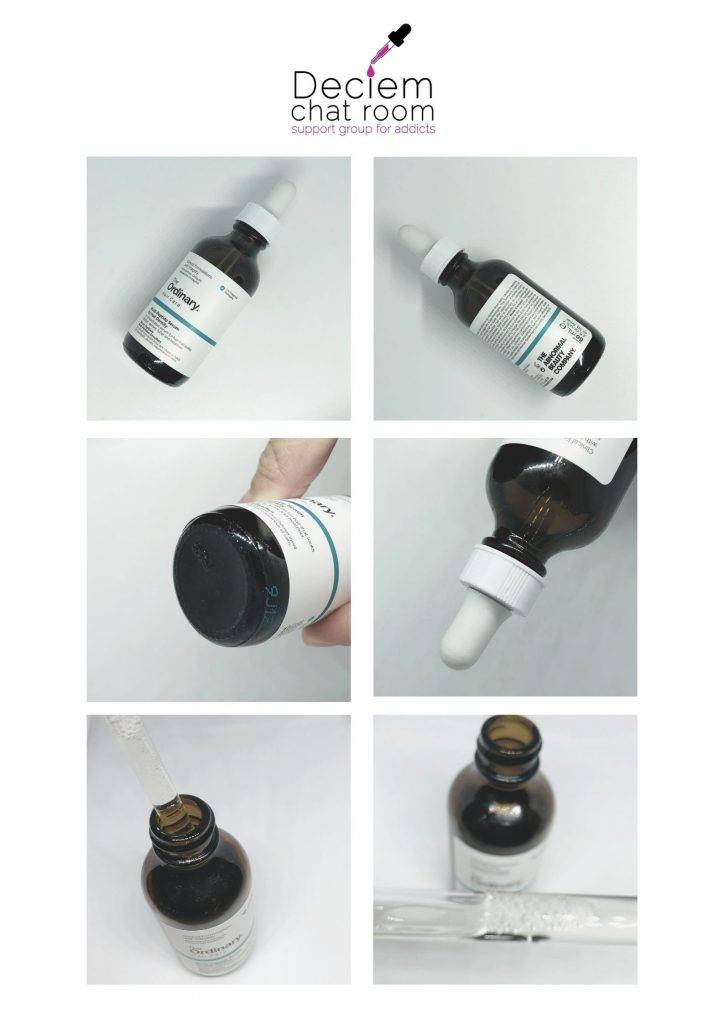 Where to buy The Ordinary Multi-Peptide Hair Serum
Buy from Deciem or one of the many authorised stockists online. If you purchase from Amazon, Ebay, Shopee there is no guarantee of the products being authentic.
Other hair products
Deciem also has HIF for hair which you could look at and find reviews in the Facebook Group or on Instagram. If you´re looking for something to repair hair, then I would look at Olaplex. A friend of mine loves it and bought me a mini-set for Christmas. First impressions are that it´s amazing. It's a bit of a chore having to damp the hair and leave products on for a while but it's worth it. Hair feels so much stronger yet softer. You can buy through Look Fantastic and sometimes the Deciem Chat Room codes work too, but they often have 20% off.