The Ordinary Ascorbyl Tetraisopalmitate Reviews
58% of the Deciem Addicts love it
58% say it has improved their skin
59% will repurchase it
Currently scores 4.0/5 on the Deciem website
Everything you need to know about The Ordinary Ascorbyl Tetraisopalmitate Solution 20% in Vitamin F
What is Ascorbyl Tetraisopalmitate, and what does it do?
When do I use Ascorbyl Tetraisopalmitate?
How do I use Ascorbyl Tetraisopalmitate Solution?
Which products can and cannot be used with this product?
Reviews of Ascorbyl Tetraisopalmitate Solution
FAQs
Other Deciem Vitamin C Products
Size: 30ml. Check the price in your currency here
What is The Ordinary Ascorbyl Tetraisopalmitate and what does it do?
Deciem´s simple explanation. Ascorbyl Tetraisopalmitate Solution 20% in Vitamin F (ATS20 ) is a high-strength oil solution that visibly targets uneven skin tone, dullness, and signs of ageing whilst also offering surface hydration.
When & how do I use this product?
This oil solution (a very thin oil) should be applied after your water-based products.
This can be used in the morning and/or the evening.
Ascorbyl Tetraisopalmitate Solution Targets
Dullness
Uneven Tone
Signs of ageing
Antioxidant Support
Ascorbyl Tetraisopalmitate Solution Texture
This is a very thin oil and can be tricky to apply. It does not leave your skin oily.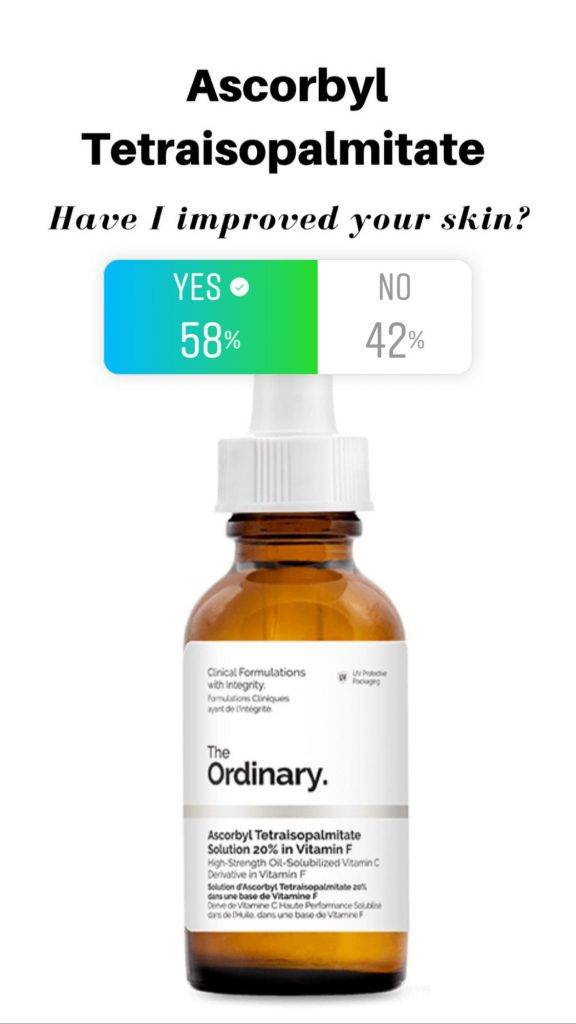 Which products can and cannot be used with Ascorbyl Tetraisopalmitate
Ascorbyl Tetraisopalmitate Solution can be used with everything except Niacinamide powder and serum.
The Ordinary Ascorbyl Tetraisopalmitate Reviews
Nia @niapattenlooks Ascorbyl Tetrasopalmitate is a favourite. It has a gorgeous oil texture and is a really gentle antioxidant. It also contains tomato oil, which gives a glowy complexion in the morning.
The Ordinary Ascorbyl Tetraisopalmitate is a fabulous product. People often comment on how well I look when I use this consistently. The only negative is that it pilled with other products, so I use it alone, which I don´t mind.
Yes, I love this. I'm onto my second bottle.
FAQS about Ascorbyl Tetraisopalmitate Solution
Can I use Ascorbyl Tetraisopalmitate with Buffet? Yes, that´s fine.
Can I use Ascorbyl Tetraisopalmite with Niacinamide? Yes, you may use The Ordinary Ascorbyl Tetraisopalmitate Solution 20% in Vitamin F alongside The Ordinary Niacinamide 10% + Zinc 1%.
Is Ascorbyl Tetraisopalmitate solution 20% in vitamin F suitable for oily skin? None of the Vitamin C products are specifically formulated for oily skin. You may wish to see how Ascorbyl Tetraisopalmitate Solution 20% in Vitamin F works for you before exploring the other options.
Final Thoughts on Ascorbyl Tetraisopalmitate Solution 20% in Vitamin F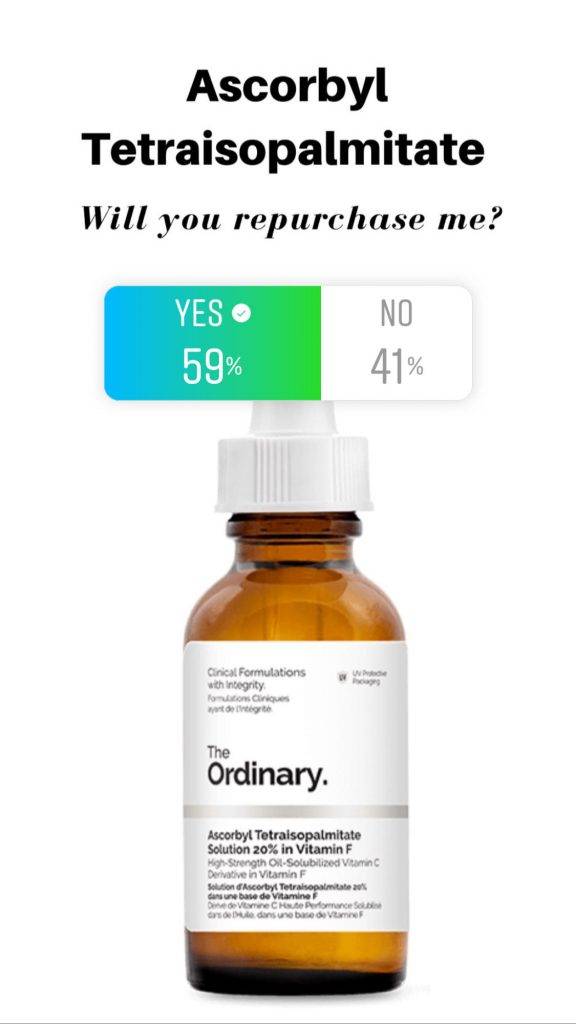 58% of the Deciem Addicts love this product. 59% say it has improved their skin, and 59% say they will repurchase it. Read more reviews, and feel free to post questions about this product in the Facebook Group.
The Ordinary & Deciem Vitamin Cs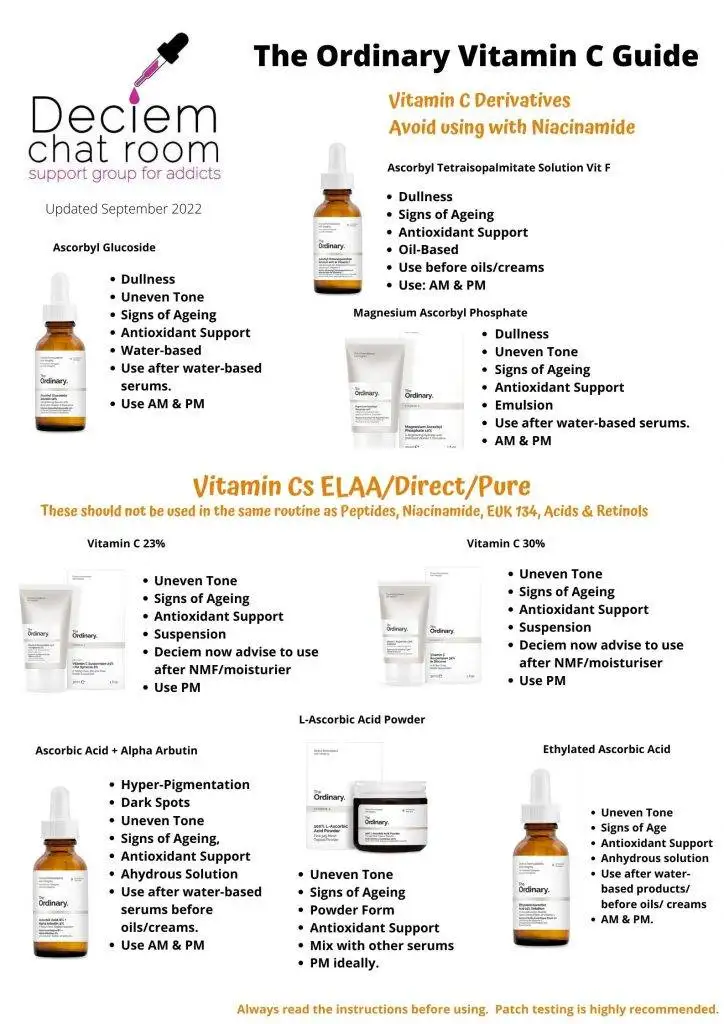 There are 8 Vitamin C products under The Ordinary brand. If you´re new to skincare, one of the derivatives would be a good option for you as they have fewer conflicts.
OTHER DECIEM VITAMIN C