The Ordinary Regimen for Brighter Skin
Do you feel your skin needs brightening? Buy The Ordinary Routine for dullness or use it as a guide to incorporate some brightening products into your current skincare routine.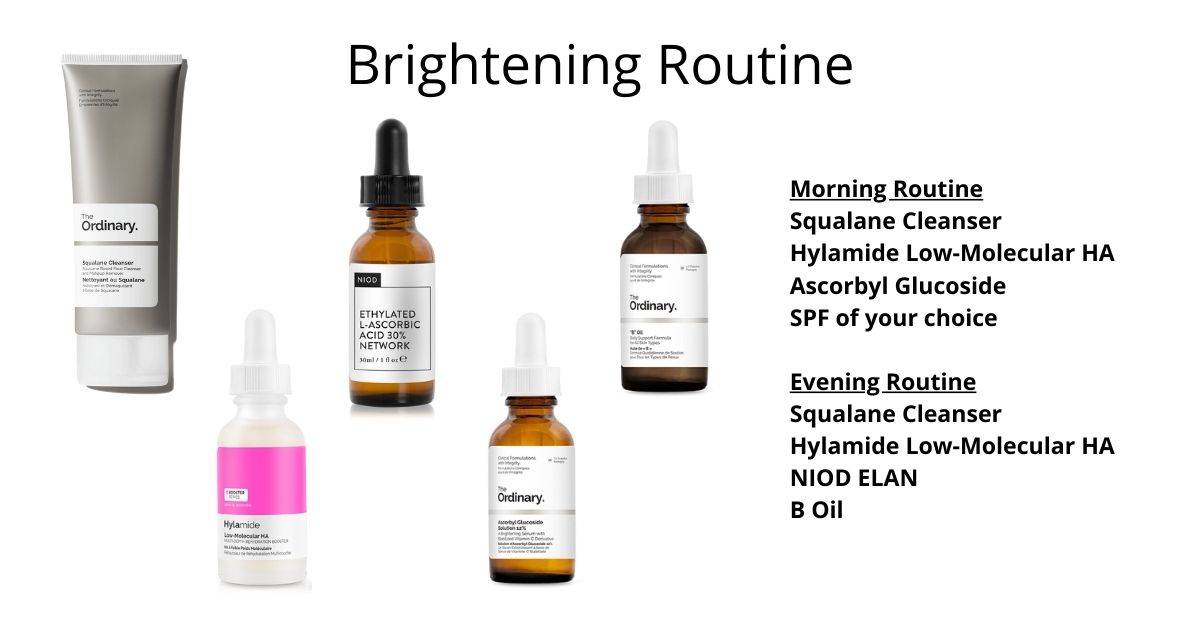 You can add these products direct to your basket
The Ordinary Brightening Routine – Morning & Evening
Brighter Skin – The Ordinary & NIOD
The Ordinary & NIOD Skincare Routine For Dullness – these are the products recommended, but if you already have similar products from other brands, don´t feel you have to buy new ones. Just make sure there are no conflicts by checking The Ordinary Conflicts here.
If you don't want to spend the money on the NIOD products recommended, you can buy similar ones from The Ordinary range. Below are numerous recommendations to suit all budgets.
Switch between The Ordinary & NIOD, or use what you have.
Cleansers
Feel free to use your own cleanser if you are happy with your current one. We have lots of posts in the Facebook Group all about cleansers, just search #cleansers. But there are now numerous cleansers from The Ordinary & NIOD to choose from, including Squalane Cleanser, Glucoside Foaming Cleanser and Glycolipid Cream Cleanser.
Hylamide Low Molecular HA – Being discontinued.
This product is being discontinued, so you could try The Ordinary Hyaluronic Acid or Marine Hyaluronics. Alternatively, if you want to treat yourself, then go for the award-winning NIOD MMHC2.
The Ordinary Ascorbyl Glucoside
You could try The Ordinary Ascorbyl Tetraisopalmitate or one of the many Vitamin C products.
NIOD ELAN Ethylated Ascorbic Acid Network
NIOD Ethylated Ascorbic Acid Network. This is more expensive than The Ordinary. If you're on a tight budget, use the Ascorbyl Glucoside again in the evening. You could also try one of the other pure vitamin C products from The Ordinary. Once again, don't feel you have to buy a brand-new product if you already have a vitamin C product you´re happy with.
B Oil by The Ordinary
B Oil is an amazing oil with some of the most fabulous ingredients, but if you don't like the feeling of oils, use the moisturiser you're already using, as long as there are no conflicts. There's a whole range of different oils in The Ordinary at all different prices.
SPF
There are The Ordinary UV Filters 15 and The Ordinary UV Filters 30 or the NIOD Survival Range. Once again, if you already have an SPF you like, no need to buy a new one. We have lots of recommendations for SPFs in the Facebook Group.
Find lots more The Ordinary & NIOD Skincare Routine/Regimens here