NIOD VM Voicemail Masque
59% of the Deciem Addicts love it.
Currently scores 4.6/5 on the Deciem website
NIOD VM Niod Voicemail Masque
Everything you need to know about NIOD VM Voicemail Masque before purchasing.
What is NIOD Voicemail?
What does it do for your skin?
When to use NIOD VM
How to use Voicemail Masque
PAO of NIOD VM
Smell, colour, texture of Voicemail Masque
Photos and videos of NIOD VM
Reviews of NIOD VM
Where to buy NIOD VM
Size: 50ml Jar. You will need a spoon for this.
Price: 36€ | 30GBP | 45$CAD | 45$USD | 70$AUD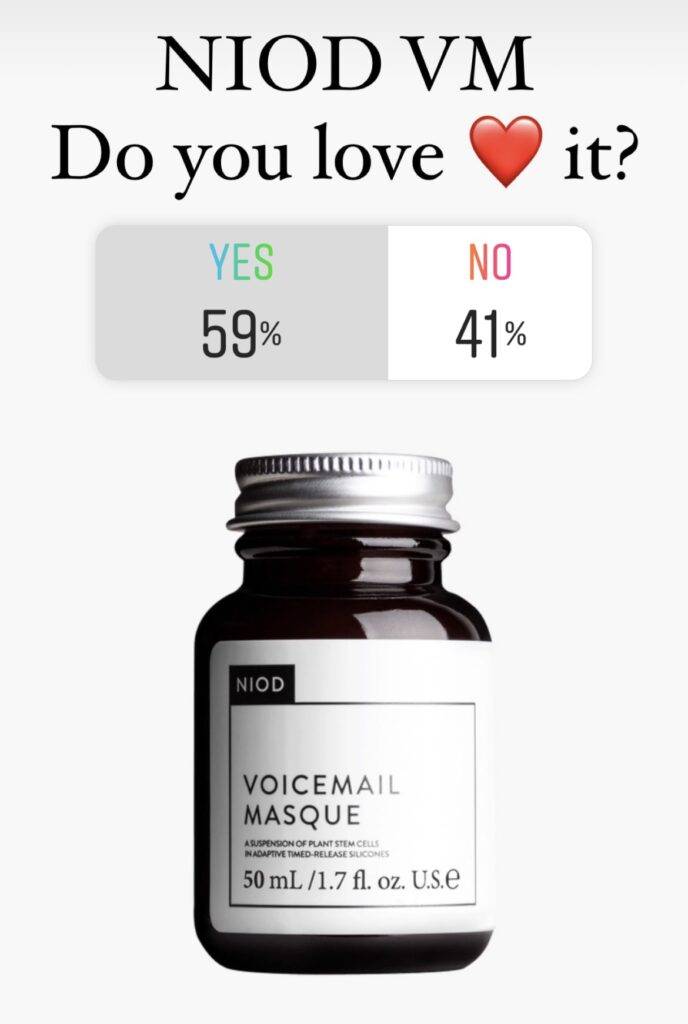 What is NIOD VM?
In short
Voicemail Masque is a nighttime leave-on masque treatment that fights many signs associated with impaired cellular communication.
Long Version:
Living cells communicate with one another, and this cellular communication is an essential aspect of life and health. Cellular communication breaks down with age and under stressful conditions, and this breakdown directly impairs the youthful appearance of the skin, resulting in dullness and a compromised tone. Topical formulations today focus on the functions of specific skin cells, but the communication between healthy cells itself is largely overlooked.
Voicemail Masque is a nighttime leave-on masque treatment that fights many signs associated with impaired cellular communication. The formula is a suspension of plant stem cells from mountain flowers and narrowleaf plantain, as well as highly-purified polyphenols rich in hydroxycinnamic acid from oregano leaves. The suspension medium comprises advanced adaptive silicones that lengthen dermal exposure timeframe, supported by a fractionated spectrum of molecular weight (instead of a specific one) of hyaluronic acid, just as naturally found in the body. The result is skin that looks healthy, well-rested, bright and uniform from the very first use.
What does it do for the skin?
Healthy looking skin
Well-rested looking skin
Brighter skin
More evenly toned skin
My initial thoughts
Firstly, I was really surprised by the consistency. It´s just like caramel without the stickiness or a runny version of NIOD NEC. If this was in the kitchen cupboard, someone would eat it up; it looks that delicious.
I will be trying this out over the next few weeks, adding it to my NIOD routine twice a week. When Deciem say in their instructions that this needs to be massaged into the skin for 20-40 seconds, they´re not wrong. This really does take time to sink in. If you´re someone that can´t be bothered with all the massaging, don´t buy it!
When and how to use NIOD VM
Deciem says to use this twice a week
Use it at nighttime only
If you use this alongside other NIOD products apply CAIS/MMHC first and then apply a thin layer of this masque over the entire face.
Avoid direct eye contact.
If you are not using NIOD products then apply NIOD VM over lighter serums.
Avoid applying thicker cream formulations on top of VM.
Massage for about 20-40 seconds. This REALLY does need time to massage in!
Do not apply other products over VM.
Do not rinse off until the AM.
VM is not recommended for very oily skin types.
VM should not be applied on peeling or irritated skin.
Photos & Video of NIOD VM
More photos of NIOD VM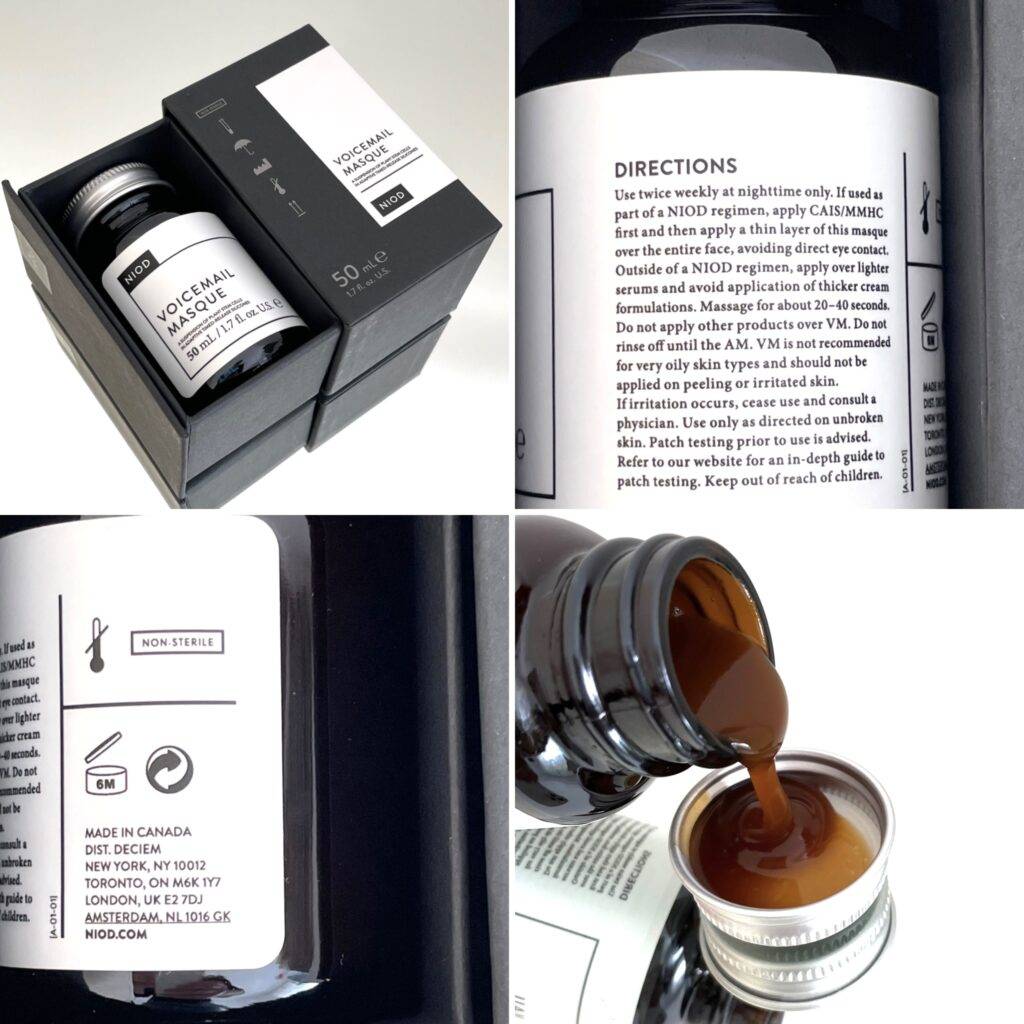 PAO NIOD VM
The period after opening is 6 months. This is really spreadable, so I would think this would last you a good few months.
Smell, colour, texture of NIOD VM
There is a smell, and it reminds me of medicine I took as a child. Someone else mentioned they could smell pizza. Our senses are all different; I´d love to know what it reminds you of. The colour is, as per the photos, a rich dark caramel colour. The texture is silky, smooth, oily, but not sticky. After applying this, my skin and fingertips feel very slippery but not oily or sticky (if that makes sense). It´s a strange one to describe!
Tips!
It was mentioned by one of the members of the Facebook Group that this can stain the pillows due to its pigment. You may wish to use an older pillowcase on the nights you use this.
You will need a spoon for this product.
Reviews of NIOD Voicemail Masque
59% of the Deciem Addicts on Instagram love it
Voicemail Masque currently scores 4.6/5 on the Deciem website.
See what others are saying about it on Instagram.
Don´t forget to join the Deciem Addicts in the Facebook Group, The Ordinary & Deciem Chat Room.
Where to buy NIOD VM
Buy direct at Deciem or at one of the many authorised stockists around the world. You may even find a discount at some of the stockists.