Unboxing NIOD Non-Acid Acid Precursor 15% NAAP
See the colour and consistency of NIOD NAAP, Non-Acid Acid Precursor 15% before buying.
NIOD NAAP – Non-Acid Acid Precursor 15%
Polls featured on Instagram stories. 68% of the Deciem Addicts love NIOD NAAP.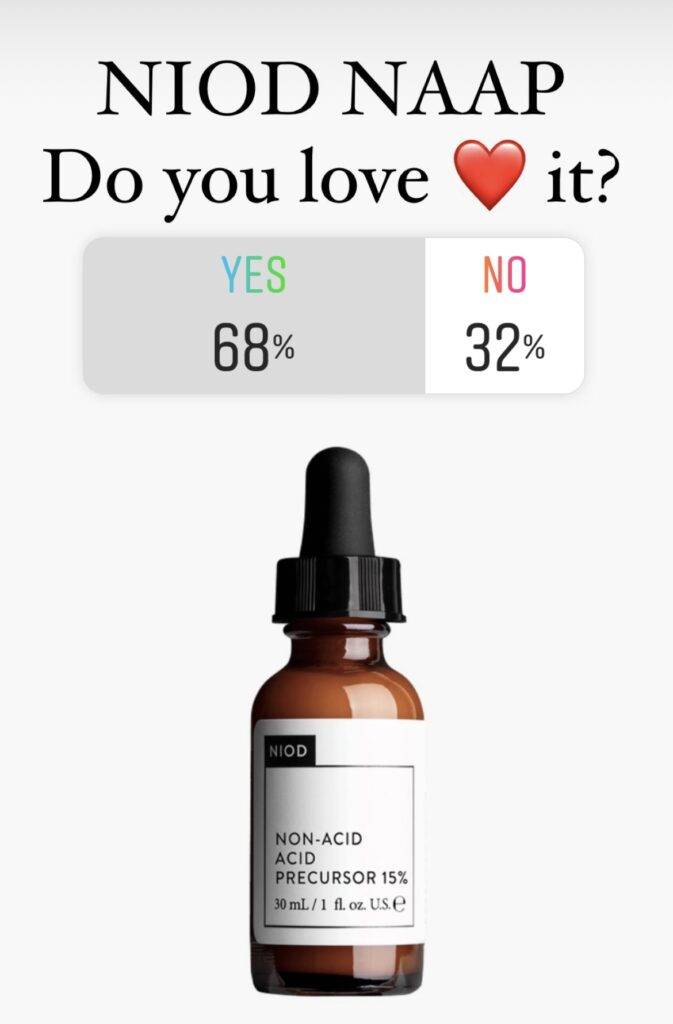 What does NIOD NAAP stand for?
NIOD – Non-Invasive Options in Dermal Science. NAAP – Non-Acid Acid Precursor 15%.
What is NIOD NAAP and what does it do?
Deciem says: NAAP is a non-acidic alternative to acid-based epidermal resurfacing. Instead of using direct acids like AHA/BHA or retinoids that are common in skincare, NAAP uses fermentation bio-derivatives and amino isolates that act as precursors to skin-compatible acids, encouraging visible radiance and visible surface regularity without the redness and inflammation associated with acids.
NIOD NAAP was found non-irritating in an independent Single 48-hr Patch Test.
When and how do I use NIOD Non-Acid Acid Precursor?
How to fit NIOD NAAP into a routine.
If you are using other NIOD products in your routine, here are some examples of where NAAP will fit in.
NIOD CAIS + MMHC2 + NAAP + HV
MMHC2 + ELAN + NAAP
NIOD NAAP Conflicts
Whilst there are no clear conflicts on the Deciem website, they have mentioned to use in alternate routines if you're using Tretinoin. Deciem has also mentioned avoiding using direct vitamin c.
Always patch test products and when you start to layer products, keep a close eye on how your skin looks and feels.
NIOD NAAP PAO
Nearly all the NIOD products have a PAO (period after opening of 6 months).
NIOD NAAP Colour, Texture, Smell
The colour of NIOD NAAP is white and the texture is a light creamy texture. There is a smell, nothing too strong.
My thoughts
NIOD NAAP is very different to what I expected. I haven´t been using it long enough to see a difference but it feels lovely on the skin and it absorbs really well. Sometimes the dropper doesn´t like to pick the product up.
Photos & Video of NIOD NAAP
See the product before you buy.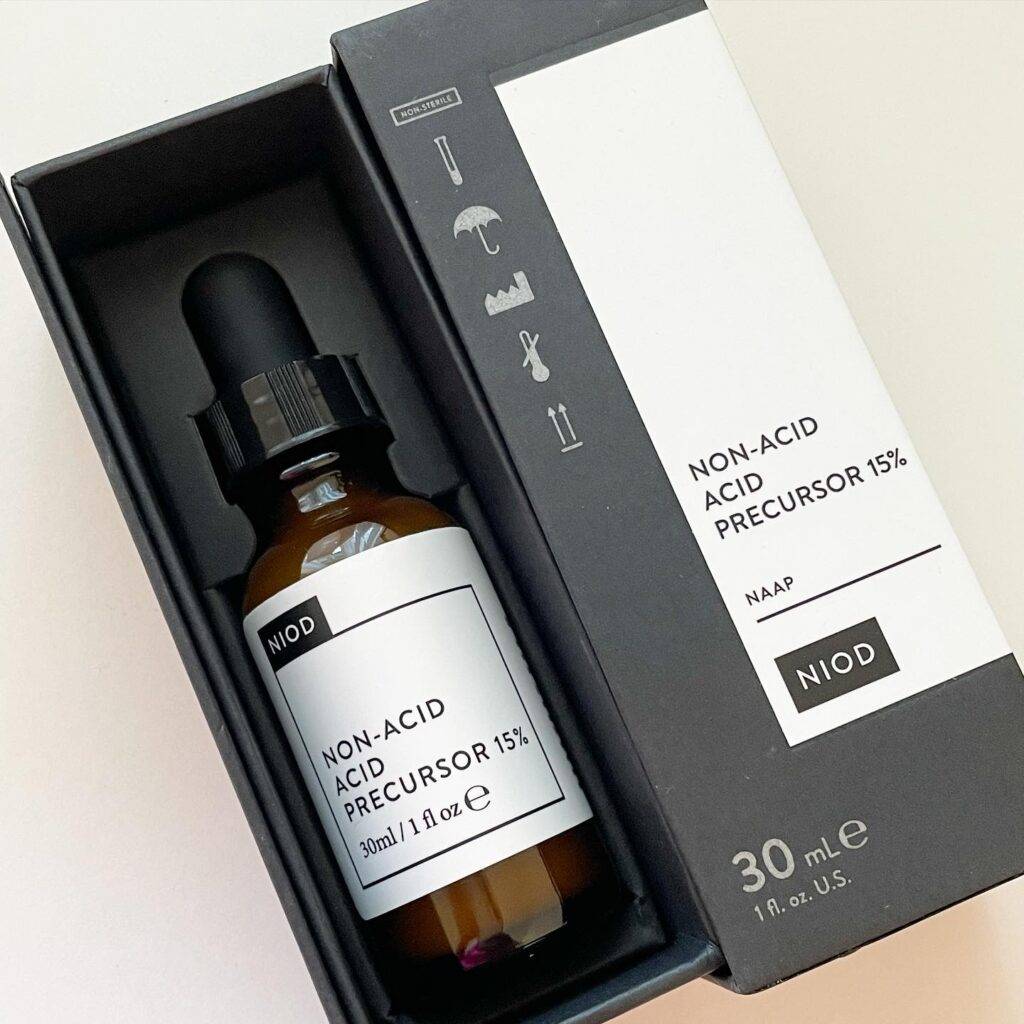 NIOD Non-Acid Acid Precursor Faqs
Can people with rosacea use it? We have not tested this product on rosacea skin. Keep in mind that this product is also not formulated to treat rosacea.
Could NIOD NAAP be used with Hyaluronic Acid? Yes
Can this product be used with Alpha Arbutin? Yes
Are NIOD products fragrance-free? Yes, they are.
Can NAAP be used with Azelaic Acid Suspension 10%? Yes, you can!
Could I replace The Ordinary Glycolic Acid with NIOD NAAP? You can certainly replace Glycolic Acid if you would prefer.
Is NAAP more suitable for sensitive skin? Yes, it is!
More FAQS about NIOD NAAP
How does NIOD NAAP differ from The Ordinary Lactic Acid 10%? NIOD Non-Acid Acid Precursor (NAAP) is a non-acidic alternative to acid-based resurfacing products (AHAs/BHAs or retinoids) that visibly targets textural irregularities and uneven tone without the redness and inflammation associated with acids/retinoids.
The Ordinary Lactic Acid 10% + HA 2% is a high-strength alpha hydroxy acid (AHA) peeling formulation that offers mild exfoliation to visibly target uneven tone and textural irregularities. Lactic Acid should not be used on sensitive, peeling or compromised skin.
Can NIOD NAAP be used with Tretinoin? Unfortunately, it is difficult for us to comment on the pairing of our products with those of other brands and/or prescription medications. We recommend consulting with your doctor/dermatologist, gradually incorporating one new product into your regimen at a time, and applying test patches first to see what works best for your skin.
Does NIOD NAAP make skin sensitive to the sun? It should not; however, we always suggest using an SPF during the day.
Can I use NIOD NAAP with The Ordinary Ascorbic Acid & Alpha Arbutin serum, and what would the order be? We recommend applying NIOD NAAP in separate routines from The Ordinary Ascorbic Acid 8% + Alpha Arbutin 2% to avoid irritation.
Would NIOD NAAP be ok for sensitive, eczema-prone skin? Try a test patch first before applying this product! NAAP is definitely another approach to acid-based skin exfoliation
NIOD NAAP Reviews
You can find lots more NIOD reviews here.