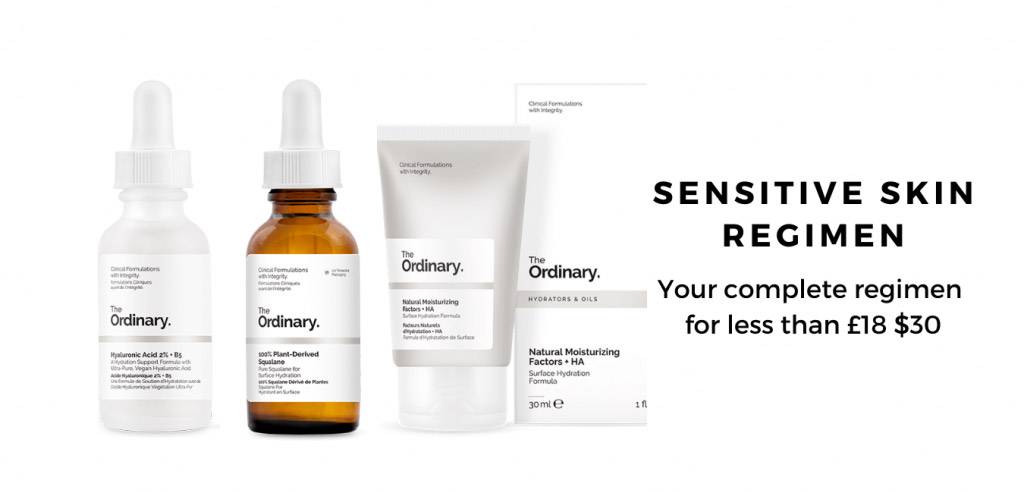 The Ordinary Sensitive Skin Regimen. Deciem has put this skincare routine together and will cost you less than £20 30$. You can read all about sensitive skin below.
You can find more of The Ordinary Regimens here, which includes General Signs of Ageing, Dehydration, Pigmentation, Rosacea, Oily, and Textural Irregularities. If these set regimens aren´t suitable for your skin, ask Deciem for a regimen or use their new regimen builder.

Sensitive Skin Regimen
Your routine will look like this
| | |
| --- | --- |
| Morning | Cleanse | Hyaluronic Acid | Natural Moisturising Factors | SPF |
| Evening | Cleanse | Squalane Oil | Natural Moisturising Factors |
The Ordinary Hyaluronic Acid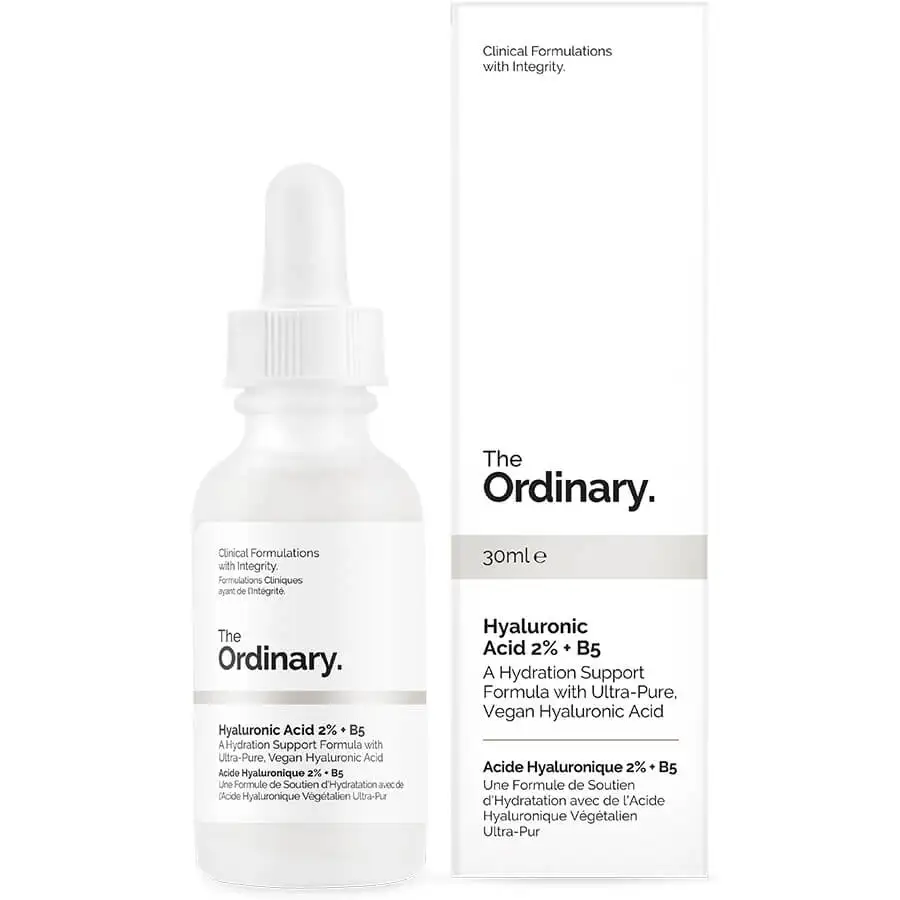 A quick look at Hyaluronic Acid
Targets hydration and general skin health
You may apply this in the morning and evening
Apply a few drops to cleansed dry or damp skin. Massage or pat.
This is a water-based product and would be used as one of the first layers.
Hyaluronic Acid has no conflicts
Similar products to Hyaluronic Acid
Natural Moisturising Factors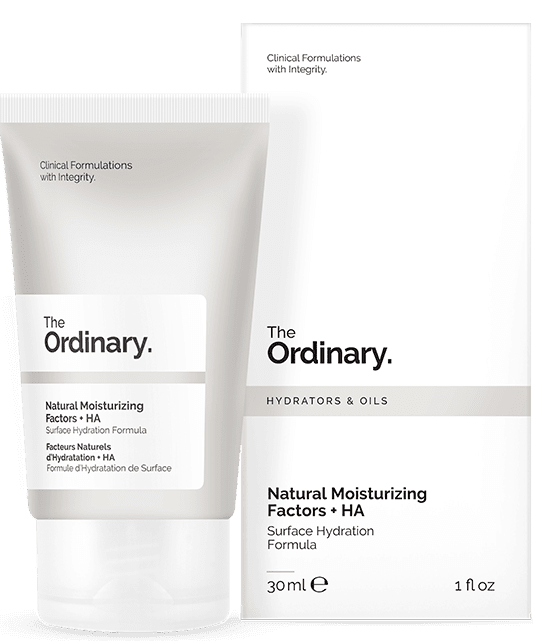 A quick look at Natural Moisturising Factors
Hydrates skin
Repairs skin
No conflicts at all
You can use NMF in the morning and the evening
Like any product, it´s always best to do a patch test first.
This formula offers non-greasy hydration that acts as a direct topical supplement of impaired NMF components. It contains 11 amino acids, phospholipids, alpha/beta/gamma fatty acids, triglycerides, sterols and sterol esters, glycerin, ceramide precursors, urea, saccharides, sodium PCA, and hyaluronic acid. It offers immediate hydration and lasting results with continued use.

The Ordinary Squalane Oil
A quick look at The Ordinary Squalane Oil
Squalane Oil is amazing for Dehydration
You can use Squalane Oil in the morning and evening
There are no conflicts with this product
Tips! Great for lips and some people mix this with a little concealer under the eyes.
The Ordinary Squalane Oil can be used on its own, after water-based products, before heavy creams or you could even mix this with your moisturiser..
As with any product, patch tests are recommended.

Sensitive Skin
Sensitive skin is very reactive and prone to flares of itching and redness. It might be a permanent problem, a temporary state, or something that happens in response to something specific like an ingredient or stress.
What does sensitive skin look/feel like?
During a flare-up, your skin could be red, bumpy, rash, dry, tight, inflamed, and itchy.
Sensitive skin – What Causes Sensitive Skin?
Lots of things can cause sensitivity- allergies, eczema, genetics, stress, hormones, sleeplessness, heat, and over-cleansing. Figuring out what your triggers are is the first step to treating sensitive skin. 
Which Deciem Products are good for sensitive?
Which ingredients should you avoid with sensitive skin?
If you have sensitive skin you should avoid strong acids, like Glycolic Toner, the AHA 30% Peel and Lactic Acid 10%.
The Ordinary Skincare Regimens