Unboxing NIOD MMHC2
See the product before you buy it!
NIOD MMHC2 Reviews
74% of the #deciemaddicts love it
72% have seen an improvement
75% will repurchase it
2 sizes 15ml & 30ml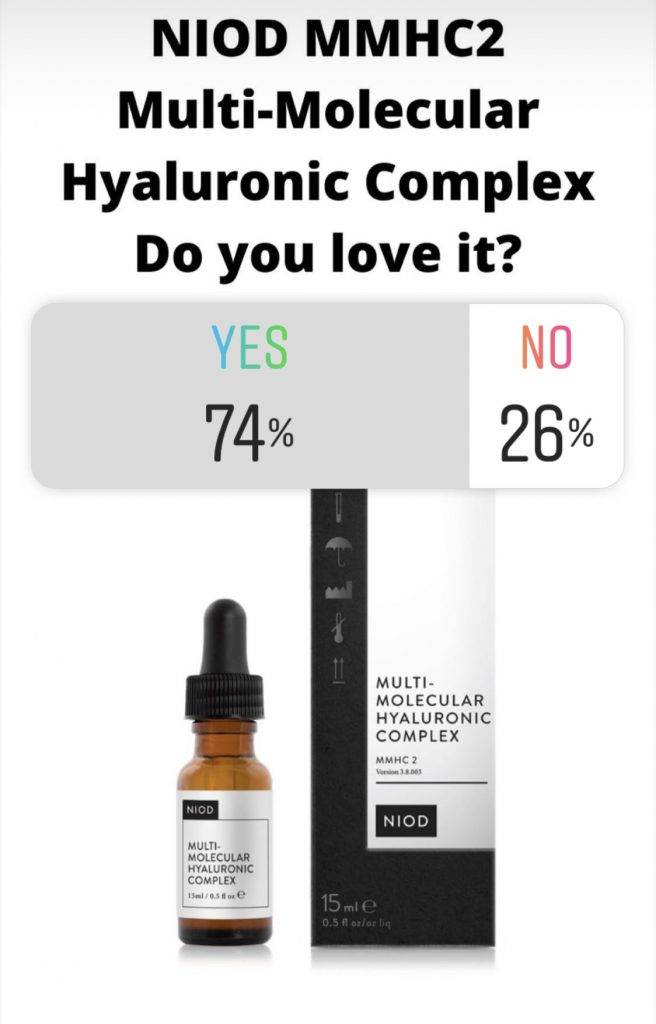 Polls featured on Instagram Stories.
Everything you need to know about NIOD MMHC2, including reviews by the Deciem Addicts and the moderators of the Facebook Group with different skin types and concerns. NIOD Multi Molecular Hyaluronic Complex Reviews by you.
What is NIOD MMHC2?
What does Multi Molecular Hyaluronic Complex do?
When and how do I use MMHC2?
Are there any conflicts with NIOD MMHC2?
Reviews of NIOD MMHC2
Faqs about NIOD MMHC2
Available in 2 sizes. 15ml & 30ml. Check the price in your currency here.
What is NIOD MMHC2?
The short story: NIOD MMHC2 is NIOD's Hyaluronic Acid – one of the best Hyaluronics on the market. It has won awards for best skincare product and is highly recommended and talked about by some of the big names in skincare.
Deciem says: MMHC2 is the second generation of MMHC. The formula offers a multi-dimensional approach to topical hyaluronic supplementation by combining 15 forms of hyaluronic compounds, hyaluronic precursors and a hyaluronic support technology in a peptide-charged delivery system. It offers water-based hydration and helps the skin surface look plump, elastic, comfortable, and uniform.
Amongst the 15 hyaluronic compounds is an extremely rare direct form of hyaluronic acid. Almost universally in the world of beauty, the term "hyaluronic acid" is used loosely to refer to "sodium hyaluronate" which is the sodium salt of hyaluronic acid. When brands refer to "hyaluronic acid" in their information and marketing materials, in almost every case the reference is to forms of "sodium hyaluronate" which appears in the ingredient listing of the products. While several sodium salt forms of hyaluronic acid are included in MMHC2, the formula also includes 1.0% direct hyaluronic acid which appears as "hyaluronic acid" in the ingredient listing. This inclusion is exceptionally rare for a broad range of formulation and commercial reasons. Direct hyaluronic acid offers pro-repair support far beyond basic water hydration that sodium hyaluronate offers, resulting in improvements to the elastic appearance and the general healthy look of skin.
The formula also contains a hyaluronic support system of adaptogenic water-starved clary sage flavonoids, phenylethanoid glycosides from narrow-leaf plantain, and several dermal amino acids. This complex system acts as a non-clogging, water-protective barrier to optimize the function of hyaluronic compounds and help support dermal water retention.
What does NIOD MMHC2 do?
Offers water-based hydration
Improvements to the elastic appearance and the general healthy look of skin.
Helps the skin surface look plump, comfortable, and uniform.
When and how do I use MMHC2?
You can use NIOD MMHC2 in the morning and in the evening.
Apply directly to cleansed skin.
If you are using CAIS or CAIL, apply MMHC2 after these products containing copper peptides.
Have a look at the Beginner´s Guide To NIOD for more routine ideas.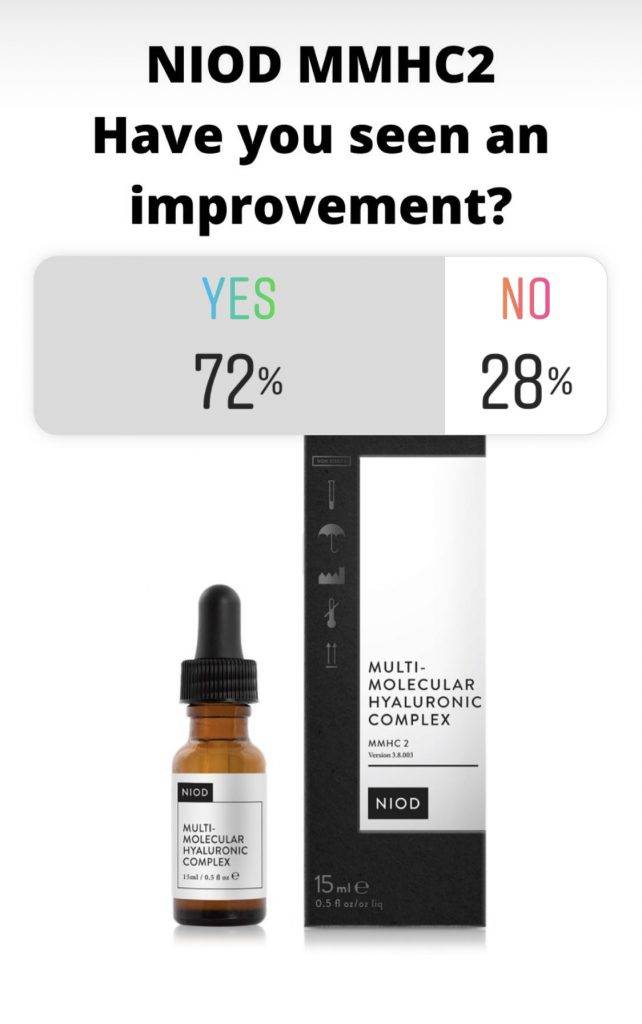 Are there any conflicts?
No conflicts at all. Hyaluronic Acid can fit into any skincare routine, making it a fabulous product to have in your routine.
NIOD Multi Molecular Hyaluronic Complex Reviews
Reviews by the Moderators of the Facebook Group with different skin types and concerns. Some products have been bought, and some may have been gifted, but these are their honest opinions of the product.
Jen´s Review
Jen: Skin Type: Normal – Oily Skin | Concerns: Pigmentation, Ageing, Congestion
Another gem from the NIOD range, part of its core regime offering.  This is the most elegant of all the hyaluronic acids I've ever come across (and I've tried a lot!)

It glides on, sinks in beautifully, and gives a lovely hydration boost that visibly plumps the skin.  This serum combines a wonderful 15 forms of Hylauronic acid. These different forms of HA allow for penetration into your skin to provide that plumping effect. 

I love to use this in conjunction with a full NIOD regime (normally LVCE, SDSM, CAIS, MMHC, HV), but it can be easily slotted into a mixed routine with other products. I've gone through countless bottles of this serum, and don't think I'll ever be without it. It's my holy grail product for sure, and one I'd recommend to everyone. 
Rachael´s Review
Rachael: Skin Type: Normal to Dry Skin | Concerns: Dehydration
NIOD's MMHC is their Hyaluronic Acid product, and it is the BEST HA EVER. I've tried so many, and it honestly cannot be beaten. I have a theory that dehydration is the cause of most skin issues.

For years skincare companies sold us creams or clarifying toners full of alcohol and fragrance, drying out our skin if they helped the underlying cause – dehydration – we may not purchase as much skincare. When Deciem arrived and turned the skincare industry on its head, splitting up all the ingredients so we could use them individually, hyaluronic acid became a star.

Dehydrated skin can cause the skin to overproduce oil and create acne, it can cause dry patches, and it can cause texture.  What makes MMHC the very best is that it contains 15 molecular weights of HA, so it penetrates deeper than the others and makes it worth the luxury price.
Tracy´s Reviews
Tracy: Skin Type Dry, Sensitive. Concerns: Signs of ageing
I am a 48yr old woman with dry skin tending to be reactive/sensitive,  trying to fight the signs of ageing. Quite simply, NIOD MMHC2 is one of my favourite products by Deciem – The best, most luxurious Hyaluronic acid that I have tried to date. It has a silky, watery consistency and leaves my skin feeling lush and plump. I have tried other Hyaluronic acids. This one has, by far, the smoothest texture. It applies very easily. One drop on each cheek and one on my forehead, and I can immediately feel my skin hydrating. 15 types of Hyaluronic technologies work together to draw moisture to the deepest layers of my skin.

It is a little pricey, but I grab them on every sale that Deciem has. I've only got one face. Gotta keep her happy.  A great dupe if you aren't fortunate to find a sale is The Ordinary Marine Hyaluronic acid. Not as luxe, but has a similarly thin consistency, unlike the other thicker Deciem hyaluronic acids I've tried.
NIOD MMHC2 FAQs
I recently bought NIOD MMHC2, and I find the smell horrible. Is this normal? NIOD MMHC2 does have an earthy smell. Please note that none of our skincare products contains artificial or added fragrances, so any scent you are detecting is a natural result of the ingredients.
Can NIOD MMHC2 be used with The Ordinary Mandelic Acid 10% and The Ordinary AHA 30% Peeling Solution? Yes, you may!
Is this the correct order of layering NIOD and Hylamide? SDM2 – CAIS – SubQ Skin – Pore Control – MMHC 2. We suggest applying MMHC after CAIS for the best results. We hope this helps!
Can NIOD MMHC2 be used with the NIOD Vit C ELAN? It sure can! We suggest using MMHC first.
Is it ok to use NIOD MMHC2 and The Ordinary Buffet together? Yes, you may.
For elasticity skin issues, would you recommend NIOD MMHC2 or CAIS or both?  For best results, we would suggest layering both products together AM/PM. CAIS can be applied first before MMHC.
Is NIOD Multi Molecular Hyaluronic Complex meant to be used as a moisturizer or should I use an additional moisturizer on top like a cream? They function as hydrators and can be used alone or alongside creams as you prefer.
Final thoughts on NIOD MMHC2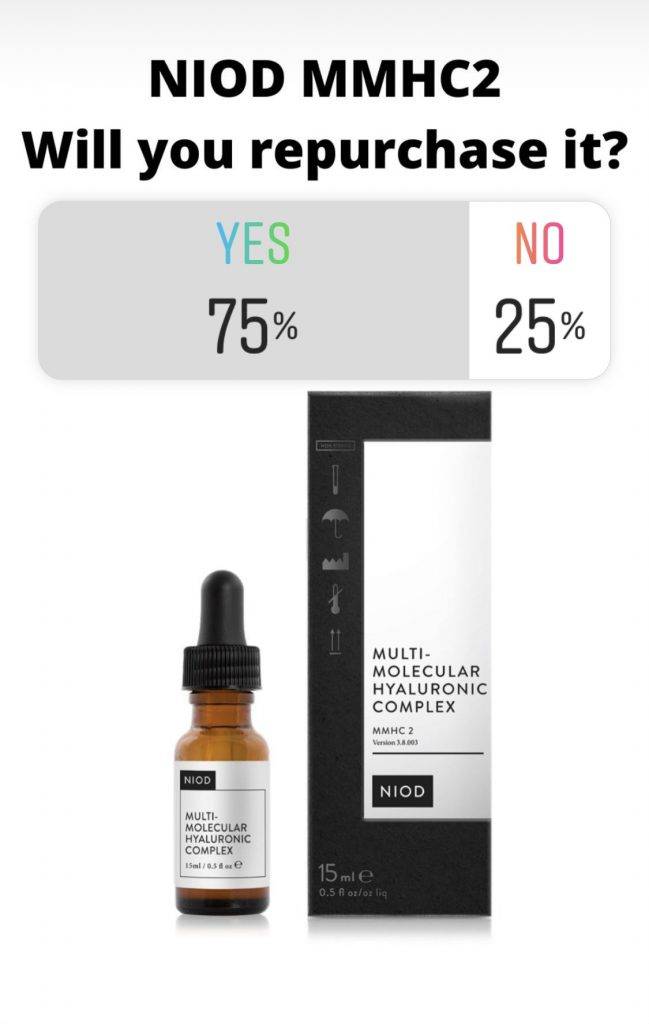 You can see for yourself that this is a really popular product from the NIOD range. 74% of the Deciem Addicts love it. 72% of the #deciemaddicts have seen an improvement and 75% will repurchase it. You can always find discounts on NIOD!
NIOD Multi-Molecular Hyaluronic Complex vs The Ordinary
If you have tried The Ordinary Hyaluronic Acid and love the effects but dislike the stickiness, then you will love NIOD MMHC2. But is it worth 10 times the price? Once you've tried both Hyaluronics, you can then say if you think it's worth it.
NIOD MMHC2 has 15 forms of Hyaluronic Acid
The Ordinary Hyaluronic Acid has 3 forms of Hyaluronic Acid
Other Hyaluronic Acids by Deciem