On this page, you will find lots of different The Ordinary Regimens, which were sent to the members of the Facebook Group when Deciem offered personal skincare routines. You can use the Regimen Builder here to create your own personal regimen.
Personalised The Ordinary Routine
These routines have been put together by Deciem and shared by the Deciem Addicts in the Independent Facebook Group, The Ordinary & Deciem Chat Room.
They will give you an excellent idea of products you can and cannot use together, and you may even find one suitable for you and your skin. Please remember that this is just a guide; what works for one person may not work for you.
You can find more The Ordinary Regimens, including the brand new Deciem routines for congestion, hydration, antioxidants, along with general signs of ageing, rosacea, textural irregularities, pigmentation, oily and sensitive skin.
Personalised The Ordinary Routines
The Ordinary has updated its conflicts page since these regimens were given to the members. Therefore, please always check products that can and cannot be used together.
More Deciem Routines
The Ordinary, Deciem Routines
The Ordinary now have the SKINCARE REGIMEN BUILDER. It only takes a minute to do, and you will be given a morning and evening routine at the end.
Routine 1
hormonal acne | mixed dry to oily | hyper-pigmentation
Routine 2
dehydrated/dry skin | acne only in certain areas | dullness | skin gets red
Routine 3
combination | sensitive | prone to spots | prone to blackheads | large pores | Uneven skin tone |signs of ageing
Routine 4
dry | sensitive | skin becomes flakey | red and itchy
Routine 5
dry | large pores | acne | uneven skin tone
Routine 6
dry skin | large pores | acne scars & blemishes | dullness | redness (not rosacea)
Routine 7
dry | textural irregularities | dark spots | occasional acne
Routine 8
acne-prone | combination | acne scarring | textural irregularities | sebum production
Routine 9
dry | uneven Tone | uneven texture
Routine 10
uneven tone | acne-prone
Routine 11
Oily Skin | Acne Scarring | Hyperpigmentation
Routine 12
Oily Skin | Rosacea Type 2 | Dark Circles Under Eyes | Fine Lines
A simple NIOD Routine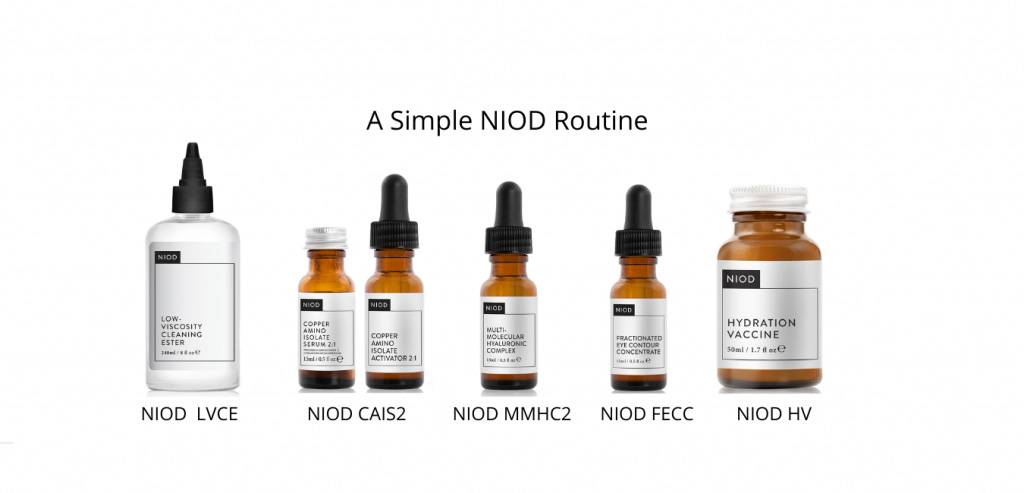 For a simple NIOD routine, you could try these to start.
There are many combinations; don't forget that you can ask Deciem for a NIOD routine.
Swapping The Ordinary for NIOD
You can find a chart with all the products you could switch between The Ordinary & NIOD.
If you wish to target pigmentation, you could add NIOD MG Modulating Glucosides. For a straightforward NIOD evening routine, cleanse and use NIOD CAIL Copper Amino Isolate Lipid.
Swapping The Ordinary for NIOD
You can find a chart, The Ordinary Vs NIOD, here.
More useful pages about The Ordinary