Unboxing NIOD Photography Fluid 8%
See the product before you buy it.
Everything you need to know about NIOD PF8% Photography Fluid 8% and NIOD PF8% reviews, how to use, conflicts, discounts and more.
NIOD Photography Fluids
There are 2 photography fluids by NIOD, the 8% and the 12%. PF8% Photography Fluid (8%) is very different to the 12% because this one is tinted and gives a wonderful glow. You can use it alone, mixed with your moisturiser, use it under, over or mixed with your foundation. From the comments on the Facebook Group, you need to find a way to use this that best suits you. The 12% is a white/creamy colour and gives a lovely glow in photos, but I prefer the 8%.
What is NIOD PF8%
How to use NIOD PF8%
NIOD PF8% conflicts
Reviews of NIOD PF8%
Photos and video of Photography Fluid 8%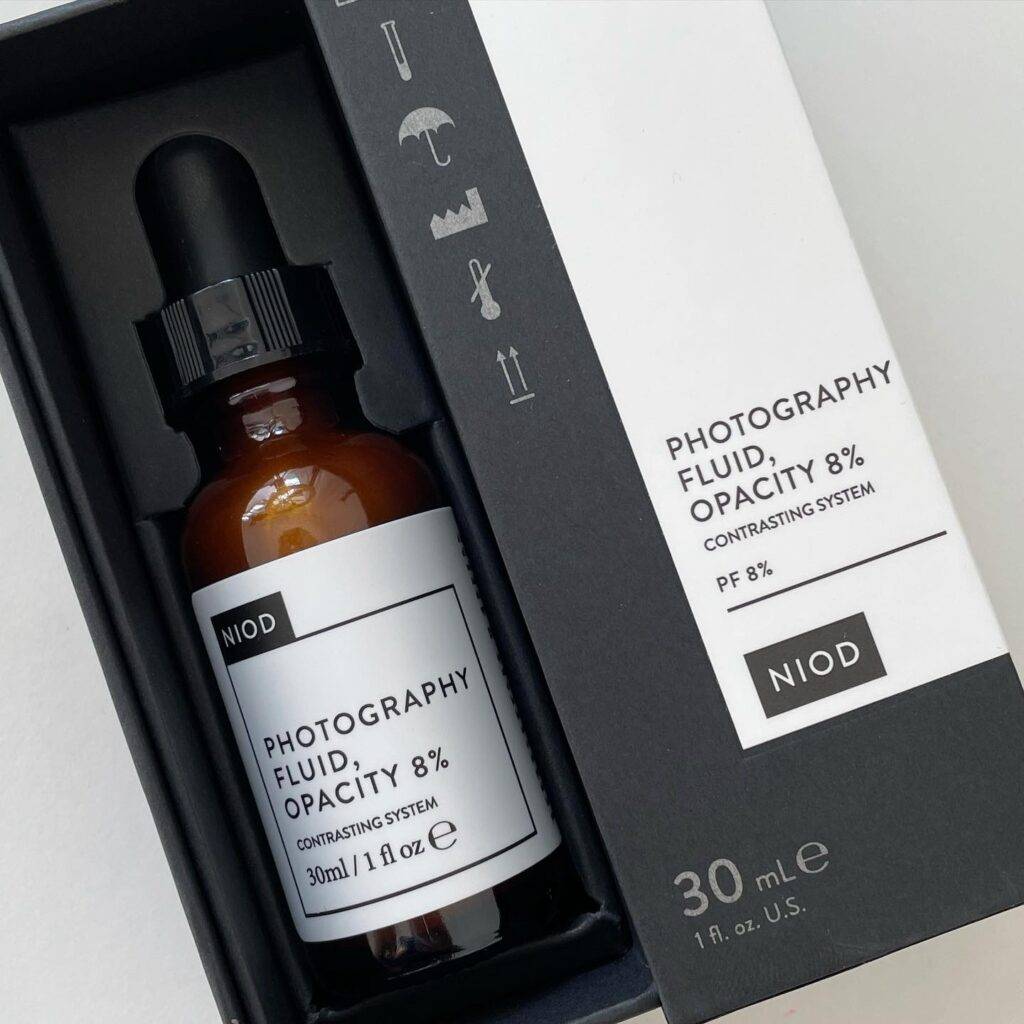 What is NIOD PF8%
NIOD: Semi-Translucent Suspension of Discontinuous Pigments for a Bronze-Coloured Skin Finish.
If you're someone who doesn't really like to wear foundation but would like a very natural glow wearing something which still feels like skincare, then I would give this a try.
Deciem says: This serum-textured surface treatment complements the approach of NIOD's Photography Fluid, Opacity 12%, by balancing light absorption effects (in contrast to light reflection focus of PF 12%) with the selective reflectiveness of darker interference pigments. Like PF 12%, this effort is supported by perfecting prisms and topical photo-finishing technologies to offer radiance in life and specifically through the camera lens.
How to use NIOD PF8%
You can use this completely on its own instead of using your usual foundation. It could also be used under your liquid foundation to balance out undesirable colour tones and skin imperfections. You could also mix this with other products. It's one of those products you need to play around with to see which way suits you best.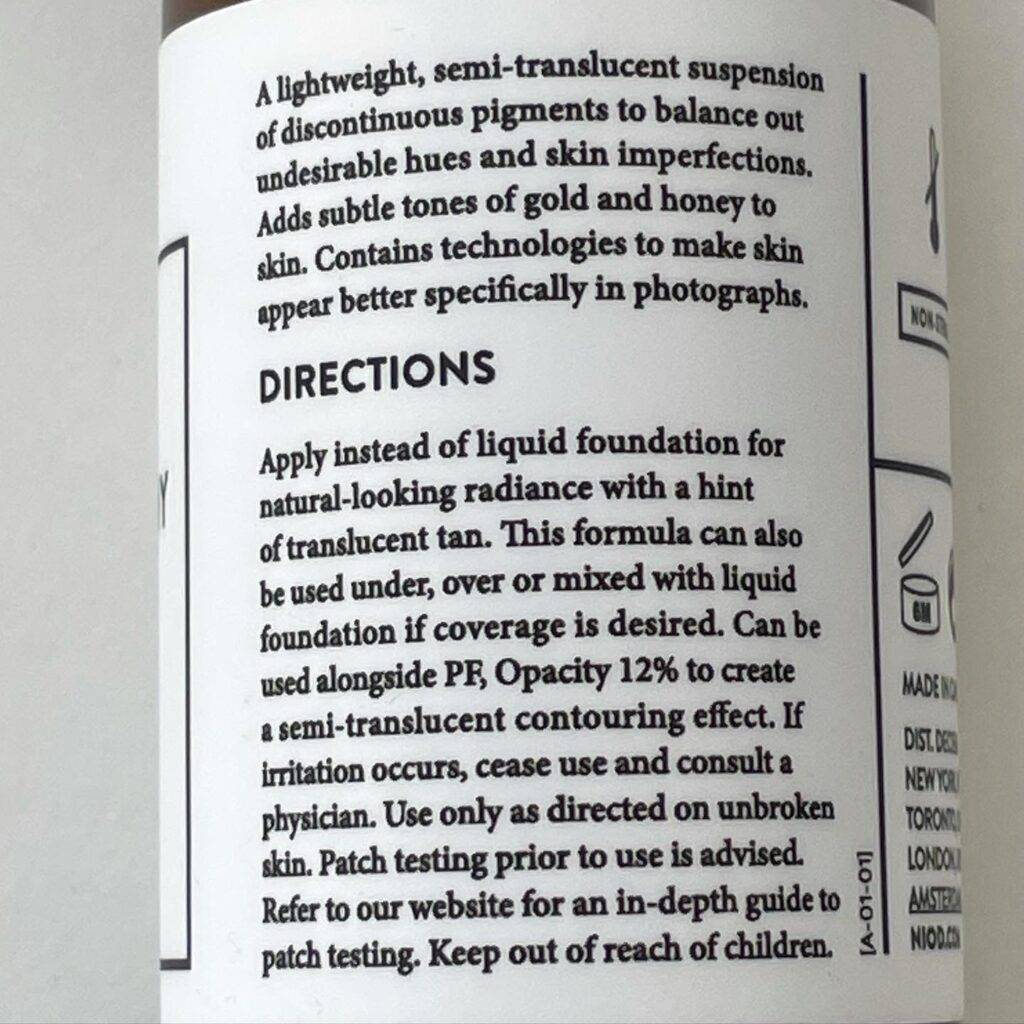 Conflicts
There are no conflicts but always patch test products before using.
Where to use PF8% in your routine
Apply this after all your skincare and SPF.
Reviews of NIOD PF8%
This currently scores 4.5/5 on the Deciem website.
My Review
I was a little dubious about trying this as I had tried NIOD PF12% and wasn't really sure about it because it kept breaking up, going patchy and pilling on my skin. This is different because it is tinted and gives you a fabulous glow, as you can see in the video below. It's so light, it feels like skincare, and if you're someone who dislikes foundations and prefers a natural glow, then I would recommend giving this a go. You only need a drop or 2, and I´m pretty sure this 30ml bottle will last me a good few months.
Negatives of PF8%
The dropper doesn´t work great on this product and I wish it came with a pump like the NIOD Survival Range. You can buy the pumps separately on the website. I also find it doesn´t work well with my SPF or numerous layers of skincare, as this causes it to pill on my skin, which isn´t a good look. It can be very messy to use, so make sure you wash your hands thoroughly. Otherwise, you will find tan marks everywhere.
If you are looking for a natural glow, I recommend giving this a go, but as with all products, it may not suit your skin type or tone. When we tried this on my daughter, who has lighter skin than me, it looked very metallic, so if you live near a store, I would test it first.
Find more NIOD PF8% Reviews in The Facebook Group and on Instagram
See the Instagram post with more reviews
The outer box of the official NIOD product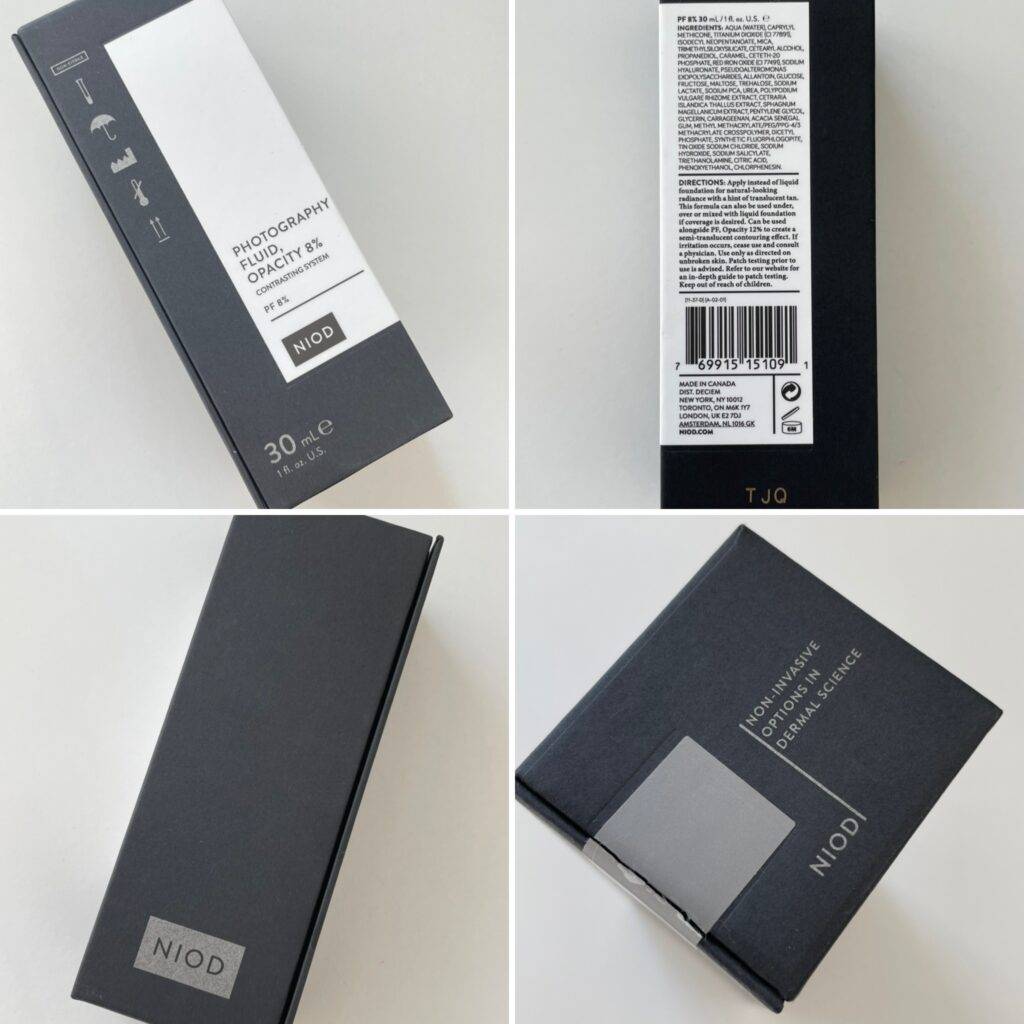 FAQS answered by Deciem on Social Media
Would these work well under a powder foundation? As with all products, it is important to patch-test them before using them. They work really well mixed with liquid foundations but can be applied before powders if desired.
What's the difference between this and the Hylamide Photography Foundation? NIOD PF offers a higher concentration of "hue correctors" for more of a cinematic finish. This high concentration is ideally good for mixing with other forms of makeup and for professional photography. Hylamide PF is less concentrated in hue correctors and more in surface perfecting technologies and is a balance between camera coverage and real-life visible difference for daily use.
Which Photography Fluid 8% of 12% would you recommend mixing with the serum foundation from The Ordinary? You may use either, depending on your preference.
How to patch test NIOD PF8%
NIOD suggests applying a small amount of PF8% onto a clean area of your upper forearm. Leave it on for up to 24 hours and rinse. If you have any redness, burning, itching, blistering or any kind of irritation at all, do not continue to use this product.
NIOD Guide
This brand can be really confusing, so here's a quick, quick guide to NIOD, making it a bit easier. You can also find a list of NIOD targets and conflicts.
NIOD Discounts
You can always find discounts on NIOD at some of the authorised Deciem stockists around the world. Deciem discounts.