The Ordinary Products Under 10$
If you are searching for all the BEST ORDINARY PRODUCTS under 10$, the you have found the right page. Here are all the Ordinary products 10$ and under plus more have been added due to the 23% off SLOWVEMBER SALE! Now is a great time to shop for Christmas and what amazing stocking fillers these would make!
Caffeine Solution 5% + EGCG
Argireline Solution 10%
Squalane Cleanser
Amino Acids + B5
Marine Hyaluronics
Hyaluronic Acid 2% + B5
Natural Moisturizing Factors + HA
Salicylic Acid 2% Solution
Salicylic Acid 2% Anhydrous Solution
Mandelic Acid 10% + HA
Resveratrol 3% + Ferulic Acid 3%
100% L-Ascorbic Acid Powder
Vitamin C Suspension 23%
Vitamin C Suspension 30% in Silicone
Niacinamide
Niacinamide Powder
High-Spreadability Fluid Primer
High-Adherence Silicone Primer
Borage Seed Oil
Moroccan Argan Oil
Chia Seed Oil
Squalane Oil
Sulphate 4% Cleanser Shampoo
Behentrimonium Conditioner
Mineral UV Filters SPF 15
With Slowvember & 23% off even more products are under 10$
Matrixyl
Rose Hip Seed Oil
Marula
EUK 134
Alpha Arbutin
Azelaic Acid 30ml
B Oil
Pycnogenol
Granactive Retinoid
Granactive Retinoid 2% in Squalane
Glucoside Foaming Cleanser
Best The Ordinary Products For Under 10$
Above is a list of all The Ordinary products under 10$. Below is a list of the products separated by their categories, making it a little easier to understand precisely what they are.
Best Acids Under 10$
The Ordinary Vitamin C Under 10$
The Ordinary Antioxidant Under 10$
Niacinamide under 10$
Best The Ordinary Hydration Under 10$
Oils By The Ordinary Less than 10$
The Ordinary Sun Cream Under 10$
Mineral UV Filters SPF 15 with Antioxidants
Primers Under 10$
Haircare Under 10$
My The Ordinary Best Picks for Under $10
It's hard to do "Best Picks" because we all have different skin types and concerns. So, I'll break it down into a few different scenarios.
My Personal Best Picks From The Ordinary Under 10$
Amino Acids
Natural Moisturizing Factors + HA
Silicone Primer
Shampoo
Conditioner
Salicylic Acid
Under 10$ – Skin Type/Concerns Unknown
Squalane Cleanser
Hyaluronic Acid
Caffeine Solution
Natural Moisturizing Factors + HA
Best Ordinary products under 10$ for hydration
Marine Hyaluronics
Amino Acids
Natural Moisturizing Factors + HA
Squalane Oil
The Best Ordinary Products Under 10$ for Oily Skin
Squalane Cleanser 50ml
Niacinamide 30ml & 60ml
Salicylic Acid 2%
Natural Moisturizing Factors
Silicone Primer
Best Products by The Ordinary Under 10$
The combinations of products you could buy to make a regimen are endless. You could take a look at some of the skincare regimens available.
Product Spotlight: Niacinamide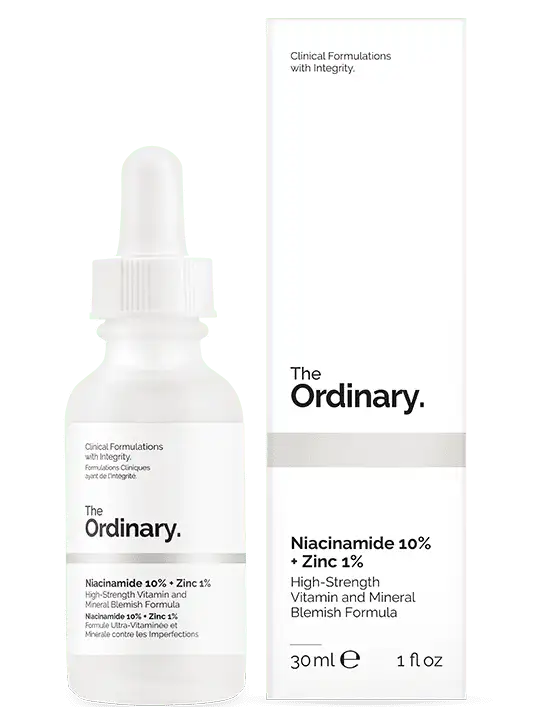 Niacinamide is the best-selling product from The Ordinary. In a recent interview with the CEO of The Ordinary, Nicola Kilner said they sell one Niacinamide every 3 seconds. Whilst Slovember sale is on, you can buy the 30ml or 60ml under 10$
Where to Buy The Ordinary Products Under $10
You can buy The Ordinary directly from The Ordinary or via one of the many online stockists. When you buy direct from The Ordinary, you receive free delivery on orders over 25€$ 30$AUD. You can be guaranteed the products are authentic, stored correctly, and have a fantastic 365-day return policy. Some stockists may offer discounts of 10% if buying for the first time. You can find all The Ordinary discount codes here.
Benefits of Affordable Skincare: Why Choose The Ordinary
The Ordinary has proven that you do not need to spend a fortune on skincare. We pay for the packaging, branding, advertising, etc. See what works for you, your skin and your budget.
How to Incorporate The Ordinary into Your Skincare Routine
You can slowly incorporate your products if you wish to switch to The Ordinary. The only thing you need to be careful of is the product conflicts. You can find a chart of Products You Can & Cannot Mix here.
The Ordinary Reviews and Testimonials
You can find reviews for The Ordinary & NIOD on these pages, and I encourage you to join The Ordinary & Deciem Chat Room Facebook Group.