A skin-firming serum that targets fine lines
74% of the Deciem Addicts love it!
68% of the Deciem Addicts say it has improved their skin
Targets fine lines & wrinkles
Use morning & evening
Conflicts with Direct Acids, Vitamin C (ELAA & LAA) & Resveratrol & Ferulic Acid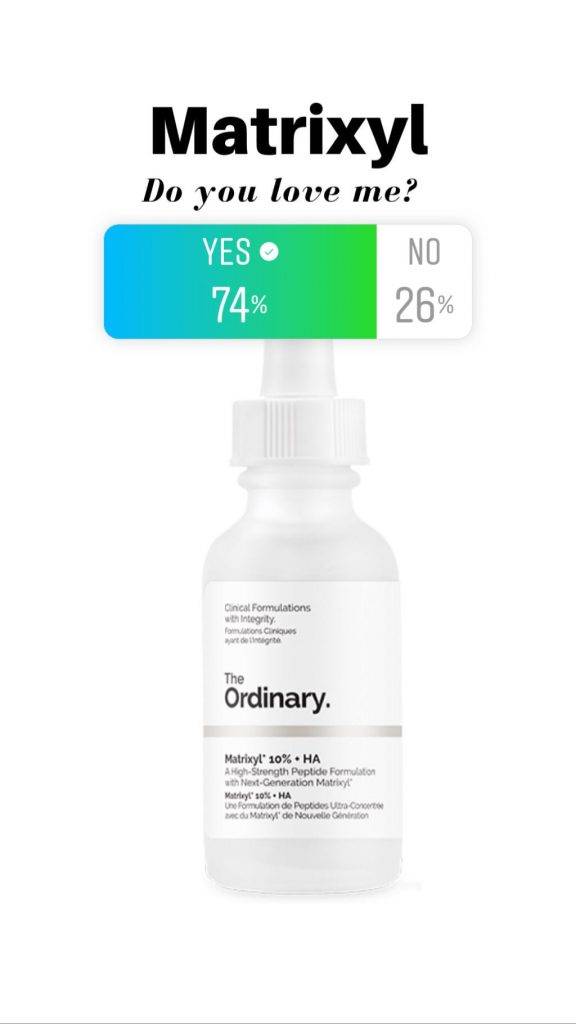 The Ordinary Matrixyl reviews by the moderators and members of The Ordinary & NIOD Chatroom Facebook Group. The people who have bought, tried and tested.
What is The Ordinary Matrixyl, and what does it do?
When & how do I use The Ordinary Matrixyl?
Which products does Matrixyl conflict with?
Reviews of The Ordinary Matrixyl
Matrixyl FAQS
Deciem products to Matrixyl
Matrixyl comes in 30ml. Check here for prices in your currency.
What is The Ordinary Matrixyl 10% + HA & what does it do?
The Ordinary product names can be confusing because they go by their actual ingredient names. You have likely already used this ingredient in other products without realising it. Matrixyl 10% + HA (Hyaluronic Acid) is a high-strength peptide with 2 different generations of Matrixyl, which target fine lines and wrinkles.
How & When Do I Use The Ordinary Matrixyl
The Ordinary Matrixyl is a water-based product that would be applied as one of the first layers directly after cleansing.
You can use Matrixyl in the morning and evening.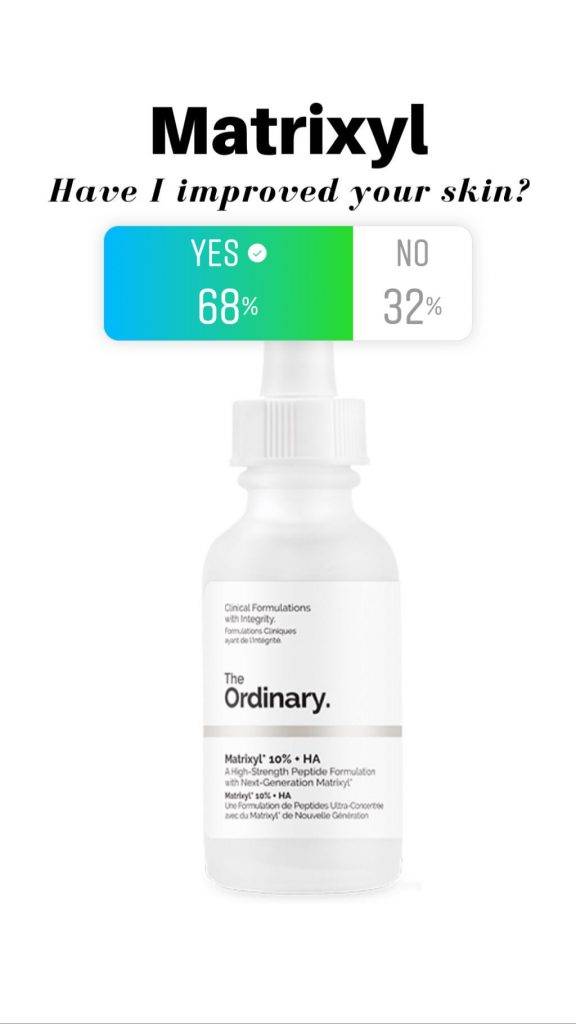 Which Products Conflict With The Ordinary Matrixyl?
Direct Acids
Vitamin C (ELAA Ethylated Ascorbic Acid & LAA L-Ascorbic Acid)
Resveratrol 3% & Ferulic Acid
Always check latest conflicts at The Ordinary
Matrixyl Reviews by the Deciem Addicts
Reviews by the moderators of the Facebook Group and the Deciem Addicts. You can find all these reviews and comments and even add your own right here in The Deciem Chat Room.
AA says 4/5. I sometimes dislike Matrixyl because I get little whiteheads on my nose. What do I love? The fact that my skin looks more youthful and hydrated. I don't have crow's feet developing after four months of use.
YM says: I love The Ordinary Matrixyl. Buffet did nothing for me, but this made my skin really hydrated and plumped up 4.5/5. I use it sandwiched in my 7 skins… And it's been a game-changer.
KM says: I really like it. It definitely made my skin plumper, and fine lines were less visible.
SC: I really like The Ordinary Matrixyl. It's definitely plumped my skin and made it softer. I use it in the mornings or evenings when I'm not using acids.
DJ says: I spot use The Ordinary Matrixul around my eyes, number 11's and marionette lines. Very happy with the results as it plumped up the eye area and smoothed the 11s and marionette lines. Part of my Dailey routine, and I will continue to use it.
KR says: I love Matrixyl and Argireline combo. 11's so faint you can only see them up close, and even then, they are very difficult to see.
MM says: Matrixyl made my skin in no time (4 weeks) very smooth, and my deep wrinkles changed to fine lines… especially under my eyes. Love it.
More Reviews
NA says: Good product, I will buy it again.
KM says: 4/5 makes skin look plumper. IT definitely improves skin condition. The texture is a bit sticky.
TE says: Matrixyl is the foundation of my skincare after cleansing. I love it. It gives me a plumper, more youthful glow; I won't be without it, and I don't care what other products have as an ingredient. I like it on its own.
AN says: I gave 2/5. I didn´t find Matrixyl helped with lines, but it is 200% not clogged. I'm still using it just as a small treat as hydration for my forehead.
ED says: I only started using Matrixyl again after it broke me out. Concentrating on lines around the eyes and 11's. Hope by just using it in specific areas, I won't break out again.
FAQS about Matrixyl
These questions have been answered by Deciem on social media. Some may conflict with the latest information regarding conflicts as peptides should not be used in the same routine as direct acids and vitamin c.
Can I use Matrixyl around the eyes on my fine lines? Yes, you may.
Can you use The Ordinary Retinoid 5% with the Matrixyl 10% + HA? Yes, you may.
Should I use Argireline or Matrixyl around the eyes? You may use either.
Is it safe to use Matrixyl with Niacinamide? Yes, they are compatible.
How would I layer Niacinamide 10% + zinc 1% and Matrixyl 10% + HA. I have my day moisturiser (with SPF). We suggest applying your goodies in the following order; Matrixyl 10% > Niacinamide and your moisturiser.
Can I use at the same time Matrixyl and Ascorbyl Glucoside solution 12%? You may indeed use them together. Sounds great!
Is it ok to use Matrixyl with The Ordinary Lactic Acid serum in my evening routine? The best method of application without any conflicts is to use the Matrixyl in the AM and alternate usage of Lactic Acid and Vitamin C in the PMregimen.
Final Thoughts On Matrixyl
74% of the Deciem Addicts love The Ordinary Matrixyl, 68% saw an improvement in their skin, and 61% will be repurchasing it.
Products Similar To Matrixyl