The Ordinary Marine Hyaluronics reviews by the moderators of the Facebook Group and the Deciem Addicts.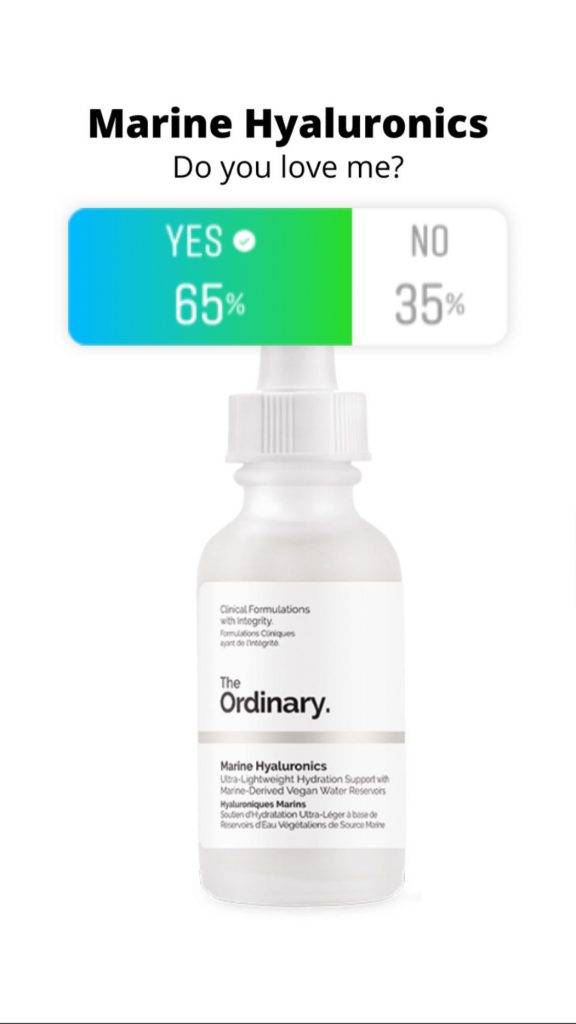 What is The Ordinary Marine Hyaluronics, and what does it do?
When and how do I use Marine Hyaluronics?
Are there any products that conflict with Marine Hyaluronics?
Reviews of Marine Hyaluronics
The Ordinary packaging is different. Is it a fake?
Prices: see the latest price of Marine Hyaluronics here.
What is The Ordinary Marine Hyaluronics and what does it do?
The Ordinary Marine Hyaluronics is a lightweight formula containing marine-derived water reservoirs (exopolysaccharides from skin-friendly marine bacteria, Hawaiian red algae, glycoproteins from Antarctic marine sources, and micro-filtered blue-green algae) that attract and hold water, enhancing skin hydration. In comparison to the HA 2% + B5, this formula has a lower viscosity.
When & how do I use Marine Hyaluronics?
Marine Hyaluronics is a water-based product and is used as one of the first layers of skincare on cleansed skin. Add a few drops in the palm of your hand and apply to the skin by massaging it or patting it. You can use this in the morning and/or the evening.
Are there any products that conflict with Marine Hyaluronics?
Nope! No products conflict with this product, making it a fabulous product to use in your skincare regimen.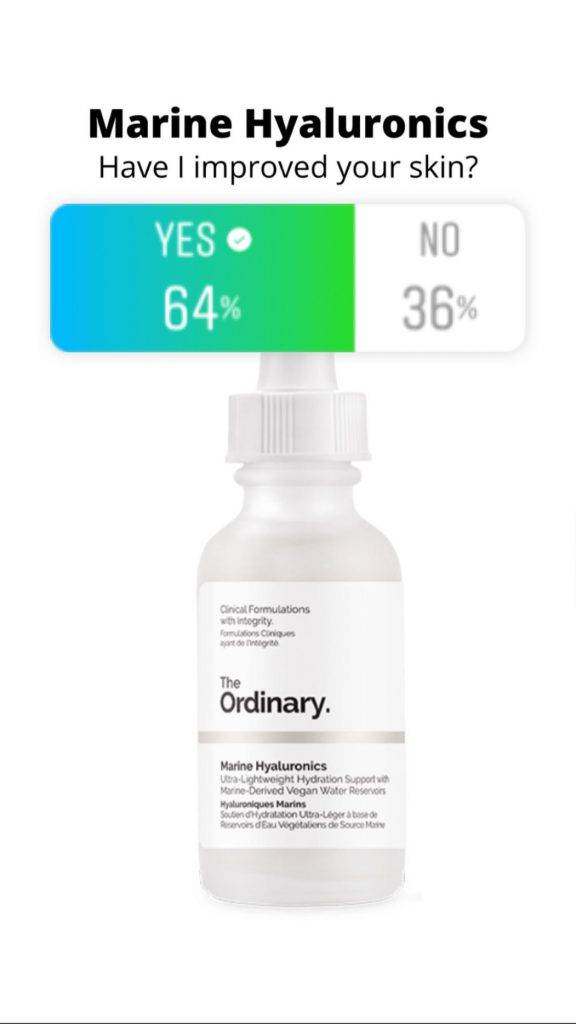 The Ordinary Marine Hyaluronics Reviews
You can read more reviews and comments on the Instagram post, chat with the Deciem Addicts, and feel free to leave your own review.
I have combination skin & have used it for over 4 months now. I love it. It's my first step in the morning. It has a watery consistency, and 3 drops are plenty. Absorbs instantly and is very hydrating. I also like to mix it with my L-Ascorbic Powder at night
Just used it for the first time this morning. So lightweight I wasn't sure what's the right amount to use. How much is ' a few drops '? It's quickly absorbed.
I've been using it for almost 2 years now – love it in the summer as it's super lightweight or when travelling to add a bit of moisture back to my sun-kissed (read: burnt) skin!
This is the most watery serum I own and completely dissolves the ascorbic acid powder, which is perfect for me.
I have mature skin, dry and also sensitive. It is my first step, always!
The smell was awful. I stopped using it because of that.
Love it!
Marine Hyaluronics is amazing!!
I have mixed to oily skin, sometimes I have some dry patches, and I absolutely love this serum as it gives my skin hydration and comfort for summer and wintertime. It's really lightweight.
Marine Hyaluronics Faqs
Can I use both the Marine Hyaluronics and Hyaluronic Acid + B5 in the same routine? We would recommend choosing only one of the hydrating serums as it is not necessary to apply both in the same regimen. If you have both dehydration and dry skin concerns, you may wish to pair one of the hydrating serums with The Ordinary Natural Moisturizing Factors + HA.
Is it ok to use The Ordinary Marine Hyaluronics with Niacinamide? Yes, that is fine.
Can I use Marine Hyaluronics every day? Yes, you can
May I know out of Hyaluronic Acid, Marine Hyaluronics or Amino Acids, which of these are suitable for sensitive skin which, is normal/combination? We'd suggest trying Marine Hyaluronics!
Which Hyaluronic is suitable for oily skin? You may wish to explore The Ordinary Marine Hyaluronics.
What would you recommend for oily skin that needs hydration support? We would suggest trying The Ordinary Marine Hyaluronics as this is a lightweight, low-viscosity hydrating formula.
Can The Ordinary Marine Hyaluronics be used in the same routine as Retinoid? Yes, it can. Marine Hyaluronics would go first.
The Ordinary Fakes – The packaging is different.
Unfortunately, there are counterfeit of The Ordinary products, but if you purchase through The Ordinary or one of the many authorised stockists, you will have nothing to worry about. Many people worry that the packaging is slightly different. This is normal. These two Marine Hyaluronics were both purchased through The Ordinary, and they were slightly different. You will notice one says US oz and the other says fl oz. The text also varies on the side of the box. Do not worry if you see these differences after buying through authorised stockists.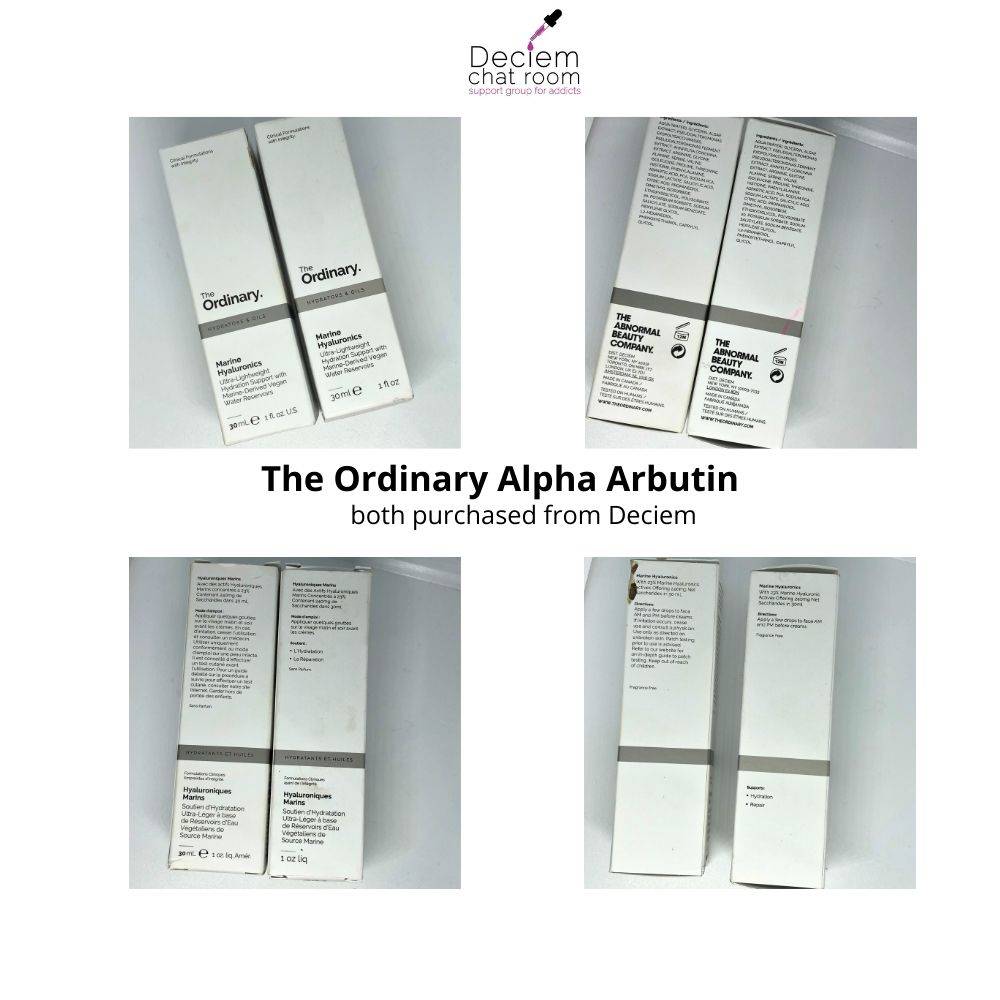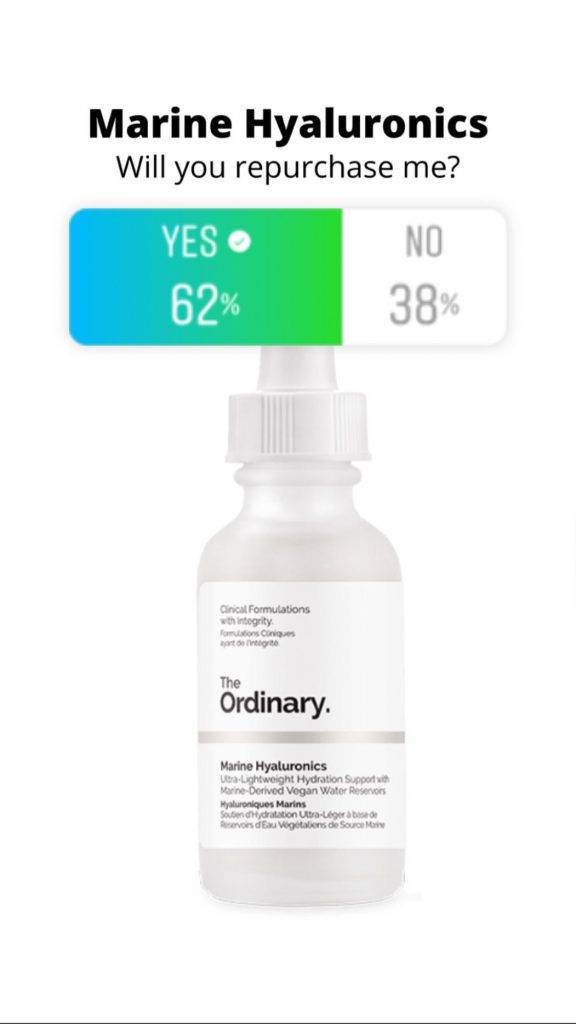 Final Thoughts
65% of the Deciem Addicts love The Ordinary Marine Hyaluronics. 64% say it has improved their skin, and 62% of the Deciem Addicts will repurchase it. For the price, it´s well worth giving it a go.
The Ordinary Regimens
You can find lots of The Ordinary Skincare Regimens here for many skin types and concerns, including pigmentation, general signs of ageing, textural irregularities, rosacea and many more.
Where to buy The Ordinary
You can buy The Ordinary direct from The Ordinary or at one of the many authorised stockists around the world.