53% of the Deciem Addicts love it
44% say they have seen an improvement
42% will repurchase it
Reduces puffiness
Dark Circles
The Ordinary Caffeine Solution reviews by the moderators of the Facebook Group and the Deciem Addicts. Reviews by the people who have bought, tried, and tested.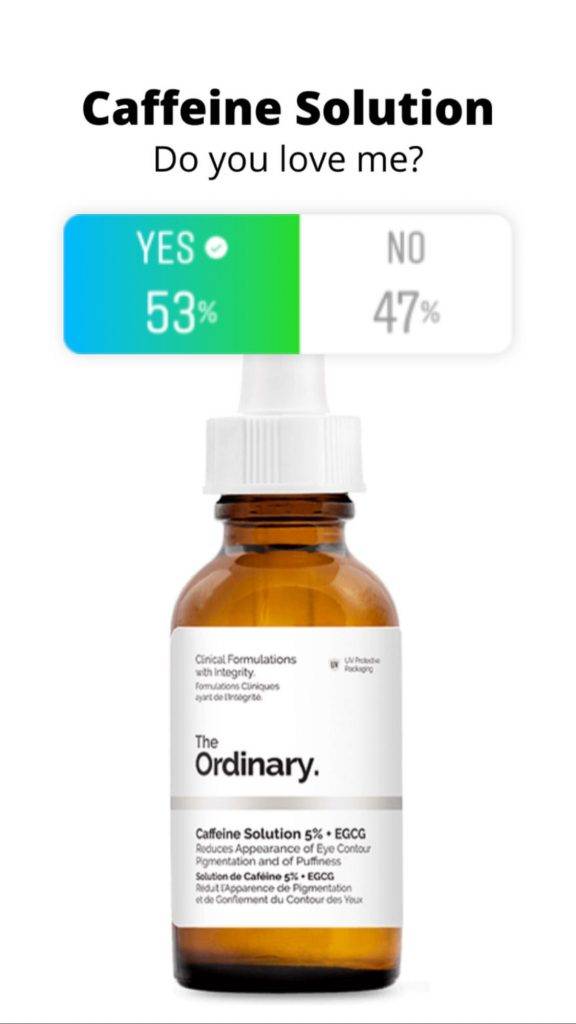 Prices: 5.80GBP | 6.70$CAD | 6.70$US | 12.70$AUD |6.70€
What is The Ordinary Caffeine Solution and what does it do?
Deciem says: Caffeine Solution reduces the appearance of eye contour pigmentation and of puffiness. This light-textured formula contains an extremely high 5% concentration of caffeine, supplemented with highly-purified Epigallocatechin Gallatyl Glucoside (EGCG) from green tea leaves. Independent studies have shown that topical use of each of caffeine and EGCG can help reduce looks of puffiness and of dark circles in the eye contour. Additional studies have shown that caffeine can also reduce the appearance of cellulite. 
Important
1. Hollowness in the eye contour as a result of the structure of sub-dermal tissues like fat and bone can result in visible shadows under the eyes. This shadow, which is not to be mistaken for dark circles, cannot be addressed with topical skincare including this formula.
2. Fat deposits under the eye contour can create permanent puffiness in this area. This type of deposit cannot be improved with topical skincare, including this formula.
3. Supplied in UV-protective packaging as EGCG is sensitive to light.
When & How Do I Use The Ordinary Caffeine Solution?
Use The Ordinary Caffeine Solution in the morning and/or evening
Just a drop onto your fingertips and massage onto the eye contour. You really only need a tiny amount
Tip! Wipe the neck of the bottle after each use as it can get a bit gunky.
Always patch test and refer to the official instructions on the Deciem website.
Caffeine Solution Conflicts
The Ordinary Caffeine Solution has no conflicts, so it´s a really easy product to add to your skincare routine.
Caffeine Solution Reviews
Here are some of the things people are saying about The Ordinary Caffeine on Instagram and feel free to leave your own reviews and chat with others directly who have used it. You can also find more reviews on the Deciems website where it currently scores 7.4.
Some comments are that people find Caffeine drying. If you find it drying apply on top of your serum and add a little extra hydration on top.
The Ordinary Caffeine really reduces my eye bags. I´ve gone through a few bottles already.
I love The Ordinary Caffeine. I never use concealer anymore. No darkness or puffiness for me anymore. Best product I have used for those issues in my 50 years.
I think most people expect Caffeine to improve lines around eyes but it's actually better to use when you have big eyes cause of a hangover.
I find The Ordinary Caffeine dries the under eye area very much. Love Deciem products but this one is a NO for me.
The Ordinary Caffiene seems to really reduce puffiness for me and of course who doesn't like the price.
I like the Caffeine Solution. Have had it in my inventory since summer. Stopped using it, however, noticed under my eyes were acting up due to whatever reason. Remembered about this little goody abs voila. Eyes simmered down in puffiness and look so much better.
Caffeine Solution doesn't do absolutely anything to me, except drying my skin! Worse product of The Ordinary I ever tried!
Love it!
Caffeine FAQs
 I have the Caffeine solution. Can I mix it with moisturiser for under the eye area?  Yes, that should be fine!
Caffeine solution can be used under the eye as well.  Yes Caffeine Solution has been specially designed for the under-eye area.
Can I use the Caffeine Solution with the Natural Moisturising Factors + HA all over the face? We would recommend applying The Ordinary Caffeine Solution 5% + EGCG on the under eyes only and The Ordinary Natural Moisturizing Factors + HA on the entire face. ❤
I have hyperpigmentation and dark circles under my eye. Can I use caffeine for it? For dark circles under the eyes, we recommend The Ordinary Caffeine Solution 5% + EGCG. Please note that dark circles can be caused by a number of reasons (i.e. stress, lack of sleep, genetics, etc.) and hereditary dark circles cannot be addressed by topical skincare treatments including ours
Is it okay to refrigerate the caffeine solution? There is no harm in refrigerating Caffeine Solution.
Final Thoughts on The Caffeine Solution
53% of the Deciem Addicts love The Ordinary Caffeine Solution. 44% say they have seen an improvement and 42% will repurchase. These numbers reflect the fact that not every product will work for everyone but for the price, it´s probably worth a try, unlike many other eye serums which cost a fortune. Deciem also say that it can help with cellulite, so if it doesn´t work on your eyes, don´t throw it away, try using it on cellulite, if you have it,
Other Deciem Eye Products
Apart from The Ordinary Caffeine Solution, you could also try NIOD FECC, Fractionated Eye Contour Concentrate or Hylamide Sub Q Eyes.
Where do I buy The Ordinary Caffeine Solution?
Buy direct from Deciem or any of their authorised stockists.