Unboxing NIOD FM – Flavanone Mud
See the product, colour and consistency before you buy it.
A quick look at NIOD FM Flavanone Mud Masque
67% of the #deciemaddicts love NIOD Flavanone Mud
68% have seen an improvement
57% will repurchase it
A 3-step masque that decongests, improves pores, and leaves skin looking radiant.
Use once a week
2 sizes available 50ml & 100ml
NIOD FM Reviews
Everything you need to know about NIOD Flavanone Mud Reviews, when & how to use it, conflicts, reviews and where to buy it. You can always find NIOD discounts.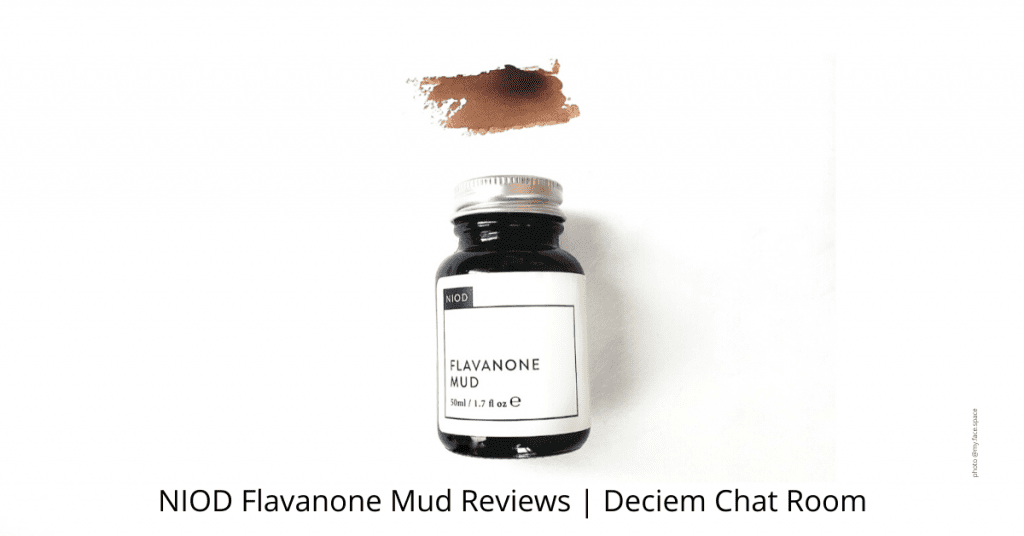 What is NIOD FM Flavanone Mud, and what does it do?
When and how do I use Flavanone Mud?
Are there any products that conflict with Flavanone Mud?
Colour, smell, and texture of Flavanone Mud.
How do you patch-test Flavanone Mud?
Flavanone Mud Reviews
FAQS about Flavanone Mud
Available in 50ml & 100ml. Check prices in your currency here.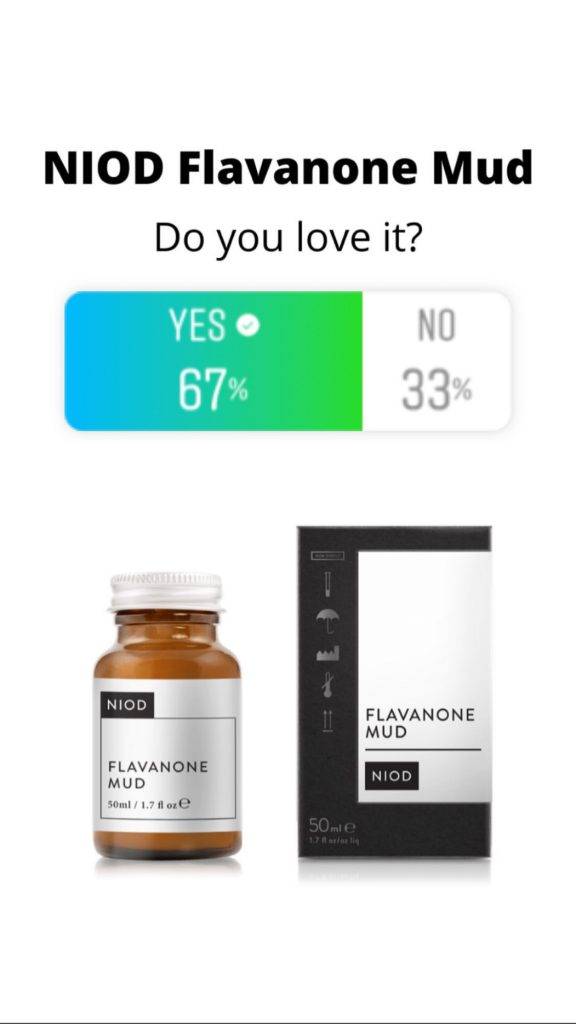 What is NIOD FM Flavanone Mud and what does it do?
NIOD says: Flavanone Mud is a three-phase rinse-off decongestion system that disrupts neither the skin surface equilibrium nor its density. While Flavanone Mud can be classified as a masque for categorical convenience, its approach varies substantially from that offered by the concept of masques today both in terms of its way of positive visible influence on the skin as well as its respect for dermal integrity.
Purifying Phase
This phase is the simplest one in the formulation and the one that is most closely aligned with masques as they are known today. In this phase, surface impurities—which include oil- and water-soluble pollution, cosmetic product build-up and excess sebum activity build-up—are physically solubilized and removed.
Protective Phase
This phase of FM's formulation offers the most innovative approach to decongestion by introducing technologies that offer a physical shield against external build-up.
Responsive Phase
This phase of the formulation introduces mechanisms that fight against environmental congestion factors. This phase is the most important phase of FM as it respects health and longevity. The presence of "Flavanone" in the name of the product emphasizes the importance of this phase.
When and how do I use NIOD FM Flavanone Mud?
Use NIOD Flavanone Mud once a week.
Start with cleansed dry skin using NIOD LVCE or water.
Apply a thin layer of Flavanone Mud to the face.
Avoid the eyelids, both upper and lower.
Leave for 10 minutes
Rinse with warm water, avoiding the eyes. This can get a little messy!
NIOD says a temporary stinging sensation will occur, especially after the product has been rinsed off.
Should any irritation occur, stop using and consult a physician. Use only as directed on unbroken skin. Patch testing prior to use is advised.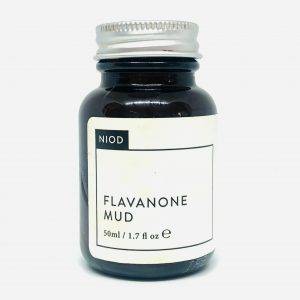 The Accelerated Method of NIOD FM
Apart from using this just once a week, you can do the 5-day accelerated method, which means using this once per day for 5 days and then once a week thereafter. Please always patch test first and avoid the eyes when applying and rinsing off.
My personal experience
Flavanone Mud is one of my favourite masks from Deciem. You can really feel it working, and when I rinse it off, my skin not only feels extremely clean, but it looks bright and revitalized. Be warned. It can sting! Once I have rinsed this off, I like to use something calming and hydrating. Natural Moisturising Factors by The Ordinary or The Ordinary Plant Squalane Oil.
Are there any products I shouldn't use with Flavanone Mud?
Deciem does not mention any products that may conflict with NIOD Flavanone Mud, but I would be careful with the products you use afterwards. I go for simple hydrating products afterwards. Check NIOD conflicts here.
The colour, smell and texture of Flavanone Mud
The colour is a reddy brown colour, and the smell is quite strong. I personally love it. It´s kind of firey and earthy. As you can see in the video above, Flavanone is a nice thick consistency, although my first jar of this did seem a little more solid.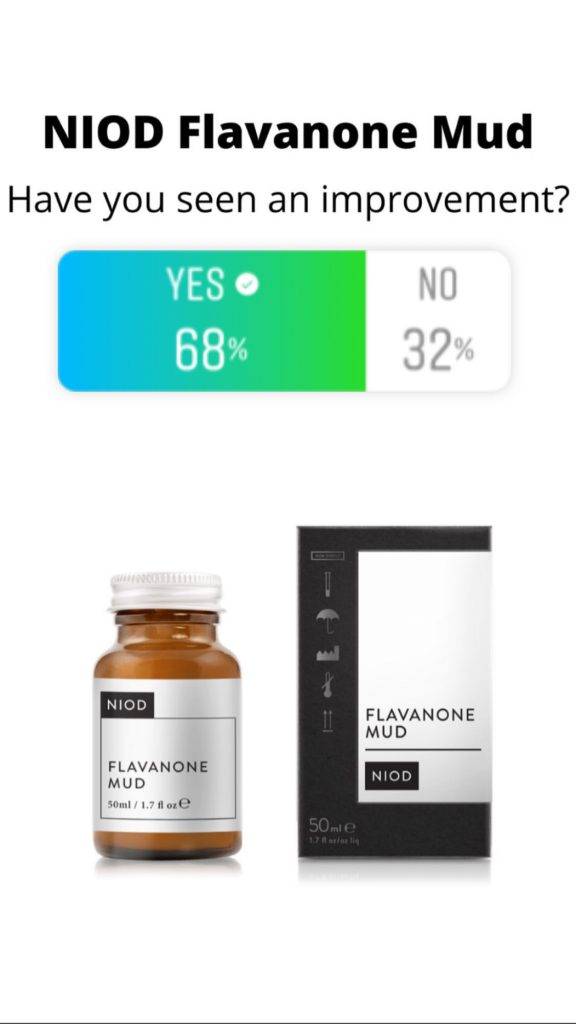 How do you patch-test NIOD Flavanone Mud?
On a clean area of the upper forearm, apply a small amount of the product.
Leave on for the specified length of time stated in the directions of use of the product.
Rinse off when the specified time has passed.
If any redness, burning, itching, blistering, or irritation is observed within 24 hours of the patch test, do not use the product.
Always read the instructions on the main page.
Flavanone Mud Reviews
Reviews all the reviews by the Deciem Addicts on Instagram. Flavanone Mud currently scores 4.3/5 on the NIOD website.
I love this stuff! A weekly ritual for me. Keeps large pores at bay.
Love it. I did the 5-day method when I first purchased it and it completely sorted my pores out.
I will never be without my Flavanone Mud. It seems to sort out any skin condition, redness, oiliness, dryness, spots, and pores. Love it.
Final thoughts on Flavanone Mud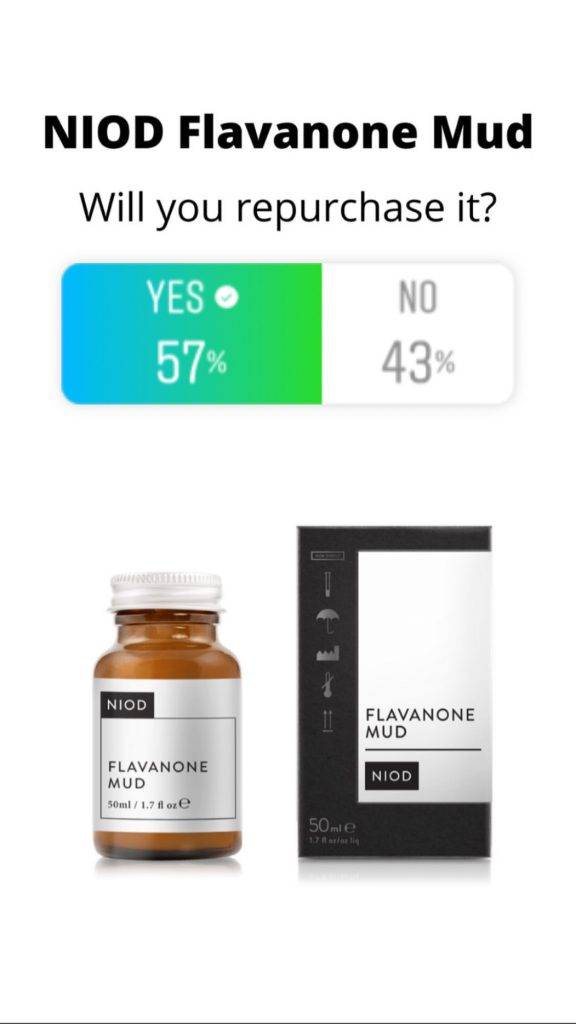 67% of the Deciem Addicts love Flavanone Mud. 68% of the Deciem Addicts have seen an improvement, and 57% will repurchase it. This product comes in 2 sizes. Whilst the bigger size is of better value, this has a shelf life of just 6 months once opened so make sure you have enough time to use it.
Where to buy NIOD Flavanone Mud
The best place to buy from is Deciem, with free delivery on orders over 25€$, although with NIOD you can always find NIOD discounts at other stockists. Deciem Chat Room has discounts of up to 22% off NIOD and many other brands. Check Deciem Discounts here.
NIOD Reviews
If you find NIOD a bit confusing, you may find these pages useful
Flavanone Mud Discounts
Save up to 22% on Niod Flavanone Mud and many other NIOD products – NIOD Discount Codes.