The Ordinary Balance Set. This is the 3rd set by The Ordinary. The others include the Daily Set and the No Brainer Set. These sets make life easier for those who just want a speedy and simple routine. They also make fabulous gift sets.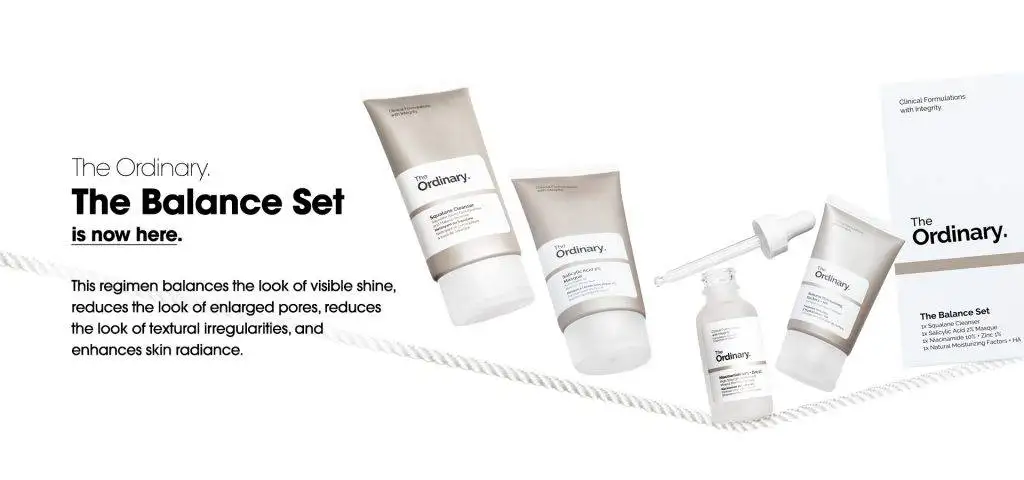 What´s in The Balance Set?
How much is The Ordinary Balance Set?
29$US
29$CAD
28€ (30.90€ if bought separately)
23GBP
50$AUD
You do save a small amount by buying the set.
What does The Balance Set target?
The benefits of these products include the following;
Balances the look of visible shine
Reduces the look of enlarged pores
Reduces the look of textural irregularities
Enhances skin radiance
The Ordinary Squalane Cleanser
The Squalane Cleanser comes in 2 sizes, 50ml (included in the set) and 150ml. This cleanser is suitable for all skin types. Being soap-free and non-comedogenic, Squalane Cleanser is so gentle, it can be used every day.
How do I use The Ordinary Squalane Cleanser?
Put a small amount in the palm of your hand and rub for around 10-30seconds. It really does depend on how warm your hands are. You should really notice the texture change where your hands glide easily. It should transform from a balm-like consistency to an oily feeling.
The Ordinary Salicylic Acid Masque
The Ordinary Salicylic Acid Masque has 2% Salicylic Acid, Vegetable Charcoal, Amazonian Clays, and Squalane. This product has been formulated to target lacklustre tone and textural irregularities.
How do I use the Salicylic Acid Masque?
Salicylic Acid Masque can be used once or twice a week. It is best to use this in the evening only. Apply to cleansed, dry skin using your fingertips and avoiding eye and eye contour when applying and rinsing. Never apply to wet skin. This product comes with a lot of warnings and should not be used on sensitive or compromised skin. Please always patch-test and read the instructions on the Deciem website.
The Ordinary Niacinamide
Niacinamide is The Ordinary´s best selling product. Niacinamide (Vitamin B3) is to reduce the appearance of skin blemishes and congestion.
How to use The Ordinary Niacinamide?
Apply a few drops to cleansed dry skin in the morning and evening. If you find this becomes a bit ´soapy, apply less. Always patch test.
The Ordinary Natural Moisturising Factors
Quite possibly one of the best moisturisers ever!
How do I use Natural Moisturising Factors?
You can use Natural Moisturising Factors in the morning, evening whenever you wish. If you purchase this separately, buy the larger sizes as it´s much better value.
Watch the Deciem video here all about the Balance Set
The Ordinary Gift Sets
If you're looking for other sets by The Ordinary or Deciem, you will find The Ordinary has 2 other sets, The Daily Set and The No Brainer Set and there are also NIOD sets too. The Ordinary & Deciem Sets