Add all these products to your basket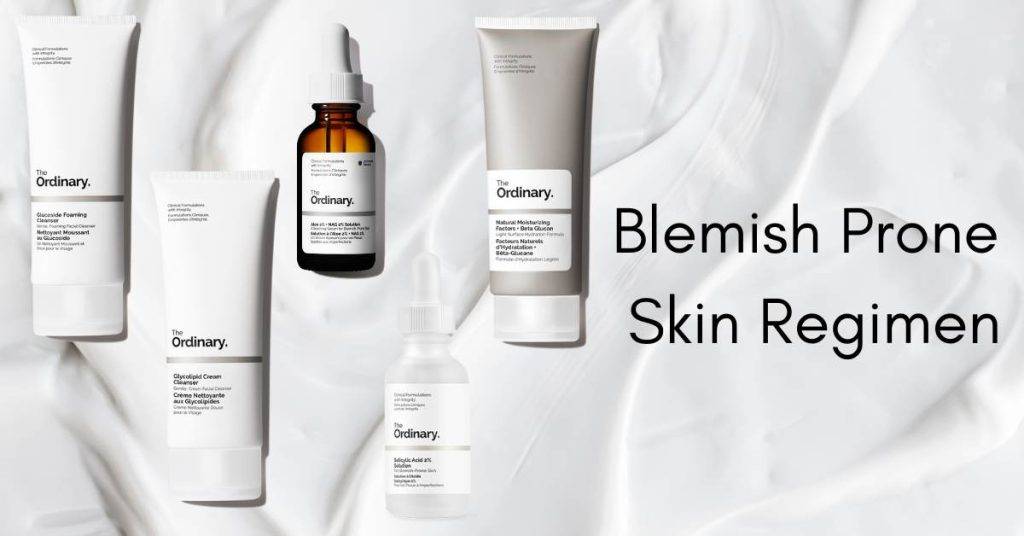 The Ordinary Regimen for Blemish Prone Skin
Morning Routine For Blemish Prone Skin
Evening Routine For Blemish Prone Skin
The Best The Ordinary Products For Blemish Prone Skin
Start your blemish-prone skincare routine by cleansing your face with the Glucoside Foaming Cleanser. This cleanser is quite runny, so be careful. You don´t want to waste it because you don´t need much. This is my favourite cleanser as it works so quickly, leaving my skin feeling fresh and clean.
Then take the Aloe 2% + NAG 2%. Put a couple of drops in the palm of your hands and pat or massage into your skin. If you feel you need more, use more. Allow this to absorb, and then apply your moisturizer. You don´t need much, as a little goes a long way. Apply just a tiny amount and add more if you need it. It´s easier to absorb in small amounts. Don´t forget your SPF!
For the evening routine, do the same. Start with your Glycolipid Cream Cleanser and then follow with your Glucoside Foaming Cleanser. Make sure your skin is dry, and then apply a few drops of the Salicylic Acid into the palm of your hand and pat or massage it into your skin. Allow to dry before applying your moisturizer.
Cleansers
If you don´t want to buy or use 2 different cleansers, don´t! Just use one and make sure you cleanse your skin really well. Cleanse twice with the same cleanser if you don´t wish to purchase another. The evening is all about washing away all the makeup and sunscreen, so this is why it´s essential to cleanse well in the evening.
If you already have a cleanser you love and are sure it´s not breaking you out. Don´t buy another.
Moisturizers
The Ordinary Natural Moisturizing Factors + Beta Glucan is a clear gel. There are 2 others, NMF + PhytoCeramides and also NMF + HA. Once again, if you have a moisturizer you love and are sure it´s not contributing to your blemishes, you do no need to buy a new one.
The Ordinary Skincare Regimens
There so so many regimens to choose from. Click here for all The Ordinary Skincare Routines or find more regimens at the top.