The Deciem Black Friday Sale 2019
On the 1st November 2019, Deciem went live with their Black Friday Sale. I was informed that it was going to be different to previous years, but this was a bit of a surprise. Deciem gave 23% off absolutely everything for the whole month of November including The Ordinary. They closed on Black Friday itself which you can read about below.
Whilst the sale was on, the notifications for when a product is back in stock was removed. This was rather annoying because many products were out of stock. Many people wanted to try the new NIOD CAIL at the discounted rate.
Some of the Deciem Addicts were really happy and some are rather disappointed as Black Friday is the time when many get to try the other brands like NIOD at incredible prices. Overall though, the majority enjoyed it with 89% of Deciem Addicts on Instagram voting for month long discounts over one day of madness.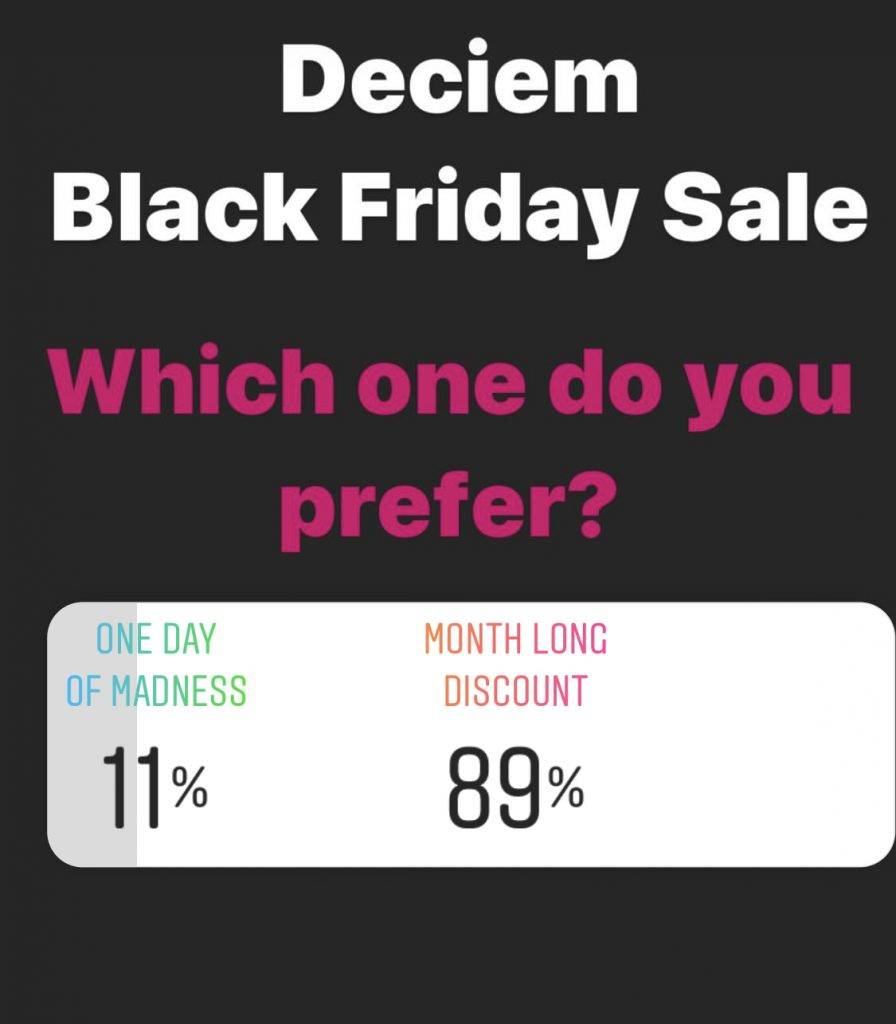 This is what Deciem say about the new Black Friday Sale
DECIEM is closing all stores and its website on 29th November as it no longer feels comfortable being involved in a single day so heavily focussed around hyper-consumerism. We do not feel that Black Friday is an earth or consumer-friendly event as it encourages excessive purchasing of items, that consumers might not necessarily purchase if items weren't discounted.
As hyper consumerism poses one of the biggest threats to the planet through rush decisions due to fear of items selling out, DECIEM no longer want to be part of rushing purchasing decisions, something that was unintentionally created in previous years with products selling out before Black Friday even began.
Instead, we're offering a site wide discount of 23% starting today at 12noon that will run throughout the whole of the month of November, (excluding 29th when stores/website will close) to encourage more considered purchases. The discount will be valid across the entire DECIEM portfolio, including The Ordinary – something which is almost never discounted due to the pricing already being so fair and affordable. This will hopefully encourage customers to shop slowly and to make educated, mindful decisions based on what their skincare regimen should be.
Previous Black Friday Sales
If you´re a true Deciem Addict, you´ll already be start thinking about the Deciem Black Friday Sale months before November. It´s the craziest day of the year in the Deciem Addict world and the one sale you will never forget.
There are some amazing bargains to get your hands on in the Deciem Black Friday Sale, but be warned, it´s really easy to get carried away and then regret buying so much or wonder why you didn´t grab some NIOD at an amazing price.
Some Deciem Black Friday Tips
If you're using a credit card, remember the card must be registered to the address the products are being shipped to.
PAYPAY – Paypal really is the quickest and easist way to pay and will avoid the problem of credit cards above.
Always check the amount leaving your bank because people have often been charged twice.
If your basket keeps emptying, refresh, clear cookies, try another browser or use your mobile phone.
The Ordinary is affordable all year round. My advice is to try products from the other brands like NIOD, Hylamide and The Chemistry Brand, if they´re a bargain. If there´s an Ordinary product that you use and love, buy as many as you can.
Make a list of products you would love to try after reading reviews in the Facebook Group.
DECIEM BLACK FRIDAY SALE 2018
When did the Deciem Black Friday Sale 2018 start?
The 2018 Deciem Black Friday sale went live on Thursday 22nd November 2018 at 10am (UK) and sold out before Black Friday had even started. In fact, most of the products sold out before Canada and America woke up which didn´t go down too well.
Did the Deciem site go down at all?
This year it didn´t go down, but there were people with payment issues. In 2017 Deciem was offline for around 7 hours.
Deciem Payment Issues
The problem with the Deciem website, is that the card you are paying with must be registered at the address you´re shipping too. Avoid all this agro by paying on Pay Pal.
How long did stock last?
Well, there were 16 items. By around 3pm (GMT) many products were sold out and then a few came back in stock. By the morning of Black Friday, 23rd November, only 3 Ordinary products were left in stock.
What was on sale for Deciem Black Friday 2018?
This year, Deciem decided they would sell 16 single products at amazing prices rather than the boxes. It was a really difficult year and I´m not sure they had the time to put the boxes together which is why we had singles. Surprisingly though, people really liked having singles rather than the boxes.
Here's what was on offer in the Deciem Black Friday Sale 2018.
The Stars of the Deciem Black Friday Sale
For me, the star of this Black Friday sale was the NIOD LVCE which is an amazing cleanser and was on sale for just £10 (normally £30). All I can say is, if you have an opportunity to try this at an amazing price, grab it! It cleans skin amazingly, removes some of the toughest mascaras ever and sun cream without the need to rub hard. It leaves skin feeling incredibly hydrated and I find my products go on really well afterwards.
NIOD MMHC2
This was another star of the sale, NIOD MMHC2, Hyaluronic Acid. This glides on to your skin, feels amazing, plumps and hydrates. This is normally £25 and was on sale for just £10. You can often find discounts on NIOD of up to 25% off on the Deciem Discounts page.
DECIEM BLACK FRIDAY SALE 2017
When did the Deciem Black Friday Sale start in 2017
I remember I was just about to leave the office around 3pm when I received a call from Deciem. They said the Black Friday sale was going LIVE in an hour at 4pm (GMT) Thursday 23rd November. After a little technical glitch, the sale finally started at around 4.20pm
What was in the Deciem Black Friday Sale 2017?
This year there were lots of Deciem sets at amazing prices plus a few single products on sale too. I remember everyone going absolutely crazy for the NIOD SS Sanskrit Saponins at just £9 hidden down the bottom.
Did the Deciem website go down?
Everything seemed to be going really well until about 6am (GMT) when the Deciem website went DOWN for around 7 HOURS!. I assume they had to wait until the tech department in Canada woke up to repair it, and finally at about 1pm (GMT) they were back online.
Deciem Payment Issue
As previously mentioned, there were some payment issues where many people were being charged twice, including myself. Deciem were really good and refunded the money straight away. If you have problems, try chatting with Deciem on LIVE CHAT.
Deciem Black Friday 2019
So what can we expect in the 2019 Deciem Black Friday sale? The truth is I have no idea and knowing Deciem, they don't have a clue either. Don´t assume the sales will start the same time as last year. The one thing that is guaranteed is amazing products at incredible prices that will sell out.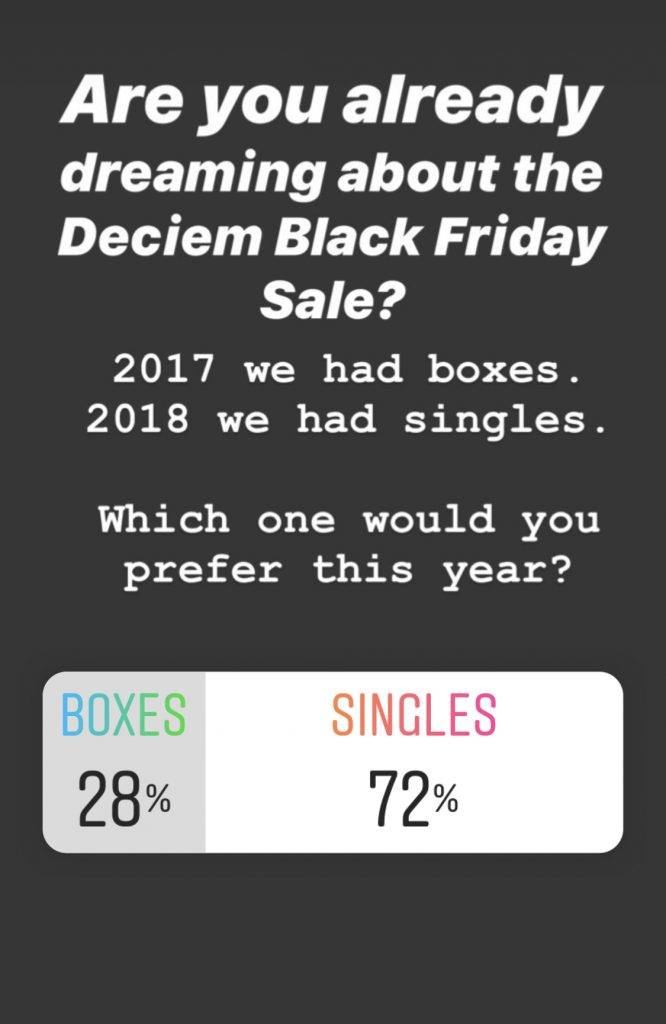 We ran a poll in Instagram stories and 72% of people would say they would prefer singles for the 2019 Deciem Black Friday Sale.
Don't forget to make that wishlist so you know exactly what to buy when you see it and top up that Pay Pal account!