A quick look at The Ordinary Ethylated Ascorbic Acid reviews
55% of the Deciem Addicts love it
50% say it has improved their skin
46% will repurchase it
Currently scores 4.3/5 on the Deciem website
Targets
signs of ageing
uneven tone
antioxidant support
The Ordinary Ethylated Asorbic Acid 15% Solution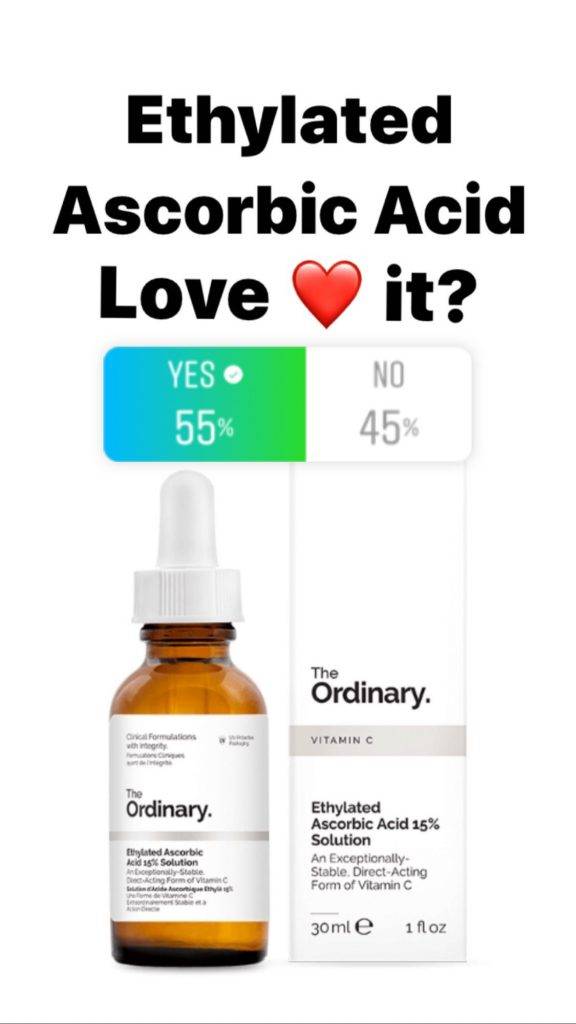 The Ordinary Ethylated Ascorbic Acid – Everything you need to know before buying
What is Ethylated Ascorbic Acid and what does it do?
When and how to use Ethylated Ascorbic Acid?
Which product conflict with Ethylated Ascorbic Acid?
Ethylated Ascorbic Acid PAO
The colour, texture and smell of Ethylated Ascorbic Acid
Reviews of Ethylated Ascorbic Acid
Unboxing Ethylated Ascorbic Acid
FAQS about Ethylated Ascorbic Acid
Other Vitamin C Products
Prices: 18GBP | 18$CAD | 18$US | 30$AUD | 18€
What is Ethyated Ascorbic Acid?
Ethylated is one of the many Vitamin C products The Ordinary offers, and it targets;
signs of ageing
uneven tone
antioxidant support
Deciem´s simple explanation. Ethylated Ascorbic Acid 15% Solution (EAA) offers a highly-stable, waterless 15% methylated L-Ascorbic Acid solution to visibly target signs of waging and uneven tone. If you want a highly potent yet gentle Vitamin C, this one is for you.
Unlike other Vitamin C derivatives, this ethylated form acts directly like Vitamin C is closer in molecular weight to actual Vitamin C which allows for faster visible results. Since this formulation is a water-free solution, it may feel slightly "oily" for a few seconds after application, despite the absence of all oils.
Does The Ordinary Ethylated Ascorbic Acid work?
50% of the Deciem Addicts say it has improved their skin.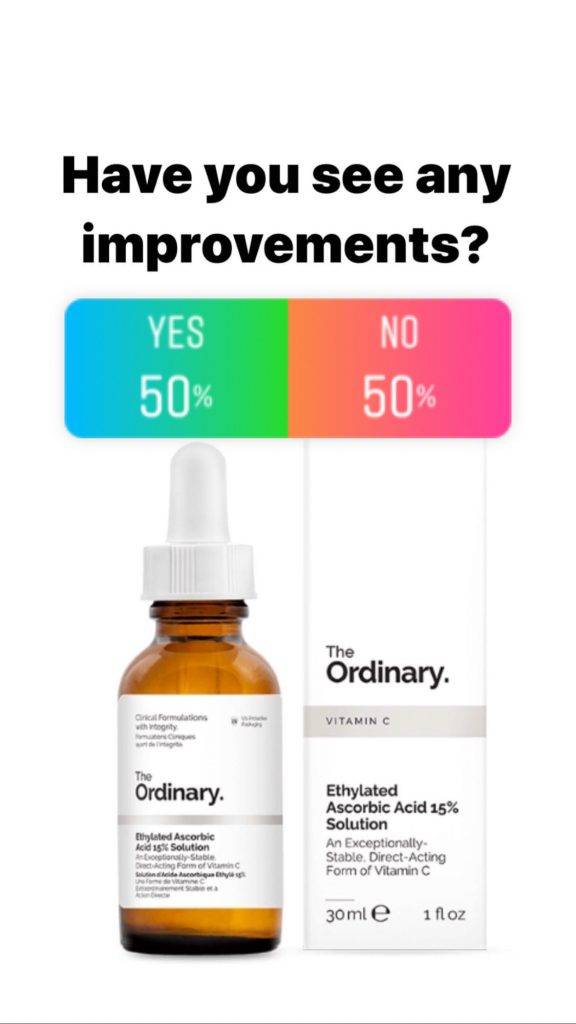 When & How To Use Ethylated Ascorbic Acid?
Ethylated Ascorbic Acid is an anhydrous solution
Use morning and evening if required.
Apply after water-based products but before oils and creams if using.
Put just 2 or 3 drops into the palm of your hand and apply to your face.
Massage or pat until it is fully absorbed. You can then apply your next product.
You can read all about layering The Ordinary here.
Always use an SPF during the day.
Ethylated Ascorbic Acid Conflicts
These products are currently listed as conflicts on the Deciem regimen guide.
What is the PAO?
The period after opening is 12 months
What is the colour, smell and texture of this product?
This product comes in dark UV protective packaging
The colour is clear
The texture is oily
Smell – very little scent
Read what everyone else has to say about Ethylated Ascorbic Acid on Instagram and feel free to leave your own comments.
Photos of Ethylated Ascorbic Acid 15%
This product was purchased directly from Deciem.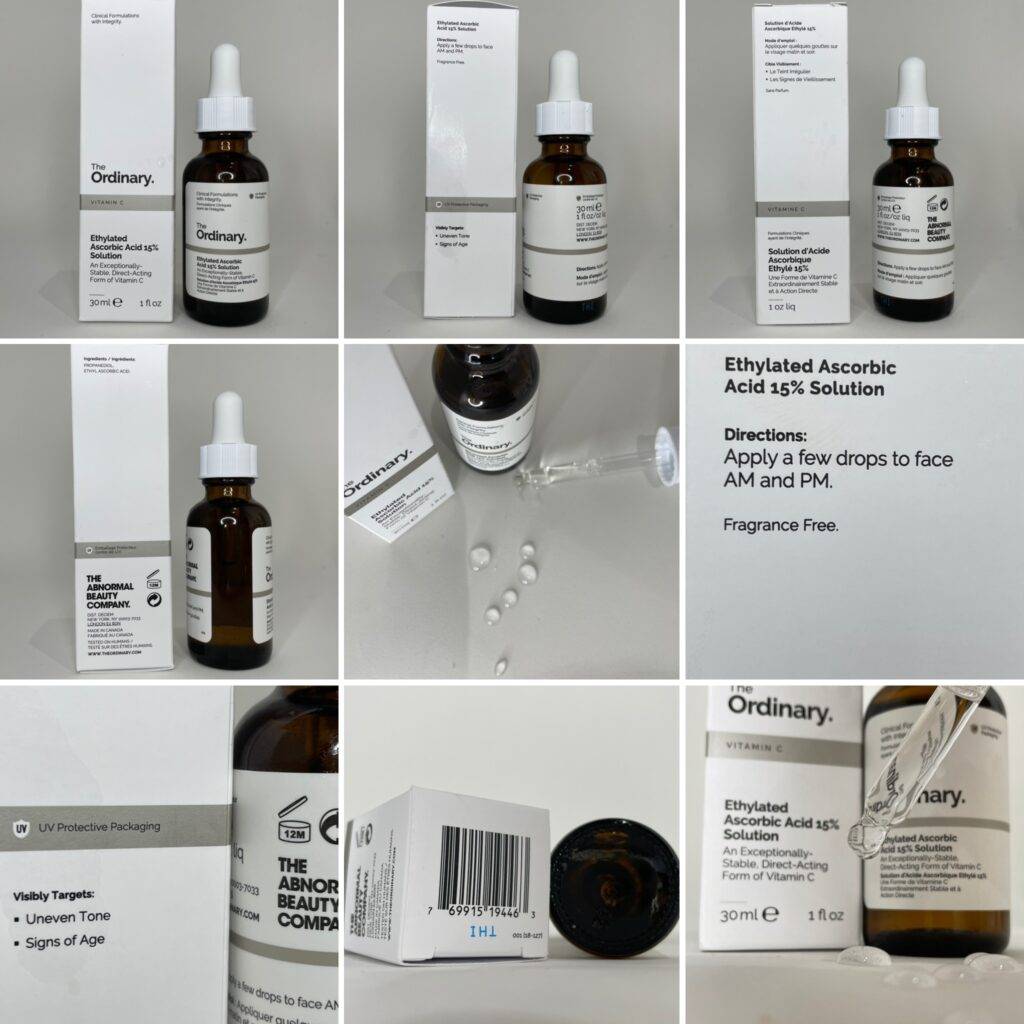 FAQs About Ethylated Ascorbic Acid 15%
These questions have been answered by Deciem on Social Media.
Can I use Ethylated Ascorbic Acid with Buffet? Ethylated Ascorbic Acid should not be used in the same routine as Peptides.
I found Vitamin C Suspension 23% + HA Spheres 2% quite harsh. Would Ethylated Ascorbic Acid 15% Solution be better and more gentle? Yes, The Ordinary Ethylated Ascorbic Acid 15% Solution would be a much more gentle option that you may wish to explore.
I just ordered the Marula Oil, Hyaluronic Acid + B5, and Ethylated Ascorbic Acid 15%. Which order would I use them in? We'd suggest applying HA 2% + B5, EAA 15% and Marula Oil in that order.
Can I use EAA with Squalene in the evening? How about Niacinamide 10% + Zinc 1% with Squalene in the morning? Yes and yes! We recommend avoiding pure Vitamin C when you are applying Niacinamide in your routine.
Is Ethylated Ascorbic Acid safe to use during pregnancy? And is it ok to use it after Marine Hyaluronics serum? Yes, you can use Ethylated Ascorbic Acid after Marine Hyaluronics. While each ingredient has been tested and is considered safe for topical application. DECIEM products have not been tested on pregnant or breastfeeding women. When pregnant or breastfeeding, it is recommended to avoid skincare products containing retinoids such as formulations with Granactive Retinoid or Retinol. We also recommend not using any of our supplements while pregnant or breastfeeding.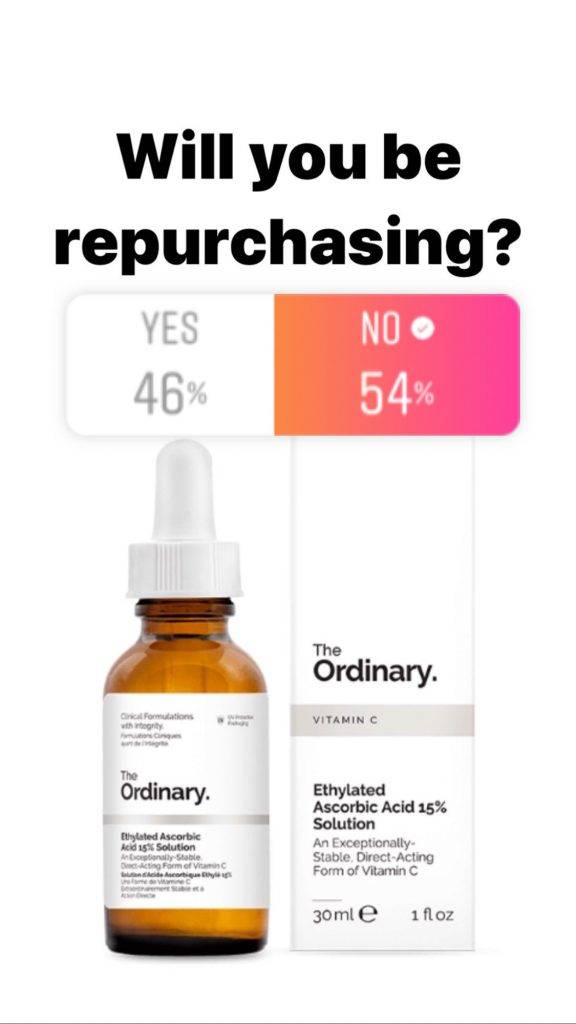 Final Thoughts on Ethylated Ascorbic Acid
55% of the Deciem Addicts on Instagram love this product. 50% say they have seen an improvement and 46% say they will repurchase this product.
The Ordinary & Deciem Vitamin Cs
There are around 10 different Vitamin C products between The Ordinary, Hylamide and NIOD brands. Read more about Deciem vitamin c products here.