HIF is being discontinued, so if you love it, buy now before it´s gone forever!
DECIEM recently re-launched their haircare brand, HIF Hair is Fabric, with two reformulated cleansing conditioners that are now vegan certified. HIF Hydration Support and HIF Volume Support. Read HIF Hair is Fabric reviews below, on Instagram, and in The Ordinary & Deciem Chat Room Facebook Group.
Connect direct with other Deciem Addicts who have used this and see what they have to say.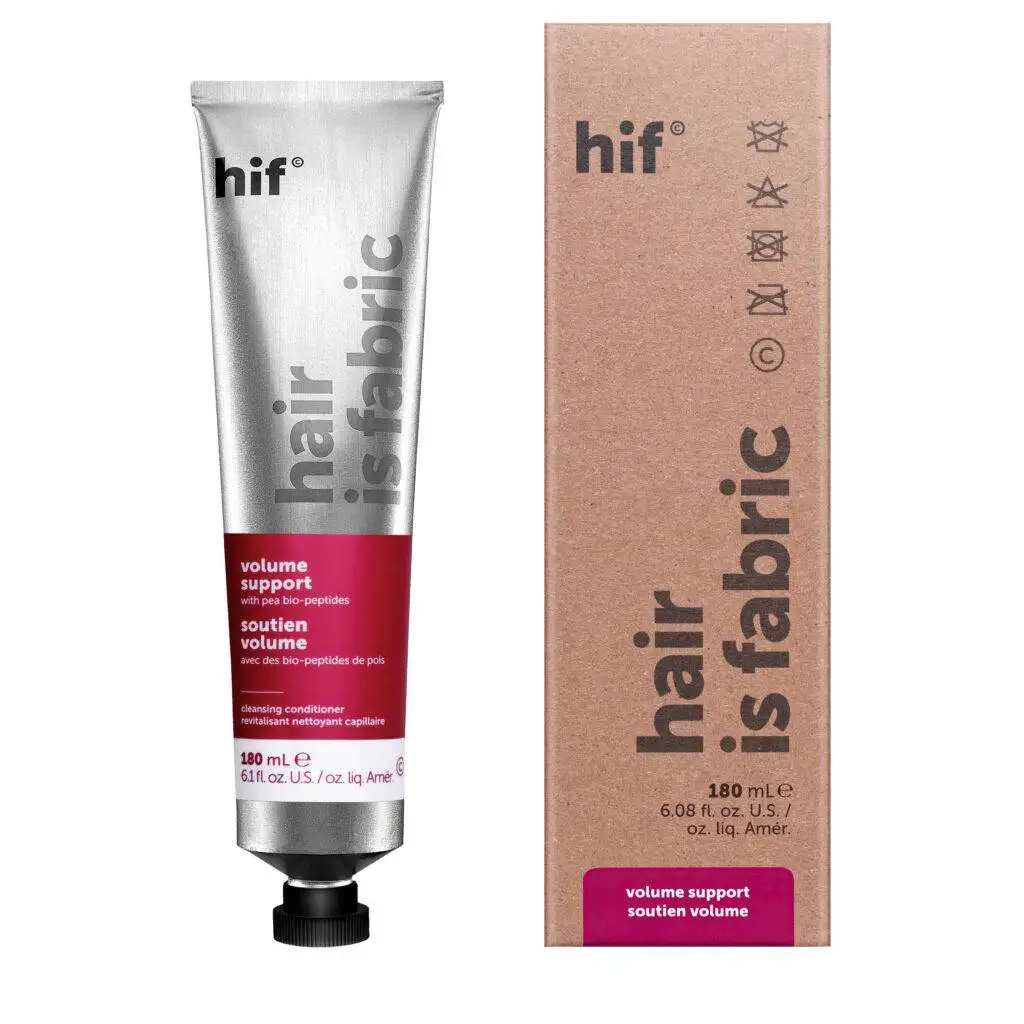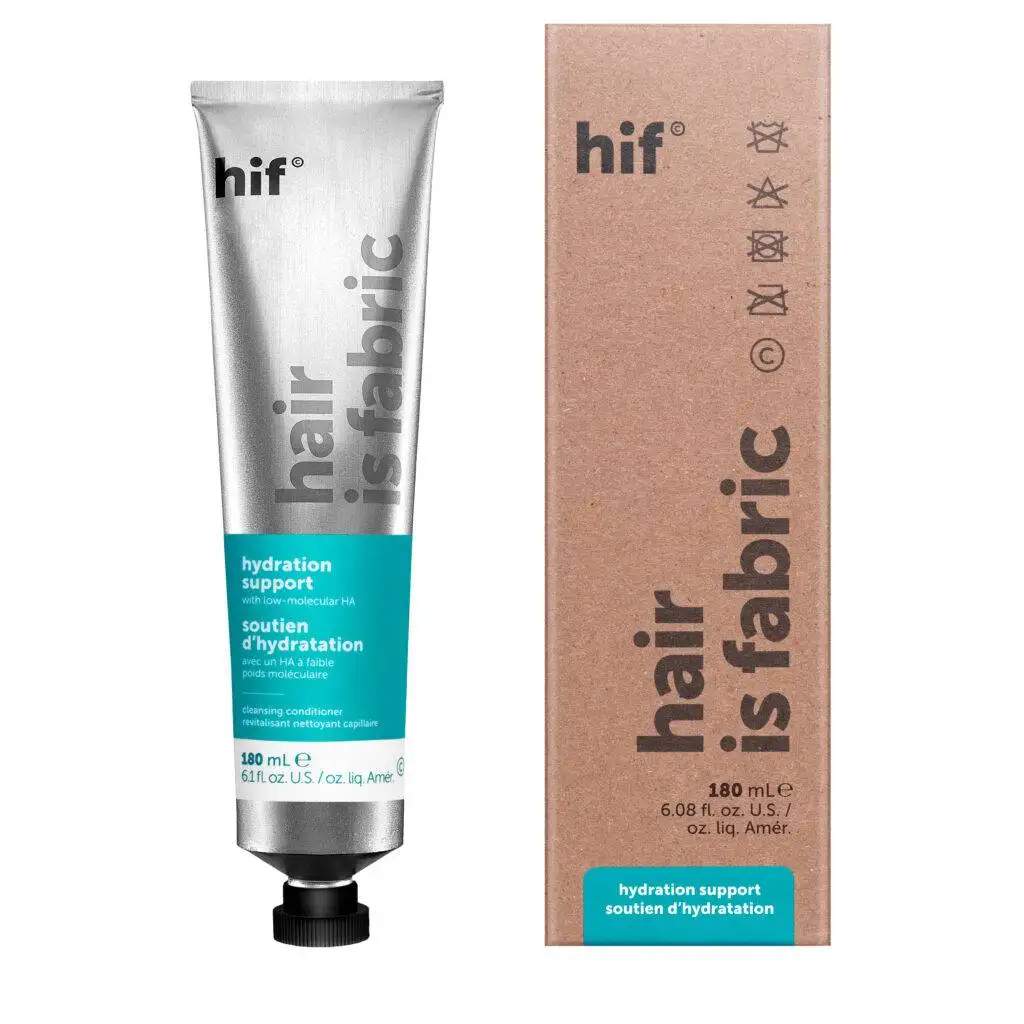 Volume Support 180ml, £25 – The HIF Volume Support contains volumizing technology to create volume to the hair, preventing the hair from falling flat.
Hydration Support 180ml, £25 – The HIF Hydration Support works to leave the hair fibres in optimal condition and offers deep hydration to the hair to prevent it from looking and feeling dry.
What is HIF – by Deciem

HIF (Hair is Fabric) challenges the way we think of hair. Hair really is like fabric. It's made up of dead cells that can't be repaired. The most effective way of achieving healthy hair is by preventing its fibre from being damaged in the first place. Traditional shampoos slowly strip the hair and wash the natural goodness away. In one simple step, HIF professionally cleans the hair and scalp without removing natural oils.

The aim behind HIF Cleansing Conditioner is to think of them as dry cleaning for your hair. Over time, the combination of sebum, sweat, and daily use of hair products can lead to excess product buildup and leave hair looking greasy.
HIF Cleansing Conditioners provides gentle cleansing with a coconut-derived squalane to gently lift sebum and buildup from the hair and scalp. The use of a cleanser is important to adequately cleanse the scalp and hair to maintain a healthy-looking scalp, which in turn leads to optimal hair health.
These formulations combine various conditioning technologies and ingredients that work in perfect harmony to leave the hair in optimal condition while imparting deep hydration* to the hair to prevent it from looking and feeling dry.
How to use HIF Hair is Fabric – by Deciem
Work the product into wet hair and leave it on for 3 minutes and then rinse.
How I use HIF Hydration Support
I personally like to wet my hair, use a tiny amount first, massage and rinse. Then I use more product, massage it in well, leave for 2-3 minutes, and then rinse. This is your shampoo and conditioner all in one. No need to use conditioner says Deciem. Try to avoid your normal towels and use a microfibre towel as it's much more gentle on the hair.
My review of HIF Hydration Support
HIF Price
Ok, so first of all, the price. It's expensive! I chop and change my shampoo and conditioner all the time and I pay around 10-15€ for a 400ml shampoo and conditioner. 30€ – 35€ is a lot of money. These were gifted to me and only time will tell when and if I repurchase them if I feel it's worth the money.
The Packaging
I love the packaging, the tube and the box. It looks great in my bathroom and obviously appeals to everyone as both my husband and daughter have had their hands on it. I keep reminding them how expensive it is and to use a teeny weeny amount AND to squeeze from the bottom. It's easy to control the amount of product coming out.
My hair type
Before I tell you about my experience using HIF, here's a little background on my hair. My hair is fine and thinning. I colour my hair regularly to cover the grey. It's the type of hair that no one really notices when I've been to the hairdresser for a cut and blow dry. If I leave it to dry naturally, it's a bit frizzy. Straightish with a kink so it can go really straight or quite curly. Can you get the gist?
HIF Hair is Fabric Reviews – My thoughts
Firstly, it's been a really hot summer. Heat, humidity, chlorine and seawater for any hair is bad, but for fine, thinning hair, it's terrible. I normally don't bother blow drying or straightening my hair in the summer and try to stick to my version of CGM (curly girl method).
If you have hair like me and are fed up with it, I highly recommend looking into CGM. It's incredible how thick and healthy your fine hair can actually look!
So, the very first time I used this, I wasn't that impressed. My hair didn't feel particularly nice and it didn't look good when I left it to dry naturally. The feeling was like a matted feeling, even a little sticky. (It's hard to explain).
I tried HIF again and took the time to blow dry and straighten it. The only product I used was a heat protector.
We went out that night to a club which was really hot. Normally my hair would frizz up and look dreadful before I've even left home, but it didn't. My hair looked pretty good all night, I honestly couldn't believe it.
Day 2 after using HIF Hydration Support
So here's where it gets interesting. Normally, my hair looks pretty awful the day after the night before, particularly if I straighten it. It goes very greasy and just looks meh. But it didn't! My hair looked the way I wish it would always look – that hydrated messy/clumpy look (if that makes sense).
Day 3 after using HIF
I was desperate to wash it purely out of habit but it still looked and felt great. I could wear it down, no problem.
Day 4 after using HIF
By now I was really desperate to wash my hair, but I really wanted to see if I could push it another day. I did! I wore it mostly up in a messy bun, although you can see in the video, it still looked ok.
Day 5 after using HIF
I could have easily gone another day with it up in a bun but it was time to wash as I had another party. So I repeated the process and once again was able to go another 3/4 days without washing.
My hair feels much fuller using this and it becomes more hydrated as the days go by. This is something I haven't experienced before. If you have HIF sitting in your cupboard because you couldn't get on with it, give a few more times trying different ways. My hair feels and looks much fuller too (this isn't even the volume HIF).
Less Washing
In 9 days I washed and styled my hair twice. That's a lot less washing. My hair feels more and more hydrated each day. It's weird and something I haven't experienced before with other shampoos.
How long does a 180ml tube of HIF last?
I always start off with great intentions to write down how often I use it and then forget. I was gifted this back in July / August and still have at least two-thirds left. Plus, my husband and daughter have both used it a couple of times.
By Deciem – HIF Hair is Fabric
HIF Hair is Fabric FAQs
These questions have been answered by Deciem on Social Media.
Are HIF Hair is Fabric Shampoos safe to use on chemically treated hair? What is the sulfate situation?

Is HIF like a one-step cleanse and condition? Yes, it is.
Which HIF would you recommend for curly hair? We'd recommend Hydration Support for an option for curly hair.
Which Hair is Fabric is better for fine and wavy, but quite dry. You may wish to explore Hydration Support.
For coarse, coily hair 4C hair, do we need to follow up with another conditioner after using this? Yes, you can if you wish. HIF cleanses and conditions at the same time.
Do you use this instead of shampoo? This would be in place of shampoo and conditioner!
More FAQs
The International pricing seems crazy. We apologize for the inconvenience! Our shipping and logistics costs are substantially higher for markets where we do not have a physical presence. We do not have direct operations in some countries yet and need to consider the logistics costs we incur. Shipping is $38.00 USD on orders under $250.00 USD for the time being. We are working on changing these costs soon.
Will the 1L HIF be available soon? We are exploring options for the packaging of the 1L sizes. We can't wait to have it back as well!
Is it effective on dry colour-treated hair? The current product selection under the HIF brand addresses concerns regarding hydration and volume. They have not been tested for their suitability for chemically/colour-treated hair. We cannot say with certainty that either formula is suitable for chemically/colour-treated hair.
HIF Hair is Fabric Reviews
Hydration Support: This currently scores 4.3/5 on the Deciem Website
Volume Support: This currently scores 4.4/5 on the Deciem website.
Other Deciem Hair Products
Join Deciem Chat Room on Social Media