How to build a skincare routine with The Ordinary – Video how to build a routine
The EASIEST, QUICKEST & LEAST STRESSFUL WAY to build a skincare routine with The Ordinary.
The easiest, quickest and least stressful way to build a skincare routine with The Ordinary products is to use The Ordinary Regimen Builder here. It takes a minute to answer the questions, and at the end, you will be given a morning and evening skincare routine. You could use the basics of this routine given and then add a few more products once you´re more confident. Honestly, it couldn´t be easier!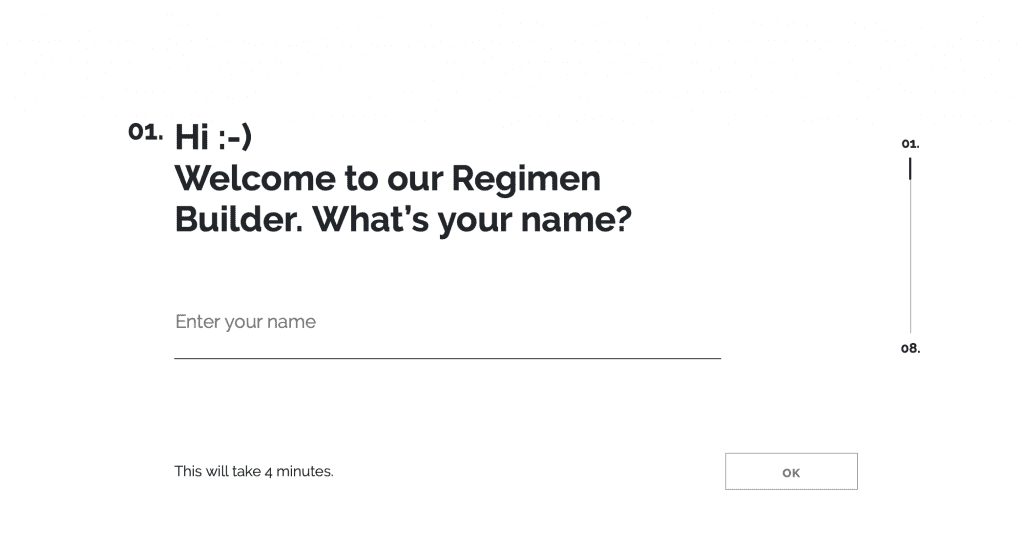 Another Easy Way To Build A Skincare Routine with The Ordinary
The next easiest way to build a skincare routine with The Ordinary products is to choose one of the many The Ordinary skincare routines that already exist. If one doesn´t fit with your skin type/concerns exactly, just switch a few products around. These routines will give you a great insight into the number of products to use in your routine and the order in which to use The Ordinary Products.
How to build a skincare routine
If you are totally new to skincare and finding it all very confusing, I highly recommend using one of the 2 options above.
There´s a lot to consider when creating your own routine.
Building Your Own Skincare Regimen with The Ordinary
1. Cleanse: Start with a gentle cleanser to remove makeup, dirt, and oil. The Ordinary's Squalane Cleanser is a great option for all skin types as well as The Ordinary Glucoside Foaming Cleanser and Glycolipid Cream Cleanser.
2. Treat: Use a treatment product to target specific skin concerns, such as acne, dark spots, or wrinkles. You can find a list of The Ordinary products via skin concerns here. You could start with The Ordinary Hyaluronic Acid, Marine Hyaluronics or Amino Acids first. Then you could apply an Eye Serum like The Ordinary Multi-Peptide Eye Serum or The Ordinary Caffeine Solution. You may like to use a Vitamin C like The Ordinary Ascorbyl Glucoside. If you wish to target pores/oily skin, then go for Niacinamide Serum and maybe Salicylic Acid Serum or the Salicylic Acid Anhydrous Serum.
3. Moisturize: Moisturize your skin to keep it hydrated and nourished. The Ordinary's Natural Moisturizing Factors + HA is a great option for all skin types. There´s also The Ordinary Natural Moisturizing Factors + PhytoCeramides and also Beta Glucan. You may wish to add an oil just before the moisturiser or even add a drop of oil to your moisturiser.
4. Sunscreen: Apply SPF every day to protect your skin from the sun's damaging rays.
5. Add one of the masques to your skincare routine once or twice a week. You have The Ordinary AHA or Salicylic Acid Masque. There are also quite a few masques to try from NIOD.
Some examples of The Ordinary routines
How to build a routine for brighter skin
How to build a routine for signs of ageing
Building a skincare routine for hydration using The Ordinary
Creating a routine based on antioxidants for your skin
Building a simple routine for anyone
More The Ordinary Skincare Routines
There are so many options and ways to use the skincare products. My advice is to keep it simple with not too many products and stick to a routine. Consistency is key. Hydration is also key!
Find lots more skincare routines using The Ordinary products here.