Hylamide is going to be discontinued so buy now before it´s too late. I´m so sad, I love this cleanser.
A quick look at Hylamide Cleanser – High-Efficiency Face Cleaner
71% of the Deciem Addicts love it
29% say it´s not for them
Currrently scores 4.3/5 on the Deciem website
This is a make-up remover & cleanser
120ml
15$US, 19$CAD, 16GBP, 18€, 26$AUD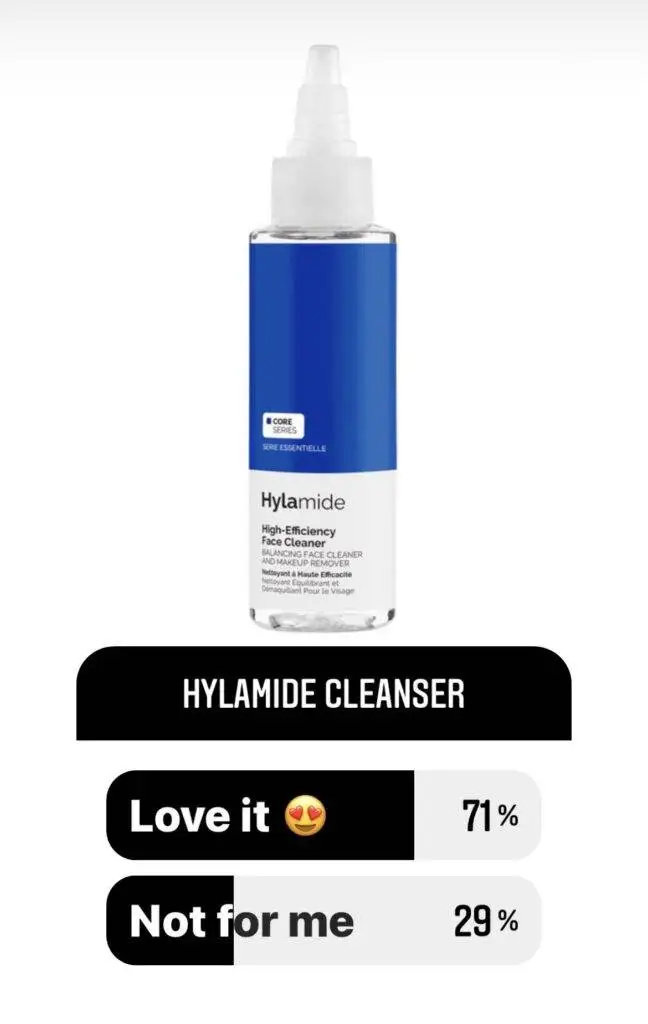 Hylamide High Efficiency Face Cleaner
Balancing face cleaner and makeup remover
This highly efficient, balancing micro-emulsion brings together oils, esters and water-compatible cleaners into one advanced formula that works like an oil cleaner but acts like a water-based one.
In a single step, oils of Mediterranean Crambe and East Asian Kanuga work with plant-derived esters to delete every trace of impurity, face- and eye-makeup.
As you rinse off, sustainably-sourced Amazonian oils together with purified tomato carotenoids leave behind an innocuous layer of comfortable, non-comedogenic hydration.
Unlike traditional oil cleaners, this advanced micro-emulsion does not require using a towel or mitt to clean the face as it rinses off efficiently with water in a single step.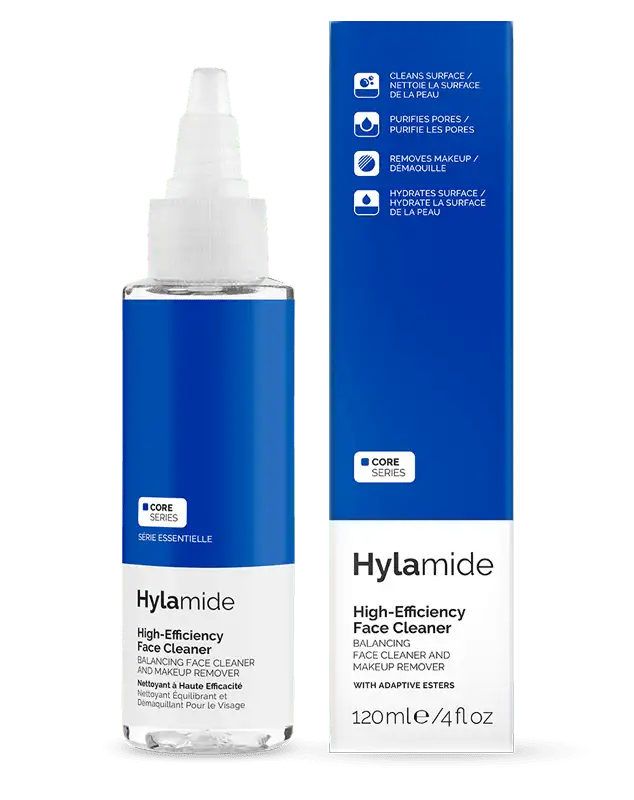 How to use Hylamide Cleanser – High Efficiency Face Cleaner
If you are wearing makeup, then massage the product onto a dry face and then rinse well with warm water.
If you are not wearing makeup, then massage onto wet skin and then rinse with warm water.
As always, it is best to patch test products before using.
You may find FAQs below useful.
Colour, smell, texture of Hylamide Face Cleaner
This is an oil cleanser but it´s not super oily. There´s a slight smell to it, nothing too strong and it is a clear liquid.
PAO of Hylamide HEFC
The period after opening is 6 months
More info (correct at time of publishing)
Always refer to the official Deciem website.
Water-free
Alcohol-Free
Silicone-Free
Gluten-Free
Vegan
Cruelty-Free
FAQS about Hylamide Cleanser
These questions have been asked and answered on Deciem´s social media.
What´s the difference between the Hylamide Cleanser and NIOD LVCE? Hylamide's HEFC is an ideal balance that incorporates makeup removal, deeper skin cleaning and water rinse-off all in one product. LVCE is very focused on makeup removal and less on deeper cleaning of the skin.
Is the Hylamide Cleanser good for waterproof mascara? Yes.
Is Hylamide Cleanser oil-based? I have been advised not to use oil-based products. Yes, it is oil-based! You may wish to explore The Ordinary Squalane Cleanser which is a gentle cleansing product formulated to target makeup removal whilst leaving the skin feeling smooth and moisturized. And it is oil-free!
Will it work as a first cleanse at night before cleansing with gel, and will it help me get rid of blackheads and general congested signs? You may indeed use it as a first cleanse. It can certainly help! You may also wish to explore The Ordinary Niacinamide 10% + Zinc 1%. This is a high-strength vitamin and mineral formula that visibly targets the look of blemishes and signs of congestion. Niacinamide has also been shown to have a visible brightening effect.
Can Hylamide Face Cleaner be applied to remove eye make up? Yes, you may!
More FAQs
Can this cleanser remove heavy-duty, long-lasting makeup and do I need to use another cleanser after this one? Yes, HEFC can effectively remove all traces of makeup.
Do you need to use a normal cleanser afterwards if this is like an oil cleanser? This cleanser can be used alone or as a double cleansing routine.
Is the Hylamide High Efficiency Face Cleanser suitable for oily/combination skin that is prone to some breakout? Yes! HEFC is suitable for all skin types.
What is the difference between The Ordinary Squalane Cleanser and Hylamide Face Cleaner? Both are incredible! The Ordinary Squalane Cleanser incorporates lipophilic esters that are gentle, moisturising, spreadable and efficiently dissolve makeup. It also incorporates sucrose esters that gently and effectively emulsify the dissolved makeup and impurities with water for rinsing. Hylamide HEFC is an oil-based cleaner that is an incorporates makeup removal, deeper skin cleaning and water rinse-off in one product.
Ingredients (correct at time of publishing)
Cetyl Ethylhexanoate, Peg-20 Glyceryl Triisostearate, Bisabolol, Oenocarpus Bataua Fruit Oil, Bertholletia Excelsa Seed Oil, Plukenetia Volubilis Seed Oil, Crambe Abyssinica Seed Oil, Simmondsia Chinensis Seed Oil, Solanum Lycopersicum (Tomato) Fruit Extract, Pongamia Pinnata (Karanja) Seed Oil, Squalane, Ethylhexyl Stearate, Tocopherol, Phenoxyethanol, Chlorphenesin.
Where to buy Hylamide Cleanser
The best place to purchase Hylamide is direct at Deciem.