See all NIOD Survival, S0, S10, S20 & S30 before buying.
NIOD Survival
NIOD Survival Reviews S0, S10, S20, S30. There are 4 different products in the survival range.
What is the Survival Range?
When and how do I use NIOD Survival?
Are there any products that conflict with NIOD Survival?
NIOD Survival Reviews
NIOD Survival FAQS
Available in 30ml. Check the prices in your currency here.
The NIOD Survival Range Targets
Survival 0
Survival 10, 20 & 30 Reviews
Antioxidant support
UV Protection
Which NIOD Survival does everyone prefer?
These are the results of the polls featured on Instagram stories for 24 hours.
87% love NIOD S0 | currently scores 4.3 on the Deciem website
38% love NIOD S10 | currently scores 4.1/5 on Deciem website
50% love NIOD S20 | currently scores 4.4/5 on the Deciem website
83% love NIOD S30 | currently scores 4.5/5 on the Deciem website
These votes are by the Deciem Addicts, people with different skin types and concerns.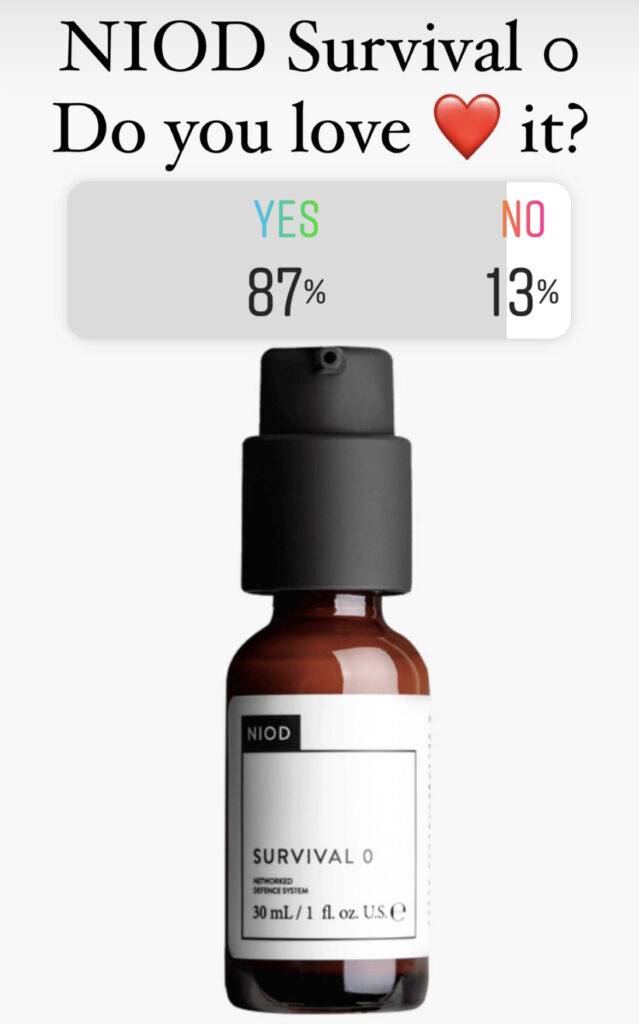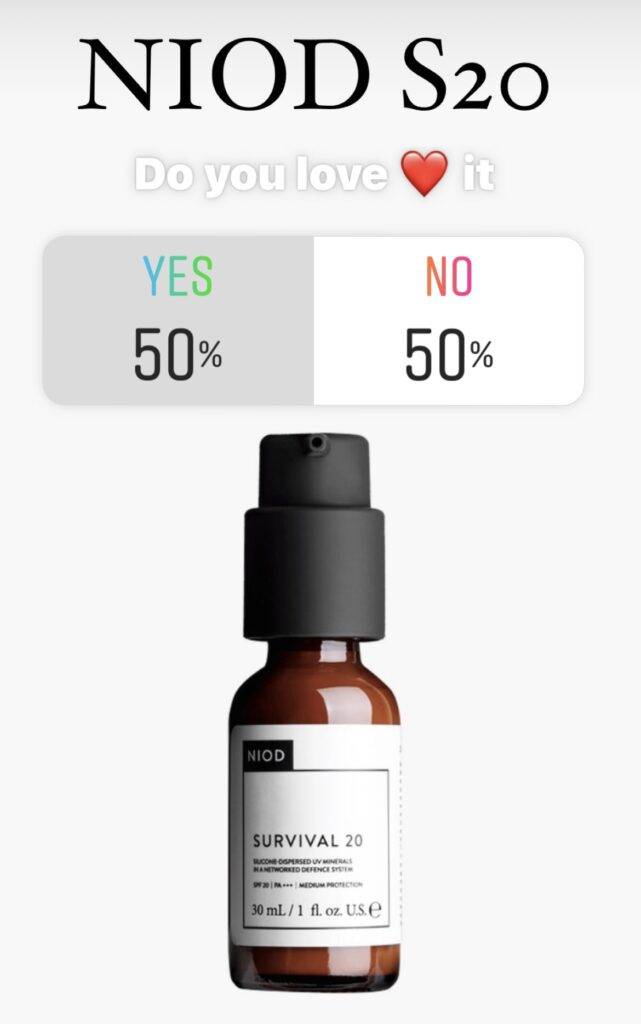 What is the NIOD Survival Range?
NIOD say: NIOD's Survival is a range of four networked protection systems with technologies that help support healthy skin defences against environmental and lifestyle-related assaults. Despite their lightweight texture, these formulations offer a broad selection of advanced technologies to target the effects of oxygen radicals, including the superoxide radical, nitrogen radicals, carbonyl radicals, glycation and advanced glycation end-products (AGE), pollution, smog, stress, infrared and blue light.
NIOD Survival 0 is Designed for nighttime use by all skin tones. S0 offers no UV Protection.
NIOD Survival 10 Low UV protection designed for darker skin tones
NIOD Survival 20 Medium UV protection, designed for medium and darker skin tones
NIOD Survival 30 High UV protection. Designed for all skin tones
More information about Survival
In addition to these protection systems, Survival 30, Survival 20, and Survival 10 offer, respectively mineral-only UVB and UVA protection of SPF30 (PA+++), SPF20 (PA+++), and SPF10 (PA++). Survival 0 does not offer UV protection and is intended for evening/nighttime use. Survival 0 can also be used during the day alongside other sun protection formulations that may not offer environmental protection beyond UV. (Note: Survival 30, Survival 20, and Survival 10 already offer comprehensive networked protection and do not need the addition of Survival 0 during the daytime).
For more information on all the ingredients, refer to the Deciem website.
When and how do I use NIOD Survival S0?
Apply to the face liberally to help support environmental defence without material UV exposure (in the evenings). S0 is designed to be used on all skin tones. Survival 0 does not offer protection against UVA or UVB rays.
How to use NIOD Survival S10, S20 & S30 NIOD
Shake well before use.
Apply to the face liberally and evenly 15 to 20 minutes before UV exposure.
To maintain protection during continued UV exposure, reapply every 2 hours or after material water exposure, towel-drying, swimming, or extensive perspiration.
Use a water-resistant sunscreen if swimming or sweating.
Do not stay too long in the sun, even while using a sunscreen product.
Keep out of your eyes.
For a complete list of warnings, check Deciem.
Products You Can & Cannot Use With NIOD Survival
NIOD Survival Faqs
These questions have been asked and answered by Deciem on social media
Can I use retinol with survival 0? Yes, you may.
Can I use Survival 0 with vitamin C? You may use Vitamin C before Survival.
Is it ok to use Survival 0 with Azelaic Acid? Yes, you may.
NIOD Conflicts
Deciem recommends avoiding using the following products in the same routine.
NIOD Reviews
Find reviews on all other NIOD products here and come and join The Ordinary & NIOD Chat Room Facebook Group, where you can talk to over 200,000 Deciem Addicts.
My Personal Thoughts
NIOD Survival 0. I like it, but I prefer The Ordinary Pycnogenol.
Survival 30. I´ve been through a few bottles of this, and the first 2 were really nice and my skin was really protected. With my current bottle, I´m not sure if the solution is slightly lighter or if my skin is darker. It makes my skin tone a little off, making me look unwell. It´s a shame because I really liked the feeling of it on my skin. Always read reviews in the Facebook Group and on Instagram and also the NIOD website.
Other things to note!
Be careful using the SPF around white fabrics. I found it quite hard to remove the stain. I love the pump, but sometimes it can squirt out very quickly.