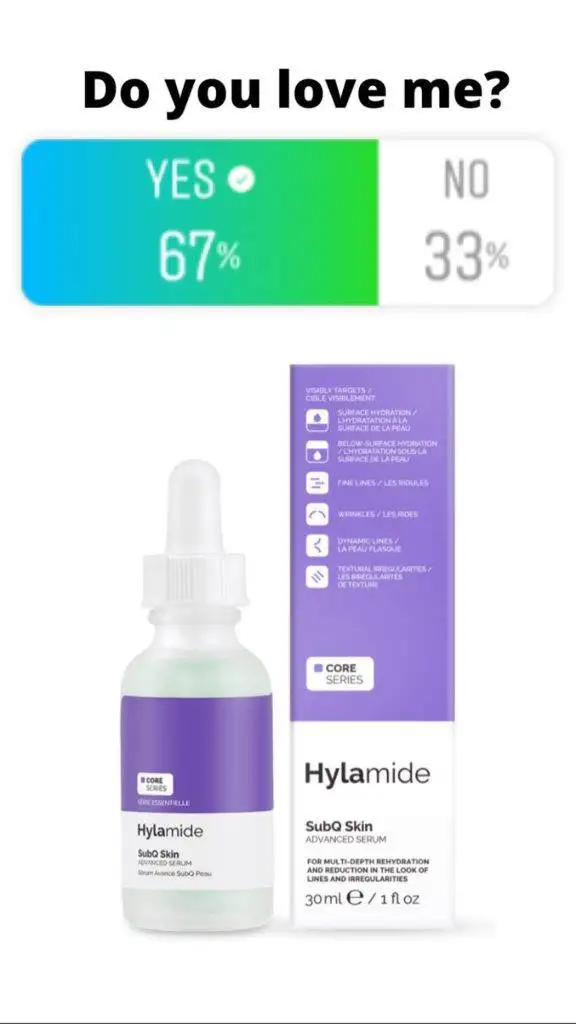 A quick look at Hylamide Sub Q Skin
67% of the Deciem Addicts love it
Currently scores a whopping 4.6/5 on the Deciem website
Surface Hydration
Fine Lines
Wrinkles
Dynamic Lines
Below Surface Hydration
Textural Irregularities
Hylamide Sub Q Skin Review
Everything you need to know about Hylamide Sub Q Skin with reviews by the Deciem Addicts, the people who have bought, tried and tested with all different skin types and concerns.
Prices: 34$AUD | 18GBP | 22$CAD | 22$US | 21€
What is Hylamide Sub Q Skin & what does it do?
Hylamide Sub Q Skin is Hylamide´s version of The Ordinary Buffet/Buffet + Copper. A fabulous peptide that targets surface hydration, fine lines, wrinkles, dynamic lines, below-surface hydration and textural irregularities.
It´s a highly active concentrate of advanced hyaluronic complexes, next-generation peptides, and biotechnologies to target rehydration while improving the look of lines, wrinkles, and textural damage.
When and how do I use Hylamide Sub Q Skin?
You can use Sub Q Skin in the morning and/or evening.
Apply directly after cleansing and before any oils or creams.
If using Hylamide Sub Q Mist, apply this after.
Apply a few drops to the palm of your hands and massage or pat onto your skin.
Treat Sub Q Skin as The Ordinary Buffet + Copper Peptides to be safe. There is no official list of conflicts, but you´ll see what Deciem recommends avoiding in the same routine if you see the FAQs below.
Always read the labels. Patch testing is recommended.
Watch the video on the Sub Q Hylamide Page.
Which products conflict with Hylamide Sub Q Skin?
Treat as Buffet + Copper Peptides to be safe!
Direct Acids
Pure Vitamin C (Derivatives are fine to use)
Retinol/Retinoids
Always read the instructions before use
What is the PAO of Sub Q Skin?
The period after opening is 12M. This could vary depending on when purchasing the product as Deciem often updates the formulas.
Photos of an authentic Hylamide Sub Q Skin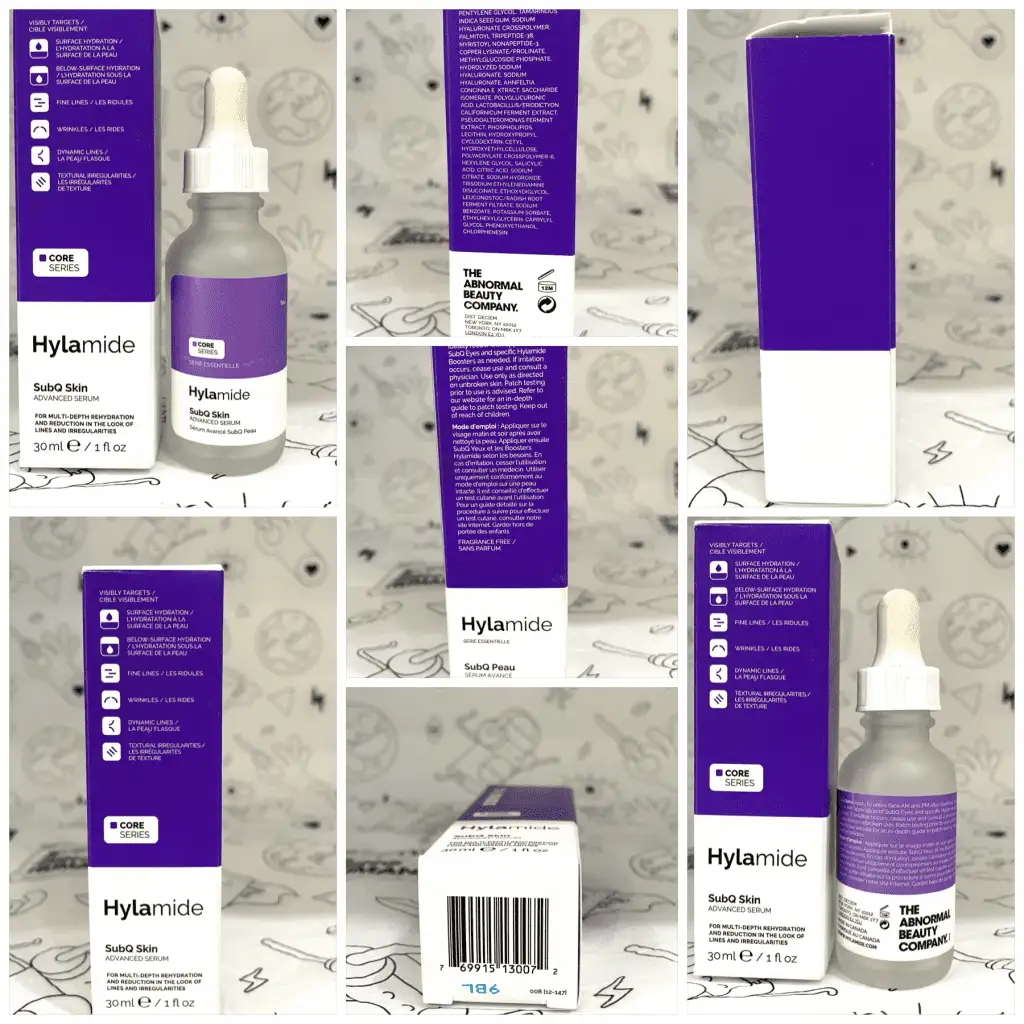 Hylamide Sub Q Skin Reviews
Come and chat about Sub Q Skin on the Instagram post and in the Facebook Group. I love Sub Q Skin and was shocked by how hydrating it felt throughout the day, so much so, I didn´t feel the need to add a moisturizer. If you like The Ordinary Buffet but find it a little sticky, I would say give this a go but check all the conflicts first. You might find Hylamide discounts at other stockists.
I used The Ordinary Buffet for about a year and didn't notice a huge change in my skin, although it did look so much better. For 9 months, I have been using Hylamide Sub Q Skin, and I feel like it's done so much more to my skin. I will be sticking with the Sub q skin from here on in.
Personally, I prefer Hylamide Sub Q Skin over The Ordinary Buffet. Most people estimate that I'm in my mid-thirties when in fact, I am 50. I attribute a lot of that to this Sub Q Skin.
Sub Q Skin is super hydrating, more than The Ordinary Buffet+Copper. It´s less sticky than a normal Buffet.
Definitely prefer Sub Q Skin over The Ordinary Buffet. Sub Q Skin has a better texture/feeling on the face and saw results immediately vs 1 bottle of Buffet and didn't really see much change.
I chose Sub Q Skin over The Ordinary Buffet + Copper Peptides. It's ok but I'm not that overwhelmed.
Hylamide Sub Q Skin FAQs
These faqs have been answered by Deciem on Social Media.
Can I use Sub Q Skin with The Ordinary Granactive Retinoid 2% in Squalane? We would recommend using them in alternate routines.
Where would Sub Q go in a routine with Lactic acid and Niacinamide? You may apply SubQ Skin before Niacinamide. We would recommend alternating Sub Q Skin & Lactic Acid.
Can you use The Ordinary L-Ascorbic Acid in the same routine as Hylamide Sub-Q Skin in the same routine? We suggest alternating between them for best results
Can I use Sub Q Skin with NIOD ELAN at night with Sub Q Skin, or would there be a conflict? Peptides should be alternated with pure/direct forms of Vitamin C. It would be best to use these two separately.
More FAQs
What´s the difference between SubQ Skin and Buffet+Copper Peptides? There is no pure direct form of copper peptides in SubQ Skin but a modified new generation form. Much higher amounts of the direct form are available in NIOD CAIS 2:1 and Buffet + Copper Peptides 1%.
Is it ok to use Hylamide Sub Q Skin with The Ordinary Argireline Solution? Although it may not be necessary, you may indeed.
Can I use Hylamide Sub Q Skin with Buffet + Copper Peptides? It may not be necessary to include both in your routine – however, the formulas do not conflict with each other.
Which one is stronger? Buffet & Copper or Sub Q Skin? For a stronger effort against signs of age, the SubQ Skin is a great option as it also targets rehydration, along with improving the looks of sagging skin and textural damage.
What is the difference between The Ordinary, Hylamide, NIOD and The Chemistry? The Ordinary offers familiar, effective clinical technologies. It exists to communicate with integrity and bring to market effective, more familiar technologies at honourable prices. NIOD has a single genetic commitment to be at the very edge of science. Using only the very latest technologies, NIOD is focused on pushing the limits of science in skincare. Hylamide brings a mindful approach to skincare with a modest collection of multi-depth, multi-function formulas. Using the very latest in next-generation actives. Finally, The Chemistry Brand is focused on treatments to fight all aspects of hand and body ageing. We hope this helps to clarify.
Is Sub Q Skin less sticky than The Ordinary Buffet? SubQ Skin has a lighter consistency than "Buffet".
More Faqs
Would it be ok to use Sub Q Skin with The Ordinary Ascorbic Acid + Alpha Arbutin? We would recommend using them in alternate routines!
I want to use Hylamide Subq Skin and The Ordinary Niacinamide with Zinc during my night routine. How can I use them? Which one goes first, and can I use them along with the retinol that I use 3 times a week at night. We'd suggest applying SubQ Skin first, followed by Niacinamide AM and PM. Both formulas can be used alongside retinol if desired.
What order shall I use these products, and can I use them all together, or is it better to leave one out? The Ordinary EUK 134, Ascorbyl Tetraisopalmitate, Sub Q Skin, Hyaluronic Acid, Sub Q Eyes. You may apply: SubQ Eyes, SubQ Skin, Hyaluronic Acid 2% + B5, Ascorbyl Tetraisopalmitate and EUK 134.
For firmness/elasticity, which is better? Sub Q Skin or Buffet? SubQ Skin has advanced technologies to target sagging skin, so we'd recommend this formula.
Should I be using Sub Q Skin before or after Hylamide HA? You may wish to apply the Hylamide SubQ Skin first then the Hylamide Low-Molecular HA Booster.
Would Sub Q Skin be good for dry skin? Yes, SubQ Skin is great for all skin types.
Where to buy Hylamide
The best place to buy Hylamide is through Deciem with free delivery on orders over 25€$. A lot of stockists sold Hylamide until Deciem reduced the prices a few years ago. You might be lucky to find Hylamide at one of these Deciem stockists.
Deciem Products Similar to Sub Q Skin
You could look at