A quick look at The Ordinary Hemi-Squalane
62% of the Deciem Addicts love it
56% say it has improved their skin
57% will repurchase it
Currently scores 4.5/5 on the Deciem Website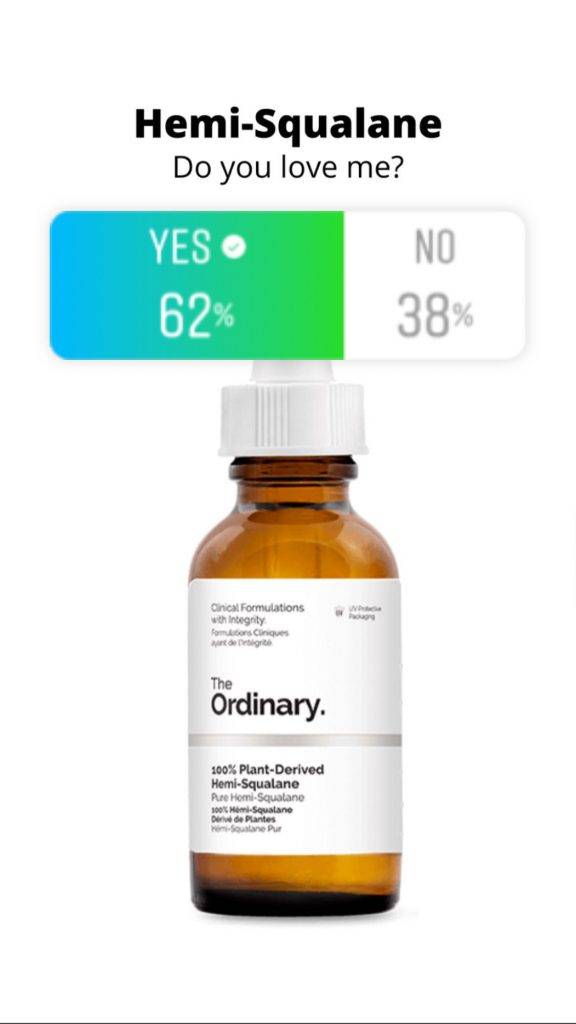 The Ordinary Hemi-Squalane Reviews
The Ordinary Hemi-Squalane reviews, unboxing and everything else you need to know about this product before buying.
What is The Ordinary Hemi-Squalane Oil, and what does it do?
When and how do I use Hemi-Squalane Oil?
Are then any products that conflict with Hemi-Squalane?
Hemi-Squalane PAO 6M (period after opening)
Texture, Smell, Colour of Hemi-Squalane.
Reviews of The Ordinary Hemi-Squalane Oil.
Unboxing The Ordinary Hemi-Squalane.
Photos of Hemi-Squalane box & bottle.
Hemi-Squalane FAQS.
Other oils in The Ordinary brand.
What is The Ordinary Hemi-Squalane Oil and what does it do?
Deciem says: Hemi-Squalane is fast-absorbing, non-greasy hydration for skin and hair. Hemi-Squalane is a non-polar hydrocarbon that is produced from the fermentation of sugar-based feedstock. Squalane and Hemi-Squalane are excellent non-comedogenic emollients that can reduce the ongoing loss of hydration that weakens dermal elasticity and suppleness. However, due to its low molecular weight, Hemi-Squalane has greater spreadability and leaves a light and dry after-feel, making it very suitable for reducing hair frizz.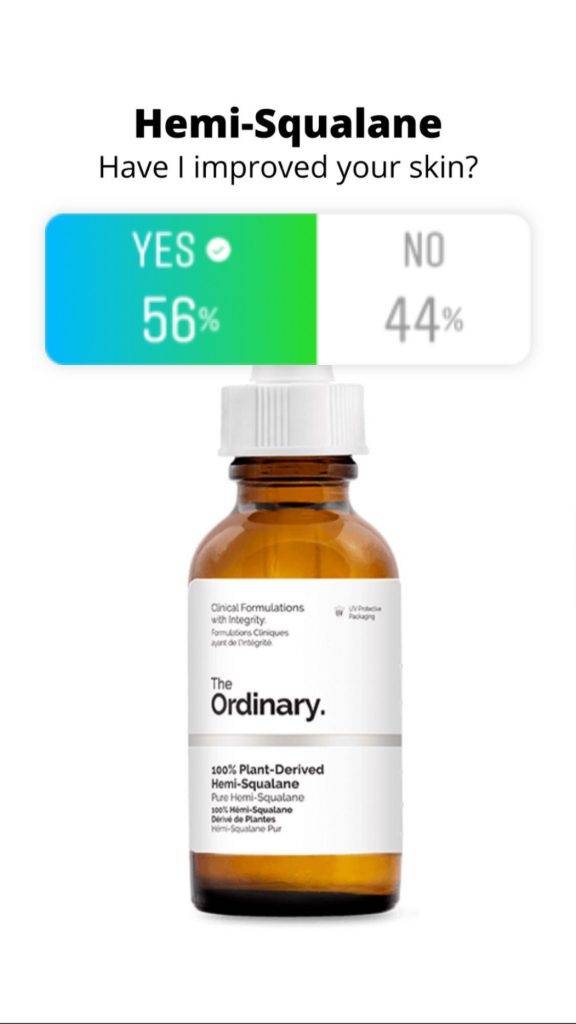 How and when do I use The Ordinary Hemi-Squalane Oil?
AM & PM
Apply a few drops into the palm of your hands and apply to your face.
Pat / Massage
Apply after cleansing or if using as part of a routine, apply after your water-based products and before a moisturiser (if using).
This is a very light/water oil.
How do I use Hemi Squalane in my hair
Deciem says to apply Hemi-Squalane to damp, clean hair. I used a teeny weeny bit on dry hair to get rid of some of the frizz, and it worked really well. When it comes to oils in the hair, you need to play around with it and see which way works best for you. Find more tips here Instagram post.
Are there any conflicts with Hemi-Squalane?
There are no conflicts at all
What is the PAO of Hemi-Squalane
The period after opening is 6 months.
What is the colour, texture and smell of Hemi-Squalane?
As you can see in the video, it is a clear oil. Hemi-Squalane is very thin, which can make it a bit tricky to apply. It´s like a dry oil once absorbed. Smell – no smell.
Reviews of The Ordinary Hemi-Squalane Oil
See the unboxing of The Ordinary Hemi-Squalane and read reviews by the Deciem Addicts.
I´ve been using this. To start, I wasn´t sure, only because I really love Squalane Oil, but this has grown on me. I like the lightness of it and how quickly it absorbs. It´s also nice on dry parts of the body.
I like it a lot! My skin is combination skin, and I use it on weekends after I work out in the pool. It absorbs very fast and is gentle on the eyes & lips. I have never tried it in my hair, though, because it is very fine.
I didn't like the original Squalane oil, but I really enjoy this one.
Helps the dry patches I get under my eyes and lips. I'm always in a heavily chlorinated pool, which is the last step in my night time skin routine.
Personally, I prefer the heavier Squalane. The Hemi-Squalane wasn't very hydrating for my extremely dry skin.
I love The Ordinary Hemi-Squalane. My skin is an oily-dry combo; I'm 36 male. I use it at the end of my nighttime routine, after the night moisturizer everywhere except on my nose. It takes care of my dry patches, and it is the lightest oil moisturizer I know. It does not stain my sheets because I never use more than 3 drops. I also use it as my STYLING oil for my hair, which has a tendency to dry and frizz. It is just perfect.
I definitely will try on hair. I use it on my face mainly in the summer. The regular squalane is my go-to for our Canadian winters.
The Ordinary Hemi-Squalane Authentic
When buying the Ordinary, always buy directly from Deciem or one of their many authorised stockists online. This is The Ordinary 100% Plant-Derived Hemi-Squalane bought directly from Deciem. You can read more about The Ordinary fakes here.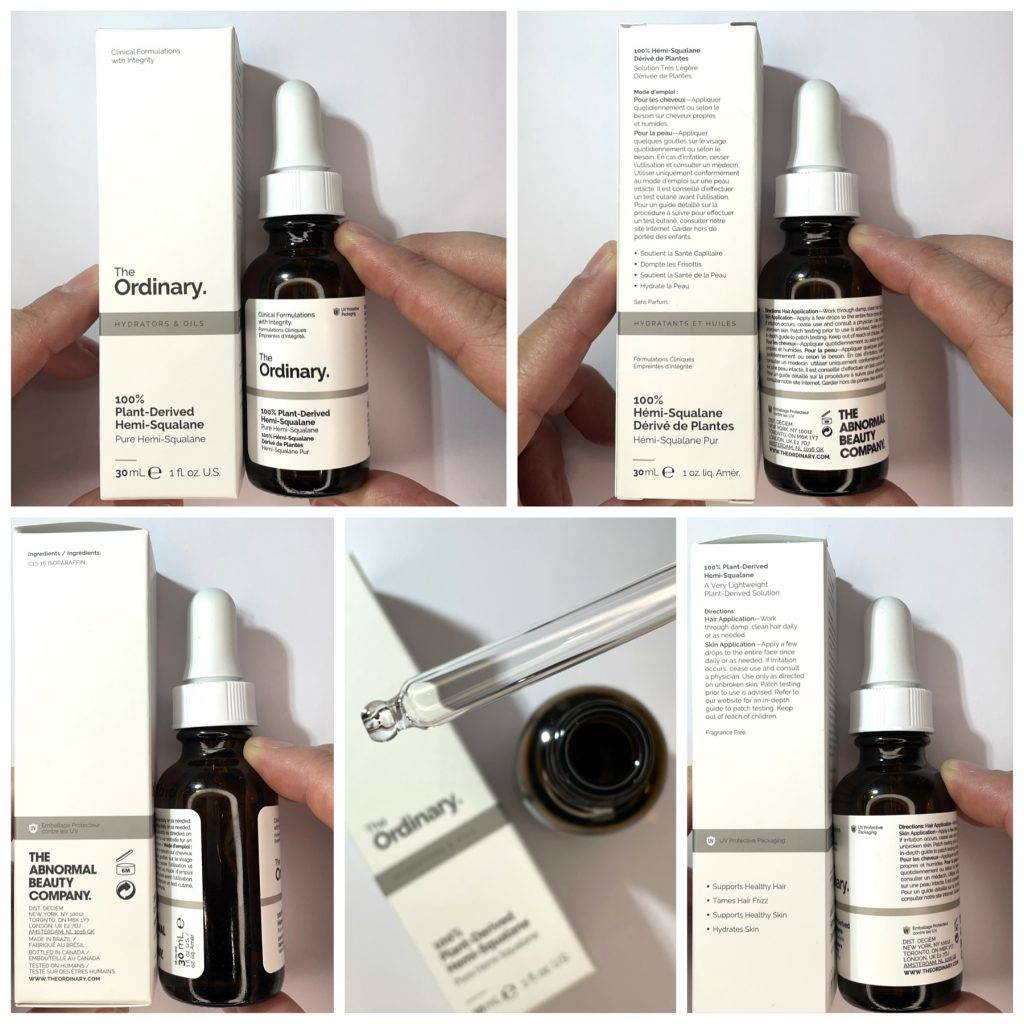 FAQS about Hemi-Squalane
Why are the Hemi-Squalane ingredients listed as C13-16 Isoparaffin on the website? Hemi-Squalane is chemically known as C13-16 Isoparaffin.
Would you recommend this product for very oily, acne-prone skin? Squalane and Hemi-Squalane are suitable for oily skin types. We have not tested this product on acne-prone skin. Please keep in mind that this product is not formulated to treat acne.
Is Hemi-Squalane good dryness? This product is great for targeting signs of dryness!
Final Thoughts On Hemi-Squalane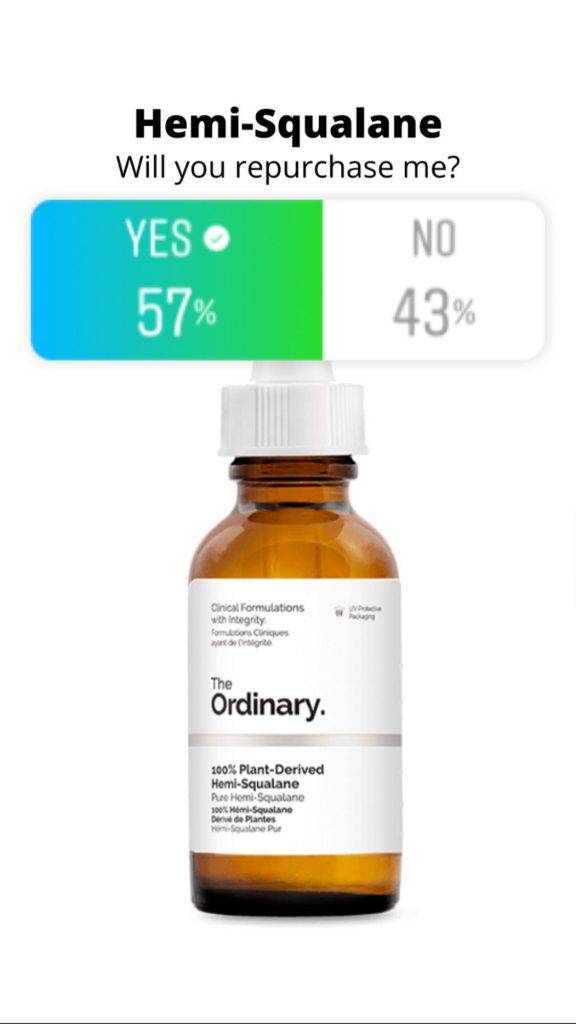 62% of the Deciem Addicts love it, 56% say it has improved their skin and 57% will repurchase. This scores a huge 4.5/5 on the Deciem website at the moment.
The Ordinary Regimens
You can find many regimens for The Ordinary here, including routines for ageing, pigmentation, rosacea, textural irregularities, and lots more.