The Best The Ordinary Products For Ageing/Mature Skin
Below, you can find The Best The Ordinary Products For Ageing/Mature Skin voted for by the #deciemaddicts on Instagram.
It´s quite scary how the ageing process creeps up on us, isn´t it? Suddenly, we look in the mirror, and everything has just dropped. You gently pull the skin back towards your ears and there´s the reminder of where things used to be and how we once looked. Eyes tight and bright, lips looking happy rather than sad, no deep nasolabial folds and a proper jawline!
I wonder if it´s easier or harder for us today compared to the era of our parents. I feel we all look way younger than our parents did at our age. But is there more pressure now to stay looking young? All the filters on Instagram and Tik Tok, make us look younger and flawless. Even the cameras on our phones don´t show the true us anymore. The selfie doesn´t look anything like the front-facing camera photo. Why would we post an unflattering photo of us on Facebook when we could post one looking amazing with a filter?
Whether you decide to age naturally or have treatments is entirely your decision. I never thought the day would come when I would consider a little help from injections, but I am seriously thinking about it. I´m just scared of needles and worried that I´ll be that person with a serious reaction.
In the meantime, I try to eat well, exercise, do my best to keep my face out of the sun and keep my skin as hydrated as possible.
Best The Ordinary Products For Ageing Skin
I recently asked the Deciem Addicts on Instagram what they believe are the best The Ordinary & NIOD products for ageing skin. This is what they said;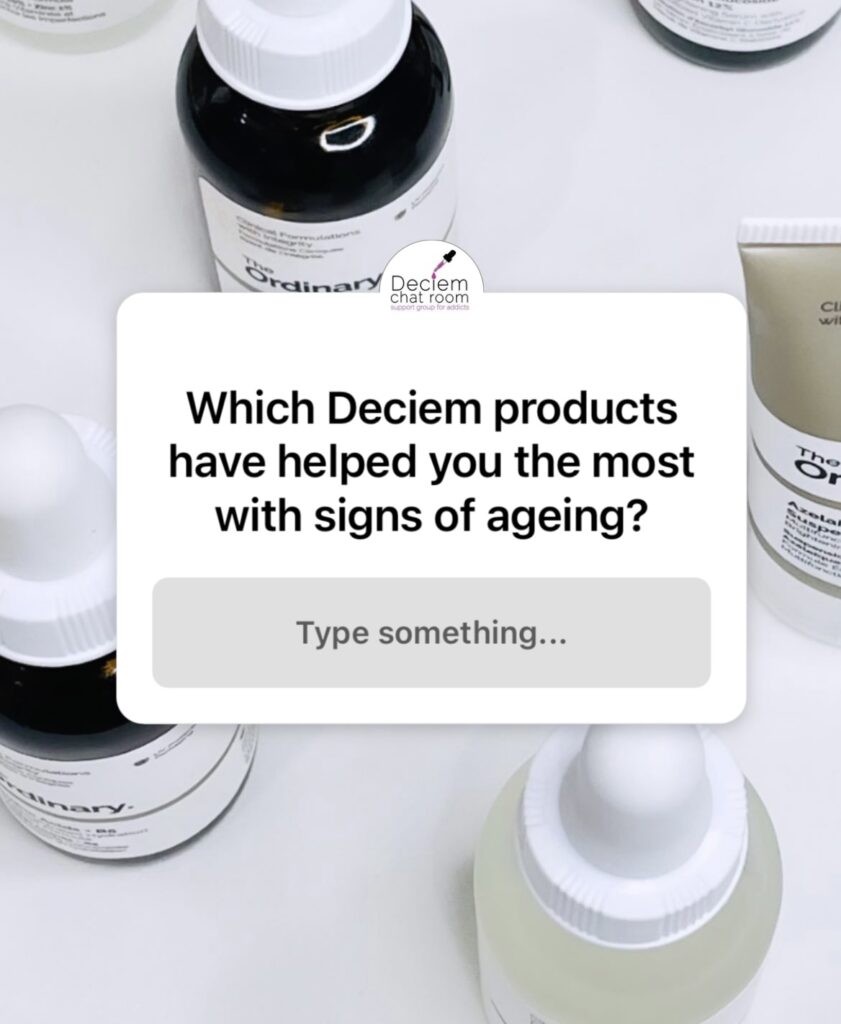 NIOD Products for Signs of Ageing
Find the NIOD products suggested for signs of ageing.
The Ordinary Signs of Ageing Routine & Best The Ordinary Products For Ageing Skin
You can now make your own skincare routine online at The Ordinary website. It takes just a minute to answer some questions, and you will be given a morning and evening routine at the end.
This is the latest routine for signs of ageing suggested by Deciem;
Find this post on Instagram
You can find this post on Instagram and share what products you feel have helped your skin.
The Ordinary Products & Their Targets
You can find a list of all The Ordinary products and their main targets here.
The Ordinary Reviews
You can find reviews on all The Ordinary products here; follow Deciem Chat Room on Instagram and join The Ordinary & NIOD Chat Room Facebook Group, where you can talk directly with the Deciem Addicts.