52% of the Deciem Addicts love it
53% say it has improved their skin
44% will repurchase it
Vitamin 30% Targets
Antioxidant support
Uneven Skin Tone
Signs of Aging
Dullness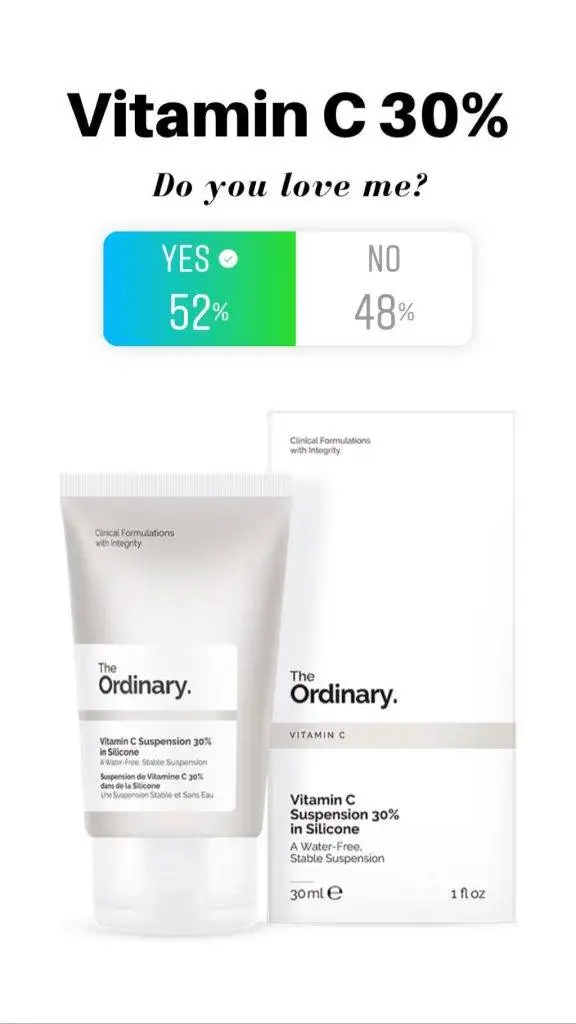 Everything you need to know about The Ordinary Vitamin C 30%, reviews & more.
What is The Ordinary Vitamin C 30% and what does it do?
How and when should I use this product?
Vitamin C 30% Conflicts
Reviews of The Ordinary Vitamin C 30%
Similar products to Vitamin C 30%
FAQs
Available in 30ml Tube. Check prices in your currency here.
What Is The Ordinary Vitamin C 30% & What Does It Do?
The Ordinary Simple Explanation
A powerful Vitamin C brightening formula with a cream-like feel.
Vitamin C Suspension of 30% in Silicone offers a silky texture on the skin despite the suspension format of the formulation. Due to the volatile silicone base, the product does not impart any powdery feel to the skin. A higher 30% concentration ensures direct exposure to the highly potent Vitamin C. Avoiding the short-lived gritty feeling that comes with Vitamin C Suspension 23%, this is a great option for high potency with a smooth finish.
Vitamin 30% Targets
Antioxidant support
Uneven Skin Tone
Signs of Aging
Dullness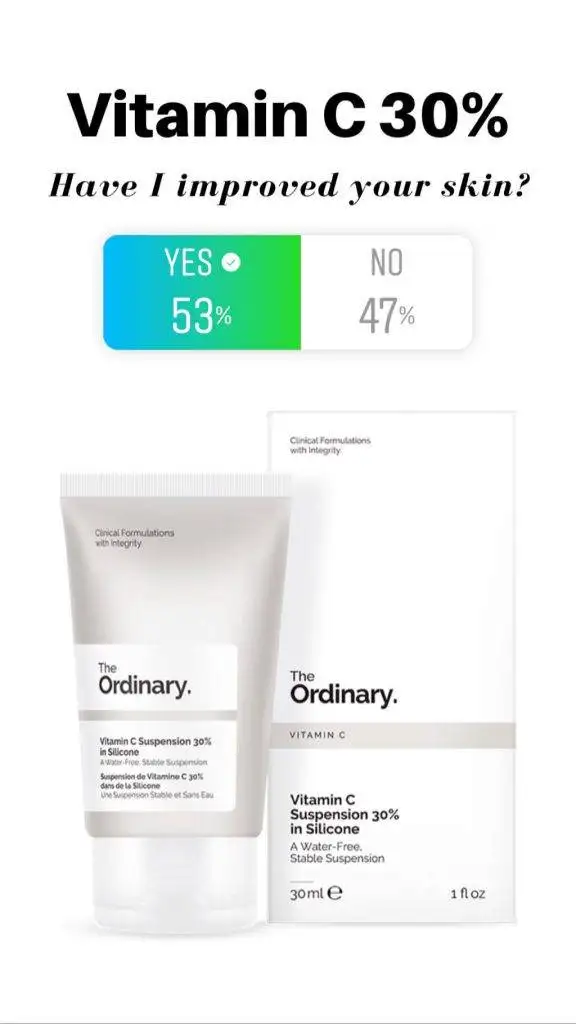 How and when should I use The Ordinary Vitamin C 30%?
Ideally, use this in the evening.
This Vitamin C has a lot of conflicts, so check your current routine first to check if you can fit this in with your existing routine.
This product is a suspension that would be applied after your water-based products. If you´re using heavier creams, this is where it may get a little confusing. Sometimes people have been told by The Ordinary to use it as the last step after heavier creams and some as the penultimate step. The Ordinary has also told people to do whatever works for them personally.
Which Products Shouldn´t Be Used With Vitamin C 30%?
You should avoid using this product in the same routine as the following products:
Peptides including Copper Peptides.
Niacinamide (powder & serum)
EUK 134
Direct Acids
Retinol / Retinoids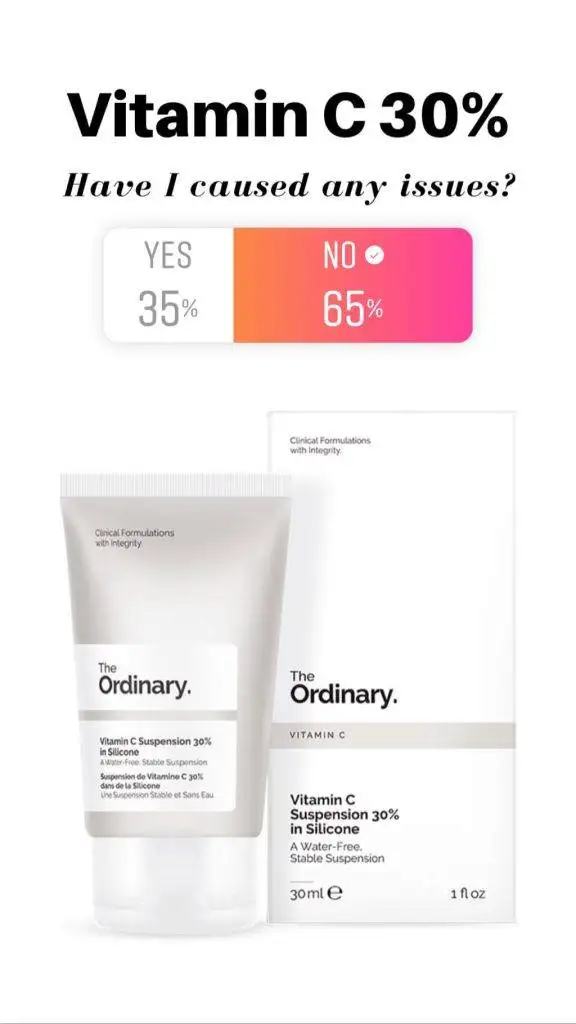 ---
The Ordinary Vitamin C 30% Reviews
Let's hear what some of the moderators of the Deciem Chat Room and the Deciem Addicts have to say about this product. Read all the reviews here and feel free to leave your own comments.
Jen @jam.jar.skingeek says: Out of all the vitamin c's from the offering, this is the one I got on with the least. Being a suspension I found it tricky to work with and encountered oxidation of product in my pores. I have replaced it with EAA (Ethylated Ascorbic Acid.
LS says: It makes my skin itch, even a small amount of it so my skin is too sensitive to it.
JC says: Pros. Brightens and lightens dark sunspots. Improves skin texture overall. Suspension containing Vit C powder is water-free and stable and it breaks down over time on the skin to deliver results.
Cons. It is gritty because of the powder but that does not last long. Can stain fabric but those are easily removed.
The product is surprisingly strong and needs to be gradually introduced. Would not use this around eyes or any delicate skin.
More reviews about The Ordinary Vitamin C 30%
Just tried it for the first time. It's rather gritty and has an oily texture so I don't love the feel but gonna try to use it for a bit and see what it does. I have normal skin that´s a bit on the oily side.
JW says: Just got it and used it last night after washing my face with CeraVe. I have orange pigmentation around both eyes. Didn't get it near the eye, but applied thicker above and along cheekbones, then a thinner layer all over my face. I sleep with satin pillowcases washed every few days. Woke up this morning, and my skin was smooth, and calm, with no redness. Hoping it takes the orange away. (Along with the other products I purchased too)
PM says: I love it and just reordered it as part of my Black Friday order. It definitely brightens, and it's so easy to apply.
FAQs about The Ordinary Vitamin C 30%
Can Vitamin C suspension 30% in silicone and Buffet be used together in the same routine? We suggest avoiding products containing peptides when using pure Vitamin C in your routine.
Can I use the hyaluronic acid 2% + B5 after the Vitamin C suspension 30% in Silicone? We'd recommend applying HA 2% + B5 before our VC 30% in Silicone for best layering.
Can I use The Ordinary Vitamin C 30% on its own or after a rose toner? Yes and yes
Final Thoughts On The Ordinary Vitamin C 30%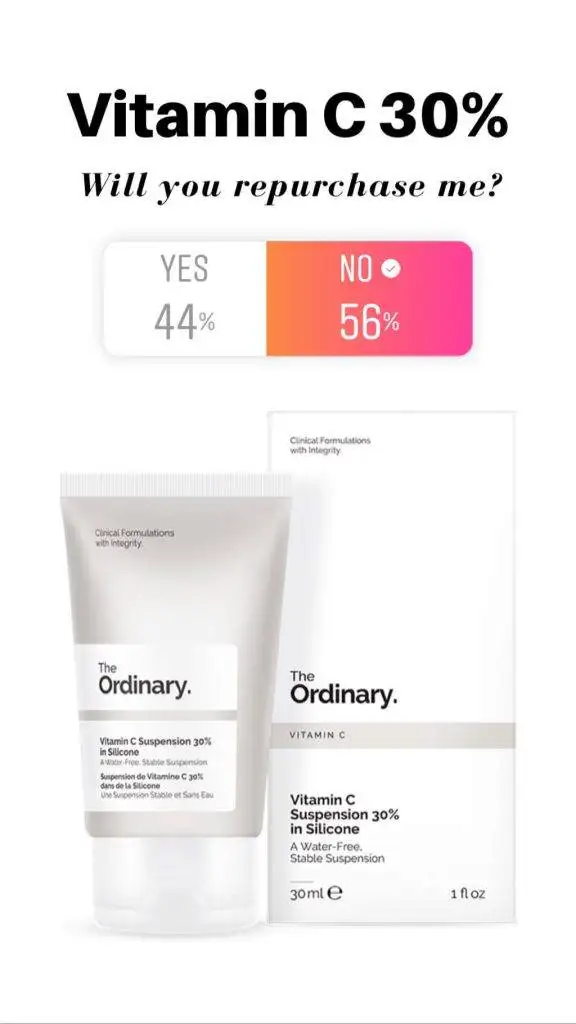 The Ordinary Vitamin C Guide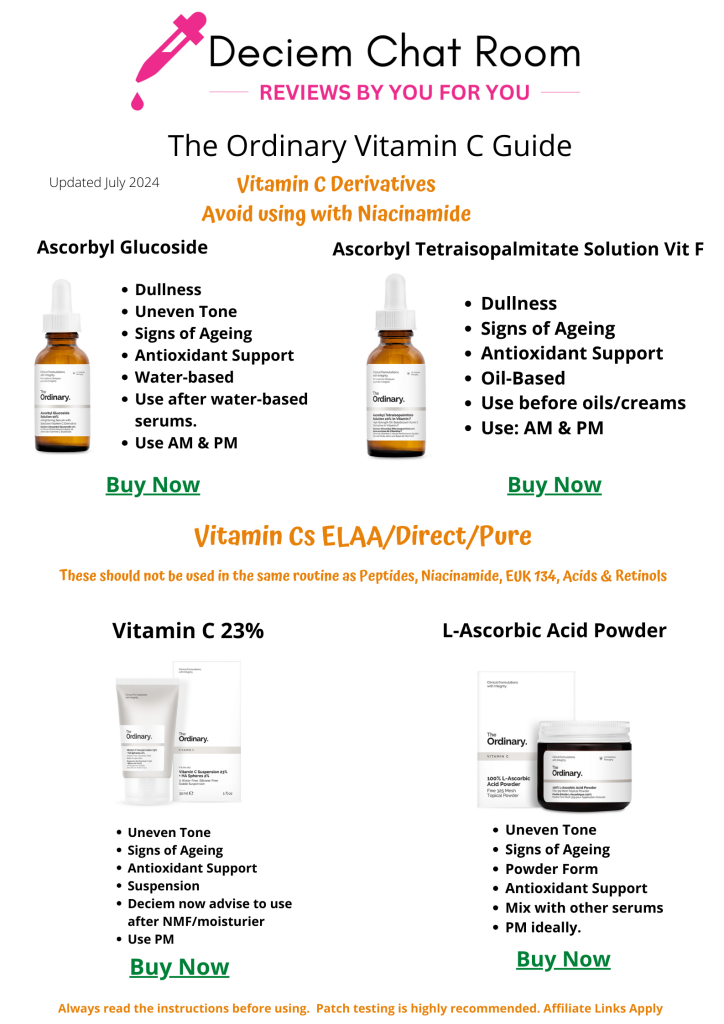 There are 8 different vitamin C products by The Ordinary. The Ordinary has put together this chart explaining more about each one. If you´re new to skincare and wish to keep things as simple as possible, my advice is to start with one of the derivatives.
The Ordinary Vitamin Cs
Other Deciem Vitamin C Products