How do you choose the best products from The Ordinary? There´s over 60 of them covering hydration, oils, acids, vitamin c, retinals, retinoids and antioxidants.
Apart from trying to choose from so many products, how could I possibly say which products are the best products, that would suit my skin, your skin and everyone else´s skin? We vary in ages from 15 up to around 80 and all have completely different skin types and concerns.
Which Products Are My Top 5 From The Ordinary?
If I had to choose only 5 products from The Ordinary to use forever, they would probably be the following;
But I also love Matrixyl, Rose Hip Seed Oil, Ascorbyl Glucoside and many more, so I hope I will never have to choose.
What are the most popular products by The Ordinary?
As I have previously mentioned, reading one person´s top products is pretty much a waste of time unless we have exactly the same skin type and concerns.
So here´s something much better. Don´t listen to what I say are the best Ordinary products, but what nearly 100k Deciem Addicts say are their favourite products. The people who have bought tried, tested and repurchased.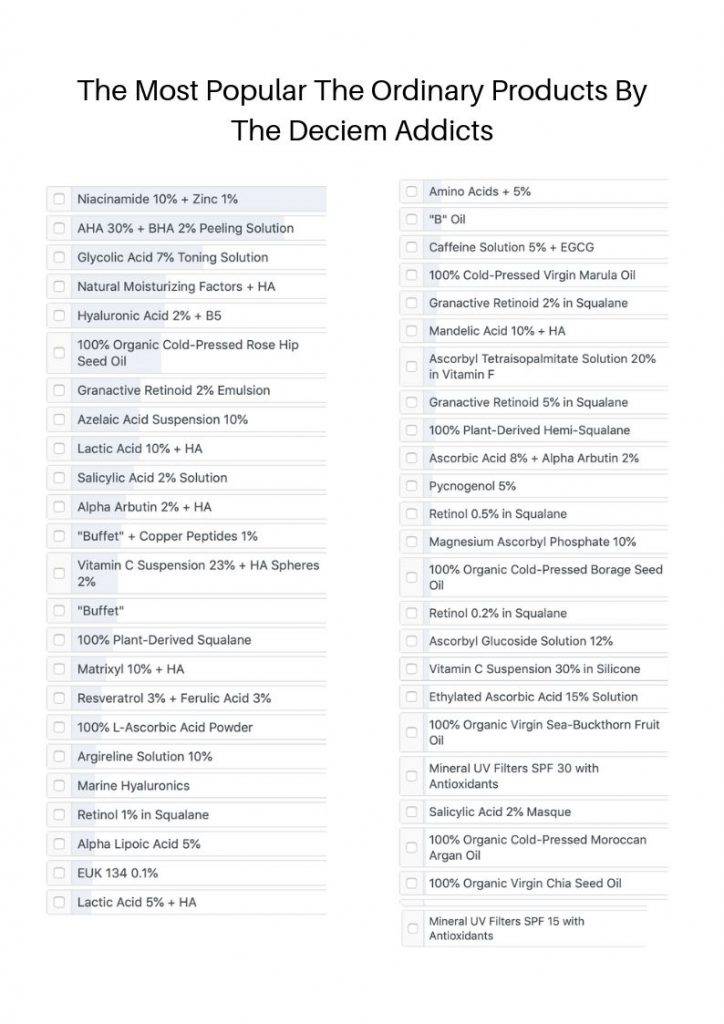 The top 10 most popular products from The Ordinary according to the Deciem Addicts
Have a look at all the different Ordinary Skincare Routines or ask Deciem for a personalised regimen. You can also read about layering The Ordinary and The Ordinary conflicts.